Top 14 Picnic Spots in San Diego, California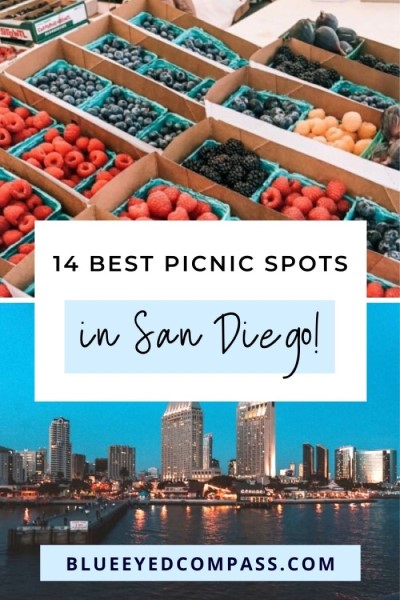 This page contains affiliate links to products and tours that I have used for my own travels, purchased & enjoyed. Clicking these links does not cost you anything, however doing so will support Blue Eyed Compass and allow the site to continue. THANK YOU! You can view our disclosure page for additional details
Been itching to get outside & have a relaxing afternoon under the San Diego sun with loved ones, but don't know where to go? Below are the best places to have a picnic in San Diego, and as someone who has been to all of these locations, I can say from experience that each location is perfect for a beautiful picnic outside in SD.
Check out the best picnic spots in San Diego as well as the best local places to stock up your picnic basket with!
San Diego Picnic Spots
No matter where you decide to break bread & picnic in San Diego the views & ambiance at these SD spots will be incredible.
Kate Sessions Park, Pacific Beach
Kate Sessions Park in North PB has some of the most stunning views of mission bay. The park is 79 acres large and named after an inspirational local horticulturist, Kate Sessions. There are officially two separate park areas here. The first is an open grassy area where you'll find picnickers, frisbee games and an occasional workout group. This area of the Kate Sessions is ideal for picnics as they offer picnic tables, restrooms and a paved walking path.
The other area of the park features a more enclosed natural habitat area that's great for light hiking.
Mission Bay
Mission Bay is much larger than you may think, and it offers so many great places to have a picnic in San Diego. Here are three stellar areas you can set up for a nice meal:
–The Bahia Hotel beach on Gleason Road: this area features both a sandy beach and grassy area and has views looking towards the Paradise Point Resort, and has a public restroom. There isn't any shade here, so if you're sunburn prone like me be sure to bring your own umbrella (Fun fact- it's also one of our favorite places to push off for Stand up Paddle Boarding in SD!)
–Mission Point Park, 2600 Bayside Lane: this park is rarely crowded as it's quite large. With a large amount of space you have options to be in the shade or under the sun. The park is grass only, has a children's playground and the views are of the bay and the rock jetty leading to Ocean Beach dog beach.
–San Diego Mission Bay Resort: while you can't picnic at the resort, there is plenty of space surrounding it that is perfect for a San Diego picnic. And a big bonus for the plethora of parking spaces here. Even on a busy Saturday you should be able to easily find parking, as long as your picnic area choice is flexible. From this area you'll have views of the bay and fiesta island (which on the weekends features lots of jet skiers, aka fun people watching!)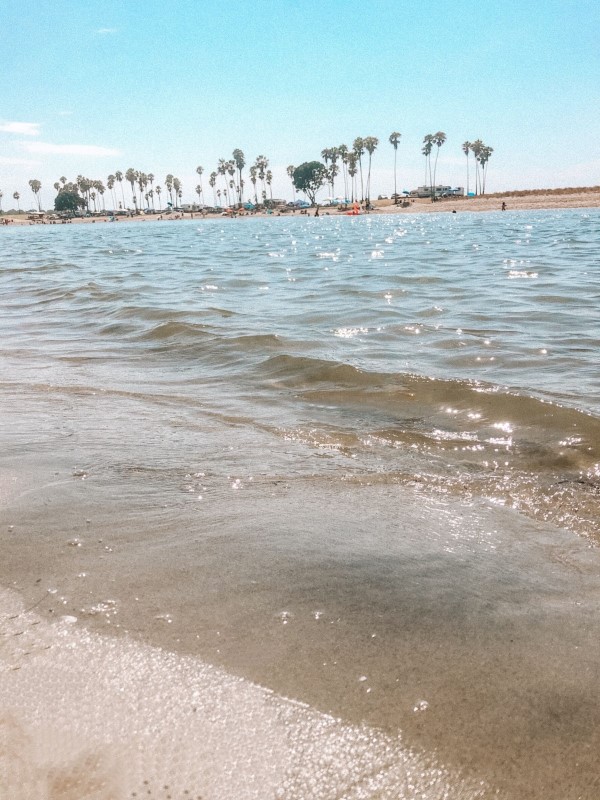 Ellen Browning Scripps Park
Ellen Browning Scripps park is a well known and beautiful park in La Jolla. The park is well loved because of its view of the Pacific ocean & La Jolla's famous rugged coastline. This park is on all grass and offers some shaded areas.
Kellogg Park/La Jolla Shores Park
La Jolla Shores Park, also known as Kellogg Park is on both grass and the sandy beach. It's almost the opposite view of Ellen Browning, as this picnic area is on the beach level (Ellen Browning Scripps Park is above with the higher view). If you prefer your picnics and sunsets from the sand, then this is a great spot for you. There are also public restrooms here and a large parking lot.
Sunset Cliffs
Sunset Cliffs is definitely one of the most romantic places in San Diego to have a picnic. In fact, if you show up on Valentine's day with a picnic you'll be surrounded by Galentiner's and couples who go all out with charcuterie boards and champagne. With stunning cliffs that go for miles, it's an iconic space in San Diego. Sunset Cliffs is quite large and offers street and small lot parking. Be sure to bring a blanket with you to sit on as the rocky surface is quite sandy.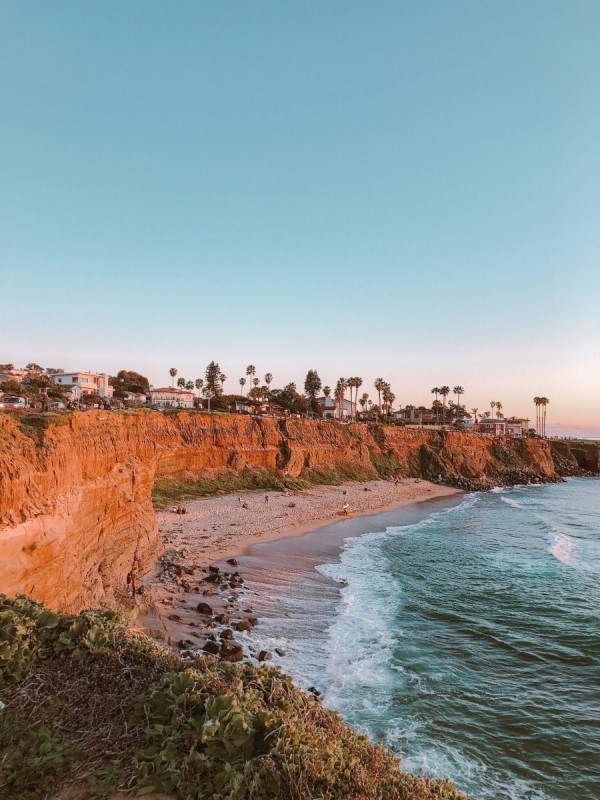 Balboa Park
Balboa is San Diego's gem, and one of the most beautiful parks in America. I like to compare it as our city's version of Central Park, but way easier to navigate around. With over 1,000 acres to explore, our infamous San Diego Zoo, a golf course, multiple hiking paths and the cutest dog park, Balboa Park has plenty of space for a picnic. Come here for lush & colorful gardens, unique Spanish-colonial style architecture and lots of well manicured open spaces.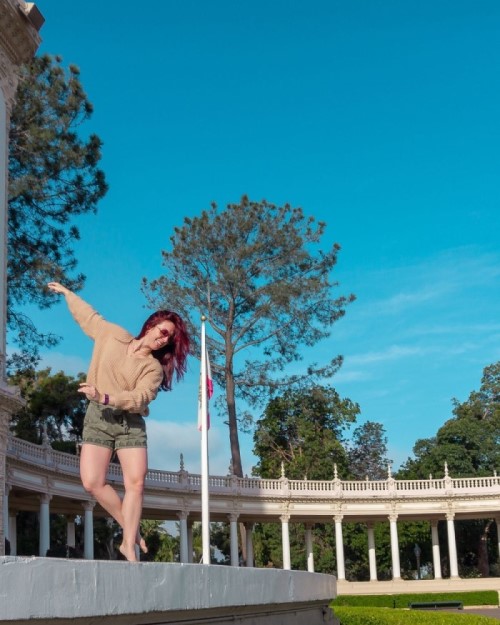 The best places to picnic in Balboa Park are:
-Botanical Building East & West Lawns
-Moreton Bay Fig Lawn
-Outdoor Organ Pavilion
*there are more areas to picnic, but these are the iconic areas with the best views of the park
Coronado Island
Similar to Mission Bay, Coronado Island offers quite a few places to have your picnic. The two places listed below are ones that offer great skyline views.
–Tidelands park: Coronado island's Tidelands Park is quite large and has views of the Coronado Bridge and the San Diego skyline from the southern point of view
–Centennial Park – Centennial Park is a bit smaller than Tidelands Park, but has a direct view of the entire downtown San Diego skyline. It's perfect during dusk or sunset. I love it because it's where my fella, Marcus, proposed.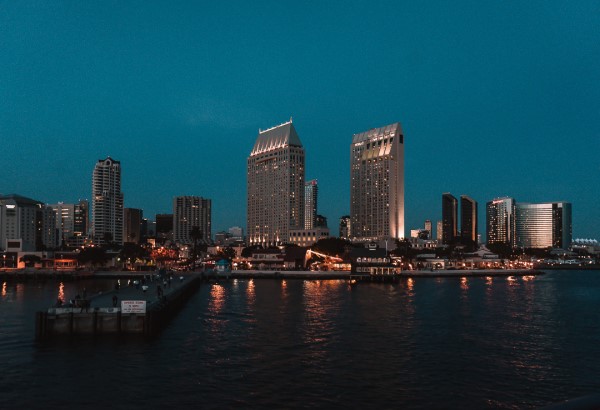 Waterfront Park, Little Italy/SD Harbor
The Waterfront Park is home to our local legislation offices. On one side of the park is the San Diego Harbor, while the other is within walking distance to the main streets of Little Italy. Waterfront Park offers views of the harbor and has one of the coolest playground areas for children (it makes me wish I was still young & small enough to climb through the ropes courses it has!) There are small fountains that are fun for children to run through and cool down during the warmer summer months, and there are often different festivals here throughout the year.
San Dieguito County Park, Del Mar
The San Dieguito County Park in Del Mar is a bit farther north than traditional San Diego, but worth the longer drive. It's a beautiful grassy park that has plenty of shaded areas and hiking trails. It's so nice here, that you can even have your wedding here!
Top Picks for a picnic in San Diego
When it comes to setting up a picnic in San Diego you now have the best places to go, so let's discuss how you can pack an epic San Diego picnic basket with some of the best local goods to enjoy!
Here are great places you can hit up for picnic foods and drinks… because we all know you want to have the best looking, and best tasting charcuterie board possible.
-San Diego farmers markets: there are various farmers markets throughout San Diego almost every day of the week. While the best ones are on the weekends, you can absolutely find one open during the week too. Here is an updated list of our farmers markets.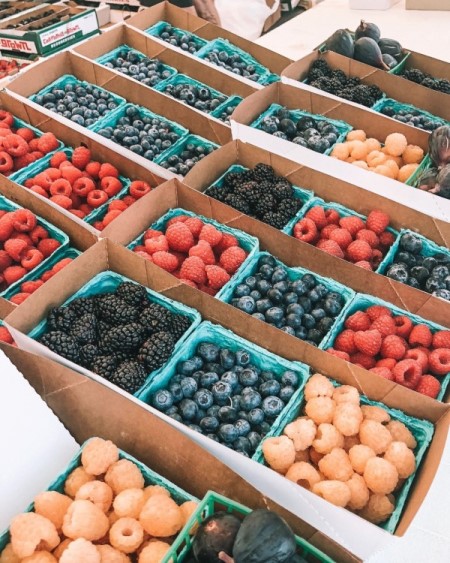 –Bread & Cie: Bread & Cie is a local cafe and bakery that sells their products in various San Diego grocery stores. But if you want really fresh stuff, I say order and pick up directly from their University Heights location. I'd list a top suggestion here, but every time I see them at a local market I try something new and am never disappointed.
–Venissimo cheese: San Diegans love to support local business owners, and Venissimo Cheese is a stellar success of such support. The owner, Gina, was determined to create a space that she craved – an incredibly delicious cheese shop! Featuring cheeses from all over the world, you will only find the best options when it comes to crafting a great picnic charcuterie board here.
-Take Out Sandwiches
Ikes: There are multiple Ike's locations in San Diego, and for good reason, because they are so popular! We love that Ike's offers plant based sandwich options that aren't just veggies on a roll, but hearty sammies that compete with traditional meat based ones. *Be sure to try the Dutch crunch bread!
Rubicon Deli: With fresh bread and delicious (and massive!) sandwiches, Rubicon is another takeaway sandwich store that is locally owned. Their vegetarian sandwich is damn delicious, especially on their pesto bread.
Kebab Shop Wraps: If you're really hankering for a big meal, then Kebab Shop will make sure you're full. Their falafel wraps are amazing, and made fresh to order too!
-Individual Pizzas: there is something special about having your own self-sized pizza rather than a massive, standard pizza. These two pizza spots are by far the best pizza shops in San Diego and perfect for your next picnic:
Powerhaus Pizza: this female owned business has made our pizza dreams come true by creating healthy AND delicious pizzas. Try their whole grain or protein packed crust and you won't be disappointed. Plus you can round out your picnic basket with one of their fresh salads or healthy smoothies!
Red House Pizza: a vegan pizza lovers dream was created by Red House. They've expanded their vegetarian and vegan menu to include some of the most unique and equally delicious tasting pizzas that I personally cannot get enough of.
–Extraordinary Desserts: if you're looking to sweeten out your picnic, look no further than Extraordinary Desserts. This place crafts the most beautiful and delicious desserts you can find in San Diego. Ordering a sweet treat from here will make your picnic feel even more special. Plus! They offer a few vegan dessert options too!