Epic Travel Guide to Lisbon, Portugal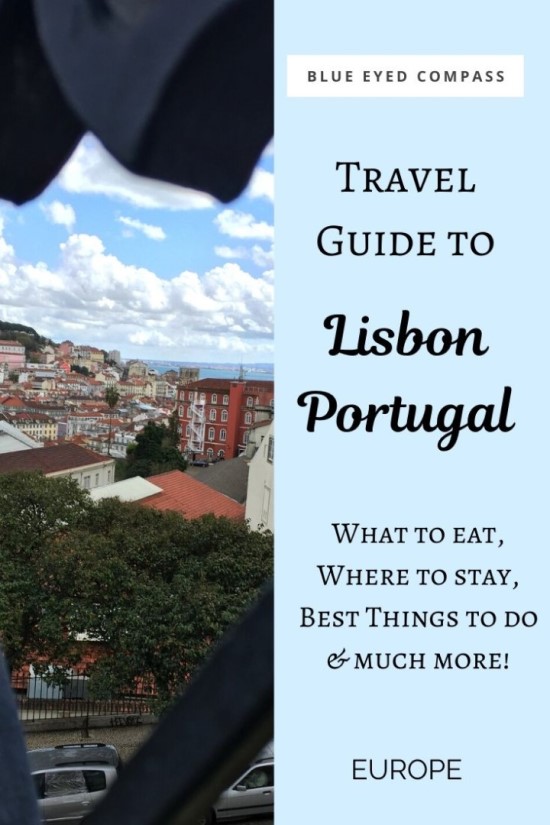 This page contains affiliate links to products and tours that I have used for my own travels, purchased & enjoyed. Clicking these links does not cost you anything, however doing so will support Blue Eyed Compass and allow the site to continue. THANK YOU! You can view our disclosure page for additional details
There is something for everyone who travels to Lisbon. This Portuguese city will dazzle you with its charming streets, traditional yellow trams, tiled architecture, balconies & vistas. Lisbon has become a favorite European destination, which means it has become busier over the last few years, but fear not, as it's still a budget friendly destination. You will need at least three days to visit Lisbon, as it has so much to offer.
This travel guide to Lisbon, Portugal includes both well known & more obscure things to do in and around the city. And provides greater insight into the culture and foods to try while in Portugal.
If you need assistance with planning your trip to Lisbon, you're covered with this post:
Defining History of Lisbon & Lisbon Culture
Europe has done a fairly great job at preserving its history within the streets of their main cities, and Lisbon is no exception. Learning about these defining historic moments in Lisbon's history and a few of their staple cultural aspects will make your travel that much more fun. This way you can better understand & immerse yourself within the culture of the city.
Lisbon is the 2nd oldest capital city in Europe (after Athens, Greece) which means that their history goes way back. The city is perfect for those who love historic tales of classic 'days gone by'.
The 1755 earthquake was the most impactful natural disaster Portugal has seen to date:
This earthquake is mentioned a lot throughout this post & you will hear about it when in Lisbon because it was so impactful – not only was the earthquake devastating but the quake lasted for over ten minutes, and was followed by a tsunami in the Tagus River, AND fires broke out throughout the city that lasted for days.
Fado music is cherished- Fado is a traditional form of music in Portugal. The word translates to mean 'destiny' or 'fate' in Portuguese. It's a soulful & melancholy blend of music played with mandolins & guitars, typically with a singer performing poetic lyrics. Fado performances are fairly easy to find in the Alfama neighborhood of Lisbon in the evenings.
Saudade – Saudade is a feeling of melancholy & nostalgia, and is a characteristic of the Portugese temperament.
The 'Age of Discovery' began in Portugal – the 'Age of Discovery' was a time in Europe's history where exploratory voyages departed to India and beyond. They brought back spices & foods from across the ocean into Europe. This all started in Lisbon and many of its main attractions are mementos to that time.
Lisbon really started being internationally noticed as a tourist destination when it hosted the World's Fair in 1998.
Portuguese Words to know when visiting Lisbon
These are just a few Portuguese words that will come in handy when you travel to Lisbon. Some of which you'll see throughout this post as well.
Miradouro – viewpoint – there are over 30 miradouros in Lisbon, with beautifully dramatic views of the entire city
Por Favor/Obrigado – Please/Thank you – the language spoken in Lisbon is Portuguese. While there are a few similarities to the Spanish language, it's important to know that 'thank you' is not the same in Spanish as it is in Portuguese.
You can find more useful words and Phrases for Getting Around Lisbon here.
How much does Lisbon cost (to travel)?
As with any destination, the cost to travel there & within the city will vary on your travel preferences. Here is an average of the travel costs for Lisbon, Portugal:
Hotel: $50-$100/night
AirBnB: $100/night
Food: $20-$60/day
Cafe's: 1-2 euros
Activities/Entertainment: $40/day
Getting to & around the city of Lisbon
Lisbon Public Transportation
Getting to Lisbon
Travelers can get to Lisbon by direct flight into the capital city. There are also bus connections that typically drop off at the Lisboa Oriente bus station.
You can get to Lisbon city from the Lisbon airport via their subway system. It's easy to navigate and it is only a 25 minutes ride to the center.
Getting around Lisbon
One of the many reasons Lisbon is such a great European city to visit is that it's fairly easy to navigate around. The city is said to be spread over seven major hills (there are many more than seven hills, but 'seven' is the main number that the city officially references)
Getting around Lisbon by Foot

: you can easily walk around the city, but parts of Lisbon are steep/hilly. If you're willing to get a good workout in, walking around Lisbon is a great way to take in the city's charm

Public transportation

: visitors to Lisbon can safely take the city's public transportation. There are buses, a metro system, and trams. Purchase a VivaViagem card at a metro station to use throughout the city. You can find a downloadable pdf map of the Lisbon metro on the Metro Lisboa website
Tuk Tuks

: a newer addition to Lisbon's transportation are tuk tuks. Tuk tuks are smaller than cars & taxis, so they can more easily navigate the narrow streets of the Alfama & Bairro Alto neighborhoods. You can find more popular tuk tuk companies in Lisbon here.
Best Food(s) to try in Lison
Pastel de nata

– Pastel de Nata has become a staple for visitors to enjoy when they travel to Lisbon. They are lightly sweet, custard tarts often topped with cinnamon. The pastry became world famous thanks to the Pasteis de Belem shop, but you can purchase the treat from any bakery in Lisbon.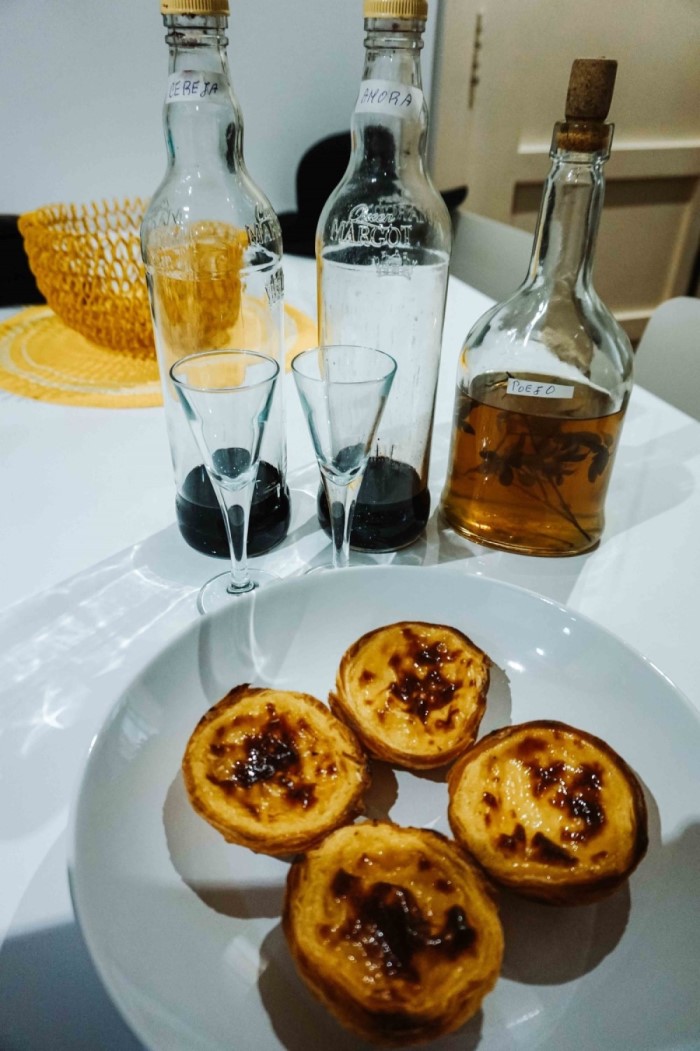 Bacalhau – Bacalhau is codfish, it's very popular in Lisbon. On any given menu you will most likely see codfish cakes, fried cod, grilled cod, etc. There is also an entire store in Lisbon that sells tinned sardines. As a coastal city, they enjoy a plethora of seafood.
Ginja – Ginja is a delicious red cherry liqueur. You can typically find Ginja in small hole-in-the-wall bars & kiosks that will sell shots (sometimes in chocolate shots!).
Things to know about eating out in Lisbon, Portugal
Top things to do & see in Lisbon, Portugal
This section is organized by areas within the city of Lisbon
Alfama
Explore the Alfama neighborhood
The Alfama neighborhood in Lisbon has become quintessential for a quiet life in Lisbon. The area is ancient, colorful & hilly. You can reach the neighborhood by getting off at the Santa Apolonia station. Then meander through the labyrinth of cobblestone streets, colorful homes & beautiful architecture. Almost everyone falls in love with this neighborhood of Lisbon.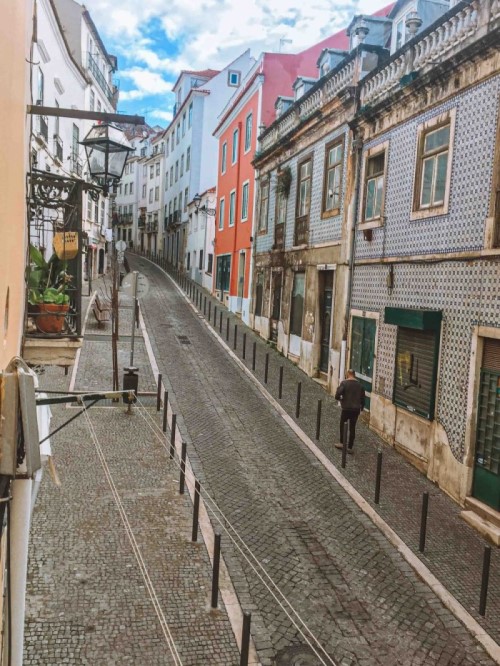 Sé Cathedral/Lisbon's cathedral
Cost of entry: Free
Hours: 9am-7pm to enter the church, to visit the cloister & treasury are different times
Lisbon's Cathedral is the city's oldest church. In fact, it survived the damaging 1755 earthquake – it was technically in ruins after the earthquake but it's bone structure remained and has been rebuilt many times over. The cathedral boasts Romanesque, Gothic, Neoclassical & Rococo styles.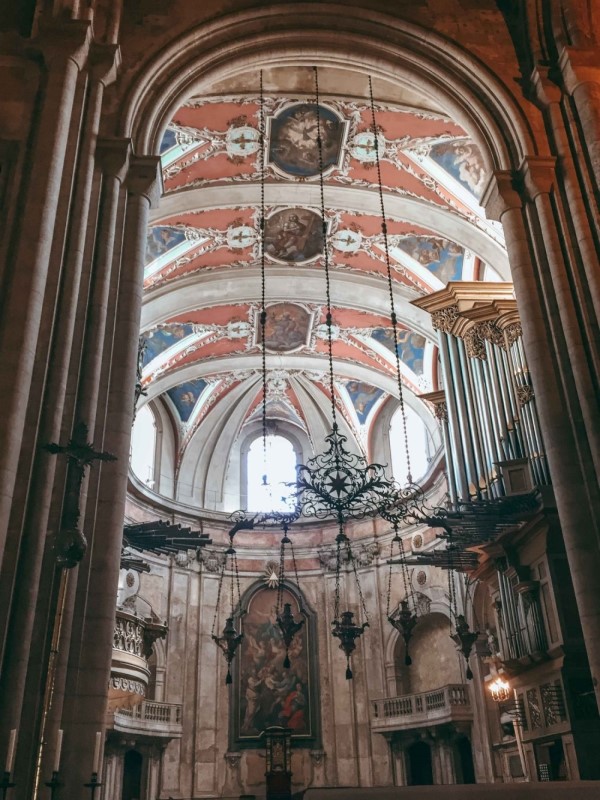 Miradouro das Porto do Sol
This miradouro looks over the Alfama neighborhood. It's a great place to catch sunrise. Miradouro das Porto do Sol has a spectacular view of the colorful rooftops of Lisbon's Alfama neighborhood.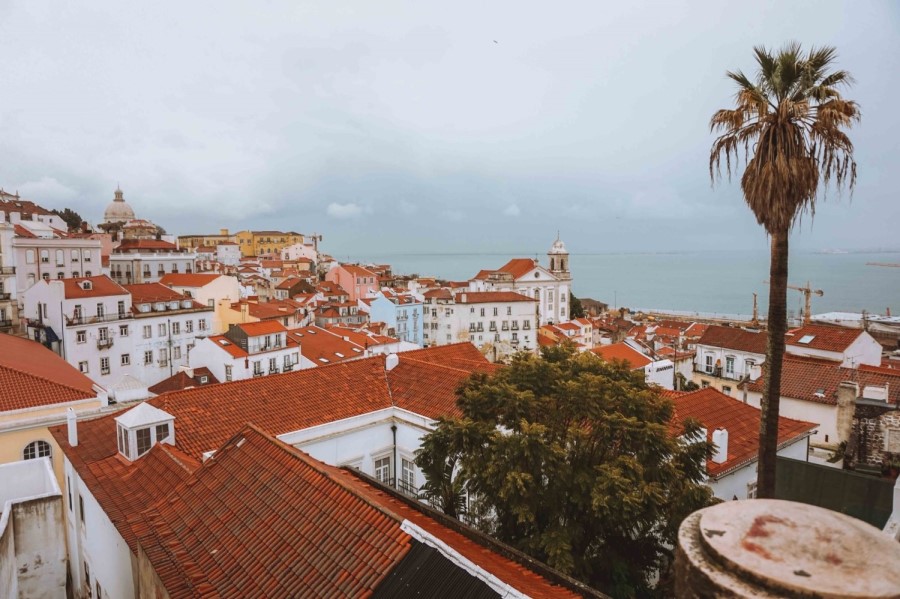 Cost of entry: €10
Hours: 10am-9pm
This castle is located on the highest hill in the city. It's a must see in Lisbon. Many suggest visiting Castelo de Sao Jorge at dusk so that you can catch the sunset view over the city with an uninterrupted 360 degree view. Frankly, any time of day is great to visit this castle, as the views are always beautiful and the castle itself is fascinating to walk through.
Sao Vicente de Fora Church & Monastery
Cost of entry: free to enter the church, €5 to enter the monastery
Hours: 10am-5pm, closed on Mondays
Sao Vicente de Fora Church & Monastery is an extraordinary church & monastery. With over 100,000+ tiles and a terrace area with great views, it's worth a visit for travelers. There is also a local flea market (Feira da Ladra) that is hosted next to the church. However the flea market may not be something that travelers will find much value in. (I still remember the random doll heads being sold here, but I'm not an avid flea market shopper, so it may be your thing – it's up to you to decide).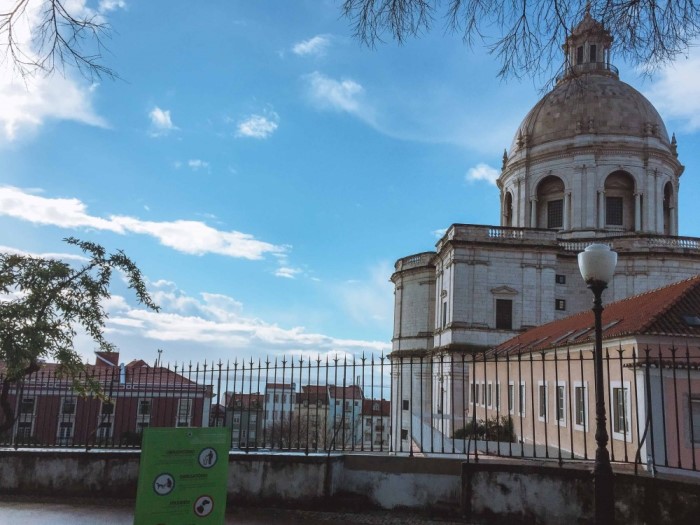 National Pantheon/Panteão Nacional –
Cost of entry: €4
Hours: 10am-5pm, Tuesday-Sunday
Lisbon's National Pantheon is the resting place of many of Portugal's most important figures. The building showcases a beautiful white dome that stands out among the Alfama neighborhood skyline. Visitors can climb to the top of the dome for another view of Alfama.
The Santa Luzia miradouro has a romantic terrace with gorgeous florals and a cafe, so you can enjoy a beverage with your view.
Miradouro da Graça stands out because you can see the Alfama neighborhood on the left & the Bairro Alto neighborhood on the right, as well as St. George's castle & all of central Lisbon.
Belem
Cost of entry: €10, first Sunday of the month is free entry for Lisbon residents. purchase with Archeology Museum ticket for combo price of €12
Hours: 10am-5pm (May-September closes at 6:30pm), last entry 30 minutes before closing time. Sundays 2-5pm, closed on Mondays & major holidays
Mosteiro dos Jerónimos is a UNESCO World Heritage site & monastery. The Belem district of Lisbon is best known for this monastery (and pastries). The monastery is breathtaking, and definitely a place that every visitor to Lisbon should witness firsthand. It was built in 1501 and the building's structure took over 100 years to build!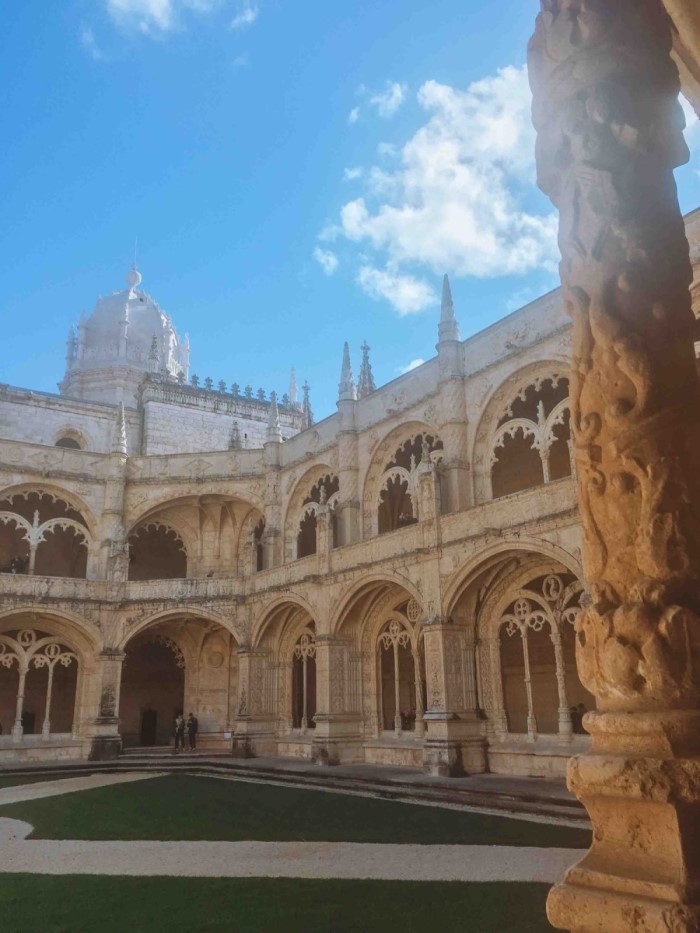 To this day, it is still a perfectly preserved masterpiece. Both the church and the monastery cloisters showcase the Late Gothic & Manueline style (named for King Manuel I). The cloisters are mesmerizing as they are two levels of identical stone craftsmanship – fun fact, the cloisters were built as a tribute to Vasco de Gama (a famous explorer), who prayed at the Church of Santa Maria prior to his explorations. The Church of Santa Maria stands out with its epically high ceilings & sculptured columns that lead to one single nave.
This monastery is significant to Lisbon's history thanks to the Age of Discovery. Ships departing left from Belem, so many sailors would come to this church to pray before they set out to sea.
There is also an archeology museum located adjacent to the monastery – see the next item!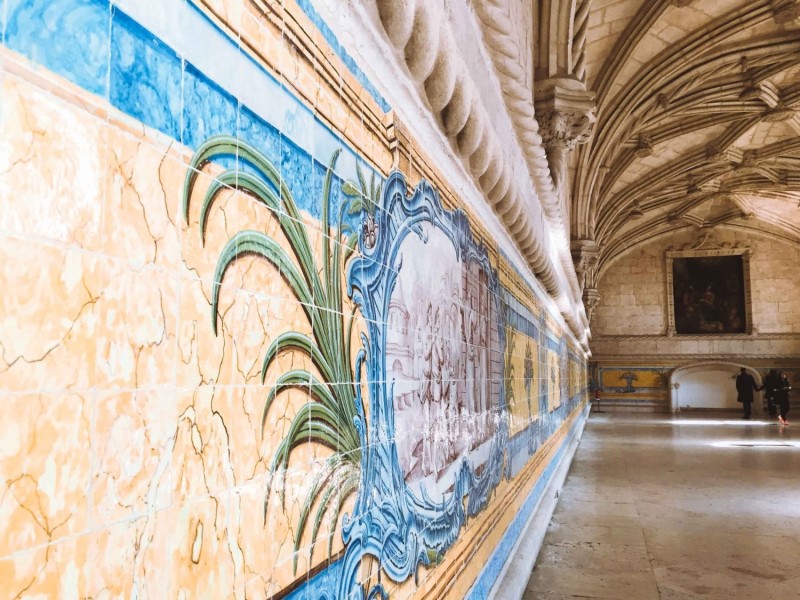 Cost of entry: €5, purchase with Mosteiro dos Jerónimos ticket for combo price of €12
Hours: 10am-6pm Tuesday-Sunday, closed on Mondays
Lisbon's Archeology Museum, located adjacent to the Jeronimos Monastery, has the most impressive collection of archaeological items in all of Portugal; from Egyptian times to the Middle Ages, Moorish to Roman artifacts. It is located in the west wing of the monastery.
Cost of entry: €6
Hours: 10am-5:30pm (May-September closes at 6:30pm), last entry 30 minutes before closing time. Closed on Mondays & major holidays
The Belem Tower used to be a defense mechanism for the city of Lisbon. It was able to see if intruders were coming into the Tagus River & then notify the city in time to defend itself. The tower also housed prisoners, who may have gotten the best view from a prison. It's now a UNESCO World Heritage Site & is a tall standing reminder about Portugal's historic successes.
I would suggest that you visit the Belem Tower early in the day as the queue can be over an hour long later in the day. To get to the Belem Tower requires a ten minute walk from the public transport station. As it's across the road from the Jeronimos Monastery, the Belem Tower is worth a visit to truly experience the architecture that speaks to Portugal's Age of Discovery. Afterwards, go to Pasteis de Belem if you'd like a few famous pastries afterwards.
Cost of Entry: €3-€6
Hours: 11am-5pm, Monday-Friday
The Padrã dos Descobrimentos is a monument dedicated to the explorers who allowed Portugal to transform into a superpower in the 14th & 15th century – the Age of Discovery truly was impactful for Portugal, and really all of Europe. There is a viewing platform at the top of the monument that visitors can pay to go up to the top of & see the views.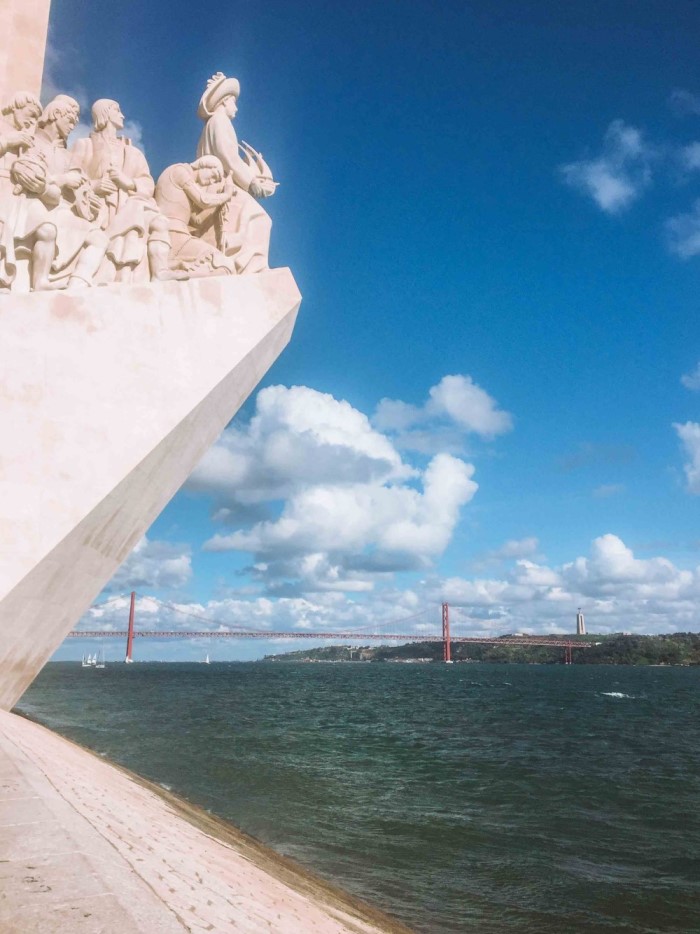 Cost of entry: none
Hours: 8am-11pm
This pastry shop was created by a member of the monastery back in the 1830's, after the members of the clergy were expelled from their monastery. They sold the sweet pastries that visitors grew used to enjoying at the monastery, and thus this shop became a landmark in the Belem district of Lisbon for traveling visitors. You can either wait in a long line to purchase the custard tart pastries to eat in the shop, or save yourself time and instead go to the to-go line to purchase a box for take away.
Bairro Alto
Experiente Bairro Alto nightlife –
The Bairro Alto neighborhood of Lisbon is best known for its nightlife scene. During the day, the area is serene and vibrantly transforms in the evening.
Cost of entry: none
Hours: 8:30am-5pm
Previously a Jesuit church (in the 1500's), this church maintains its Jesuit style exterior, however the interior of the Sao Roque church is what makes this a must-see place in Lisbon. Be sure to check out the Chapel of St John inside. It's made entirely of gold & it was the most expensive chapel in all of Europe at the time it was commissioned.
Miradouro de São Pedro de Alcântara
Cost of entry: none
Hours: n/a
This miradouro has a beautiful garden that has become a popular meeting point. It can be especially crowded at dusk when the view from the miradouro is at its most beautiful, so be sure to arrive early enough to grab a good resting place.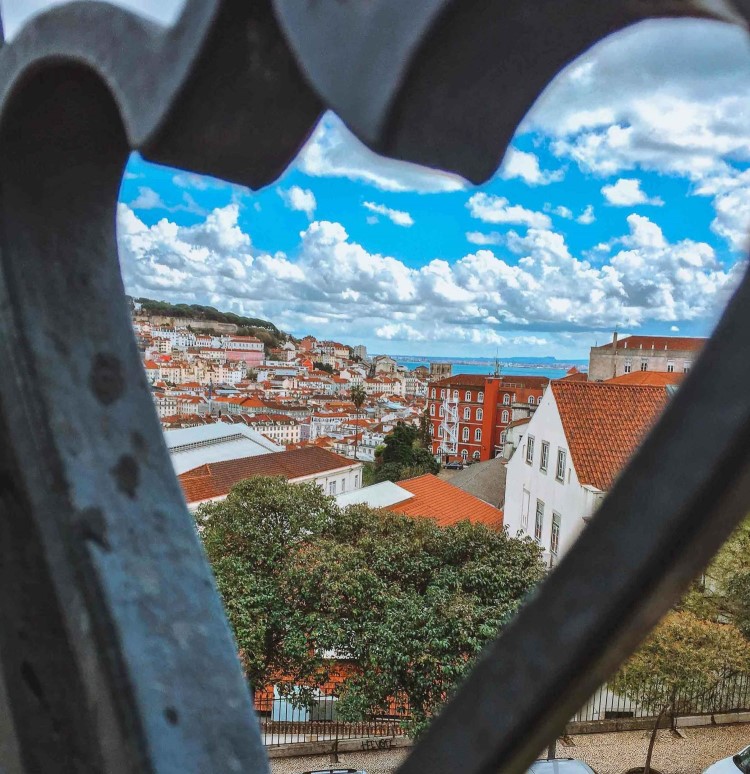 Church of Santa Catarina –
Cost of entry: free
Hours: depends on services
The Church of Santa Catarina can easily be missed as it has a bland exterior. But inside, the church is home to a gorgeous golden baroque decor and rococo stucco ceiling. The entire place is a masterpiece of craftsmanship.
Baixa
Rossio Square / Praça de D. Pedro IV
The Rossio Square, which was created during the Middle Age, is located in the very center of Lisbon, and is the liveliest part of the city. The square is teeming with monuments, cafes & restaurants and shops to explore. It's a perfect spot to hang out with friends and people watch.
Elevador de Santa Justa (Santa Justa Lift) –
Cost of Entry: €5.15-€6.65
Hours: 7am-10pm
This 45 meter high famous elevator in the city of Lisbon was originally created to connect two neighborhoods to one another (lower streets of Baixa to Bairro Alto) so that pedestrians didn't have to walk up and down the steep hills multiple times each day. The Elevador de Santa Justa is a drastic dark color, compared to Lisbon's colorful buildings. This is because the design was inspired by the Eiffel Tower in Paris. The Elevador de Santa Justa is also known as the Carmo Lift.
Praça do Comércio – Town Hall Square
Praça do Comércio is Lisbon's main square next to the Tagus River. It was formerly used to unload goods from ships in the river. The square is surrounded by what was previously a royal palace (which was destroyed after the 1755 earthquake & subsequent environmental destruction), it now houses restaurants & shops below.
Praça do Comércio is a symbol of Portugal's wealth & ambitions. The statues surrounding the square are notable figures in Portugal's history, and the square itself is seen as the symbolic entrance to the city via the Arco da Rua Augusta; also known as the Door to Lisbon' (see next item)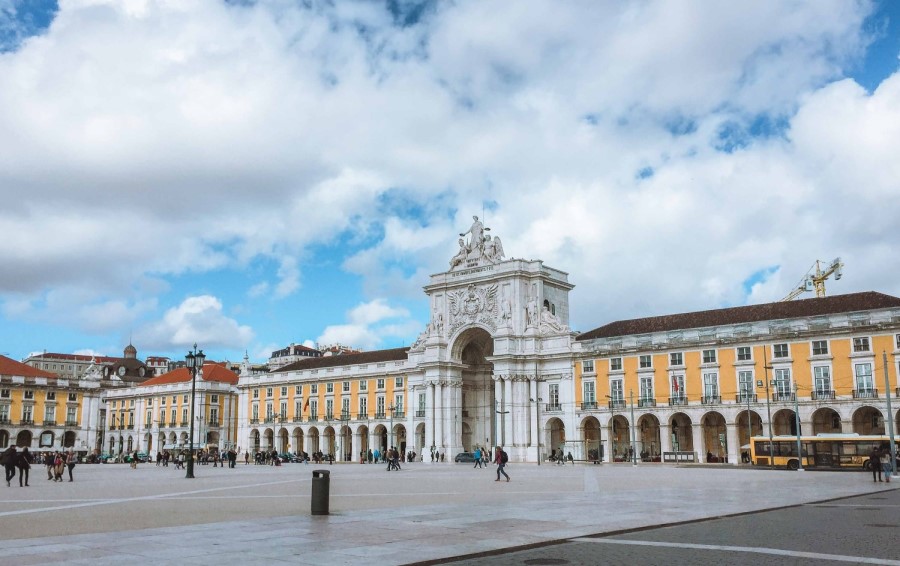 Cost of Entry: to climb to the top €3
Hours: to climb to the top, 9am-7pm
This arch leads from the Praco do Commercio to the main shopping boulevard of the city & heart of Lisbon. The arch was a part of the recovery from the 1755 earthquake & commemorates the city's loss. Visitors can pay to climb to the top of the arch.
Chiado
Cost of entry: €5
Hours: 10am-6pm Monday-Saturday
One of the best places we visited in Lisbon was the Carmo Convent. It's a medieval convent that was destroyed during the 1755 earthquake (are you seeing a pattern of how the earthquake shattered the city?) What makes the Carmo Convent incredible is how stable the remnants of the convent are. You are able to walk through what still stands of this religious building. It's so quiet within that you can easily forget you are in the heart of a bustling city.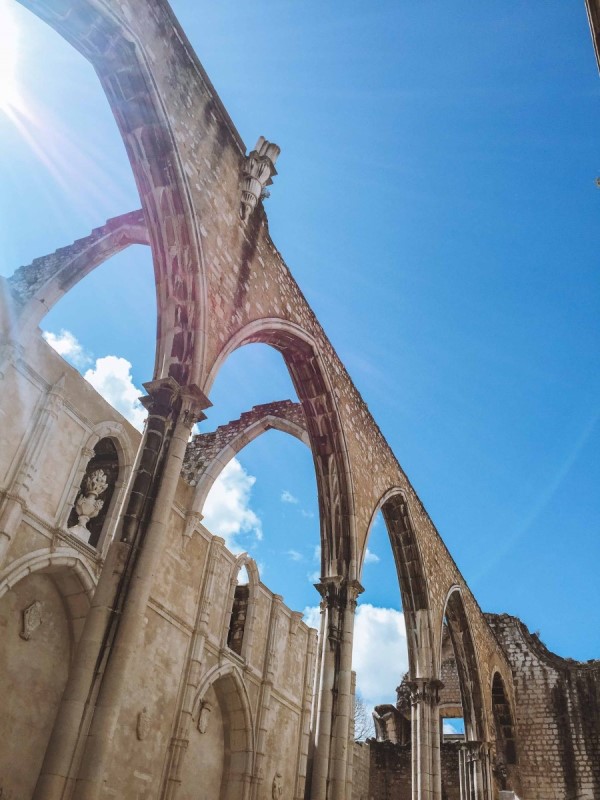 Largo do Chiado is a quaint & quiet square that was recommended for us to visit by our hosts. It's near the Carmo Convent with great shops to explore in the area. A perfect place to catch your breath from walking the hills of Lisbon.
Rua Nova do Carvalho is a street that is known as"Pink Street". It's an internationally known nightlife hotspot. The street & surrounding area used to be considered Lisbon's Red Light District. While great to experience for nightlife, I would not recommend staying near here as it's noisy well into the morning.
Miradouro de Santa Catarina –
Miradouro de Santa Catarina is great as it's not often visited by tourists. There are many cafes & restaurants nearby with views too.
Cost of entry: free
Hours: 10am-12am
Timeout Market is a massive food market and music venue. It also has multiple bars. A perfect place to enjoy a nice meal & experience local cuisine in Lisbon.
Outskirts of Lisbon
Miradouro da Nossa Senhora do Monte –
I dare you to say the name of this miradouro five times fast – what a mouthful! If you travel outside of the main part of Lisbon, make time to ascend Miradouro da Nossa Senhora do Monte for the best view of Lisbon. From here you'll have a panoramic view of the city & Castelo Sao Jorge. It's great at sunrise to see the soft morning glow over Lisbon.
Oceanário de Lisboa/Lisbon's Oceanarium –
Cost of entry: €19
Hours: 10am-6pm, last entry at 5pm
Lisbon's Oceanarium is one of the largest aquariums in the world, and the largest indoor aquarium in Europe. If you're traveling with children, it would be a great place to spend a day.
Museu Nacional do Azulejo/National Tile Museum –
Cost of entry: €5
Hours: 10am-6pm, Tuesday-Sunday
Lisbon is known for its beautiful tile work throughout the city so it's no wonder there is an entire museum dedicated to it. The Museu Nacional do Azulejo is located within a Baroque style 16th century convent (Madre de Deus). Every inch of the inside of this museum is covered with azulejos (tiles), and the museum goes through different types of tiles throughout the ages You can download their mobile app & use it like an audio guide while there (just bring your own headphones).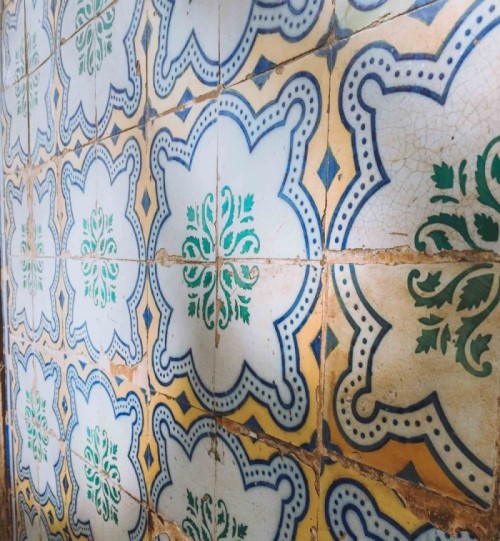 Located in the Rato neighborhood, the Basilica da Estrela is a Neoclassical church. It's known for its interior that has pink, grey, yellow & black marble. If you're in the area it's worth a stop to check out.
Mercado de Campo de Ourique
Cost of entry: free
Hours: 10am-11pm
Mercado de Campo de Ourique is slightly smaller than the Timeout market. It's less crowded than Timeout too. I'd suggest stopping here for lunch. The market offers fresh food outside and prepared foods inside- from portugese tapas, to sushi. Note – Some places/stands are closed on Sundays.
Where to stay in Lisbon
Lisbon Neighborhoods
Here are the best neighborhoods in Lisbon that you should stay in when you travel here:
Alfama– known for its picturesque streets
Chiado – an enchanting area with cute cafes & tiny boutiques
Baixa– located in downtown Lisbon, and has plenty of shopping available
Bairro Alto– known for its vibrant nightlife scene. The area literally transforms from a quiet area in the day to a party hub at night
Lapa & Madragoa– Lapa & Madragoa are both much quieter areas compared to much of Lisbon
Day Trips outside of Lisbon
including Sintra!
Lisbon is wonderfully close to many other beautiful destinations that can easily be reached for day trip excursions. Here are the best places to visit outside of Lisbon:
We spent one full day with Lisbon Riders, a local tour company, and absolutely loved it! We took their Sinta & Cascais full day tour. I would highly recommend using them as your tour guide if you would prefer to sit back, relax & enjoy the scenery while someone else drives you around.
Sintra, Portugal:
Sintra is only 18 miles from Lisbon, about a one hour car ride, and even shorter train ride, from Lisbon. There are three main royal palaces and castles to explore, each of which are UNESCO World Heritage Sites. Throughout Sintra there are extensive gardens & colorful architecture.
It should be noted that there are many smaller palaces to check out in Sintra. However, they are more easily accessed by car.
While in Sintra, be sure to stop in to Piriquita. It's a famous bakery in the area, and has the original custard tarts that true Lisboans know of.
*Note – The main palaces are closed on Christmas Day & New Years Eve
Cascais, Portugal
Cascais is a charming fishing village with soft sand beaches that's only a 40 minute train ride from Lisbon. It is home to the wealthy, but still maintains its small town charm
Azenhas do Mar
Azenhas do Mar is another gorgeous little seaside town in Portugal.
Cabo da Roca
Cabo da Roca is Europe's most Western point. It's fun to drive to and stand out near the edge for pictures.
Boca de Inferno
Boca de Inferno translates to the "Devils Mouth". If you are already visiting Cascais, this is a quick stop to see this stunning Tacliffside. Waves crash into the cliffs and form a spectacular view of the coastline.
click image to find out more!