Best Day Trips from San Diego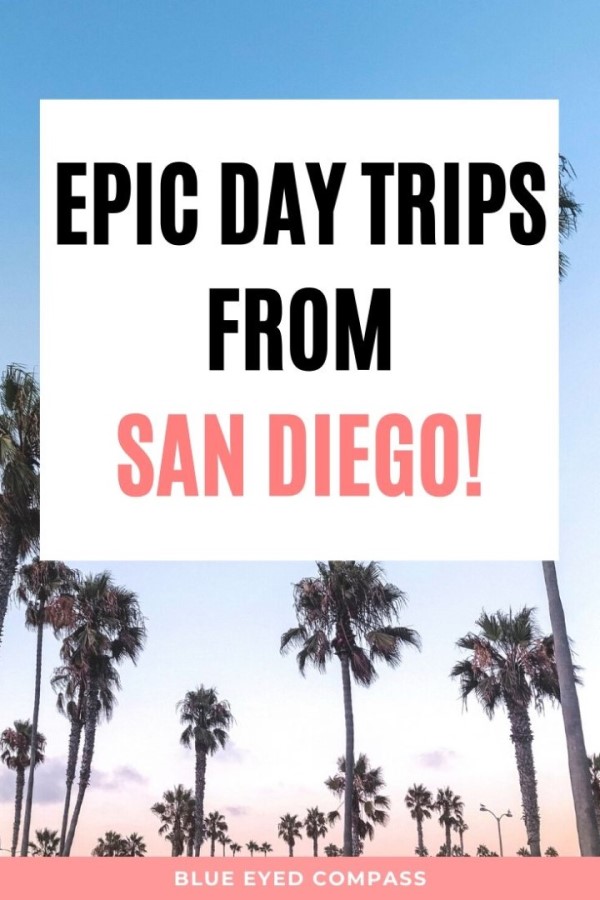 San Diego is so wonderfully located that it's a perfect place to head out for various day trip excursions. The city is truly surrounded by beautiful destinations such as national parks, beach towns, wineries and islands. So not only is San Diego an incredible vacation destination, but for those who live here, it's a great place to venture away from and explore other parts of Southern California and Baja Mexico.
The following best day trips from San Diego are organized by area via north, south, east and west of San Diego.
San Diego Day Trips that are EAST of San Diego County
– Salvation Mountain –
Distance from San Diego: 2-2.5 hour drive from central San Diego
Salvation Mountain has become a trendy destination for road trippers and San Diegans to take photos of. Salvation Mountain is not actually a mountain, it's a man made, colorful monument located in the middle of the desert.
The 'mountain' was created by Leonard Knight who built it with natural materials and then painted over it with vibrant colors, bible verses & christian phrases. While it may not be the most exciting place to visit in the world, it is a sight to see the bright colors against the beige desert backdrop.
If you chose to visit Salvation Mountain, you are also close enough to explore the Salton Sea. I don't have it listed here as it's own day trip destination, as I don't feel it warrants it's own trip. Salton Sea has quite a sad tale – the area was once being built out to be a resort destination as the area had become a large lake. But due to agricultural runoff & other issues, the sea/lake became polluted and its salinity levels were too high for animal life. If you drive out to Salton Sea you will see abandoned homes, cars, and more. Imagine an eerie ghost town but with fish skeletons included.
Stay with me here, the remaining day trips from San Diego are much more exciting than Salton Sea…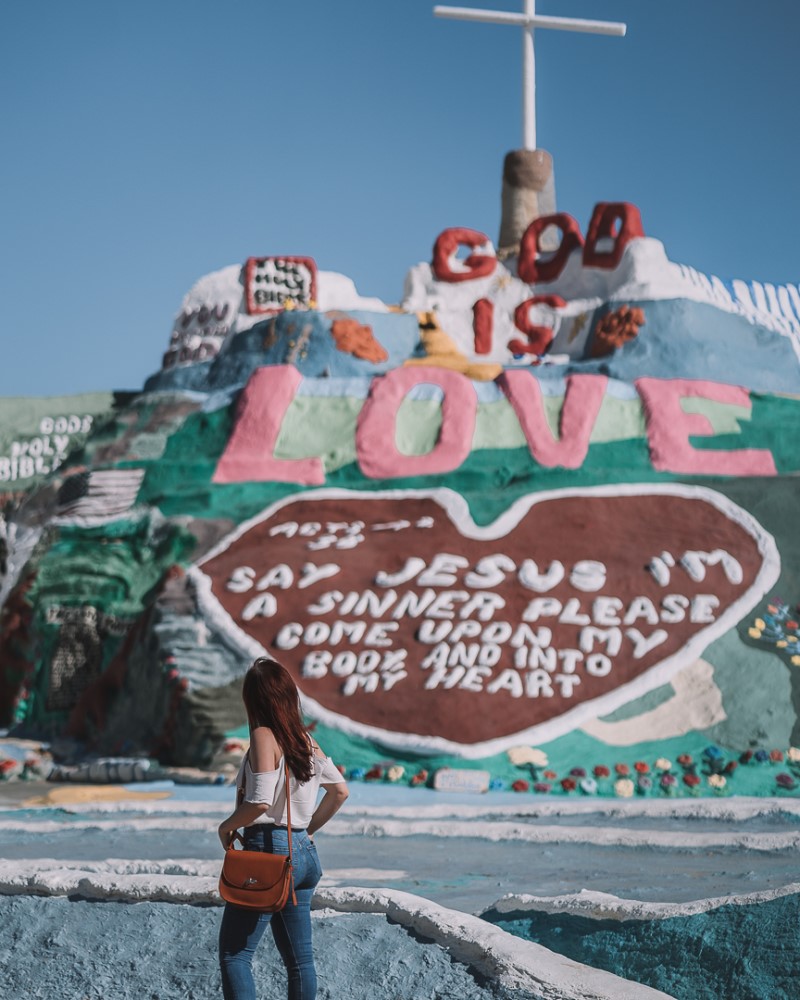 San Diego Day Trips that are NORTH of San Diego
– Laguna Beach –
Distance from San Diego: 1 hour & 15 minute drive from San Diego
If you grew up watching MTV's 'Laguna Beach' then you may already know that Laguna Beach is a stunningly gorgeous destination. The area is like something out of a postcard. The downtown area has adorable shops and is known for its art galleries, but if we're being honest, you need to visit Laguna for its beaches.
Yes, traveling from San Diego beaches to Laguna beaches sounds redundant, but trust me, it's worth it. Here are a few of the beaches in Laguna that are well worth the day trip drive from San Diego:
1,000 Steps beach (it's easy to get down to, and a workout to get back up)
Crystal Cove State Park
Victoria Beach – known for its Disney princess-like tower
Crescent Bay Beach (which may be my favorite beach in Laguna!)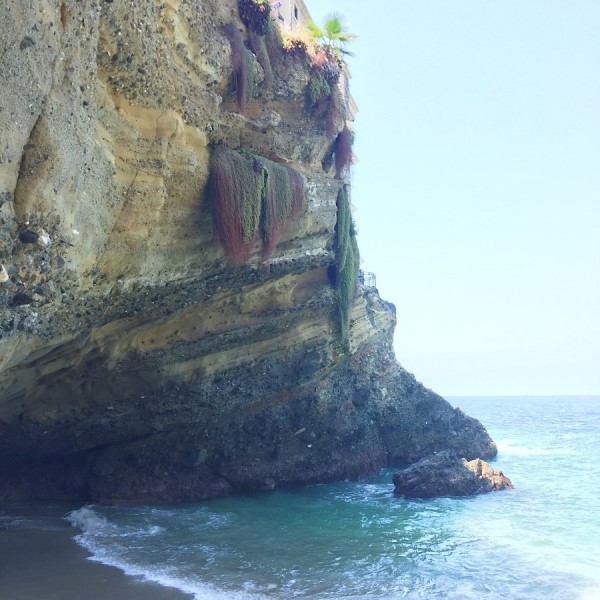 – Catalina Island –
Distance from San Diego: 1.5 hour drive to Dana Point harbor, then a 1 hour boat ride on the Catalina Express
Catalina Island is a romantic escape for many Southern Californians. This rocky island reminds visitors of vacations to the coastal towns of the Mediterranean. Santa Catalina island is the main island of a cluster of small islands known as the Channel Islands of California.
This place is a car-free destination, so visitors can rent bikes, golf carts or boats to explore. There is snorkeling, kayaking, hiking and groups that will take you to find the island bison. The main area of Catalina island hosts quite a few bars & restaurants that are perfect for ending your day before hopping on the ferry boat back to Dana Point harbor. While Catalina Island can be better for overnight stays, it's close location to San Diego makes it a very doable day trip destination.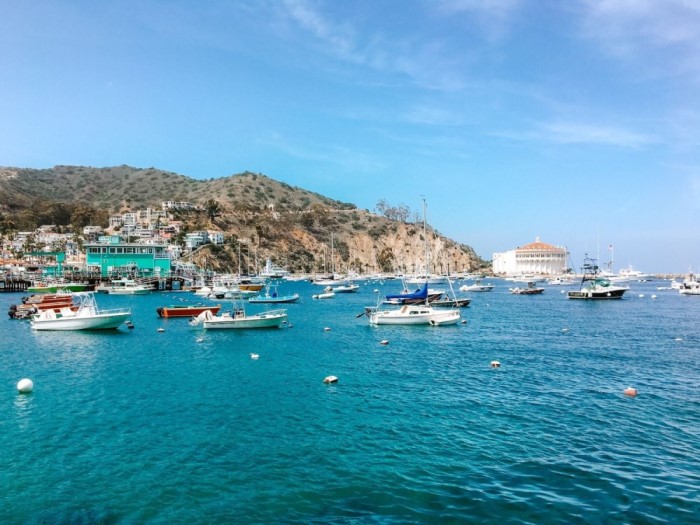 – Temecula Wineries –
Distance from San Diego: 1 hour drive from central San Diego (more or less depending on which winery you choose to visit)
Temecula is Southern California's Napa Valley, it's our wine country (as is Valle de Guadalupe, discussed below!). The Temecula area has over 40 delicious and beautiful wineries to enjoy. You can also spend time walking around Temecula's Old Town or finish your day with a hot air balloon ride that Temecula has also somehow become known for… could either be a really fun or potentially dangerous way to end a day of wine tasting, but regardless, a hot air balloon ride would definitely be a beautiful way to catch the sunset.
– Julian –
Distance from San Diego: 1 hour drive NorthWest from central San Diego
Julian is a town known for apples and it's homemade apple pies. You can start your day picking apples at one of the many apple orchards, and then spend your afternoon exploring the quaint town of Julian. It almost feels like a step back in time with 1960 themed soda shoppes and boutique stores. A day trip to Julian from San Diego wouldn't be complete without stopping at Mom's Pies. I suggest you enjoy a fresh slice while there and then bring home a pie to enjoy for later.
Julian is also near Cuyamaca State Park which is a great area for hiking too.
– Disneyland –
Distance from San Diego: 1.5 hour drive north of San Diego
Disney is a household name around the world, so I won't dive too far into what Disneyland is. However I will share that there are two parks that Disney hosts in Anaheim – Disneyland and California Adventure Park. If you are looking for a traditional Disney experience, then visit Disneyland. If you prefer more rollercoaster-type attractions, then check out the California Adventure Park. As with any major theme park, visiting on a weekday will mean smaller crowds.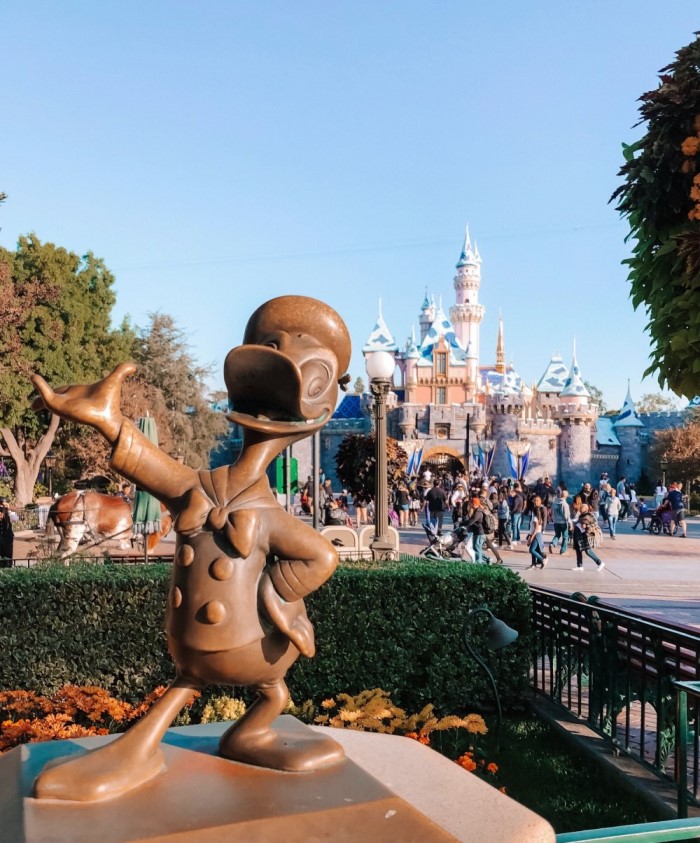 – San Juan Capistrano –
Distance from San Diego: 1 hour drive from San Diego
San Juan Capistrano is a small historic California city. There is the old town area or Los Rios Historic District to explore, which has small shops & cafes. The main attraction here is the Mission San Juan Capistrano. The mission is an 18th century Spanish chapel that is still beautifully maintained.
San Diego Day Trips that are SOUTH of San Diego in MEXICO
– Tijuana, Mexico –
Distance from San Diego: 20 minute drive south of central San Diego
With a quick drive south, you can be across the border in Tijuana, Mexico and enjoy mouthwatering food for a fraction of the price in San Diego. Tijuana is a vibrant city that San Diego locals enjoy visiting for delicious lunches and dinners. The main street is Avenida Revolucion, but it's been suggested that visitors explore areas outside of this main tourist street. My suggestion – enjoy a beer and lunch at Telefonico, a food truck destination that offers vegan options and it's own brewery!
– Rosarito, Mexico –
Distance from San Diego: 50 minute drive south from San Diego
Drive a bit farther south from Tijuana and you will be in Rosarito, a popular Baja coastal town. Visitors to Rosarito can easily walk around town and walk to the beach. However, I don't believe Rosarito to be a great place for everyone. It seems to be home to a big party scene and I've witnessed horses being used for tourists on the beach, which I strongly disagree with.
If you drive a little outside of the main area of Rosarito you can find some beautiful & quaint resorts to stop at for margaritas and delicious meals.
– Ensenada, Mexico –
Distance from San Diego: 2 hour drive south into Baja Mexico
Ensenada is a seaport town further south from Rosartio, but with a lesser party scene. Ensenada is great for outdoor activities like kayaking and mountain biking, as well as plenty of restaurants to enjoy delicious mexican cuisine.
– Valle de Guadalupe, Mexico –
Distance from San Diego: 1.5 hour drive south east from central San Diego (more or less depending on which winery you choose to visit)
San Diego is happily book-ended with two wine areas, Temecula & Valle de Guadalupe in Baja Mexico. This area of Baja Mexico has over 100 wineries to enjoy (compared to Temecula's 40+ wineries). You can book a wine tour company to pick you up in San Diego & chauffeur you around to their favorite wineries in Valle de Guadalupe or book a nights stay at a boutique hotel for two days of wine tastings & delicious Mexican food.