How to Use Tokyo's Public Transportation
An easy to understand, outlined guide on how to use Tokyo's public transportation.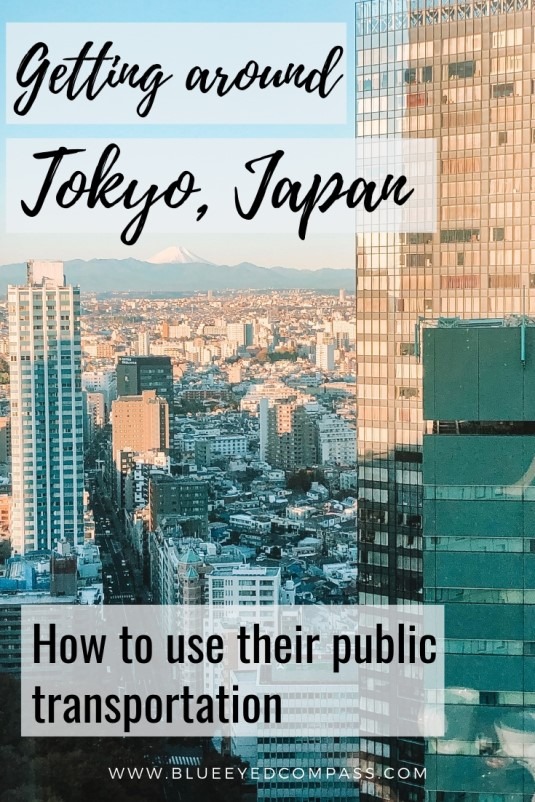 Last Updated April 8th, 2020
Tokyo has almost 14 million residents, so taking public transportation in Tokyo, Japan is the best way to get around the city. However, being that it is such a large city, Tokyo's public transportation system can be very confusing and overwhelming to visitors. I've put together an easy to follow, and detailed guide on how to get around Tokyo, and the best way to do so. And when I say detailed, I mean I've compiled all of my research into a succinct bullet point outline so that you can easily understand everything and get the most juice out of the lemon (is that a real phrase, or did I just make it up?)
Trust me when I suggest that you read through this slowly. Jot down your own notes & reference multiple maps while reading, so that you can feel comfortable with getting around when you arrive in Tokyo. Taking public transportation is much cheaper than paying for an uber or taxi, since the city is so large, and it gives you an excellent opportunity to truly experience Japan's unique culture.
*PLEASE note that bus transportation is not included in this guide. We found prices to be similar from bus to train to subway, and felt that train and subway lines are more reliable and time efficient.
Things to Know about Tokyo, Japan's Public Transportation System:
Tokyo's size requires anyone to utilize their very efficient public transportation

Japan's public transport is ALWAYS on time

Everything is clean. From the actual train cars to the walkways, to the restrooms. In fact, the public restrooms at the stations were comparable to nice hotel restrooms. As with most of Tokyo, there are few trash cans available.

Efficiency is the focus. With more than 13 million people in one city, efficiency is necessary for Tokyo's public transportation. There are arrows showing which side of walkways to walk on and where to line up for each car. What would be chaotic elsewhere is systematic order here.
Tokyo's public transportation is very safe. The etiquette on Tokyo's public transportation is to not give direct eye contact and to keep to yourself. Not once did I ever slightly feel uncomfortable or that there were pickpockets. *

however, still always protect your belongings

It's easy to use, but can be quite confusing to a visitor due to the number of transit lines.

Vending machines are in every station. They have a plethora of unique drinks you can get. *Keep in mind the amount of plastic that comes from these machines, if you want to try something be selective to limit your plastic purchases please.
There are two types of Tokyo public transportation cards you can purchase. The

Suica

& the

Pasmo

, more details on these

below

If lost, someone may come up to help you and you can always ask an official inside. We found that the Japanese were very kind and helpful when we seemed lost and confused.

The JR East & subway lines are the most convenient (see below

)
You can use a Travel card (Suica or Pasmo) or a JR rail pass on Tokyo's trains. These allow commuters to hop on/off buses and navigate stations relatively stress free. I would recommend using one of these cards throughout your stay as it will eliminate the need to purchase a ticket for each ride. Whichever you choose, know that Tokyo's trains are very economical & convenient for travelers
Here are details on the train types available in Tokyo:
JR =

Japan Rail

, this rail system covers the entire country of Japan (this JR term will be referred to a lot in this post)

JR East is a group of lines. It includes Tokyo so will be seen most often in the city

JR Yamanote Line- one of the JR East lines, this train service does a circular loop of all of Tokyo's main spots & runs until 1:20am

Six major stations on this line:
Other JR Lines that you might use frequently in Tokyo are:
Chuo/Sobu Line (local): runs across the Yamanote circle, this is a local, slow service
(Yellow, slow local)
Chuo Line (rapid): runs across the Yamanote circle, a rapid service. Connects the Tokyo Station with Shinjuku Stations
(Orange, rapid)
Shinkansen: known as 'bullet trains'. The Tokaido Shinknason trains stop at Tokyo & Shinagawa, and bullet trains north stop at Tokyo & Ueno
Shinkansen, or high speed bullet train, tickets can be purchased from the JR stations
Maps of the Shinknason trains cover the entirety of Japan, so to avoid confusion none are included in here. If you are interested in the bullet trains, check out this guide here
The Narita Express is a JR East train line

Narita Express is the train line that takes you from the Narita Airport into Tokyo's city center
There are private railway companies

They connect Tokyo's center with outer regions & surrounding prefectures

The private railways typically start at a JR Yamanote Line

Here are some of the private railway companies

Keio

Odakyu

Seibu

Tokyu

Keikyu

Keisei

Tobu
Now that we've covered above ground trains, let's move onto
Tokyo's SUBWAYS
There are 13 subway lines

Operated by two companies

Toei (4 lines) & Tokyo Metro (9 lines)

They run mostly inside of the JR Yamanote Line (

remember the JR Yamanote Line is the circular/loop line that stops at many major Tokyo stops

)
Tickets & Passes for Tokyo's Subways and Trains
Tokyo Travel cards
Tokyo's travel cards give you unlimited access to any subway or train line

They don't discount the cost per ride, but they do save you a lot of time from having to buy a ticket each time you want to go somewhere; i.e. you'd have to find the ticket booth, stand in line, etc (each station is different so finding the ticket area would take you time)

Each area/prefecture of Japan has their own travel card. The most used and acceptable in Tokyo are the Suica and Pasmo cards. What is the difference between a Suica and a Pasmo card? See below!
Suica: purchased at JR lines
Travelers can purchase Suica cards from any JR station ticket machine or convenience stores

It is a prepaid fare card

A 500 yen (about $5) deposit is required, and can be refunded when the card is returned

Suica cards are accepted all over Japan- almost all buses, trains, convenience stores, vending machines

Once charged up with money the Suica card can be used immediately
Pasmo: purchased at non-JR lines/local lines (subway & bus lines)
Pasmo cards are used the same way as Suica cards, they are just provided by a different company

Pasmo cards are only accepted within Tokyo

Pasmo cards can be purchased from either airport, rail & subway stations

A 500 yen deposit is also required, and can be refunded when the card is returned.

Keep in mind, that the Pasmo card is only available to be used within Tokyo, so be sure to return the card for your deposit while you are within the city of Tokyo
Should you choose a Suica or Pasmo card?
This seems to be a matter of preference to each person & where they will be traveling within the country
How to use your travel cards:
Simply touch your travel card over the entrance scanner to the station

The scanners will beep if you do not have enough money charged onto the card, so each station has kiosks where you can purchase and re-charge your cards
Day passes are available but not very convenient

They don't cover all of the different lines & all seem to be overpriced

And if you're exploring over a few days you'll end up taking different lines of transportation around, so its more economical to purchase a travel card

Japan Rail Pass

This is useful if you are exploring large parts of Japan, outside of Tokyo

If traveling outside of Tokyo, I would suggest purchasing the Japan Rail Pass only for the days that you are not in Tokyo, and using the travel cards, which are cheaper, for when you are in Tokyo
Regional Passes

JR Tokyo Wide Pass: good for getting to Tokyo Disneyland and Mt. Fuji

You can only purchase a regional pass in person at either of Tokyo's airports or the main train stations

Know that each region of Japan has its own travel pass, or IC card (Tokyo's are Suica & Pasmo)
Tips for using Tokyo's Public Transportation:
The faster, bullet trains, also known as Shinkansen, require separate tickets. Meaning you cannot use your Travel (Suica or Pasmo) cards for the bullet trains

Return your travel card at the end of your visit at any station relevant to your card

Suica: JR lines

Pasmo: non-JR lines

With 13 million people in one city, rush hour will be packed; if possible, avoid traveling from 7:30-9am

Many lines run from 5am-1am

There are

women only cars

during rush hours (children 6th grade & younger are allowed), typically towards the front of the train

Use your mobile device to help you navigate. Google Maps was on point with their directions using Tokyo's trains and subways. The app will show

you the number of stops, which exit of the station to take & the direction to walk towards
Planning a trip to Tokyo? Read these posts to help you plan & feel prepared for your trip!
Weekend Itinerary for Tokyo, Japan
Basics of Japanese Culture
First Time Visitors Guide to Tokyo, Japan