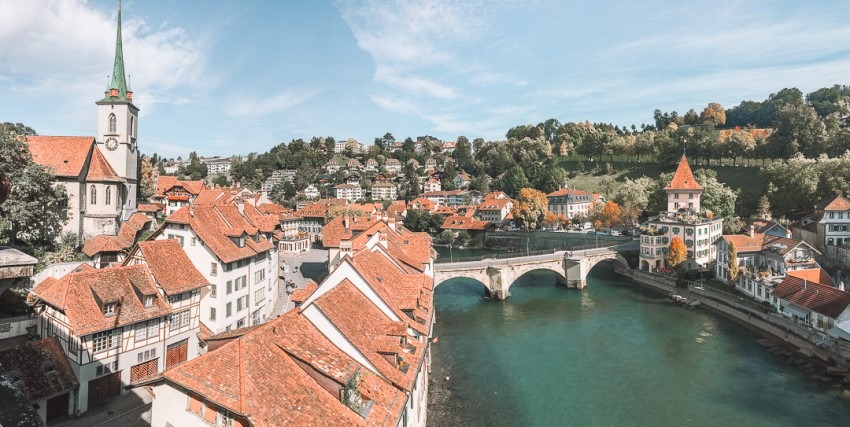 Travel Guide to Bern, Switzerland
An Ultimate Guide for what to see & do when traveling to Bern, Switzerland
(and what to skip!)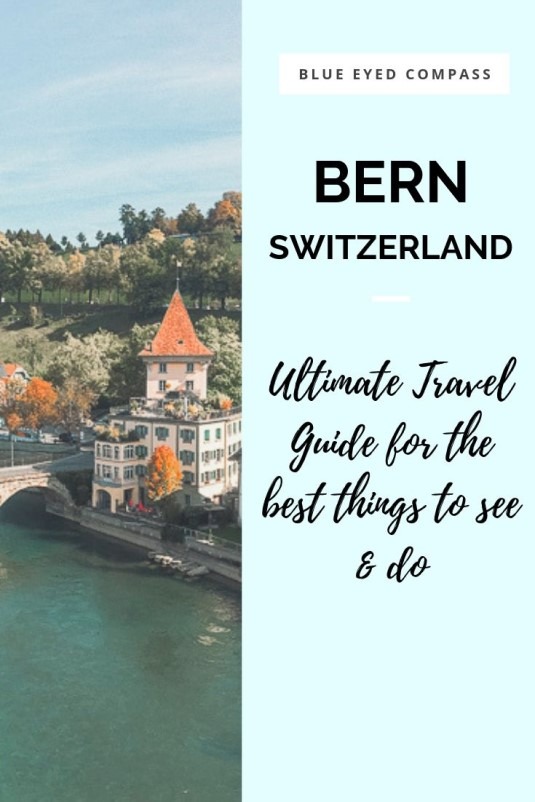 Note: this post contains affiliate links to products we love and have purchased ourselves. Clicking these links doesn't cost you any extra money, and you're supporting us by doing so. You can view our disclosure page for additional details
Experience the effortlessly charming city of Bern, Switzerland. The fifth largest city in the country, and Switzerland's capital, Bern is a compact but adorably picturesque city. A place that was once home to the physicist Albert Einstein, known for bears, Berenese dogs and the colorful River Aare, Bern is perfect for a city break and is still an off-the-radar gem of Switzerland.
Below you will find a detailed travel guide to Bern, Switzerland including where to stay, why you should visit Bern and the top things to do in the city.
[If you found your way here through my Sustainable Travel page, then you may just be interested in my findings and viewpoints on Barenpark. Click here to scroll to that section.]
There are so many beautiful places to visit Switzerland and its surrounding countries, yet I would still highly recommend a visit to Bern, and here's why:
The city is meticulously preserved, which is most likely why it's old town (also called the aldstadt) was named a UNESCO World Heritage site all the way back in 1983! Literally every corner you turn there are picture perfect places to soak up. And it doesn't hurt that life is slower paced than many other major european cities. So, you'll be exploring a 'big' city but enjoying it as if it's a small town.
Fun fact: Bern, Switzerland earned its name from the founder around the early 1900's after he apparently killed a bear who came too close to the city while it was being built. (More about how this fact led to a not too pretty, in fact very negative, animal rights situation… more on that later. Keep reading to find out!) Since then, the city's flag and emblem has always shown a bear.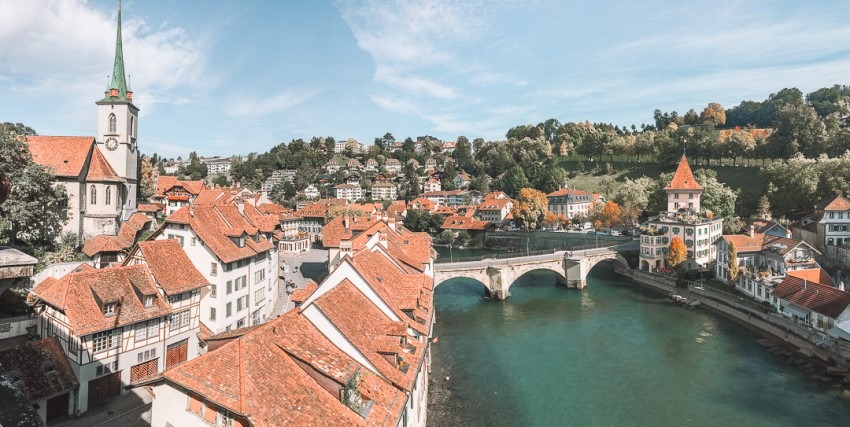 Bern, Switzerland is located southwest of the major city of Zurich, and only an hour train ride from the crisp blue lakes bordering Interlaken. The city is hugged by the beautifully bright & clean River Aare
The city of Bern goes farther beyond the altstadt (old town), so be sure to book your lodging inside of the old town area, as this is where the charming, picturesque part of the city is located.
We stayed at the Hotel Savoy Bern and loved it! The location was not only within walking distance to the main train station (which will save you money from having to order a taxi or public transportation), but the rooms were very spacious, had great views and the interior was modernly beautiful.
Be sure to check out other lodgings options – I typically use Booking.com as they list more than just hotels. There are luxury homes, B&Bs and apartments. Lodging options in Bern, Switzerland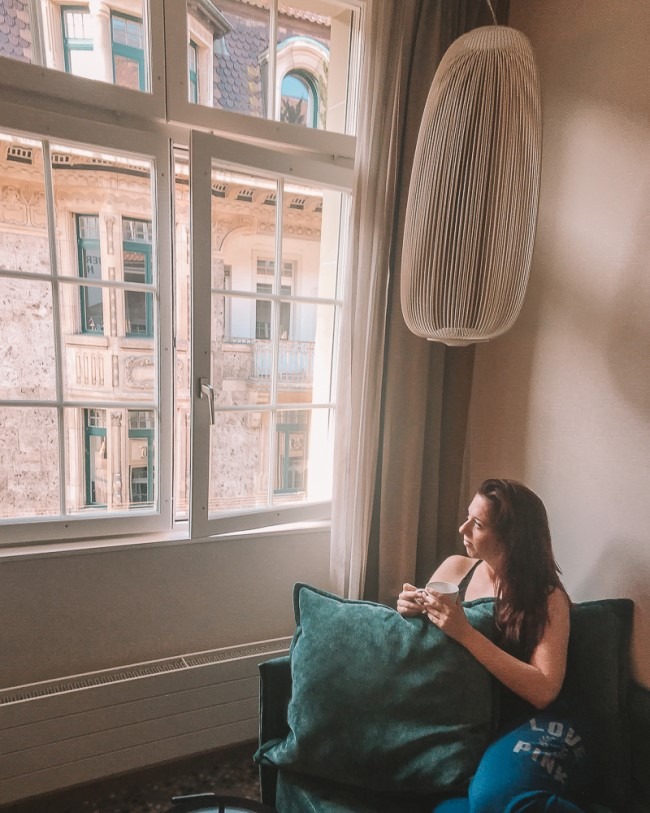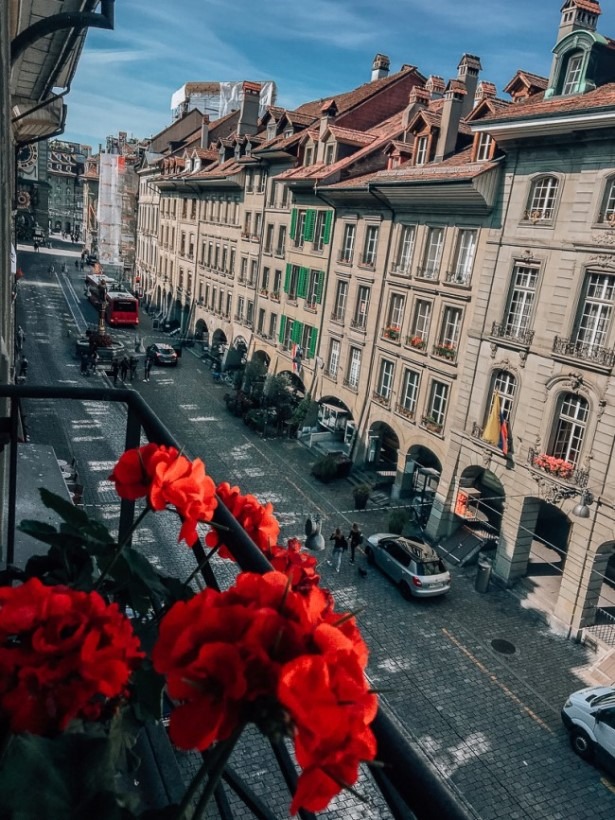 How long should I stay in Bern?
We stayed in Bern for three nights and felt like we were able to leisurely enjoy our time here. One day would not be enough, so I would suggest at a minimum two full days and depending on your travel style, at most four nights.
If you're planning visits to other parts of Switzerland, be sure to explore my other posts about this enchanting country here!
While there is an airport near Bern, it'll be much easier to arrive by train. Once you arrive via train, it is a five to ten minute walk to get to the old town part of the city. Bern's old town is shaped like a horseshoe bend with the turquoise River Aare giving it its shape. Once there you will notice that there are trams and buses available. However, we did not once use them as the city is so accessible on foot. In fact, most of the traffic you'll see will be pedestrian foot traffic.
Bern, Switzerland has recently installed bike stations throughout the city, which I would definitely recommend utilizing. You could bike around all of the old town in half a day this way. Check out this map for the location of the docking stations within the old town of Bern.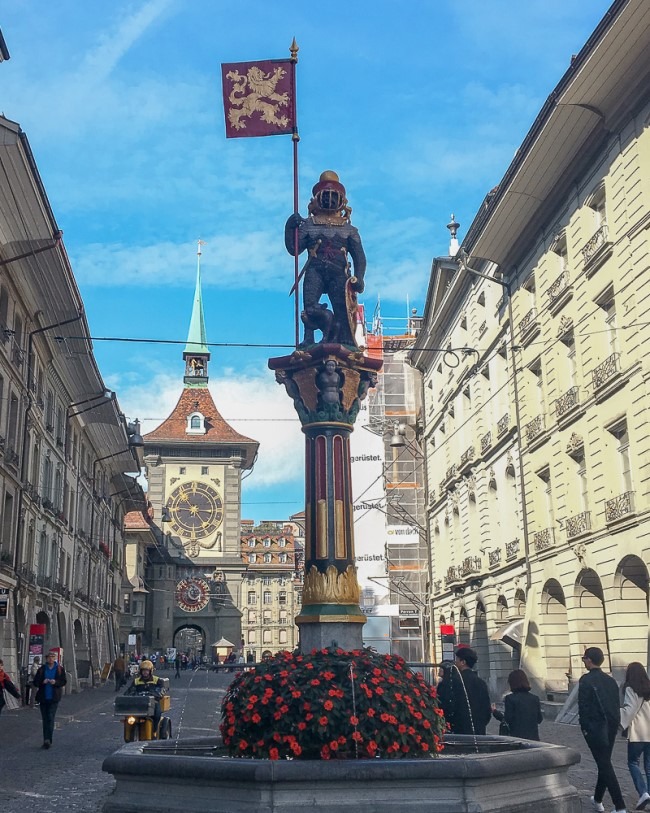 The city of Bern has transformed into a metropolis since it was rebuilt after a terrible fire in the early 1400's. However the aldstadt has kept its european charm and has remained intact since the 15th century rebuild. Known for its 6 kilometers of 'covered arcades' – not actual arcades, but outdoor promenades – locals refer to them as "Lauben" – they are the longest weather sheltered shopping promenade in Europe
While you're walking around, try to find the Kindlifresser statue, aka the Child Eater statue. Yep, you read that correctly. There is a statue with a man eating a sack of babies… no one is quite sure what it depicts, but it should be a great example of the boogeyman tactics for parents to use.
Fun fact – there are over 100 fountains in this small old town!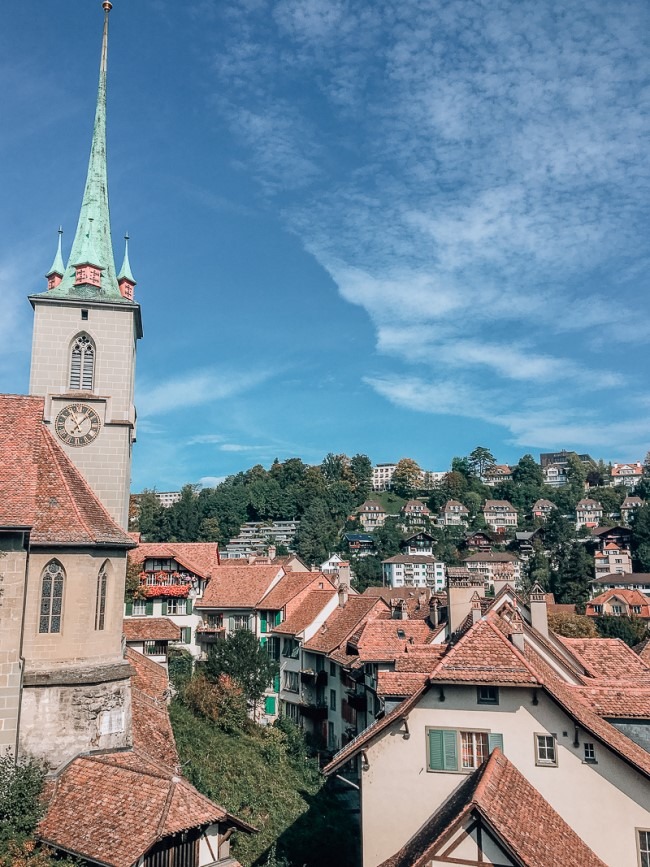 The Zytglogge is a famous astronomical clock. It was Bern's western city gate back in the 12th century, and is now a major site to see in the old town part of Bern. This 800+ year old clock still functions with all of its mechanical figures, and on the hour you can watch it 'perform'. There is a museum/walk through tour you can do, but truth be told, I felt this was unnecessary. But I suppose it depends on your love for clockwork.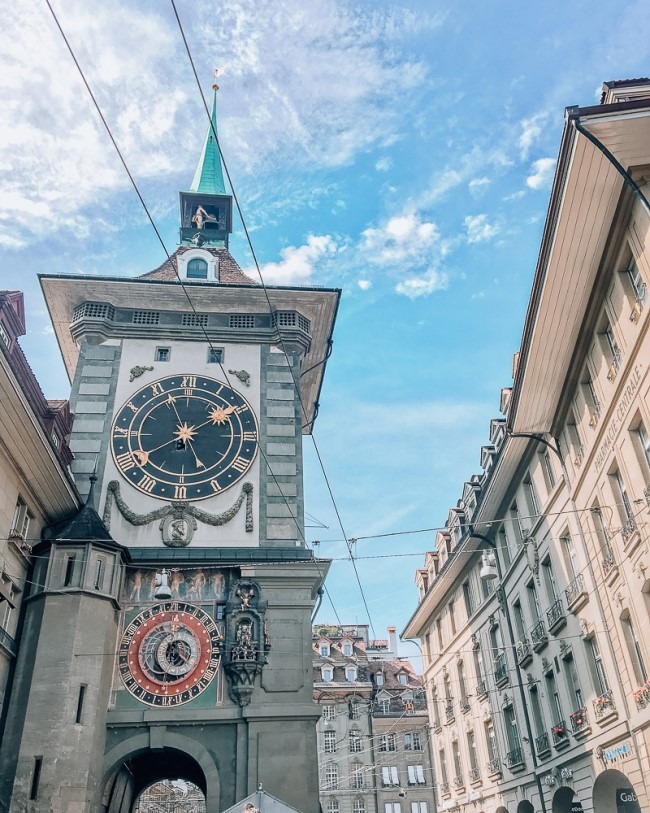 Walk to the top of the Bern Cathedral
A dominant landmark in Bern, this cathedral is the tallest religious building in all of Switzerland. Not only is it a great workout walking up the 222 steps, but the view is beautiful. I'm personally not always a fan of views from super high up because you miss out on so much detail, but the view from Bern Cathedral is perfect in terms of height without being too far away. It's also the highest place to view the city from.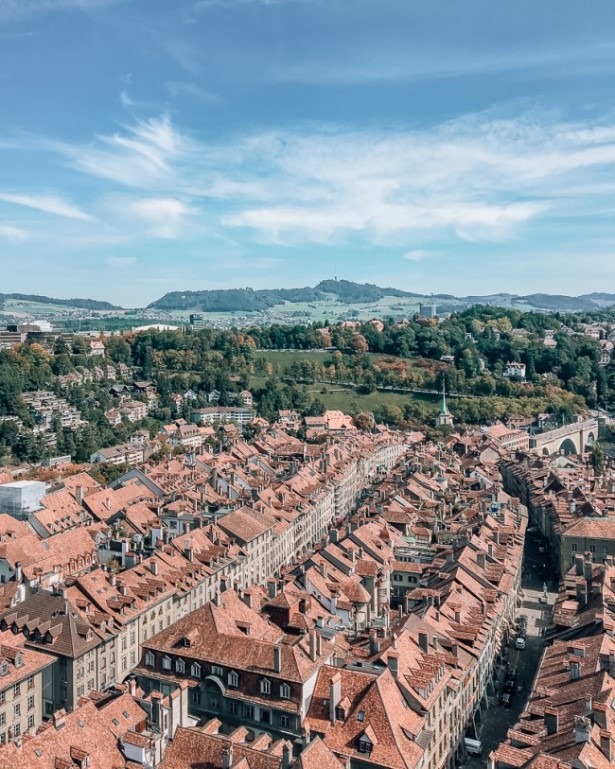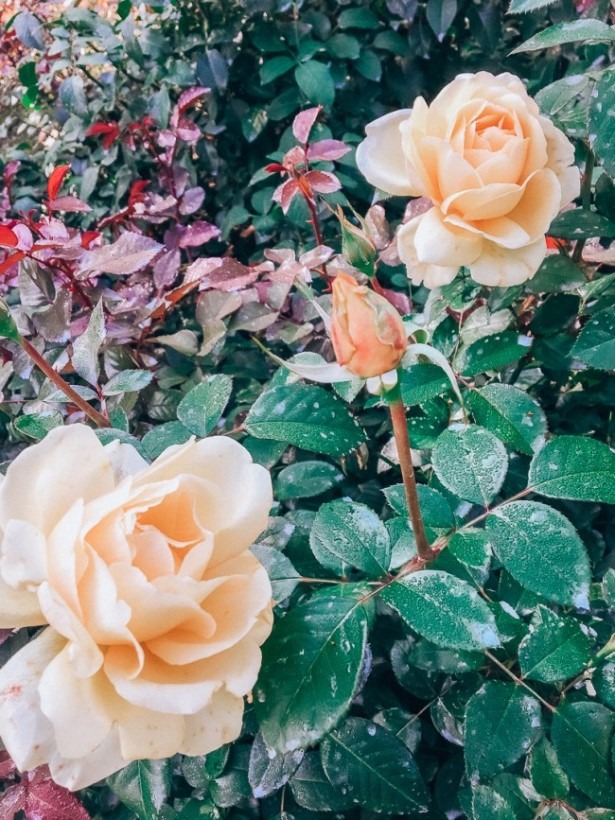 Bern's Rosengarten is great for both a relaxing afternoon in a charming park and vistas of the entire city from across the River Aare. It is an uphill climb to reach the park, but you are rewarded with great views of Bern. There is a statue of Einstein sitting on a bench that is perfect for capturing cute pictures with the historical figures.
The Rosengarten would be good to visit even in the fall, and for sunset as the sun dips below the city skyline.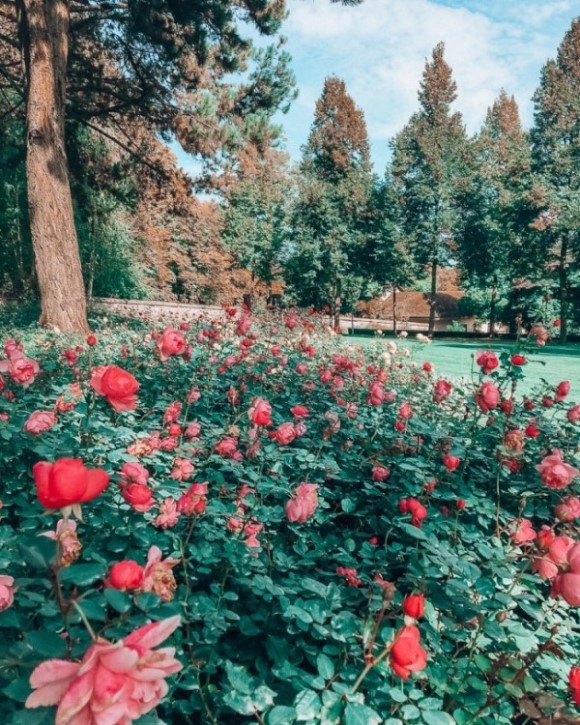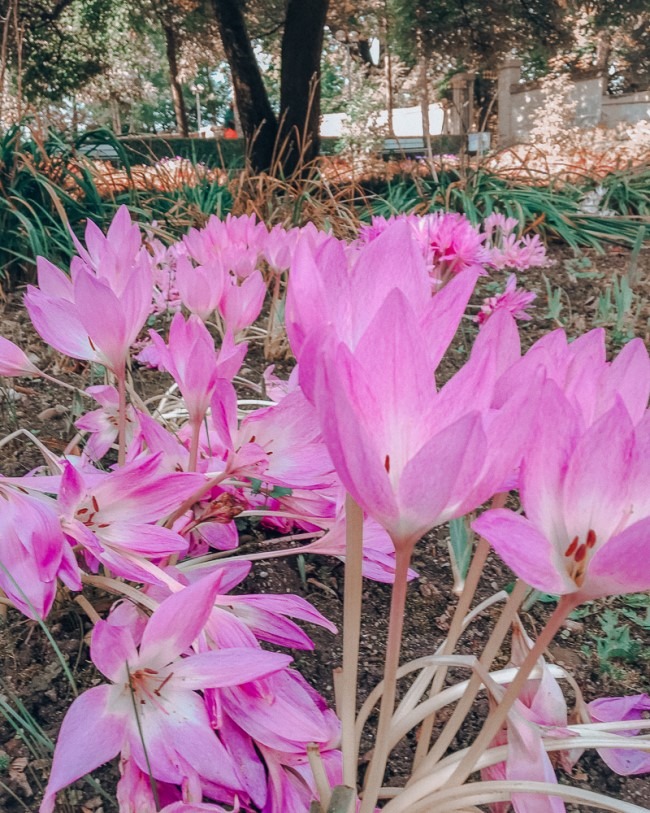 The Bundeshaus is the Swiss Federal Assembly building in Bern. I've become particularly choosey when it comes to spending my travel time inside of museums and historical sites, so while I typically wouldn't suggest going inside of a government building, the Swiss do it justice. They offer FREE tours of inside the Bundeshaus, however will be closed to the public if parliament is in session. You can find the dates they are closed here.
Shop at the Parliament Square weekly market
In front of Bundeshaus is Parliament Square, which is great for people watching, and where Bern hosts a weekly market. Every Tuesday and Saturday morning you can enjoy local produce and Swiss foods.
Maybe you'll feel inclined to buy some treats and then enjoy them while sitting on the steps in the back of Bundeshaus. This part of the building sits against the River Aare so will provide a nice relaxing place to enjoy a morning treat.
Channel Albert Einstein's intelligence
Learn about the famous physicist and his life while he lived in Bern, Switzerland by visiting the house he used to live in. This house museum is where he lived when he developed his famous theory of relativity. Overall, it was a fairly interesting place to visit as Einstein had a unique life and also traveled the world.
(There is a good cafe directly below it as well)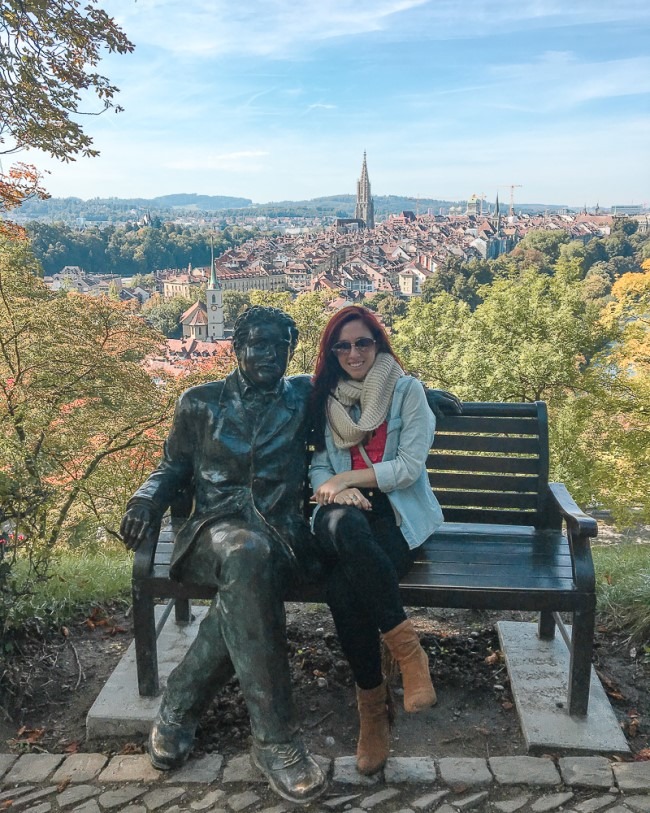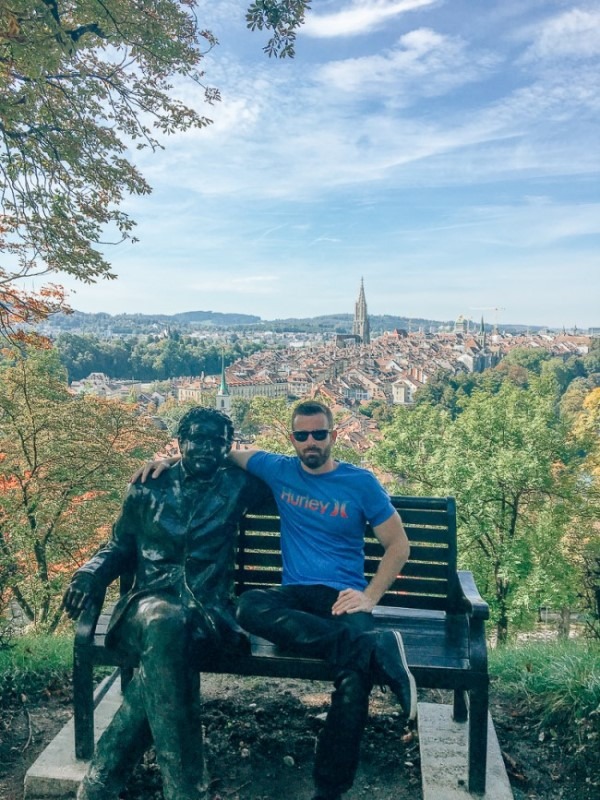 If you plan on visiting Bern in the summer, than I'd suggest packing a swimsuit as you can swim in the beautifully clean River Aare. I can't speak personally about this as we visited in the fall, but a local gave us the following information on how to swim in the Aare in Bern : enter at Eicholz recreation area and float down to the Freiban Marzili.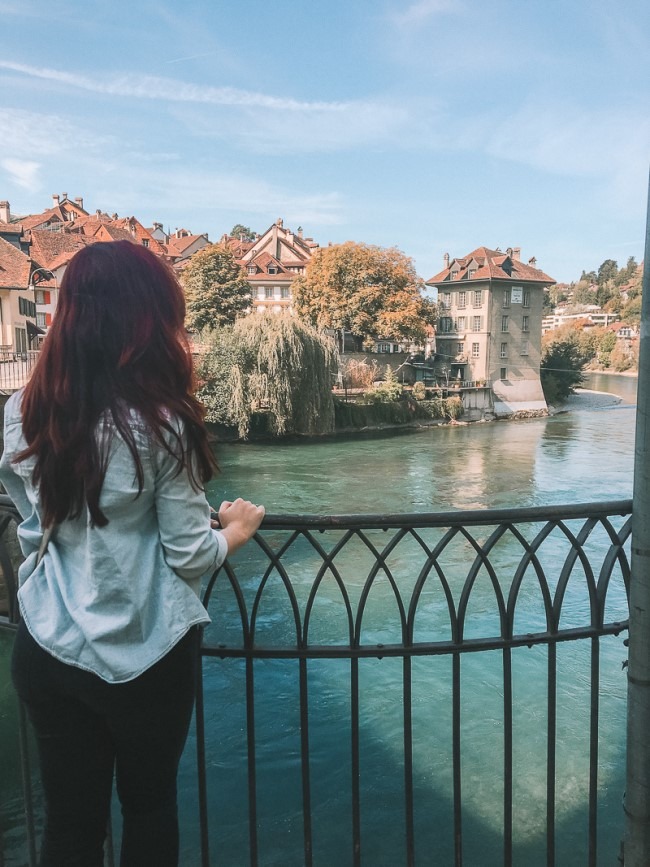 Enjoy the sunset with a view
Grab a bottle of wine or some beers from a local store and enjoy the sun setting over the rust red rooftops of Bern at the Rosengarten or from the back side of the Bundeshaus (Parliament Building).
Take it slow & people watch
I loved the pace of the city of Bern. A city that felt effortlessly slow paced. My suggestion, pick up a cup of coffee in the morning and sit in one of the squares to people watch. There was a square close to our hotel that had a life size chess set. We watched a group of older men play while starting their day with espressos, beers and cigars. It's moments like these where you can begin to feel the heart of a place you travel to.
Another way to immerse yourself in a new destination is to…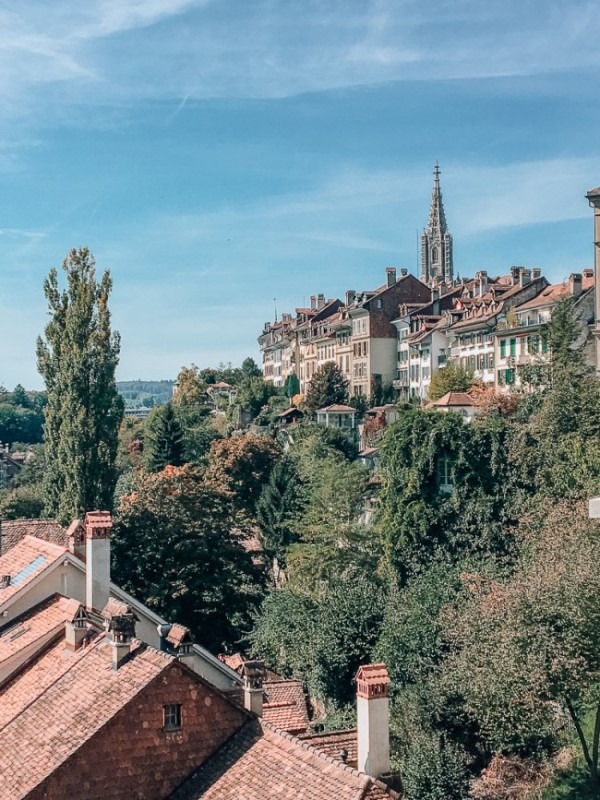 Take part in a local event or festival
As Bern is the capital of Switzerland there are quite a few events that you can attend. We stumbled upon a cultural food festival while there and loved it. You can find more of Bern's events here.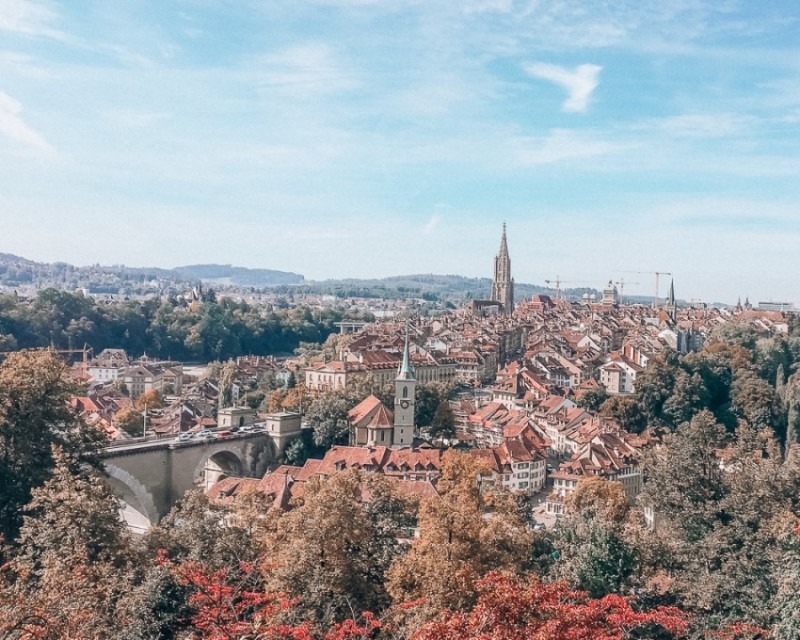 Translated this means the Bear Park. As an animal lover and protector I am always hesitant about visiting and suggesting others to visit places that house (unfortunately, 'house' is a light term used here, when often it's a prison) animals of any kind. I try my best to research prior to visiting and especially spending any money on places like these.
Unfortunately, Bern housed a cement bear pit since its inception of officially becoming Bern in the 1500's. Looking at pictures of what it used to be, which was maintained up until 2009, it makes me feel really sad that that went on for so long. Happily though, the Bern bear pit has been transformed into a bear park. The park is over 65,000 square feet in size, is fitted on a sloping hill with plenty of grass areas for the current bear occupants to enjoy who were transferred from Scandinavia or born in captivity. (Personally, I feel that it's extremely odd that we ship animals around like property to different zoo's.)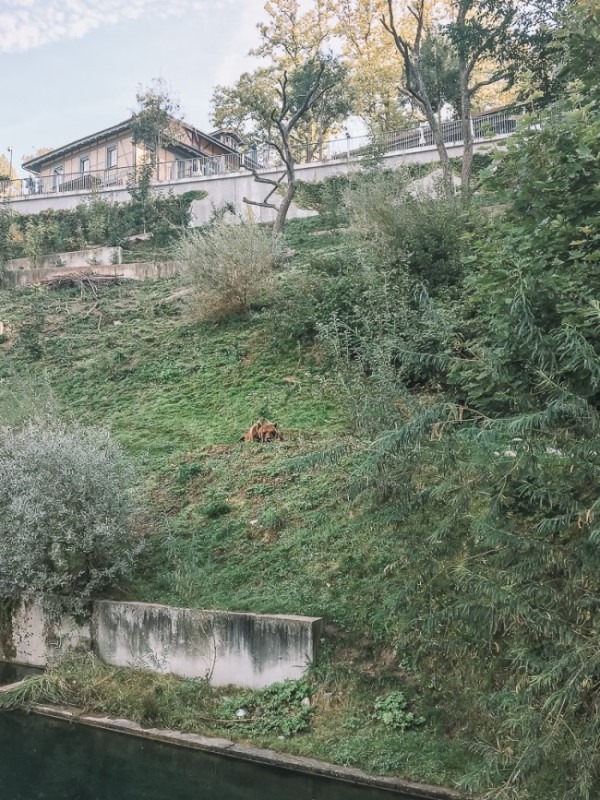 Barenpark is free to visit in Bern. And while the space provided for them now is much much better than the cement hole in the ground they inhabited for hundreds of years, it's still limiting for what a wild animal should have access to. For example, bears enjoy water and currently the bears at Barenpark can see the water rushing by but have no access to it. Talk about dangling a treat in front of someone face, and preventing them from having it for their own 'safety'.
I suggest visiting as you can see for yourself the conditions they're in, and may it be a reminder, note for the future or nugget of a lesson for you to better understand the rights that animals should have.
What are your thoughts on this?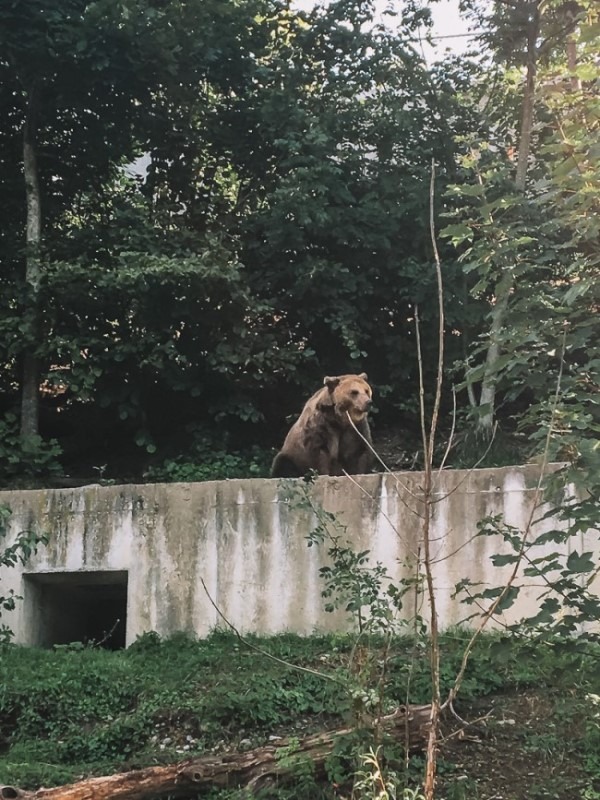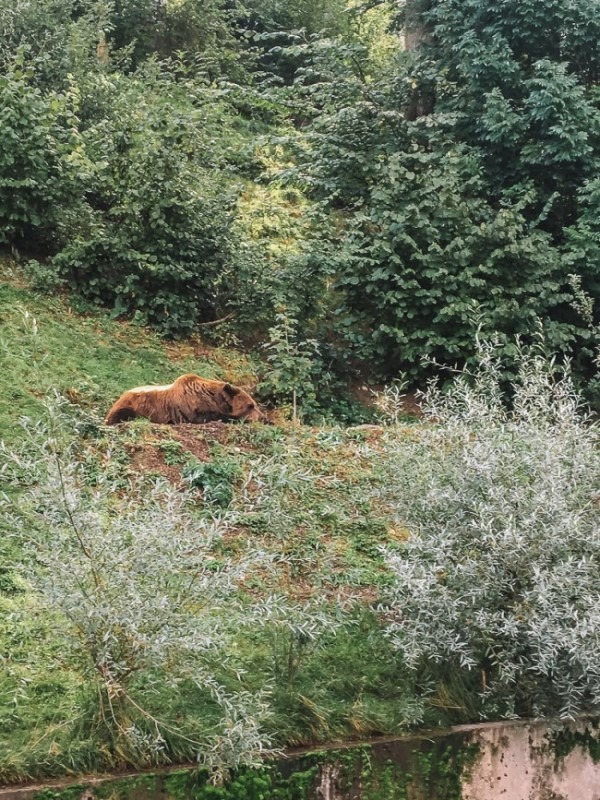 Not to end on what may feel like a negative tone, let me conclude by saying that Bern has much more to offer than their Barenpark. If you choose to visit this charismatic city (which I highly suggest you do!), be sure to enjoy it in its entirety by visiting and doing the items I listed above. Bern is great for taking it slow, and is one of the few places in Europe that still feels off the beaten path in terms of popular cities to visit in Switzerland.
[Curious about why there are so many people at the same destination as you? Read about Over Tourism here]
TIPS for visiting Bern, Switzerland:
Switzerland is expensive, so be sure to visit a grocery store for lunch or breakfast (and maybe some wine) to save yourself from racking up your expenses too high

Swiss German is the language spoken in Bern

Stay in the old town part of the city Bern, once there, everything is walkable

Visit Bern, Switzerland in the summer to swim in the River Aare, visit in the winter months for the Christmas markets
Want to see more?
Scroll through these pictures of from our trip to Bern, Switzerland