Last Updated November 12th, 2019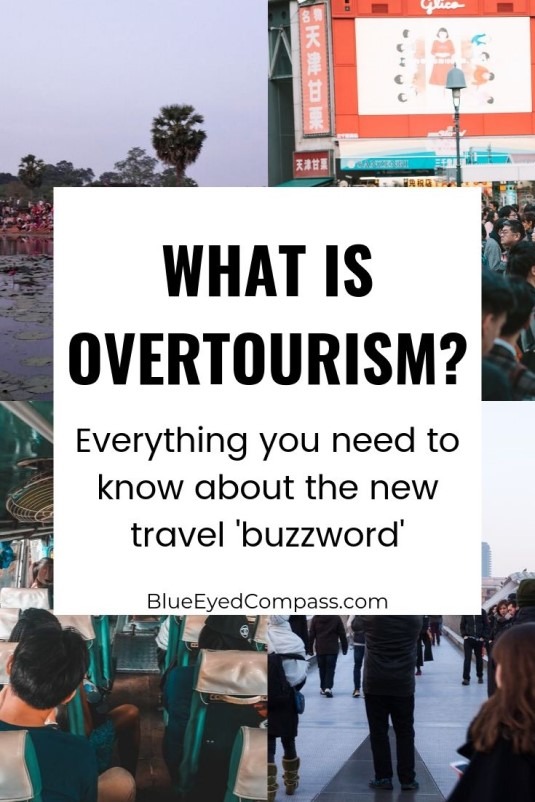 If you love to travel and you love the planet, put those two together and you'd get sustainable travel. Alright, this isn't the best or exact definition of the phrase, but an easy to understand the perspective of it.
My love and respect for both traveling and planet Earth led me down the rabbit hole of research, observation, discussion and acknowledgment of sustainable travel, and one topic that I've witnessed more and more personally, which is overtourism.
Overtourism is a relatively new 'buzzword' that was first coined in 2012, yet only highlighted in the media in 2017 when protests in Barcelona began against tourists.
Definition of Overtourism :
Overtourism describes a destination negatively by both locals and visitors as having too many tourists. Locals want the tourists to get out of their way, tourists feel like the places are too crowded, and caretakers spend much of their time performing crowd control and wear & tear control duties. Essentially, the quality of life and the quality of the experience has deteriorated.
There has been a serious loss in authenticity within popular destinations. Yet, we are all apart of the problem. Think of it in terms of car traffic. We complain about the traffic while we're driving a car, just like we complain about too long of lines at popular landmarks while we're waiting in the line. It almost feels like there is no escape from overtourism, and genuine locals are becoming a new endangered species
Tourism is a service industry that sells a product of which it does NOT own. The physical place is the product. In most cases, tourism is considered a 'pastime' as opposed to an industry- when in fact, it IS an industry, and one that has gone unnoticed as it's grown so quickly.
This global phenomenon of over-tourism is happening all over the world, even in places that you wouldn't expect. The cost of travel is continually decreasing, and the number of international departures from any given airport increases each year. The tourism industry grows no matter the global issues going on. Effectively creating a destructive force on high-profile and in-demand destinations.
Yet, saying a place has an overtourism problem isn't a specific label, as the phrase' too many' is a subjective term. It's easier to understand when you look at the causes and effects of over-tourism.
Why is overtourism happening?
As I mentioned before, tourism is an industry, and like most other sales-driven industries, its success is based around its growth. And it seems that overtourism is a result of success for tourism boards.
Many Americans began traveling after World War 2 ended with a significant increase beginning in the 1970s and 1980s. Meaning the travel industry we know today has been around for just about 50 years, a measly few decades of uncontrolled growth. Worldwide we've gone from about 30 million travelers each year, to over 1.3 billion travelers every year. And while it's incredibly exciting to know that so many more people are able to experience the beauty of our planet, it feels as if the tourism industry has gone unchecked during its growth.
Think of it compared to our technology advances.
I grew up with dial-up internet on a bulky computer, then after college, I moved out of my parent's house with a small, swiftly functioning smartphone. The travel industry has quickly transformed from an unknown perspective to one with multifaceted options, with little control over travelers behaviors.
What are the Drivers of Overtourism:
Population growth — in 2009 there was about 6.8 billion people in the world, five years ago it was 7.3 billion & currently we are at 7.7 billion people across the globe.
Rising affluence of the middle class –> there are more people who are able to spend part of their income on travel
Lack of an ability to track & report accurate data: government's report their overall tourist numbers which lump together cruise ships, duty-free shoppers, resort guests, backpackers, etc
Technological advances –>

mass air travel has taken off like a racehorse
the internet is accessible in more places
and the cruise industry has ships larger than many of the cities they port at, with their 8,000 visitors spilling onto the streets of aodrable places, only to have them all flock back for dinner
*fun fact- cruise ships are allowed to burn cheap, bad for the environment fuels which is one of the reasons cruise ships can be cheap
A lack of accurate reporting leads to misconceptions and disillusionment of how severe an issue of over tourism may be to a destination. The effects of over tourism reflect on residents, tourists and the destination itself. Here are a few of the effects on all three:
Alienated LOCAL Residents:
Irreparable damage to infrastructure, natural areas & cultural monuments
Harsh resident resentment due to excess traffic, too large of crowds in inconvenient places
Inflated real estate & rent prices: this is partly due to businesses like AirBnb (who is often pinpointed as a scapegoat for this issue). This happens because apartments are suddenly for vacation rentals instead of rent, and a lack of living spaces creates a new supply & demand issue

A decreased supply of living spaces → higher demand to find a place to live = which means owners can charge tenants higher rent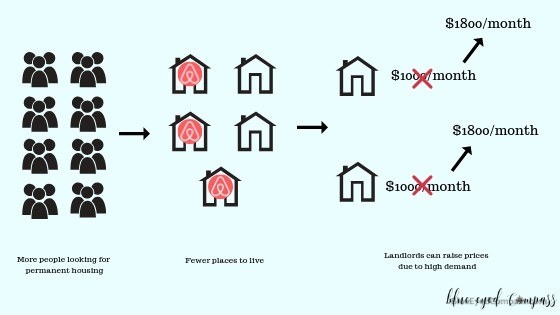 A shift of relevant retail stores to souvenir shops, along with other neighborhood setups catered to tourists, as opposed to those residing there
Many jobs are low paying and seasonal, with much of the revenue going back to large, wealthy corporations out of the destination
Tourists & they're mitigated experiences:
Very crowded destinations
A low value for their money spent
No sense of authenticity in a destination, which leads to fewer stories to take home to share
Overloaded Destinations:
On the bright side, tourism in some places has brought wealth to lesser-known or forgotten rural communities
Tourism has helped restore crumbling historic infrastructures
Negatively, there is an increase of garbage at these popular landmarks
With an increase of visitors, a destination is often unable to enforce respect & regulations for the place
These causes & effects all bring about concerns with overtourism. Not only are major destinations losing their unique identity – which is the main reason for so many visiting – there is also a lack of control over the situation. Tourism managements are either nonexistent or are ill equipped to handle the influx of visitors in a way that still produces revenue for the country. And the 'sweet spot' number of 'happy to have' visitors versus too many people does not exist, and would be unique to each destination. The term 'carrying capacity' is used to describe this, and needs to be thought of in terms of physical carrying capacity and social carrying capacity.
PHYSICAL — how many people can infrastructures & landmarks contain?
SOCIAL — how many visitors can residents & other tourists tolerate before having a negative experience?
No matter how you spin it, there is an overall loss of identity that these over visited places are experiencing. Here are a few examples of over tourism from fellow travel writers, bloggers & photographers:
Overtourism Example & How Rome is trying to fix it