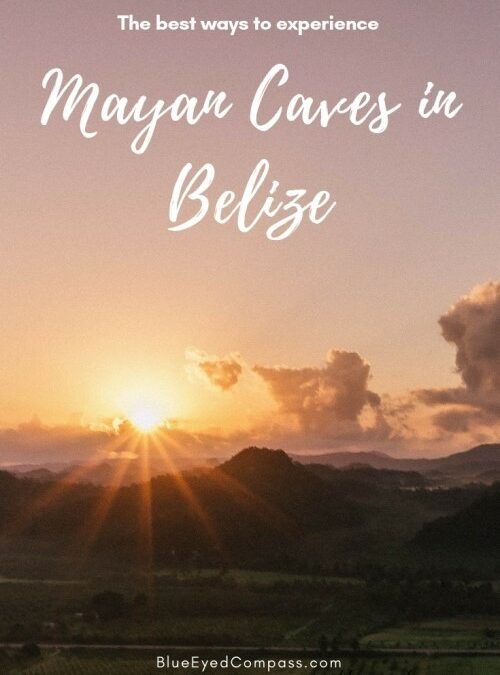 Experience Mayan Caves in Belize
The best tours and caves to explore in Belize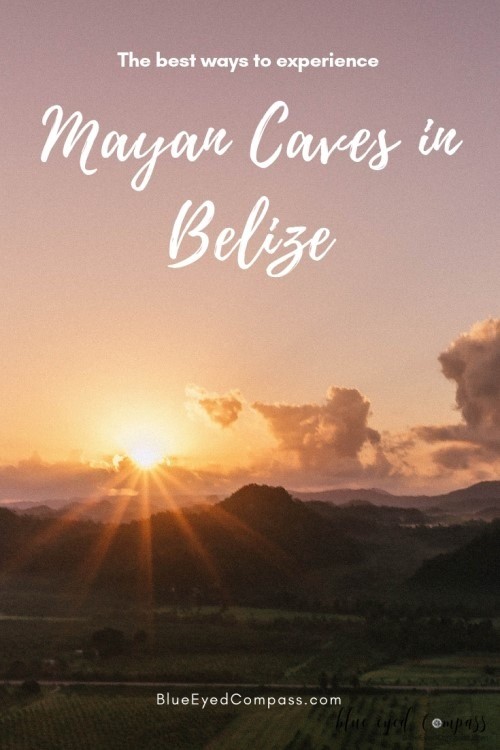 Note: this post contains affiliate links to products we love and have purchased ourselves on Amazon. Clicking these links doesn't cost you any extra money, and you're supporting us by doing so. You can view our disclosure page for additional details.
I'm a history lover by nature, and once I learned that the caves in Belize were idolized places by the Mayans I knew I had to go explore them. Caving in Belize is a wonderfully sustainable way to experience history, nature, have an adventure and get to know the local culture. There are a few options for cave tours, each with their own adventurous spirit, and all with a load of history embedded in the story.
Things to know about visiting caves in Belize
You MUST book a tour to visit any cave in Belize- almost all of them are sacred places that have historical artifacts inside so the government requires a tour guide

There are hundreds of caves in Belize, but only a fraction are open to the public to visit. The Belizean government has done a phenomenal job protecting the caves from over crowding them with tourists

The environment inside of caves is extremely fragile. A rule of thumb is to leave the place the same or a little better than when you arrived; meaning do NOT leave any trash (all of the guides will review this with you as well), and if you see trash notify your guide so it can be picked up to be removed.

Each hotel will offer similar and unique tours; be sure to check out

Tripadvisor

for tour reviews & to get even more ideas

Wear clothes you are comfortable getting wet, including closed toe shoes. The first river crossing will have you submerged up to your shoulders. We purchased

these water shoes

prior to our trip and loved how they felt like lightweight sneakers.
Actun Tunichil Muknal
(ATM)
The ATM cave is the most popular cave to visit in Belize. Uniquely, it's popularity doesn't equate to an overcrowded tourist trap. Tours here must be booked in advance, as there are only a handful of approved licensed guides. In fact, the government has stated that it will no longer allow any more people to be licensed on guiding groups into this cave. This means that once all of the current guides have retired, the cave will be closed off from the public!
Most tours will pick you up at your hotel, and you'll enjoy a scenic drive through stoney back roads, small farms and lush jungle hills as the backdrop. Be sure to inhale the fresh orange scent while driving through the orange groves prior to parking. Once there, helmets will be provided with headlamps. The adventure starts right away with a short swim through a river (three different times!) and a 40 minute flat level hike to get to the entrance of the cave.
Greeted by clear, teal water and multiple pools of water cascading from the cave entrance, a curtain of ivy disguises its true depth. After jumping into the water to swim through the caves entrance, you will notice how the rock surfaces you walk on are not slippery at all. That is due to the lack of sunlight. Sunlight allows moss to grow, so no sun exposure means no moss.
Right away you will learn and see visible traces of the Mayans who came here to worship their gods. Mayans viewed the tree roots in the caves as the roots to their Tree of Life that connected them to the spirit world below. These caves, and the well preserved ATM cave, was a place of sacrifice during difficult times. Take note of how the sacrifices intensify with the depth of the cave, meaning that the more troublesome their situation the further in they would go to place offerings. This was done because the Mayans felt that the deeper into the cave they went equated to their closeness to the gods. Towards the back of the cave is the "Crystal Maiden", who is thought to be a sacrifice victim. Years of annual rainy seasons has left her appearing to have a 'fairy dust' coating.
Once all the way in the cave, enjoy the dynamic hike back down through the cave. Climbing through crevices and sliding down into natural pools of water until you swim out of the cave and back into the jungle sunlight. Finishing your hike with a lunch outdoors and a beer with your group.
*I cannot recommend this tour enough if you are visiting Belize. It is so well structured, informative and well managed. I also loved how it felt like an adventure that anyone could do. Since our group had only four excited adults, our guide gave us a more exciting cave hike, and he was so willing to answer questions & point out cool things about the plants, animals and Mayan people. See below for a link of how to book him for your tour here.
TIPS for visiting the Actun Tunichil Muknal (ATM) cave:
NO cameras of any kind are allowed inside (someone has cracked a fragile skull by accidentally dropping their camera on it) *Hence, why there are no pictures for this tour on this section of the post

Try to book with a small group. With only one other couple on our tour, our guide was able to maneuver us to different areas inside of the cave, and you'll spend more time swimming throughout the tour.

There are simple showers you may use after your hike back to the vehicle. I'd suggest bringing a change of clothes and towel from your lodging, so that you can quickly rinse off and feel refreshed on your drive back
Waterfall Cave Expedition
The most vigorous cave tour option, the Waterfall Cave Expedition will involve hiking through a jungle, crawling in a cave, swimming and jumping off from the top of waterfalls. Caves Branch Jungle Lodge picks up the group in a 'renovated' (loosely used word here) tank. Which is needed when driving through unpaved roads through a valley of orange groves.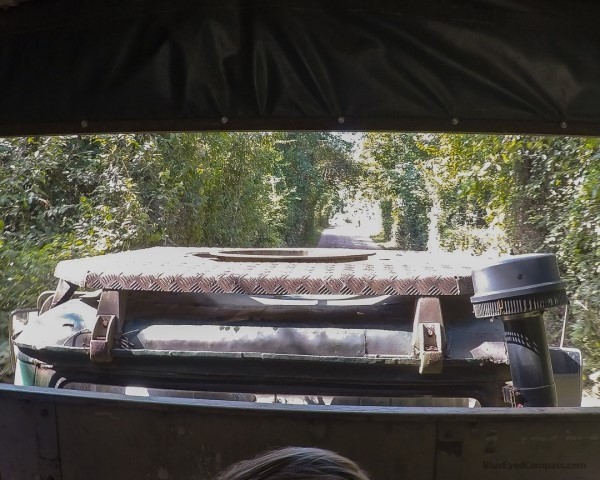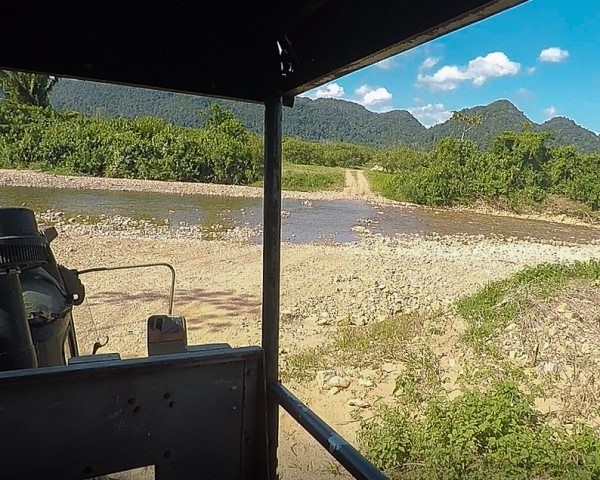 Once far enough into the jungle, enjoy a short 20 minute hike that starts with a warning of 'watch out for snakes!' and the guide pulling out his machete. A sure sign that today's endeavor will be one to remember.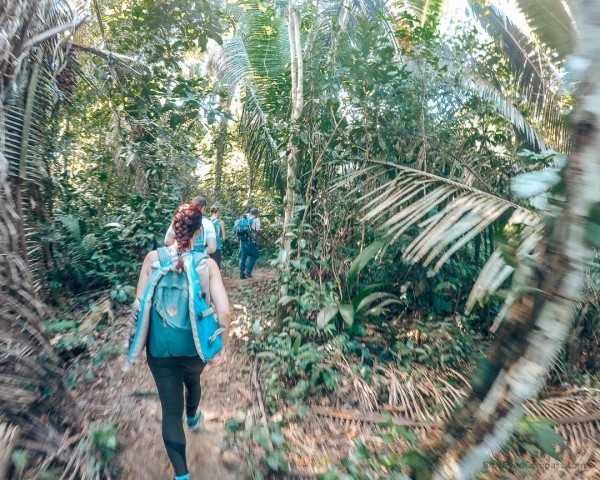 Unlike the ATM tour, the cave entrance is on dry land with tree roots pulling around the cave entrance. You will eventually get to water that comes up to your knees and will go from walking to crawling through low hanging stalactites in the dark, and tip toeing when you're able to stand so as not to disturb the delicate cave equivalent of an ocean's coral reef.
Once you are deep enough into the cave the real adventure starts. Dropping your packs, you put on a life vest and start by swimming under low hanging spaces with bats flying right above your head.
Coming up to the first large open space, you'll feel like a kid again jumping feet first into a natural pool of water to swim to the first waterfall. And then you'll feel anxiety as you watch the guides clip in each visitor to a rappel line secured alongside the largest waterfall.
Climbing up, face-first into a gush of water means relying on your intuition to hike up successfully. Luckily your guide will direct you with a forceful nudge in the right direction (thank goodness for that too because once your eyes are squeezed shut I was grasping at straws trying to pull myself up) and pushing your feet into the natural gaps to hoist yourself up.
After this, the remaining waterfalls are much easier to climb up. Once halfway through the cave – as the other half is too far to access on one day – the group will turn around and the really fun part begins. Jumping down the waterfalls into their natural basins!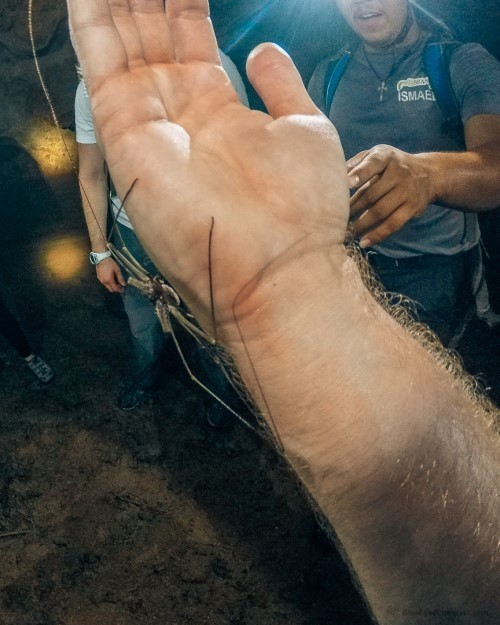 Each adrenaline-pumping jump comes with the possibility of leaving a piece of yourself behind… Be sure to jump in the place the guides point out so as not to hit the rocks under the water.
Once you're finished jumping and sliding back down through the cave, enjoy a fresh (vegetarian-friendly) lunch prepared for you inside of the cave! Table cloth, cutlery and all. Taking all of the food and trash with you, you hike back out of the cave and through the jungle for your calm ride back through the forested orange groves.
The best part is the potential for awesome animal sightings- night herrings, green parrots, hawks and egrets.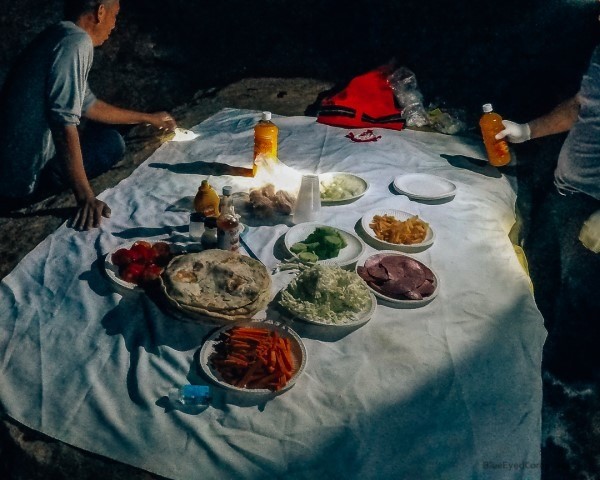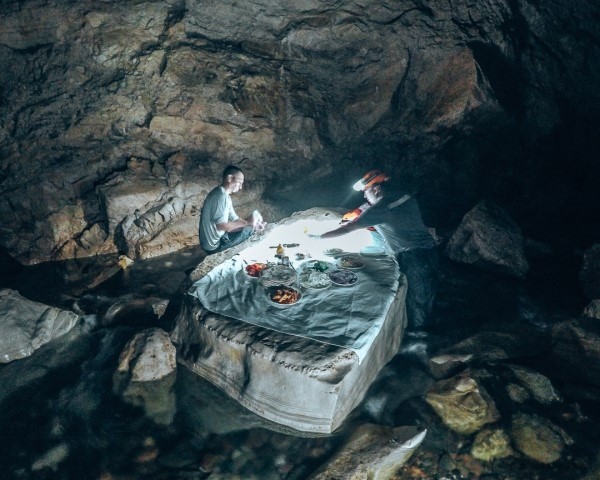 Cave Tubing
Cave tubing is another tour option that you can book while in the Belizean jungle. We chose to be more adventurous and hike the cave waterfalls, but if you're looking for a relaxing trip this is great to learn about the history and enjoy the fresh water.
*We booked our tours through our hotel, the Sleeping Giant Rain forest Lodge.
The ATM cave tour they offer is with a contracted guide, named Abel. He was fantastic! He can be booked only through your stay here.
The Waterfall Cave Expedition is through Caves Branch Jungle Lodge. Sleeping Giant booked it for us, and a Cave Branch vehicle picked us up. Meaning, you could book the same tour we took with them and they should be able to accommodate your pick up and drop off.