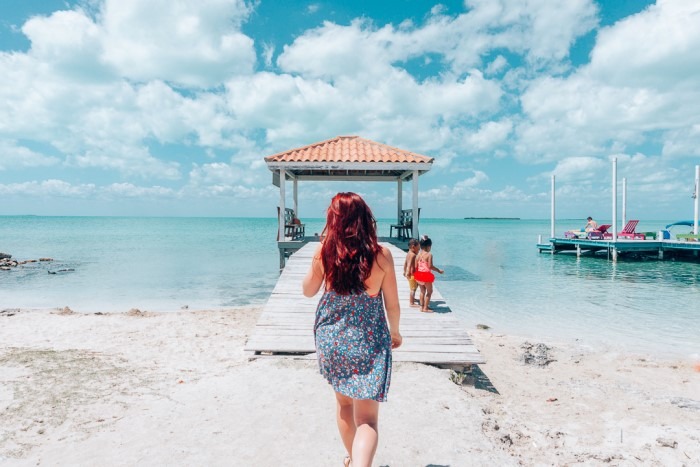 How to get to Secret Beach, San Pedro
Last Updated November 12th, 2019
Detailed directions to Secret Beach San Pedro, Belize with pictures on how to get there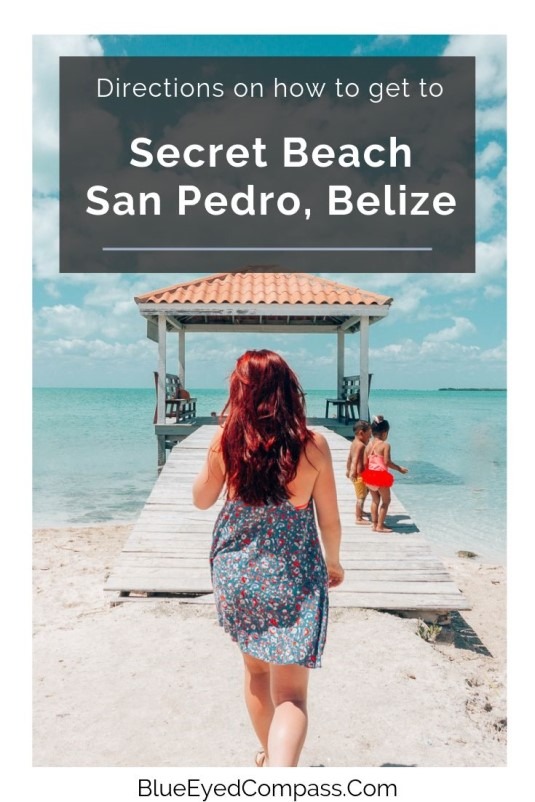 This post contains affiliate links to products that I have used for my own travels, purchased & enjoyed. Clicking these links does not cost you anything, however doing so will support Blue Eyed Compass and allow the site to continue. THANK YOU!
If you're looking for a hidden paradise then look no further than Belize's Secret Beach on San Pedro island. An oasis tucked inland of the island, accessible by small boat or driving through barren unmarked paths via rented golf cart.
Secret Beach is one of the San Pedro locals favorite beaches and still somewhat a local secret. So, while I'm tempted to keep this haven true to its name- as a secret! -I want to help you skip over the confusion and waste less time getting lost.
This way you can enjoy even more time lapping up the stunning clear waters, fresh coconuts and sea breeze at the beautiful Secret Beach.
What is Secret Beach?
(and what makes it so special?)
San Pedro island Belize is known for its eatern shoreline of coral reefs, fishing, marine life and nightlife. Only 10 years ago did a developer lay down a road that stretched to the western side of the island. This made the western side accessible for the first time and it exposed a breath-taking set of beaches and waters.
How long does it take to get to from San Pedro to Secret Beach?
The drive from Secret Beach to San Pedro can take up to two hours driving one way. It depends on if you spend any time getting lost while driving there, and how fast your golf cart can go… as well as your ability to withstand the bumping up and down a golf cart on an unpaved, dirt road for over an hour.
Why should you visit Secret Beach in San Pedro?
Many of the coastline areas of San Pedro are covered in quite a bit of seaweed. So while the sunrises are spectacular from town, the beaches are not the best for wadding into for a good swim. However, further into the Caribbean Sea are some wonderful snorkeling waters off the coast of Belize. Making Secret Beach a haven place on the island.
Once you arrive you'll notice the pristine waters that are effortlessly calm, and beach goers can wade almost 200 feet out!

While you may need some bug spray [

here is a sustainable and healthy bug spray that I would recommend

], there is no seagrass or seaweed, as compared to the coastal side of San Pedro, that I mentioned above

During the busy season, there are multiple bars and restaurants open along the beach, plus there will be options to rent stand up paddleboards and kayaks – perfect for those novice water sport athletes since the water is so calm

It still feels undeveloped and like a hidden gem of a destination. Since it takes quite a drive to get to this Belizean beach, not many want to make the trek out here, so there won't be an overcrowded site.
How to get to Secret Beach from San Pedro, Belize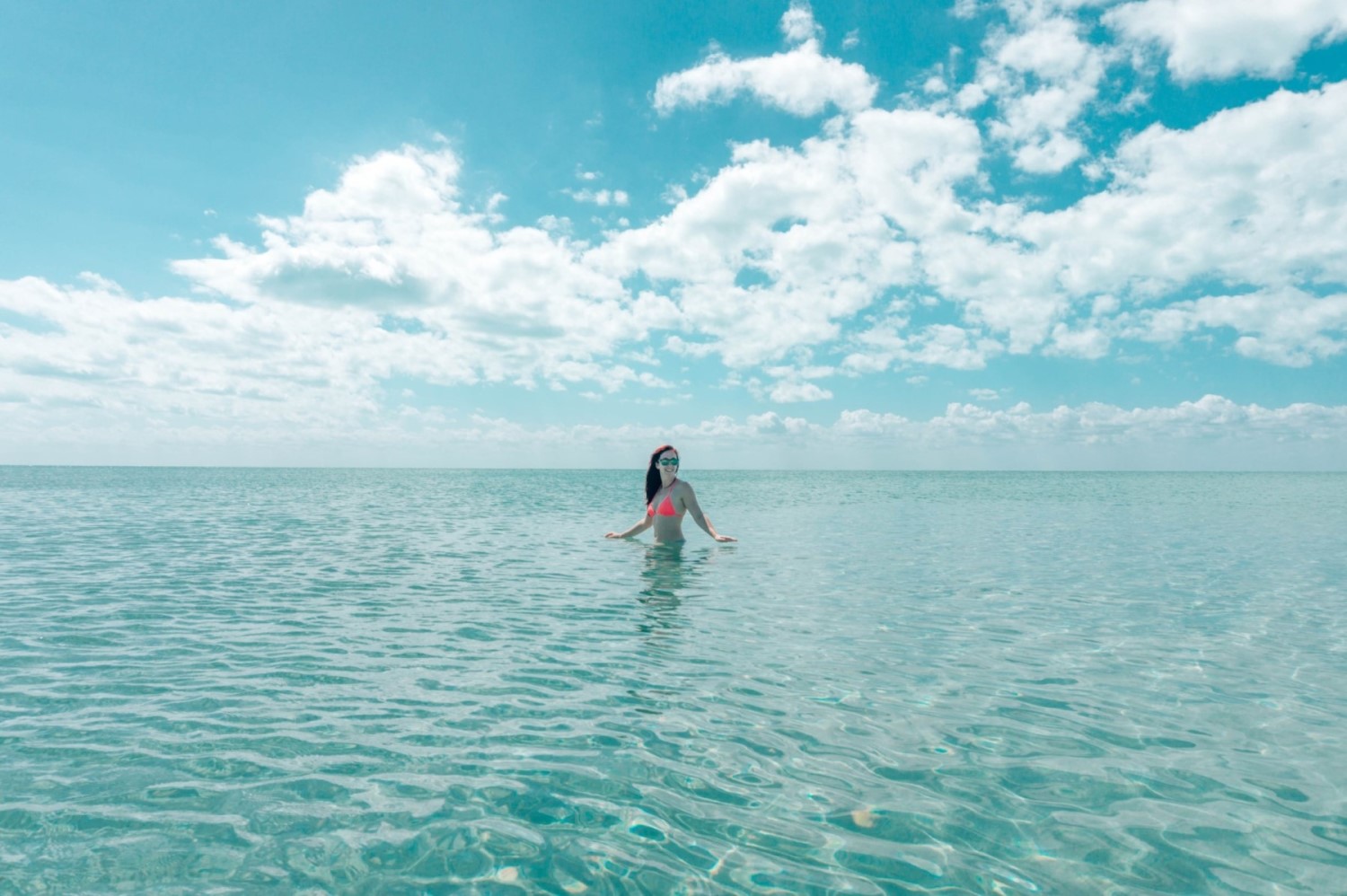 The most convenient way to get to Secret Beach is by golf cart.
You will need to first rent a golf cart in San Pedro town. There are quite a few options to choose from, but fear not because if you're staying at a hotel they will easily be able to connect you to their preferred golf cart vendor. Within 20 minutes of asking, you should have someone ready to have you set up with a golf cart
Looking for a hotel in San Pedro? Compare prices HERE
Now, that you have your golf cart and it's tank is full (important! As it can take up to two hours to get there) you are ready to head out to one of the best beaches in Belize
*Note- you can physically ride a bike to Secret Beach, but I would NOT recommend doing so. The dirt path is very bumpy. Trust me, your bum will thank me later.
There is only one road that can lead you to Secret Beach, with quite a few outlets leading in other directions
From town, if you're facing the Caribbean Sea/ocean side of the island then turn LEFT and head towards the NORTH side of San Pedro island
As you begin to leave the main town area of San Pedro you will come to a small bridge. There is a $5 fee you must pay in order to cross. Once paid, you'll be given a pink slip for your return crossing. Do NOT lose this pink slip, otherwise you will have to pay again to cross back.
Cross the bridge and stay on this road for as long as it goes
Eventually you will come to the end of the paved road and a dirt path will curve to the left. Go down that path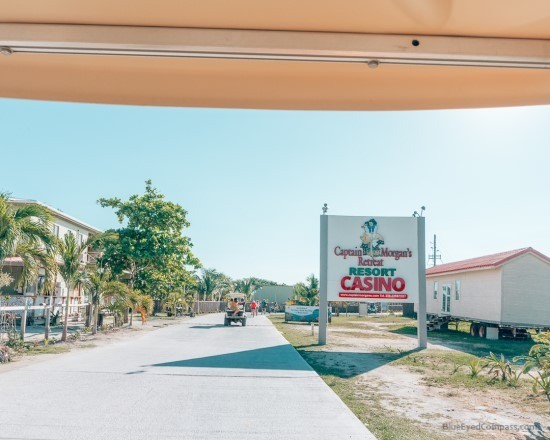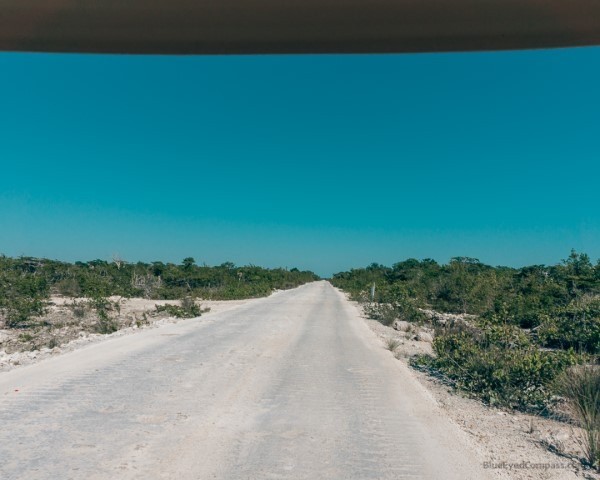 Once you're at this curve you'll notice that the land quickly transforms from lush, tropical greens to flat, almost desolate beige mangrove swamp like surroundings. This part of the dirt road will be fairly easy to navigate through based on the visibility of the path and the few half built homes that are spread out in this area.

*Please note- we were told that there are alligators living in the swamps, so do not wander aimlessly through them
After a bit of driving down the desolate path you may start to feel concerned that you've gone too far, but don't worry! You will soon see a small sign that steers to the LEFT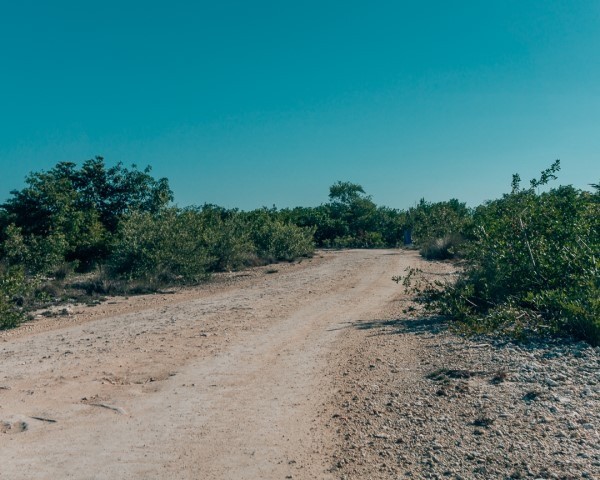 From there, there will be small signs close to the ground directing you towards the bars & restaurants at Secret Beach. You have to look down in order to see these signs (see the images on this post), otherwise you may miss them and drive the wrong direction. If you follow these signs they will lead you to Secret Beach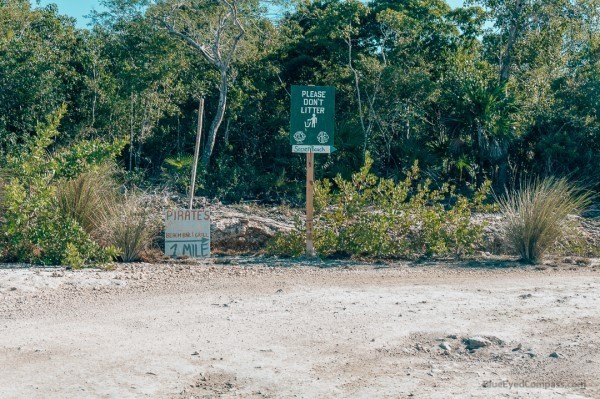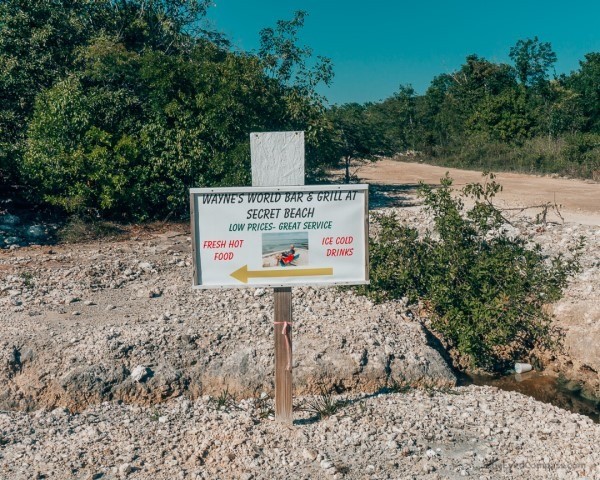 *What helped us was continuing to remind ourselves that Secret Beach was essentially the opposite side of the island from town. If someone you are going there with has a good sense of direction let them utilize their natural compass.
click image to find out more!
Arriving at Secret Beach, Belize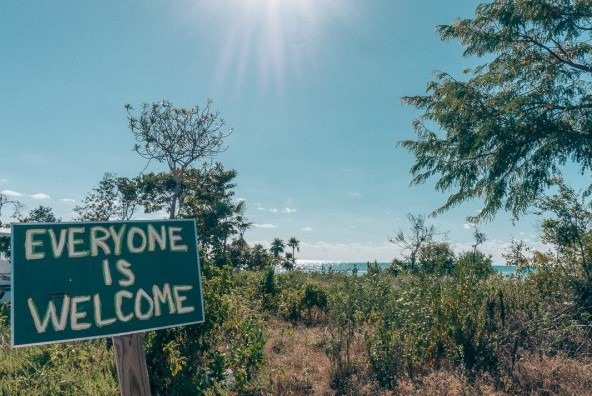 You'll know when you've arrived (or at least are very close) to the best beach in Belize as there will be other golf carts parked to the left and right of the beach entrance, and you will see the dock straight ahead.
Once you park your golf cart, walk over to enjoy the calm and gorgeously clear and teal water. You can rent chairs on the beach if you spend money at one of the bars. We were told that we needed to spend $100 for access to the chairs. Sounds fairly pricey, yet could be managed if you go in a group.
It was just two of us visiting, and we were comfortable placing our stuff at the end of the dock as we floated nearby there as we could see it from the water.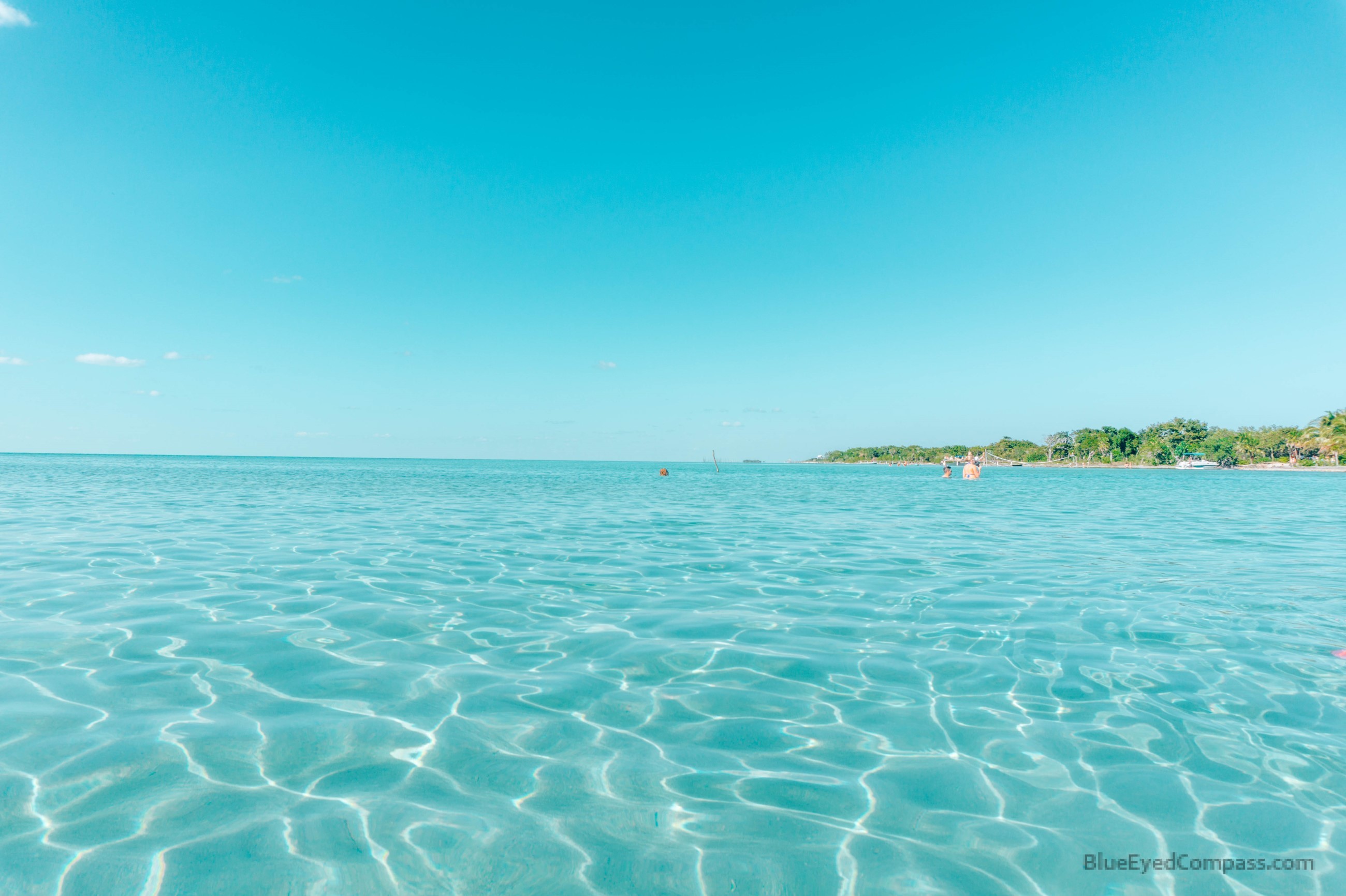 Typically there is at least one person slinging the sale of fresh coconuts for coconut water, and they offer adding rum to them as well (hello dolly, this is a perfect tropical beverage combination!).
HOWEVER, they will put a plastic straw in it. Be sure to tell them ahead of time NO to the plastic straw. I almost always bring my own reusable straw with me nowadays (I didn't have one for this trip, womp womp) You can purchase a reusable straw here.
It is highly suggested that you leave Secret Beach around one to two hours before the sun sets. This is so that you can safely drive back to San Pedro while the sun is still out.
The dirt paths are not lit up at night, and driving them in the dark would be dangerous, even with the headlights on the golf carts – let's be honest, golf cart headlights are not the brightest, plus you'll have been driving in dirt paths so they'll be covered in dust.
What to do at Secret Beach
In years past, visitors to Secret Beach had to bring their own water and food, but now there are multiple bars on the beach you can visit and enjoy a chilled cocktail or beer.
Blue Bayou Bar : a tropical looking bar with beautiful views
Maruba Beach Klub : more upscale bar with lots of cushioned chairs and music
Paco's Secret Beach : one of the newer bars at Secret Beach
Pirates Not-So-Secret Beach Bar & Grill : they have ables in the water so you can enjoy the calm waters with your food & drinks
Secret Paradise Beach Bar : this bar has the largest beach area with a large bar and volleyball nets
There are are also plenty of people renting paddle boards and electric surfboards. But in my opinion, your time will be best spent drinking from a coconut while you float in the calm, clear waters.
Staying at Secret Beach:
There is only one place to stay the night at Secret Beach called Secret Beach Cabanas. They have quaint apartments cabins that allow visitors to stay to witness the stunning Belizean sunsets.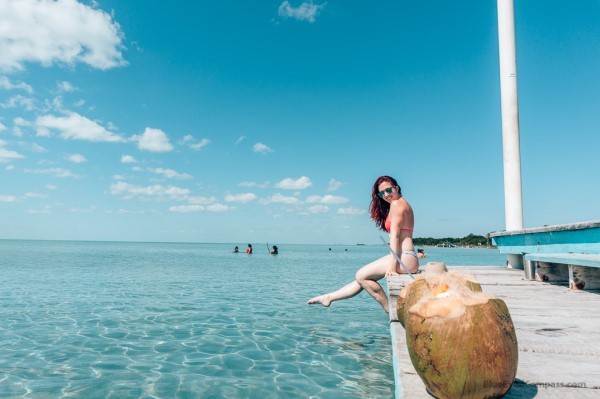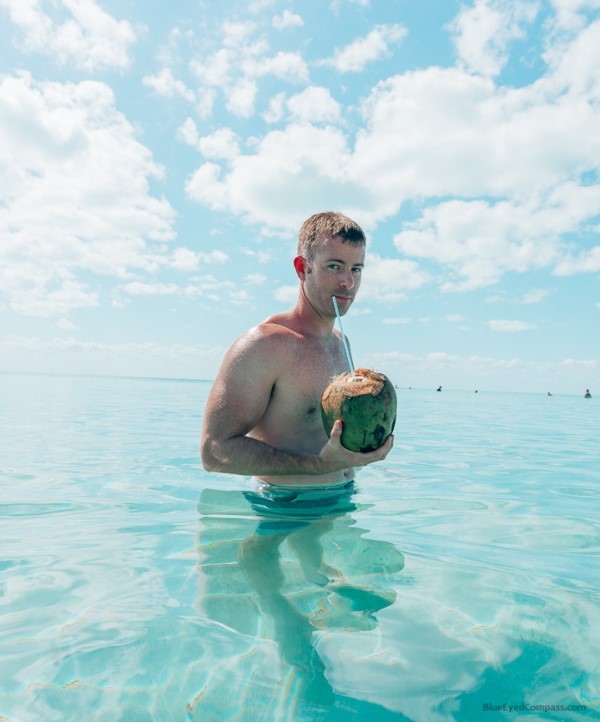 Any of your beach essentials

sunscreen

, hat/s,

sunglasses

, towels, etc
Here are three reef-safe sunscreens I would recommend using:
Sun Bum Moisturizing Sunscreen
Extra phone batteries and charging ports
Your own snacks if you're vegetarian or vegan. There didn't seem to be many vegetarian or vegan options
Fun Fact about Secret Beach in Belize
If you're planning on visiting Secret Beach in Belize you will not be disappointed. The long and bumpy drive will be well worth it once you dip your toes into the warm and clear waters of San Pedro's best beach (at least it's the best in my opinion).
If you do go, pretty please let me know! I would love to hear about how much you love it… and see if these directions helped ease the confusing process of getting there.
Happy sustainable travels!
xo Laura