San Diego Attractions at Night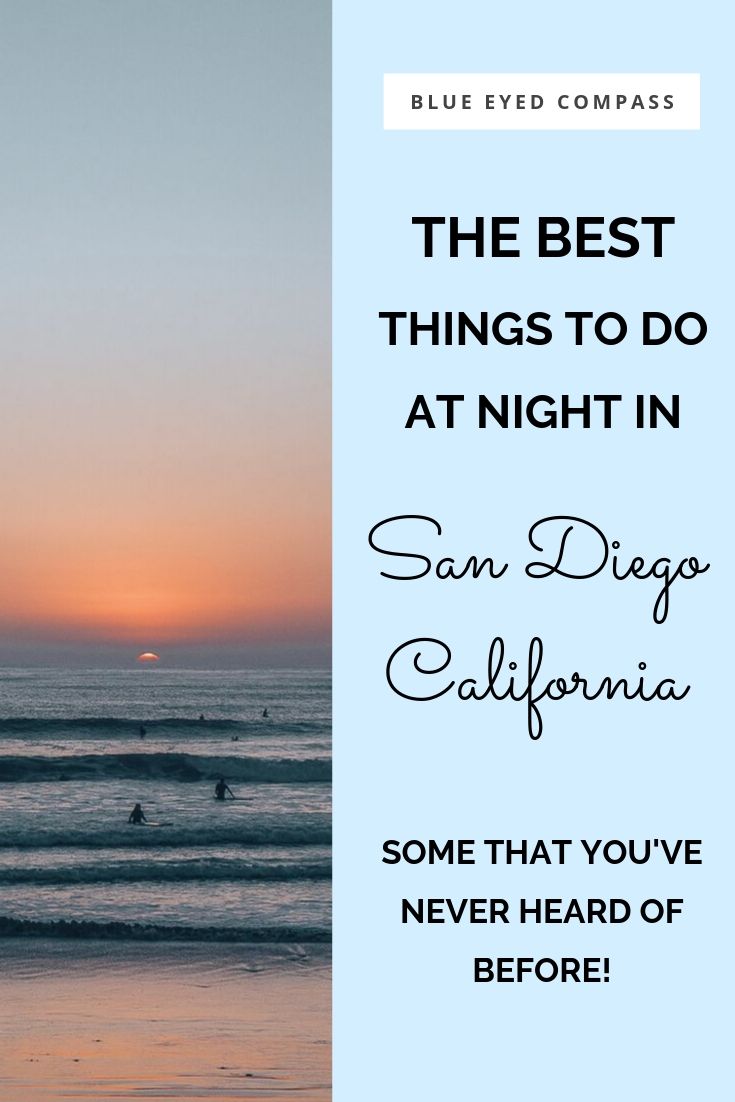 This page contains affiliate links to products and tours that I have used for my own travels, purchased & enjoyed. Clicking these links does not cost you anything, however doing so will support Blue Eyed Compass and allow the site to continue. THANK YOU!
San Diego isn't necessarily known for things to do at night, however, in conjunction with its warm, mild weather & long stretches of beaches are an equally fun amount of things to do and enjoy at night. Even for those who may not be into the club & bar scene.
Below is a list of San Diego attractions at night that you can't miss!
Best things to do in San Diego at night
OUTDOORS
Host a campfire on the beach
A combination of smores, cozy blankets & good friends around a campfire is an ideal way to spend a night in San Diego. The best part is you can either bring your own campfire supplies or hire someone else to do all of the work for you!
The Beach Fire Guy is a great option when you'd rather just show up & have everything taken care of for you. They set up campfires in Mission Beach, Mission Bay, Pacific Beach, Bay Park, La Jolla, & Coronado that last for 3-4 hours. They also offer chairs, tiki torches, s'mores with skewers, tables, coolers, tents, and games and the best part is they clean it all up for you!
Cost: starting at $80 with options for add ons
Year-Round
Watch the city light up
While San Diego may not have the skyline imagery comparable to that of Manhattan NYC, there is quite a beautiful view of downtown San Diego and it's neighborhoods that can bring a smile to anyone's face.
My two suggestions to view San Diego's skyline at night are from the top of Mount Soledad or from an evening Hornblower Cruise
Mount Soledad: Mount Soledad is a mountain landmark in San Diego that is known for its sunset views and the large cross that stands at the top of it (a Korean War memorial). There is parking available up here, and views on either side with grassy areas and steps to sit on.
Hornblower Cruise: Hornblower cruises are well known along the California coast (and in New York). Their evening & sunset cruises are a great way to view downtown San Diego at night. Plus being greeted with a complimentary glass of champagne isn't a bad way to start your evening.
Cost: varies on the type of cruise you select, prices range from $28-$125 per person
Year-Round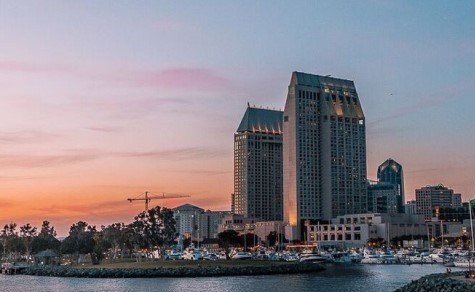 Catch Summer fireworks
Every summer Seaworld hosts evening fireworks shows. The best views of this are from Fiesta Island where parking is free & there won't be too many people to block your view.
Cost: free
Summer
Enjoy First Friday at Liberty Station market
The first Friday of every month, Liberty Station in Point Loma stays open late from 5-9pm where guests can enjoy live performances, artists work and visit museums & galleries throughout the area.
Cost: free
Year-Round
Pretend you're halfway across the world by taking a gondola ride
Yes, you read that correctly. The Gondola Company in San Diego gives gondola rides around the Coronado Cays (a small area apart of the peninsula of Coronado). These rides are both romantic & family friendly with options to bring your own wine & snacks or purchase them there.
Cost: starting at $95 for two people, prices vary depending on the type of ride you select
Year-Round
MOVIE THEATRES
Jump back in time at a Drive-In movie theatre
Drive-in movie theaters always make me think of 1970's Grease (do you remember the scenes at the drive-in theatre?), and while there isn't nearly as much drama at our drive-in movie theatres as Sandy experienced, they are definitely great places to catch the latest movie releases under the moonlight, with the sound coming through your own radio!
There are two drive-in theatre locations in San Diego: South Bay & Santee
Cost at South Bay: $9 for adults, $7 for kids (5-9 years old)
Cost at Santee: $9 for adults, $4 for juniors (4-12 years old)
Year-Round
Rooftop Cinema Club
The Manchester Grand Hyatt in downtown San Diego hosts the Rooftop Cinema Club in San Diego. A cinematic experience where you can enjoy a night under the stars watching your favorite feature films. With add ons like bottomless popcorn, love seats & student discounts this is sure to be a unique way to experience San Diego.
Cost: $15.30-$24
Year-Round
Cinema Under the Stars
Enjoy classic films, cult favorites & recent releases at Cinema Under the Stars. Their unique patio setting includes a 20 foot movie screen, THX surround sound, and open-air seating with zero-gravity recliners. Plus they show a classic cartoon before most films, how cute?!
Cost: $17-$20
Year-Round
Or turn your movie night into a stellar date night at The Pearl
The classic hotel, The Pearl, hosts a weekly Dive-In Theatre experience. Guests can either find free open seating around the pool or can dine in their restaurant while watching the film.
Cost: Free for open seating
Year-Round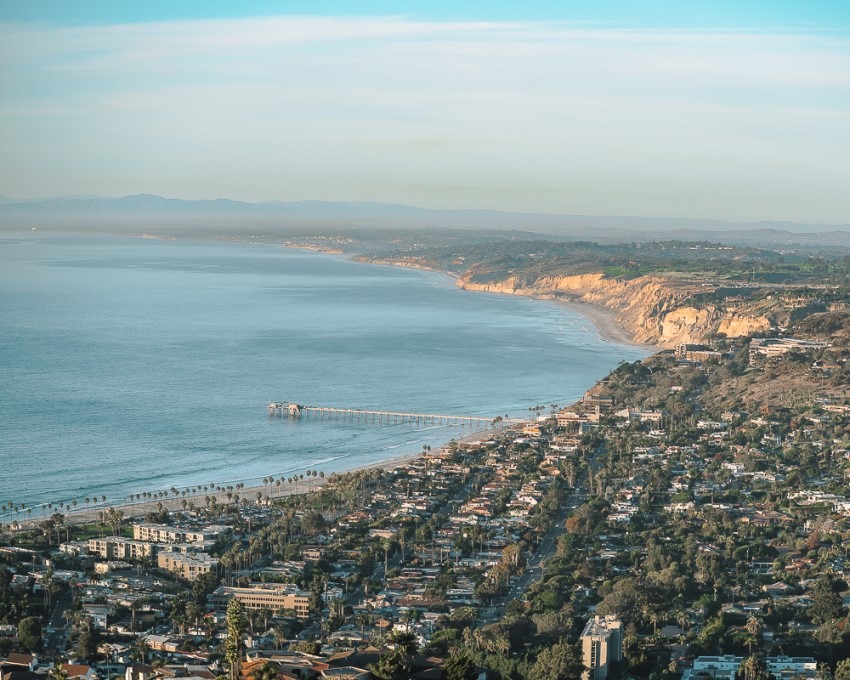 Head to a schmancy pants indoor movie theatre, The Lot
Featuring reclinable chairs and full drinks and food menu inside of this sparkly theatre, The Lot is a perfect place to spend a night in San Diego. Be sure to find their vintage images of the space, which was previously used as a training facility for the navy.
Cost: $18-$22.50
Year-Round
UNIQUE BARS
Visit one of San Diego's speakeasies.
A tradition from the 1920's prohibition era, San Diego has quite a few hidden gems providing the highest quality cocktails and fun flair.
Cost: Depends on the location & your drinks, I've seen upwards of $18 per cocktail
Year-Round
Bowl with a beverage
Southern California has stepped up the average night out standards for many. This includes our bowling experiences. Instead of a typical bowling alley, why not have great music, neon lights, a full-scale restaurant & bar and a mix of other games at your service? Here are two locations in downtown San Diego that bowlers can check out:
Tavern & Bowl: Tavern & Bowl has lots of great happy hour specials!
Punch Bowl Social: These guys really stepped up their game and not only provide bowling, but private karaoke, a classic arcade, and all of the table games you could want
Cost: depends on what activity you choose
Year-Round
Speaking of beverages…
Cheers friends with a local brewski
San Diego is one of the country's leading local brewery cities. We are boasting with fresh, unique styles of beer to try at one of our local breweries. Rub on some hops for perfume & share a conversation over a pint.
Cost: varies on location
Year-Round
Dine at a drag show
Look no further for an epic dinner & show experience than Lips. For an adult outing or even a bachelorette activity, you can experience San Diego's premier drag show here. *Reservations are required
Cost:$5-$10 cover charge & $15 per person minimum food purchase.
Year-Round
Step back in time & enjoy a shot of tequila in Old Town
Old Town is San Diego's historic center where visitors can soak up some Hispanic culture and charm. At night, Old Town has plenty of fun Mexican restaurants, performances and shops to walk through.
Cost: varies on what you decide to do
Year-Round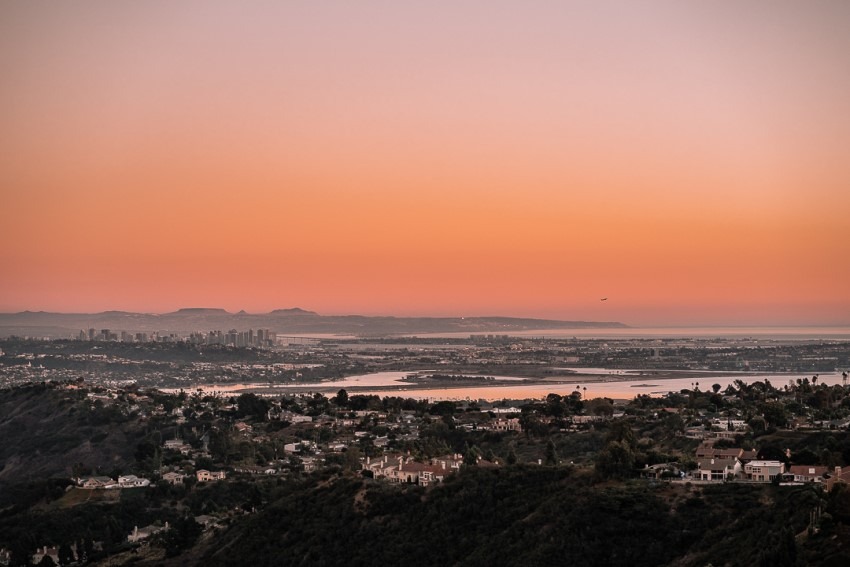 Spend a night in the wild
The San Diego Safari Park hosts an adult sleepover camping experience inside of the park called Roar & Snore. This is an actual slumber party at a safari park, how cool! There are campfires, hikes & animal viewings, plus the adults-only version has a cash bar.
(While I may not be a huge fan of zoos, I have personally visited the Safari Park and can say that 90% of the animals have crazy large 'enclosures' and that they do so much wonderful conservation work.)
Cost: $145 per person
Year-Round
Experience something new & enlightening at Trilogy Sanctuary
Trilogy Sanctuary is part vegan cafe, yoga studio & event space. A bohemian dream! They host monthly events and are a great place for La Jolla sunsets.
Cost: varies on your activity
Year-Round
With so many things to do in San Diego at night, what are you doing still reading this? Go check one of these out!
Have any questions? Leave a comment below & I'll answer.