How to use the CAT in Vienna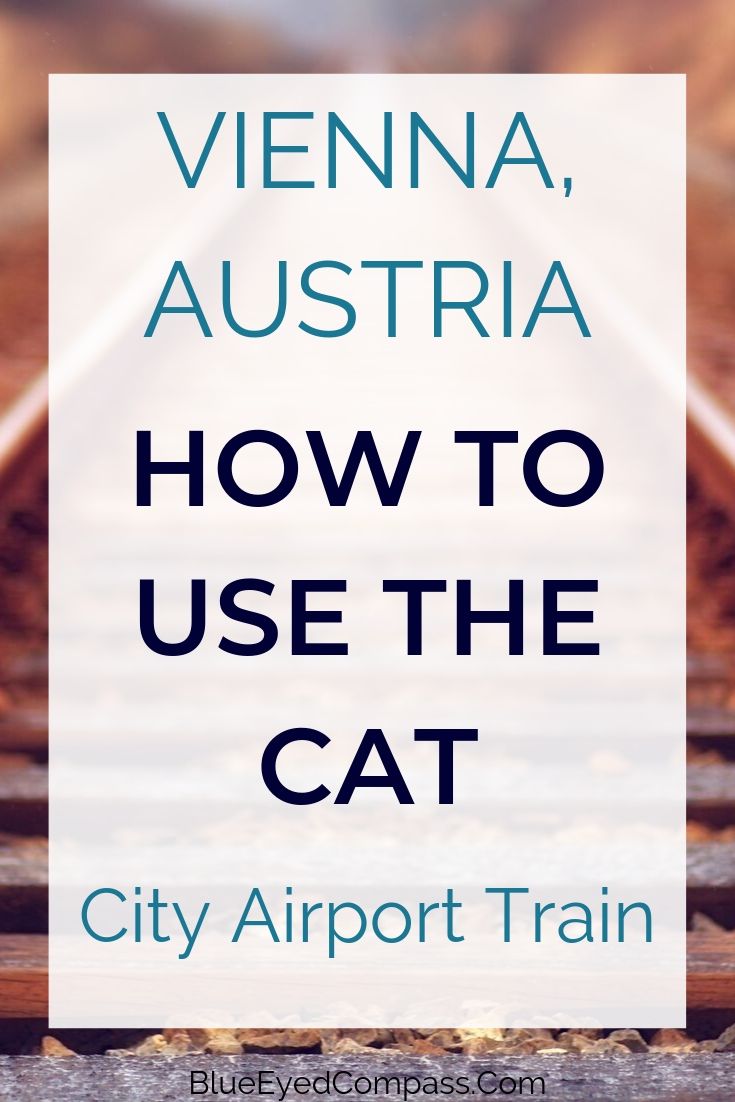 This page contains affiliate links to products and tours that I have used for my own travels, purchased & enjoyed. Clicking these links does not cost you anything, however doing so will support Blue Eyed Compass and allow the site to continue. THANK YOU!
You reading this post means you are already an excellent sustainable traveler (and a smart one too!). Researching how to travel from the airport to the city centre using public transportation is imperative when it comes to fast-tracking your vacation enjoyment.
Vienna has an awesomely convenient transportation system called CAT, or City Airport Train, which transports riders from the Vienna airport to Wien Mitte, a central location within historic Vienna.
It is easy to use, cost-saving, efficient, and something I would definitely recommend to anyone trying to get from the Vienna airport to City Centre.
Read on for an easy How-To guide for Vienna's City Airport Train (aka CAT).
Included in this post:
The perks of taking the CAT
How much the CAT costs
How to buy tickets for CAT &
An additional way to get to the center of Vienna from the airport
How to get to Vienna from the airport
The CAT is short for City Airport Train and is Vienna's streamlined train service to and from the Vienna airport to its city centre. The CAT stops at Wien Mitte in Vienna. Which is the main transportation hub in the city of Vienna.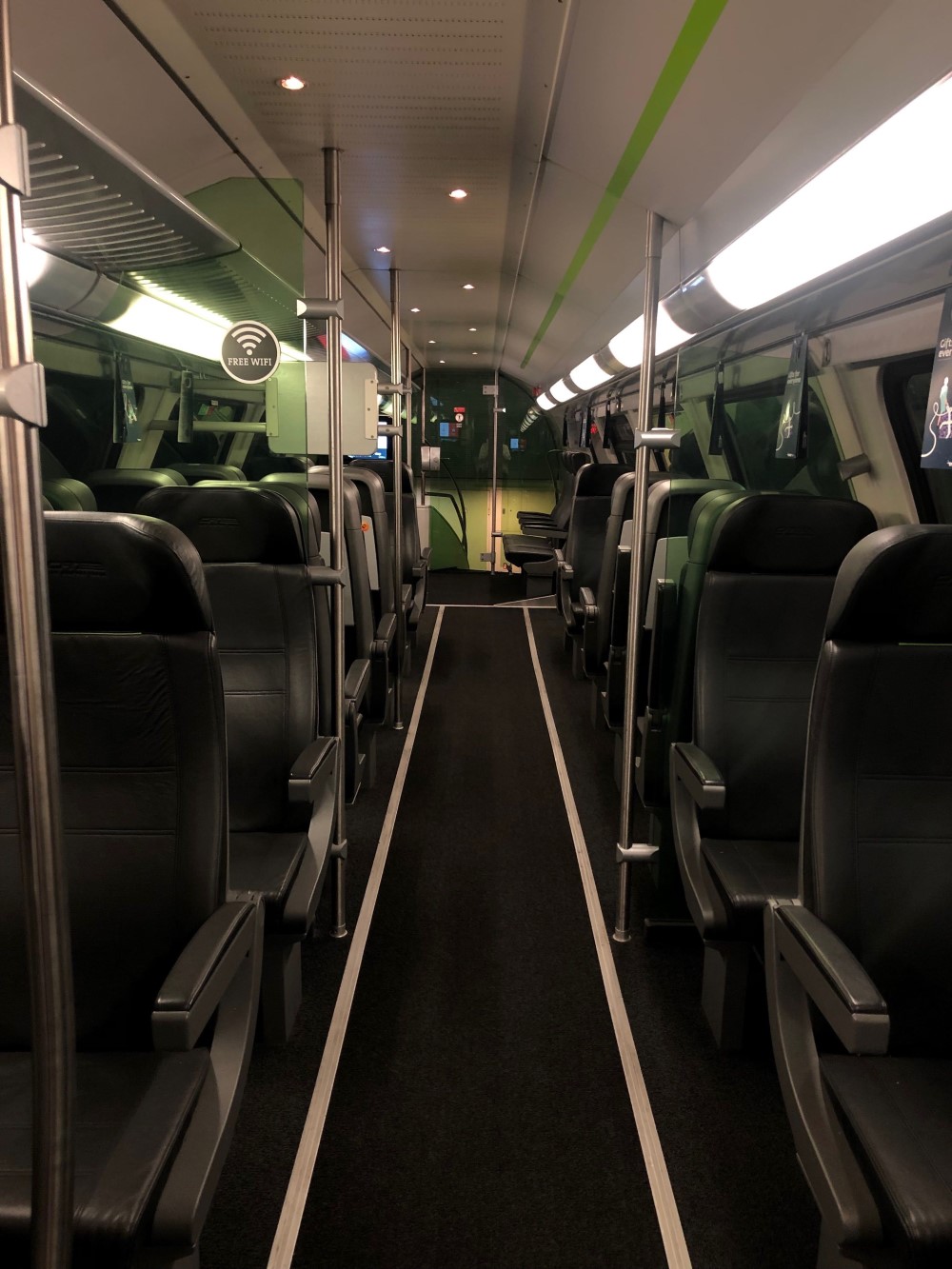 Benefits of using the CAT in Vienna:
You can safely and easily check in your luggage so that you don't have to lug it onto and off of the train
CAT passengers can print their boarding passes at the CAT terminal in Wien Mitte
Certain airlines have partnered with CAT, so that passengers can check-in their luggage at the CAT terminal in Wien Mitte straight to their departing plane!
Find the airlines HERE : Austrian, Lufthansa, Eurowings, Swiss & Brussel Airlines
The CAT is direct to/from the airport and Wien Mitte. There are no additional stops to worry about.
It only takes 16 minutes to get to or from the airport- you can beat so much city traffic!
If the CAT is delayed more than 30 minutes & you miss your flight, they will cover your flight costs. And if your missed flight requires an overnight stay, they'll cover those costs as well. CAT calls it their CAT Travel Guarantee
They offer storage lockers for your luggage FREE of charge!
Their train cabins are spacious & very comfortable
There are newspapers & magazines supplied on the trains
There are WLAN and power outlets at each seating area

How do I get from Vienna airport to City Centre?
The CAT-platform is a short five minute walk from the Vienna airport entrance, from both the Check-In area and baggage claim areas.
Once you've landed in Vienna you'll want to go to Terminal 3 at the Vienna Airport. Once at Terminal 3 exit to go outside and walk to your RIGHT. There will be signs pointing you in the correct direction. You will then take an elevator down to the CAT station.
You can purchase your ticket(s) at the baggage claim hall from their kiosks or their counter.
Trains depart from the airport to the Wien Mitte station every 30 minutes until 11:07pm.
*Timetable of CAT train in Vienna
Where does the CAT stop in Vienna?
The CAT goes to and from the Vienna Airport to Wien Mitte. Wien Mitte is one of the main stations for all public transportation in Vienna.
How do I get to Wien Mitte from Vienna's city centre?
Visitors can easily get to Wien Mette and the CAT station by using Vienna's public subway system. called U-Bahn. The public transportation stations are in another part of the Wien Mitte, so travelers need to walk from the CAT terminal through the mall. It's an easy walk, and all indoors.
See the map below for Vienna's metro system.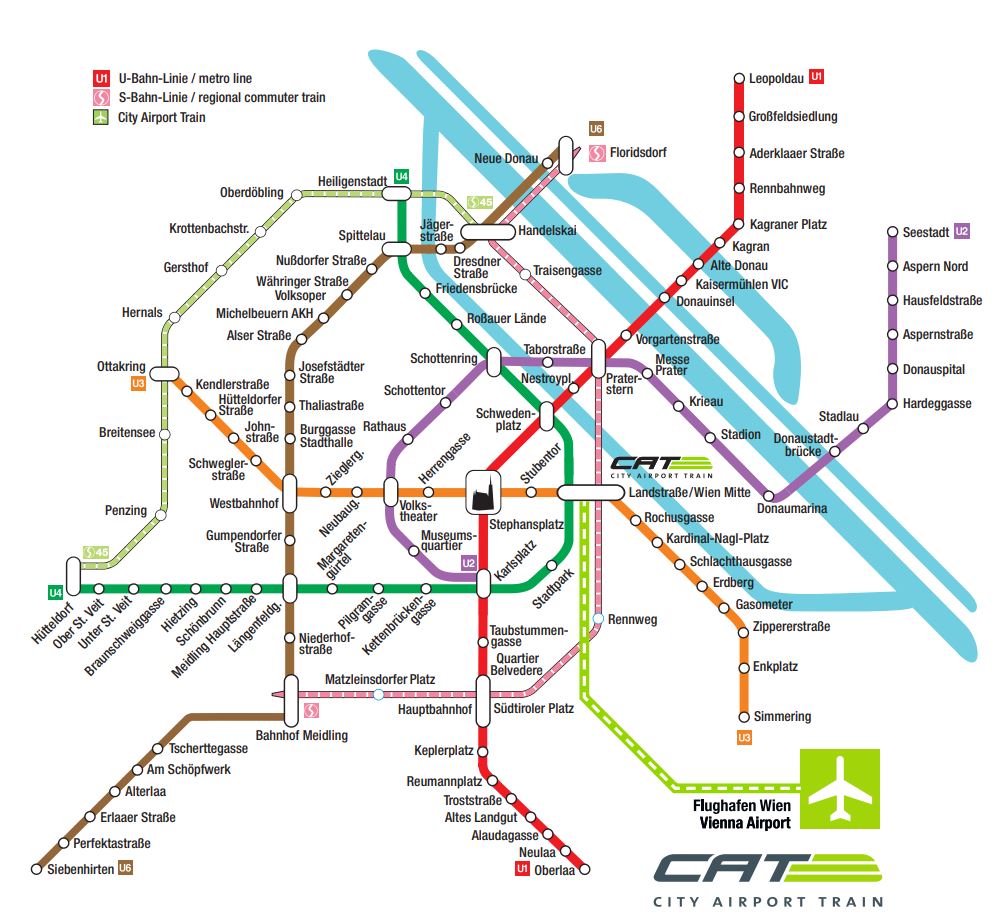 How much is the train from Vienna airport to City Centre?
The CAT costs between 12-21 euros. See their pricing here
Taking Vienna's CAT to the airport
Inside of Wien Mitte is the CAT station. It operates like a mini airport terminal where you can check into your flight on their kiosks, purchase your train tickets and potentially even check in your luggage. There is a comfortable waiting room and storage lockers as well.
Once you have your tickets you can hop onto the train. It departs every 30 minutes from 5:37 am-11:07 pm, with only a 16-minute train ride to the airport.
*Timetable of CAT train in Vienna
How to buy tickets for CAT Vienna?
You can purchase tickets for the CAT in Vienna a few ways:
At the counter of the Wien Mitte CAT station
From a CAT vending machine at the CAT station
At the airport: in the baggage claim hall from their sales staff or their vending machines
If you'd prefer to pre-purchase your ticket in advance, you can do so HERE. However, you will pay an extra bit in change. So consider your time of arrival and departure.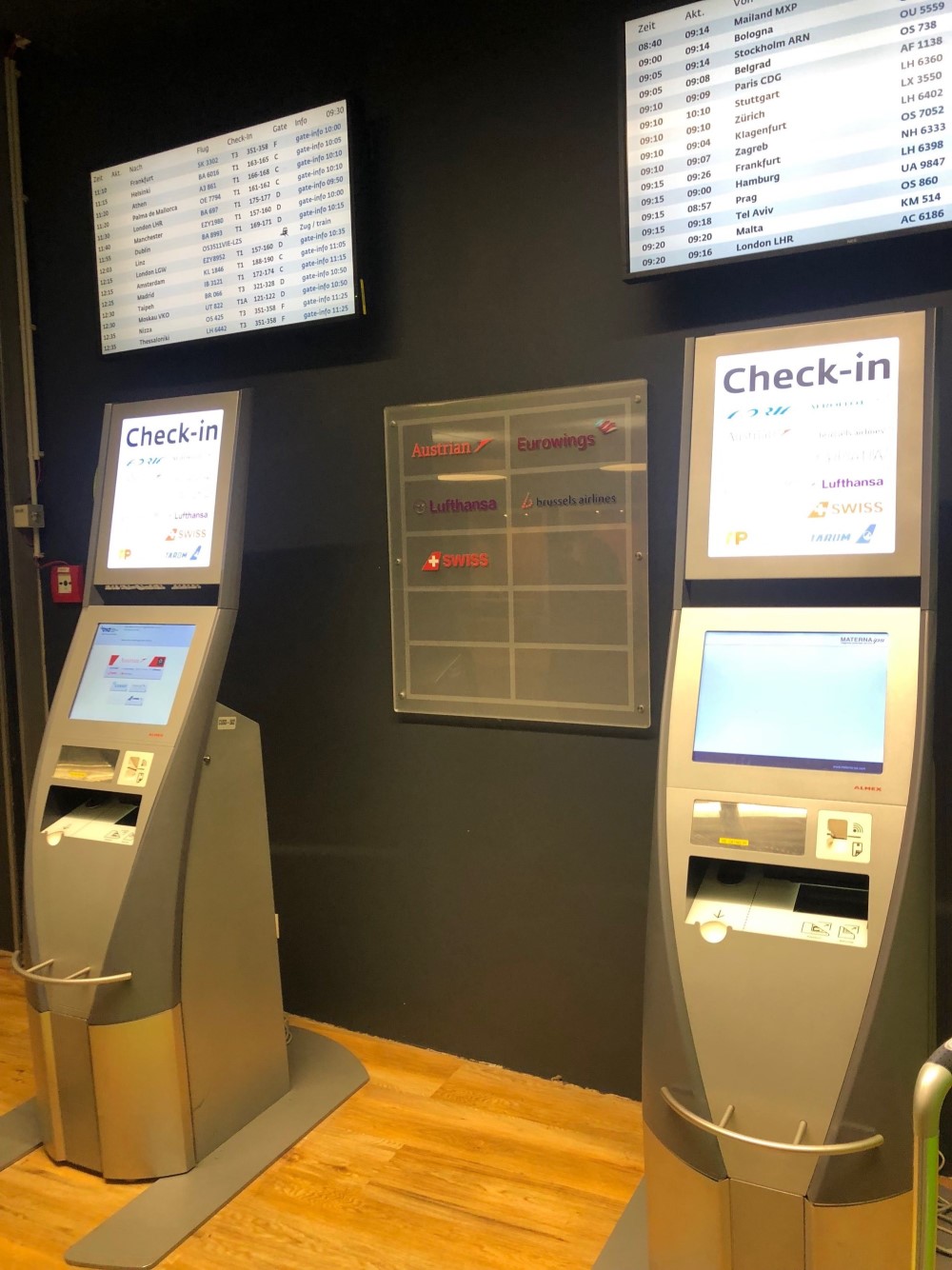 How to get to Vienna's City Centre by train?
In addition to the direct CAT, there is also a public train called the Schnellbahn S7. A regular ticket costs only 3.90 euros, with an average travel time of 25 minutes as it makes multiple stops.
Passengers can find the Schnellbahn by following signs at the baggage claim hall and Check-In hall
Tips for taking the CAT in Vienna to & from the Vienna Airport:
Keep in mind once you arrive at the CAT station in Wien Mitte you need to transfer to the Vienna metro. This is a 5-10 minute walk inside of the Wien Mitte mall.

CAT is not a part of Vienna's public transportation system, so you will need to purchase different tickets to use their metro system