The Best Carry On Essentials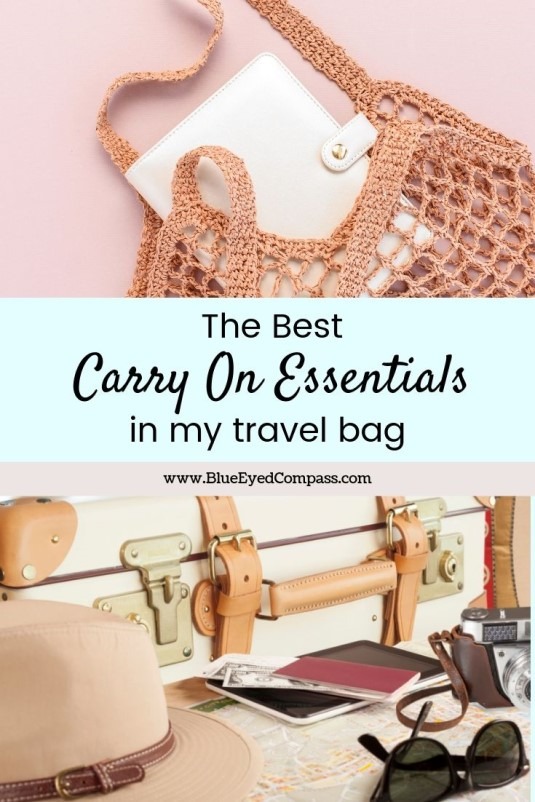 This page contains affiliate links to products and tours that I have used for my own travels, purchased & enjoyed. Clicking these links does not cost you anything, however doing so will support Blue Eyed Compass and allow the site to continue. THANK YOU!
Mastering air travel is one of the best feelings a traveler can have, and can be a difficult task even for the most avid traveler. We want to feel comfortable (especially if on a long haul flight) and also not feel weighed down by bringing too much and feeling squished in our seats.
After years of trial and error I have finally built out a standard Carry On Essentials pack and checklist. Successfully packing just the correct amount and quality of items into my carry on purse or backpack, while also maintaining a sustainably positive impact.
My carry on essentials include a mix of 'things to do' and comfort items – this way there is a provided distraction from the uncomfortable airplane seat and a feeling of ease knowing I'm treating my body with my health in mind. Every item on here has been tested by me or a close friend whose opinion I trust, and many are good for your health and the environment.
Carry On Essentials
For the Sustainable & Savvy Traveler
This page contains affiliate links to products and tours that I have used for my own travels, purchased & enjoyed. Clicking these links does not cost you anything, however doing so will support Blue Eyed Compass and allow the site to continue. THANK YOU!
These toiletries are a wonderful combination of basic needs, a well maintained beauty routine, and a spa-like experience – because you might as well make your flight as conveniently fun as possible… without having to hire a massage therapist as your seat neighbor.
Chapstick / Lip Balm
Airplanes are notorious for making our skin dry. Think about it – hundreds of bodies are squished into a tiny space and the air is recycled over and over again to keep it breathable for those on board. A basic need for your toiletries bag should be chapstick.
Not all lip balms are created equal, and while I am still searching for THE perfect combination of quality versus sustainable (sustainable ownership and ingredients), I would suggest trying these out.
Facial Cleanser Wipes
It's important to not wear makeup while flying. Having a fresh face prevents clogged pores, so start fresh when you board with these compostable face cleansing wipes by the brand Yes To..
SPF moisturizer
Sun exposure can be much greater when flying, so it's important to keep your skin protected and prevent aging. Many make ups have some spf in them, but I always think it's best to have a clean face, aka NO MAKEUP, when flying. I really enjoy Mario Badescu's spf moisturizer, as it protects my skin, while moisturizing and doesn't clog my pores (my skin leans towards an oily complexion). Plus! It comes in a travel compliant size.
*I have reached out to Mario Badescu about using less plastic for their containers. You can help sway opinions too as a valued customer to brands like this. Email them here!
Jade Roller
When jade rollers first came out there was a mad rush for everyone to purchase one. While the trendy rush has died down, the value in using one hasn't diminished. Using a jade roller while flying is great for allowing skincare products to absorb into your skin and it helps to eliminate puffiness (when your skin dries, your body tries to retain water, so it bloats). It's like giving yourself a mini spa treatment and massage.
Lotion in Resuable containers
If your face needs moisture, so do your hands. Call me crazy, but I hate having dry, cracked hands, so I always try to bring lotion with me for flights. While there are small plastic lotions you can buy, I would suggest packing your preferred brand in a reusable container, like these silicone ones!
Lavender Oil
If you have anxiety or stress while traveling and/or difficulty trying to get some rest while flying, I would highly suggest utilizing the lulling power of lavender oil. Not only does lavender calm the nerves, it is a proven sleep aid (I use it at home regularly to calm down before sleeping).
*DoTerra is a stellar essential oil brand that Dr. Mariza Snyder recommends. Dr. Mariza wrote the book The Essential Oils Hormone Solution and she also recommends this brand for their sustainable efforts and quality of oils.
Deodorant
If you think you won't smell after a flight you need to check yo'self. I'll give you a statistic of which I've done my own personal research – 100% of the people flying on a plane will smell of body odor upon their exit of said plane. So packing deodorant in your carry on bag is a necessity.
And while we've all become accustomed to the major brands scents, many of those name brands are actually leading causes to breast cancer, so using a natural, aluminum free brand is vitally important.
I'm in the process of testing out multiple different brands, but so far have LOVED Lavanilla's (especially their passion fruit scent, so unique!) It lasts for hours, unlike a few of the other all natural brands, and is conveniently sized for ease of traveling.
Here are a few other brands you could try out that I've heard great things about:
–Corpus Third Rose – vegan, natural, no coconut (some people are allergic to coconut based deodorants) if you use this link you'll receive $5 off your first order!
-Tarte's Clean Queen Natural Deodorant
-Ursa Major Hoppin' Fresh Deodorant
Comb
Keep your mane looking classy and comb it out using one of these shower combs. Just be sure not to toss your loose hairs on your neighbor.
Toothbrush & Paste
While mints are great for in between meals, if you're on an overnight flight its a good idea to keep up your normal routine as much as possible, such as brushing your teeth. I really like the sustainable brand, Dirt Don't Hurt Me, that also happens to be female owned AND in San Diego (hitting all of my happy points for supporting local businesses)
A totally compostable toothbrush (minus the bristles) and the tooth powder lasts forever and no TSA issue with liquids.
Blossom Cup
This one is for the ladies. Even if I'm not on my period, I always pack my blossom cup with me … because you never know. Just like you would pack extra tampons, but this is totally sustainable! Blossom Cups are awesome and while it takes a hot second to adjust they are way better for convenience overall.
Mini perfume
Step off your flight feeling fresh & frisky with some light perfume that you can spray as your leave the plane.
Hair clips
I use a basic brand of hair clips from Sally Beauty Salon, which I cannot find online. I love the claw clips I use, and as someone with thick, long hair, these hold my hair back no problem.
Hand sanitizer
Did you know your tray table is the most bacteria filled space in your airplane area?
Use hand sanitizer to prevent picking up anything icky from your seat.
Movies & TV Shows downloaded
This isn't exactly an item so much as something that is really smart to have saved onto your laptop
Sudoku or Puzzle Book
Having a small puzzle book is great for those moments where you don't have the mindset to sit and read and can't use your laptop. I love sudoku and this travel sized sudoku book.
Lightweight Book
Keeping our travel items on the lighter side, aim for smaller paperback books
Change of COMFORTABLE Clothes
I don't understand how anyone can dress in professional attire when flying. At the very least you can dress nice for the airport and change on the plane.
Most likely your outfit will not help you be upgraded to first or business class. Those upgrades are reserved for those status holding flyers.
I have officially found the most comfortable outfit to wear on a plane – this cotton jumpsuit. I cannot recommend this jumpsuit enough. You can style it to look cute, and feel like you're wearing pajamas. I have it in two colors and have worn it on my past few flights, and will probably continue to do so.
Foot Rest
This is THE best travel related purchase I have ever made (next to this jumpsuit), especially for overnight travel. If you have short legs and a red eye flight having a foot rest comes in clutch. It allows more comfortable rest and prevents lower back pain.
Extra Socks
Just as your skin bloats to retain moisture while flying, your legs will bloat from lack of movement and the air pressure, so compression socks are key for preventing blood clots and avoiding swollen ankles when you land.
Even if your flight isn't too long, I would suggest packing a pair of warm socks for the flight. For every flight I take I always put on wool socks to keep my tootsies nice and warm. And please don't be that person that puts their barefoot on the chair in front of them! Just wear socks.
Slide on Sandals
If you're like me, and you stand up every 2-3 hours on a flight to move around. If you wear sneakers or boots you'll have to gear back up each time you stand up. Which is why I love these sandals – you can easily slide into them. Plus they're cute and comfortable for everyday wear.
*These aren't the exact sandals that I have, as they don't carry them anymore but I like this Dolce Vita brand. There sandals have always been comfortable for me.
Extra Undies
Do I need to explain this? Change your undies after a few hours. Hello hygiene.
Eye Mask & Earplugs
These bad boys are always in my carry on bag because you never know if you'll need them at your destination. What's great about this eye mask is that it's contoured so they won't squish your eyes or lashes, and they come with ear plugs.
Travel Pillow
I've had my travel pillow for years & can't find it online, but if I needed to purchase a new one, I'd go with this pillow- its versatility means you could use it as a mini body pillow for when you arrive
Comfy Scarf
Airplanes range in cabin temperature, so it's best to prepare for this by wearing a cozy scarf. If it's large enough it can function as a blanket or bunched up pillow. And if it's too hot on the plane, you can easily store it in the overhead bins.
Reusable & Collapsible Mug
I love these collapsible silicone to go mugs. They're small enough to fit in my purse and are super easy to clean, so when I finish my drink I can quickly rinse it out and fold it back up.
Reusable Water Bottle
Most airports now have water bottle filling stations, so pack an empty reusable water bottle and fill it up once you're through security. Not only will this help you from spending money for water bottles at the airport, but you'll also be participating in the number one way to reduce single use plastics!
(Because you won't need to use the dang plastic cups airlines give out for their beverages. I've never had an issue asking a flight attendant to fill up my water bottle when I ask during those beverage carts run throughs.)
The bottle linked is a pricier water bottle and if you are prone to losing things maybe purchase yourself a less expensive one. However, I've had friends use this water bottle brand and love it. Larq uses UV light to clean any water inside of it of 99.9% of any chemicals or bacteria.
Cup Holder
If you're like my boo, you have a lot going on at your tray table – laptop, headphones, books, hot coffee, etc. These cup holders are fantastic for creating a more convenient space without the potential of spilling hot coffee on all over your items. Since we've purchased ours they've upgraded the item to be able to support small devices for screen watching too!
Reusable Tote Bag
Pack one to two cloth bags into your carry on bag. You never know when you might make a purchase while wandering through airports. I almost always use these for food that I pack with me or buy at airports instead of using a dreaded plastic bag.
Snacks & Meals
If you're looking to save yourself some money while traveling then pack some of your own food. Airports are known for having pricier than average food options.
And while sometimes it's unavoidable to purchase food at an airport (ever experienced 30 hours of flying with layovers at random times of the day? Sometimes to survive those crazy travel days you need to treat yo'self to some yummy goodies.)
Here are a few items I typically pack for myself and for Marcus:
vegan protein bars;

Lara bars

fruit (if not international)

pb&j sandwich

subway sandwich

dried fruit

pretzels

peanut butter stuffed dates covered in dark chocolate (homemade)

dark chocolate
I have a small tupperware container where I pack different medicines for my trips. Keeping these with you on the flight is convenient in case you suddenly feel a migraine coming on or the start of a cold.
ibuprofen; I'm not a huge fan of taking medications (unless I'm crazy sick) but you never know when a bug will perk up or a migraine may hit)

dayquil

melatonin; A great sleep aid for those who can benefit from it. I personally can't use Melatonin as it gives me vivid dreams that I cannot wake up from.

traveler's probiotic

; since I can't bring kombucha on planes, I pack a traveler's probiotic. I pack one to take every other day during my travels. And bonus points because this brand comes in a glass bottle!

Visine

band aids
Reusable Tote Bag
Pen & pencil
Business cards – You never know who you'll meet while traveling
Passport – Duh… haha
Screenshots of your reservation info for flights, transport & hotel/lodging
Breath Mints
Find a mint brand that you like and keep some in your toiletries bag. Your seat neighbor will be happy they aren't sitting next to anyone too smelly (more anti-stank items are below haha)
Blue Light Glasses
These are the blue light prevention glasses that I have and I love them. I'll be honest, I initially purchased three different pairs from different companies so that I could see how they looked on my face, and these were my absolute favorite.
Bonus- Amber Eyewear comes with a nice sturdy case and cleaning pad for their glasses.
Bonus #2- If you have an HSA, these glasses can be reimbursed through it!
*They had some plastic packaging that I emailed their customer support about. Their response was quick and I was told they are currently working on transitioning from plastic. If you purchase glasses from them and see they use plastic, email them. The more valued customers who raise their voice on sustainable efforts will make an impact on their corporate decision making.
This page contains affiliate links to products and tours that I have used for my own travels, purchased & enjoyed. Clicking these links does not cost you anything, however doing so will support Blue Eyed Compass and allow the site to continue. THANK YOU!