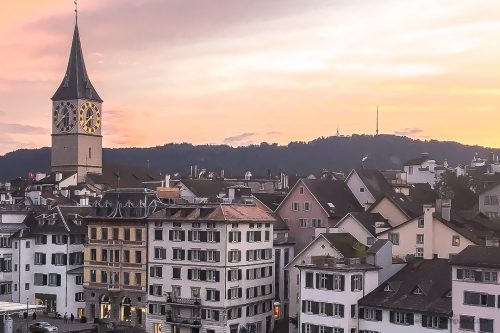 Last Updated November 12th, 2019
How to spend two days in Zurich, Switzerland, with the top sights to see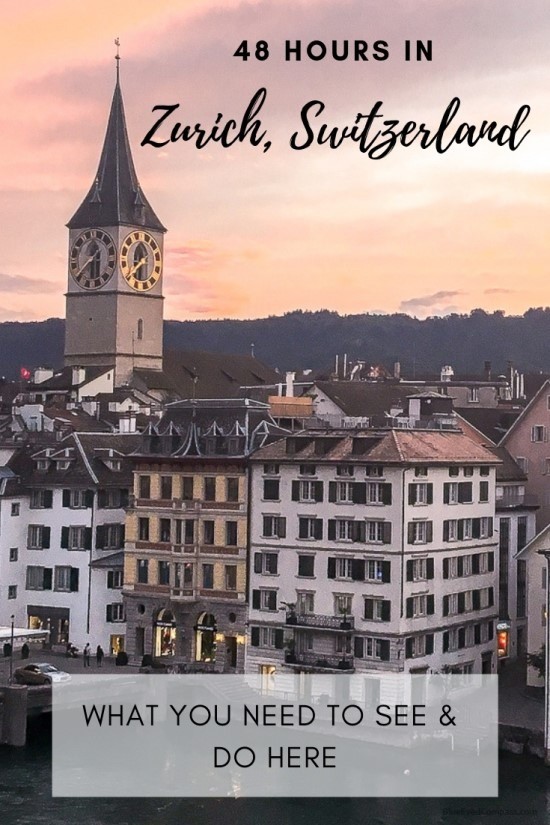 This page contains affiliate links to products and tours that I have used for my own travels, purchased & enjoyed. Clicking these links does not cost you anything, however doing so will support Blue Eyed Compass and allow the site to continue. THANK YOU!
Zurich, the city known as the banking epicenter of Europe -maybe the world- is by far one of the most efficient cities with an equally high standard of living. It's a destination that has up to date convenience mixed with extravagance and an old-world charm… all of which you'll notice on your wallet (Zurich ain't cheap, but it sure is worth the visit).
But don't let those things deter you from visiting Zurich. It is a great city to book a 48-hour stopover in to see it's stunning architecture and the pristinely blue river Limmat which separates the old town from the shopping and banking.
Plus, while the crowds of overtourism flood London's Buckingham Palace or Paris's Eiffel Tower, you'll feel as if you have Zurich to yourself.
Upon exiting the train station you'll see that this European city has the best of both worlds – winding cobblestone streets mixed with flourishing businesses and modern design. Even if you only have 48 hours to spend in Zurich, you should visit this beautiful city.
Whether you decide to take the efficient train from the airport and walk to your lodging or hire a car to do so, you'll witness the city transform from a hustling business center to the easily accessible, albeit booty working, walkable European town.
Getting to Zurich from the airport
Since Zurich airport is considered a hub airport, flights should be significantly cheaper flying into the city. And with Switzerland being internationally known for extravagance, their airport is part shopping mall, part airport and quite large inside.
Fret not though, it's quite easy to navigate your way from your gate through customs and to a quick train ride to the city center of Zurich. There are a few ways you can travel from the Zurich Airport to its city center, the fastest of which is by train.
With only a ten-minute train ride, travelers can jump onto a train that departs every 5-10 minutes. Purchase your ticket from an SBB ticket booth in the center of the Arrivals hall in the airport for only 6.80 CHF.
As the train is the quickest way to travel from the airport to the city, if you only have 48 hours in Zurich to enjoy the sites, I would suggest the train as the best way to get to the Zurich city center.
You can read about the other ways to travel to/from the Zurich airport here.
With so much to explore, here are the
Top 10 things you need to see & do in 48 hours in Zurich, Switzerland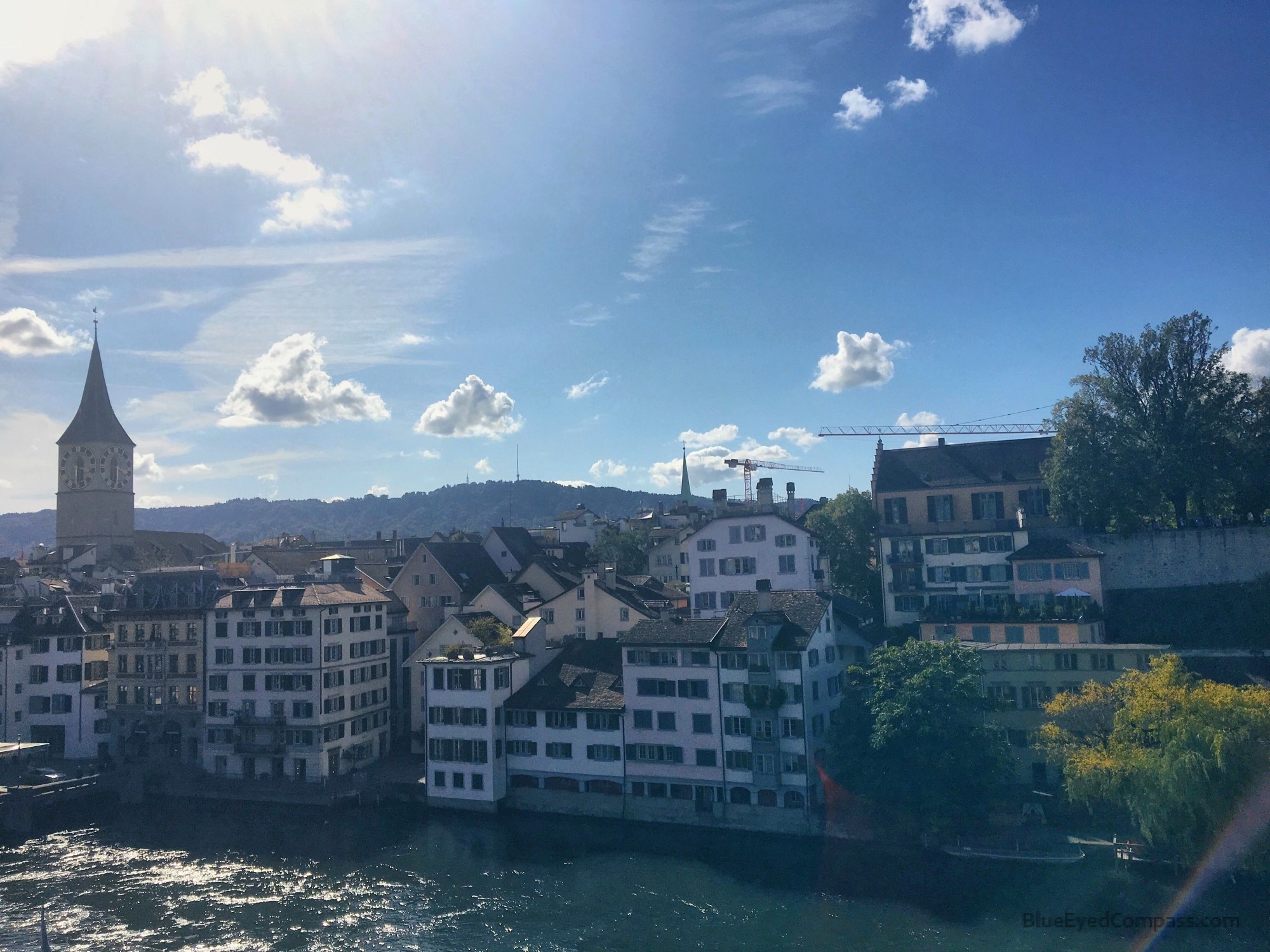 Wander the Aldstadt (Old Town)
Old Town is the most charming neighborhood in Zurich. It has that wonderful historical European charm that is expected from a Western European destination with many quaint and unique shops and restaurants (and bars!) all tucked away just waiting to be discovered.
Grossmunster Church
One of four major churches in Zurich,
Grossmunster Church
stands out with its neo-Gothic towers. It was the center for the Swiss-German Reformation during the 16th-century.
This church is free to enter and has a simplistic interior. You can pay to climb the tower for 5 CHF to see beautiful panoramic views of Zurich from above.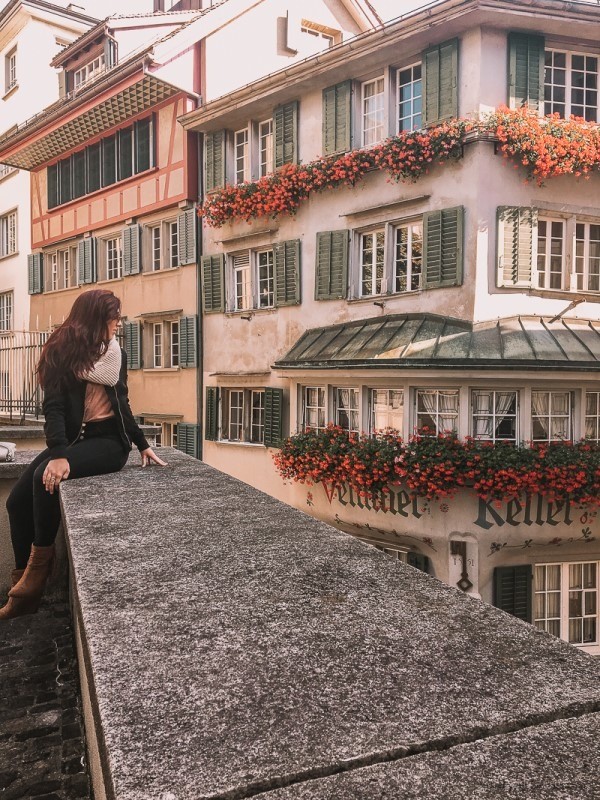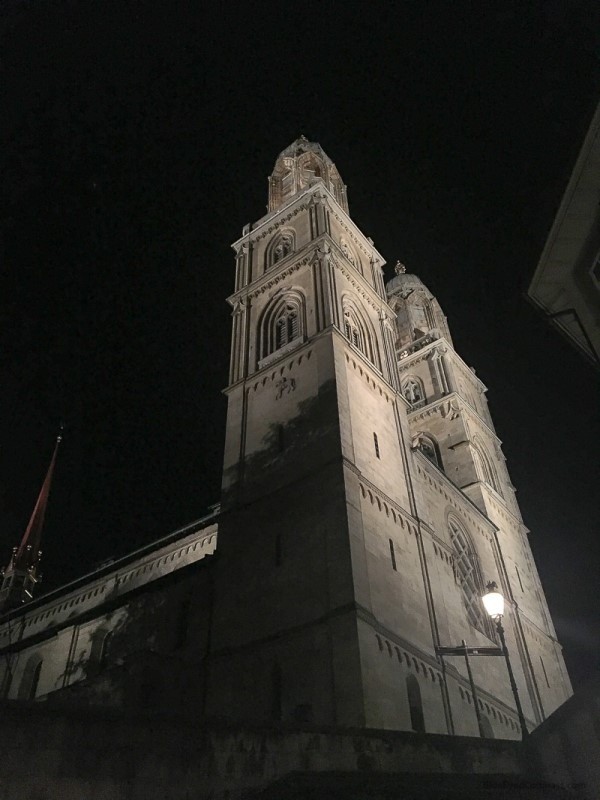 click image to find out more!
Fraumunster Church
With its iconic teal-blue spire and clock tower, Fraumunster Church is by far the most stand out church in Zurich. Mostly known for its Chagall stained glass windows, this site was originally home to an abbess. Go in the early morning to witness the morning light shine through the windows. However, keep in mind that there is a small 5 CHF fee to enter. (*there was a wedding the day of our visit so we weren't able to get inside.
Lindenhof Hill
If you're a fan of stunning vistas than take the trek up to Lindenhof Hill. With a bit of a steep climb, Lindenhof offers a great viewpoint of Zurich for breathtaking views of Aldstadt Zurich. Be sure to head there early in the day for early morning pictures or to claim your sunset spot as this viewpoint attracts many visitors. Luckily, we could see Lindenhoff from our Airbnb and noticed there were large crowds even at the end of the day.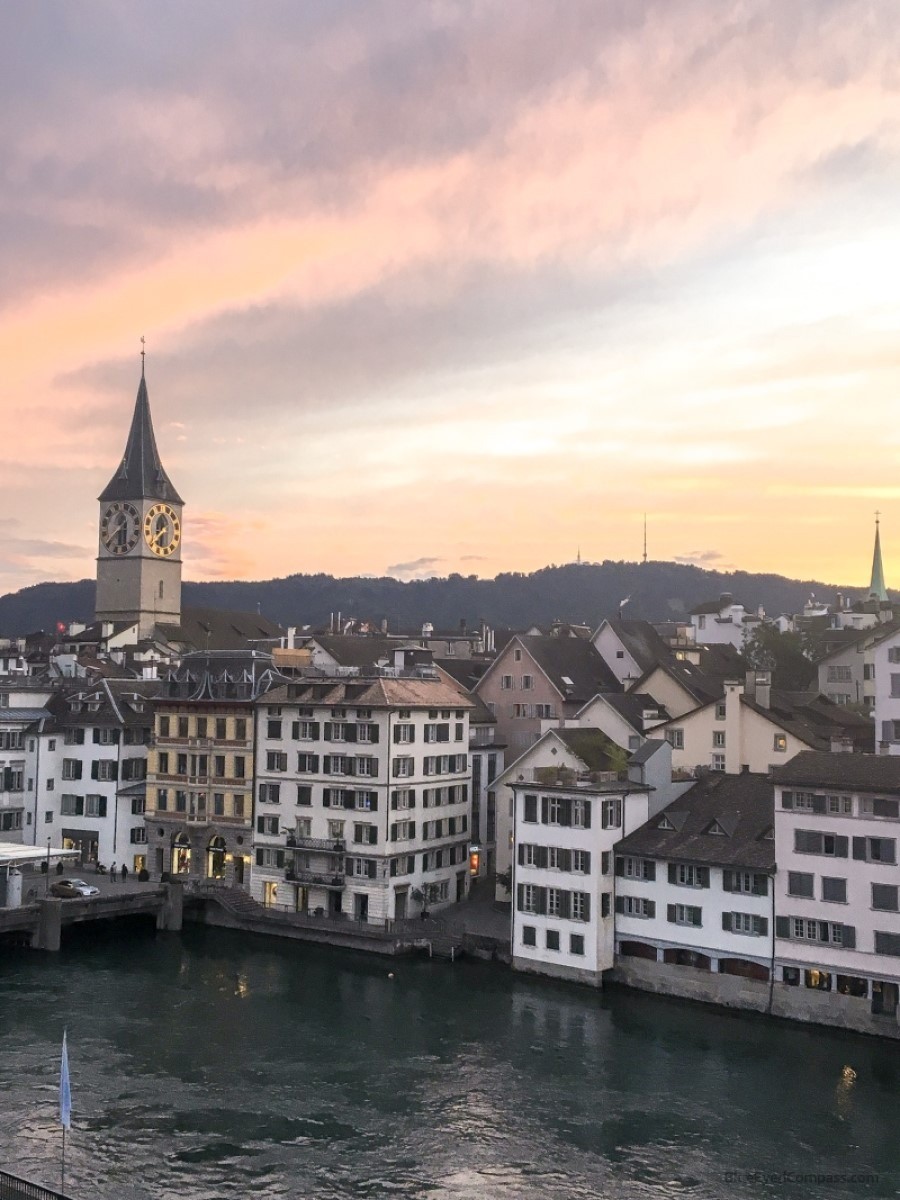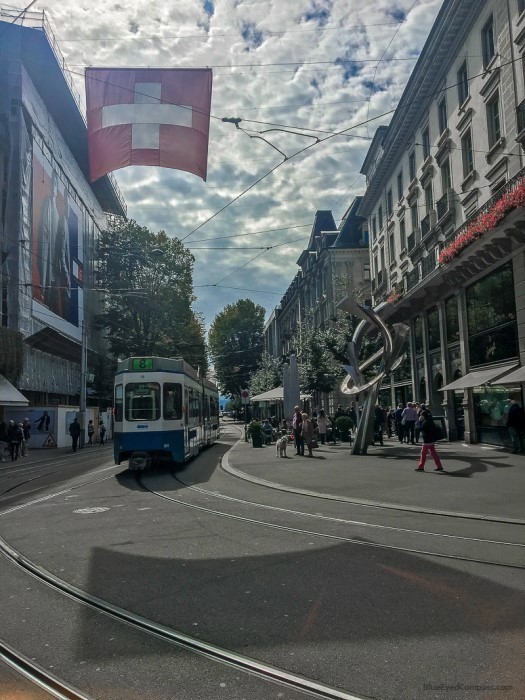 Bahnhofstrasse
When you walk down Bahnofstrasse you're walking down one of the world's most exclusive & expensive shopping streets. Best of luck not spending a paycheck's worth on goodies here… if that's not in your budget you can act as I did and long after an item or two while you window shop.
Have lunch at Hiltl
Let me do my celebratory dance for
Hiltl
because it is a veggie lovers dream come true! I'm quickly learning that Europe is transitioning to please a vegetarian & vegan palate and my fellow veggies could not be happier! While Hiltl is amazing for vegetarians, it's also amazing even if you do eat meat.
Hiltl is the oldest vegetarian restaurant in the world! It did not disappoint in terms of quality or quantity of food. We chose to eat from the buffet. But, be warned that the buffet price is based on the weight of your plate. Regardless, there were so many options and everything was delicious. The atmosphere was great as well as the staff. It's a wonderful opportunity to try a variety of foods you may have never heard of.
TIP: Going there for lunch instead of dinner will make your visit a bit cheaper.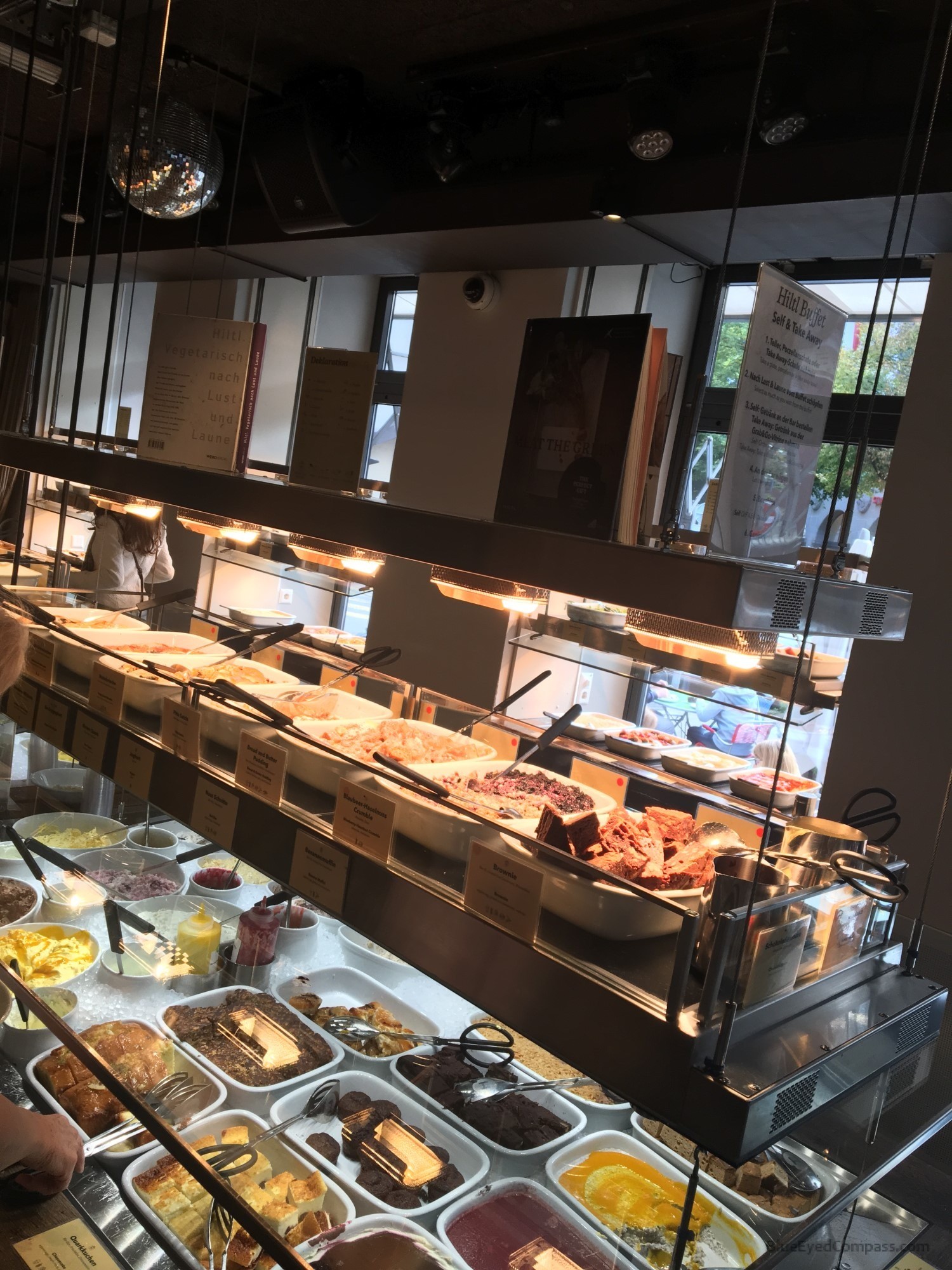 Walk the Renweg & Augustinergasse Streets
Both Renweg and Augustinergasse streets are pedestrian-only streets in the Niederdorfstrasse area of Zurich. They are the picturesque type of cobblestone streets that you fantasize about walking through on any European vacation. And best yet, Renweg is the second-best shopping street after the famed Bahnhofstrasse.
Be sure to stop into the Schwarzenbach Kolonialwaren, the famed colonial good store that's been family operated since the 1860's. Shoppers can find great ideas for souvenier or presents to bring home like coffees, teas and Swiss chocoloates.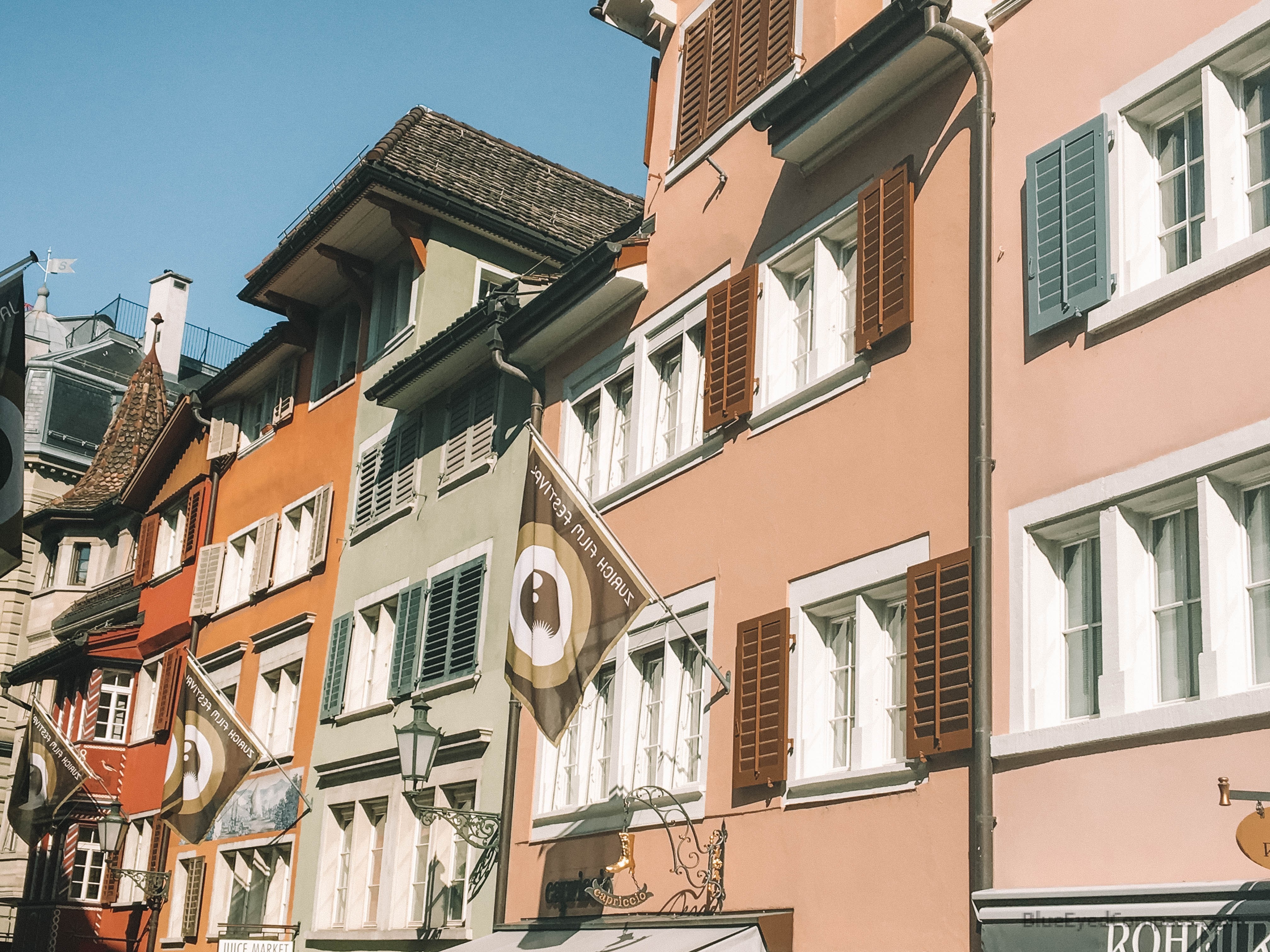 Enjoy Fondue at La Dezalay
One of THE most recognizable dishes for Switzerland, fondue has become a delicious staple for anyone visiting Zurich to try. La Dezalay is a Swiss restaurant known for its fondue… trust me, it's worth it. Located in the Aldstadt neighborhood of Zurich and you can see the Grossmunster church from outside.
Fun fact: fondue is considered to be part of your meal, however, we chose to eat it as our meal. Sometimes living your best life means devouring a bowlful of bread dunked in warm cheese. (I would have placed a picture of our fondue here… but to be honest I was trying to live THE moment of cheese heaven and forgot to take one. Oh well, worth it!)
Lake Zurich
The city of Zurich is serenely draped around Lake Zurich, which the River Limmat feeds from.
Travelers can take a relaxing & scenic
boat tour
around the lake. There are multiple options for length of time, where the boats dock, etc. We chose to do the medium length trip which took about 4 hours; choose your tour based on your time available of course.
These boat tours are a stunning excursion that can make a hectic day of walking around end with a serene afternoon.
*TIP- buy drinks/snacks at a grocery or liquor store (Migros stores do NOT sell alcohol) to bring on the boat. Drinks on the boat are expensive… as is most everything in Switzerland.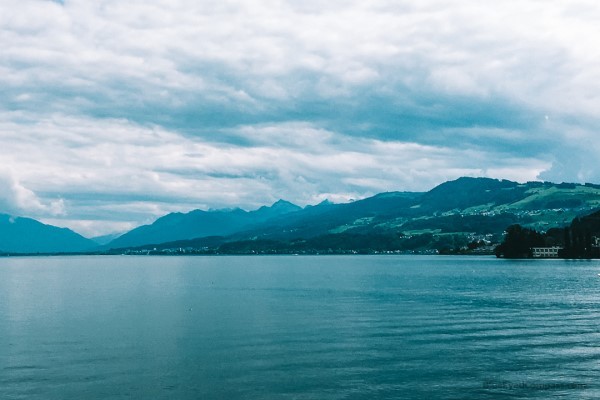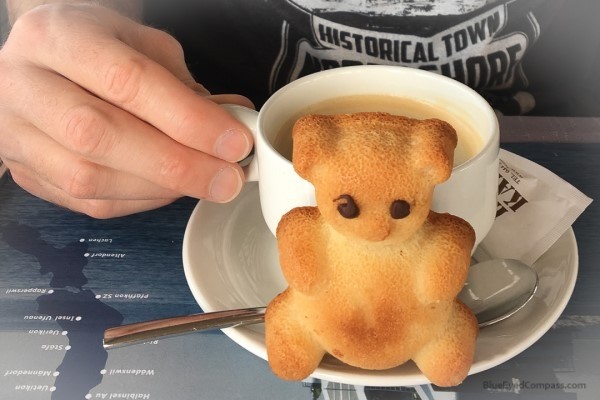 Enjoy a night out on Langstrasse
Zurich is surging with gastro-pubs and nightclubs. And Langstrasse is a great place to experience more popular bars while visiting Zurich for only 48 hours. We went to Fat Tony's based on a friend of a friend's recommendation (with the assumption it would be a dive bar based on its name) and really enjoyed it. If you walk along this street you'll be sure to find many places offering a variety of experimental cocktails to early morning electro-raves.
As a great hub location for Switzerland, you can embrace all that Zurich has to offer within a short period of time without feeling rushed. This city is one where a slow pace as a visitor will provide an exceptional day (or two!). Because short and sweet can leave you feeling ready to explore other places this stunning (and efficient) country have to offer.
If you visit Zurich and use this list of places let me know! And comment with any additions you feel were just as great. More importantly if you found that eating fondue multiple times made you happier than the free range cattle in Switzerland let me know so we can virtually high five each other.
Where to stay in Zurich, Switzerland
Switzerland is known for its pricier lifestyle than many are accustomed to, but no matter your budget you can find great accommodations in Zurich. If I'm using Airbnb, then I almost exclusively use Booking.com to find the best hotel deals.
TIPS for visiting Zurich, Switzerland
As like most other European cities, not much will be open on Sunday, so plan accordingly
Switzerland is an expensive country, if you are on budget I would pack your own snacks/protein bars so you don't need to stop at a restaurant for every meal (or hit up a grocery store)
Swiss people speak many different languages (german, italian, english), depending on the location and the person so you won't insult anyone if you say 'hello' in german, and 'thank you' in italian