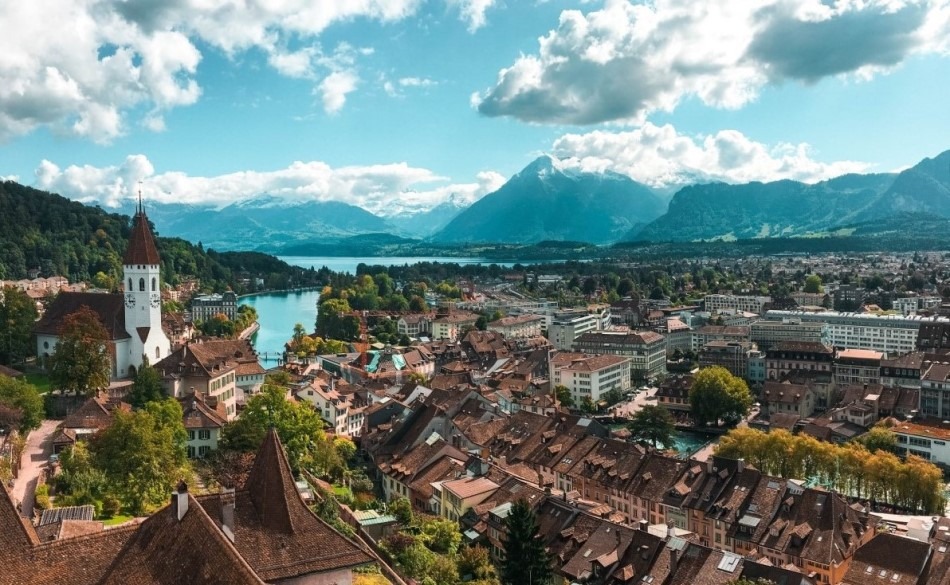 Foolproof Visitor's Guide to Interlaken Switzerland
An Ultimate travel Guide for Interlaken, Switzerland!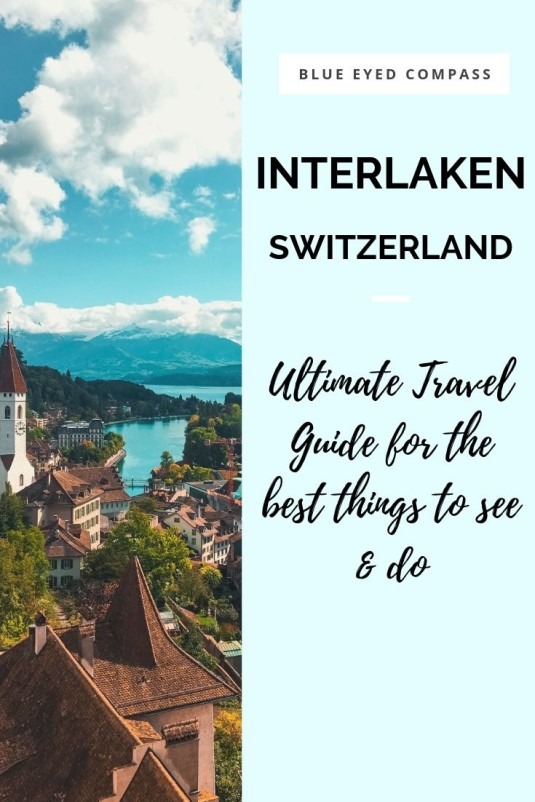 Note: this post contains affiliate links to products we love and have purchased ourselves. Clicking these links doesn't cost you any extra money, and you're supporting us by doing so. You can view our disclosure page for additional details
The stunningly pristine alpine village of Interlaken, Switzerland is one that visitors to Central Europe must add to their destination bucket list. Nestled between two alpine water lakes, Lake Thun and Lake Brienz, and epic views of snow capped Alp mountains, this area of the Canton of Bern, Switzerland continues to be a breathtakingly beautiful stop for visitors. It is also home to one of the world's thrill-seeking capitals. Imagine having access to turquoise waters for windsurfing and kayaking, and being in proximity to major Alp mountains like the Jungfrau, for extreme sports. With so much to see, do and explore in Interlaken I guarantee you'll leave wanting to come back to this paradise in central Switzerland.
No matter what destination you are coming from, getting to Interlaken is quite easy. By taking one of Switzerland's timely and efficient trains, you can arrive to the center of the town of Interlaken and begin your exploring soon after.
There are two train stations in Interlaken – Interlaken Ost and Interlaken West. Interlaken Ost is closer to the Old Town part of the city, while the Interlaken West station is closer to Lake Thun. I visited Interlaken after a long weekend in Zurich, and with one easy to make connection in Bern, found ourselves at the Interlaken Ost train station (as it was closer to our AirBnb) marveling at the beautiful mountains right behind the train station. Which were dripping in natural waterfalls and springs. You can look up Swiss train schedules here.
There is also an airport in the area called Belp Airport. However, it is typically much cheaper to fly into a major airport, like Zurich International, and take a train, rather than spend an exorbitant amount on a flight to a smaller airport like the Belp Airport.
And of course you can reach Interlaken by car. Depending on where you are staying this may be a great option so that you don't have to rely on public transportation (however, public transportation in Switzerland is very reliable). You can utilize the Sepp app to find and pay for parking in Switzerland, and here is a map of where you can find parking in the central part of Interlaken.
Where to Stay in Interlaken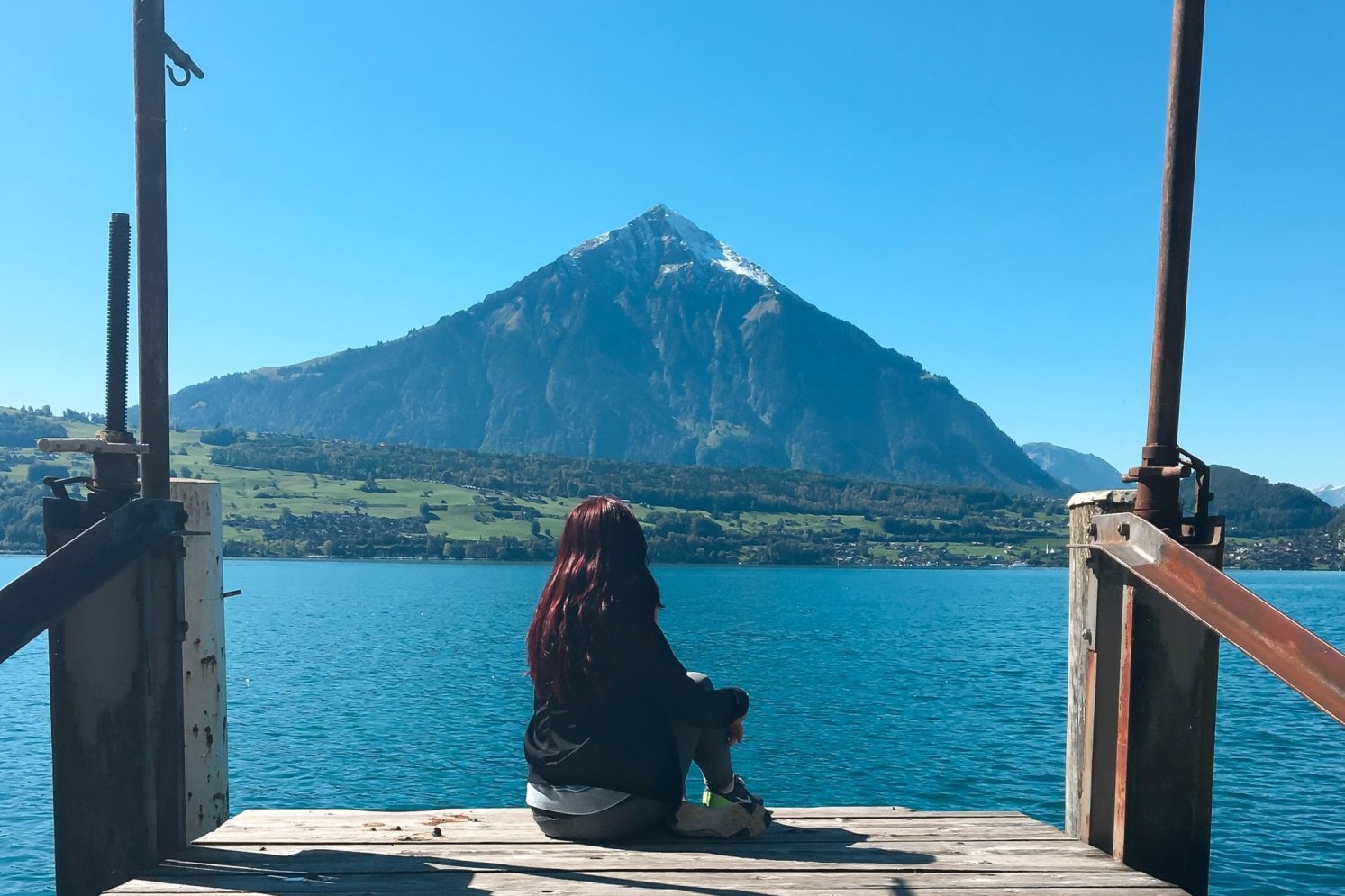 Deciding on where to stay can be a challenging feat for any trip. You want to have balance between great location, price, value and more. Since Interlaken is known for more beyond its city lines, such as outdoor adventure sports, there is an overwhelming amount of options. Here are quite a few options for travelers on different budgets visiting Interlaken:
Looking for traditional Swiss architecture?
Stay in Interlaken City. This is the urban part of Interlaken, and is very walkable. This is also where a lot of the adventure sport companies will have visitors meet near.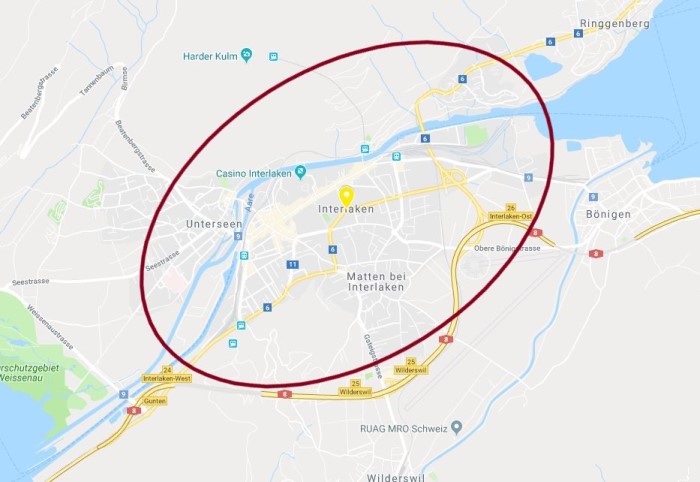 Looking for lake views?
Stay on one of the lakes that hug Interlaken, Lake Thun or Lake Brienz. We stayed at a beautifully renovated AirBnb that had stunning views of Lake Thun (and heated bathroom floors, second best feature next to the lakeside views!)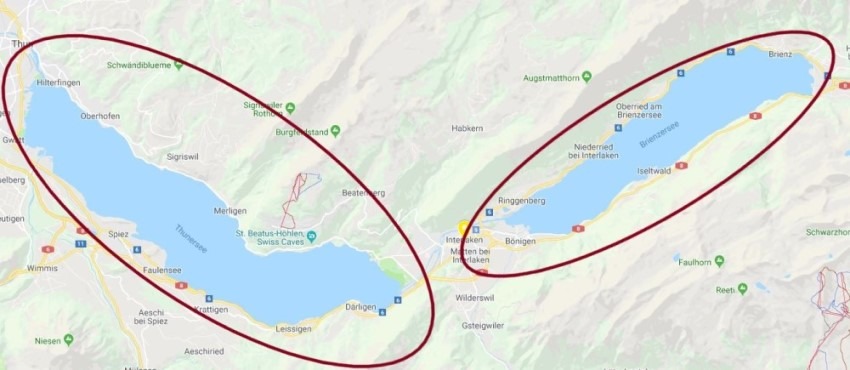 Looking to stay outside of Interlaken?
Here are a few options for wanting to stay somewhere that isn't in the main part of Interlaken:
Lauterbrunnen- only a few kilometers south of Interlaken, Lauterbrunnen is best known for its quintessential Swiss chalet style homes, and beautiful landscape views.
Grindelwald- the mountain village of the Eiger mountain, there are lots of activities to participate in here for both summer and winter months.
Thun- the main town that Lake Thun was named after. Thun felt much more traditional Swiss than the (quite frankly) over touristed area of Interlaken City. It also felt like there was much more to see if you weren't doing outdoor adventure activities during your entire time to this area of Switzerland.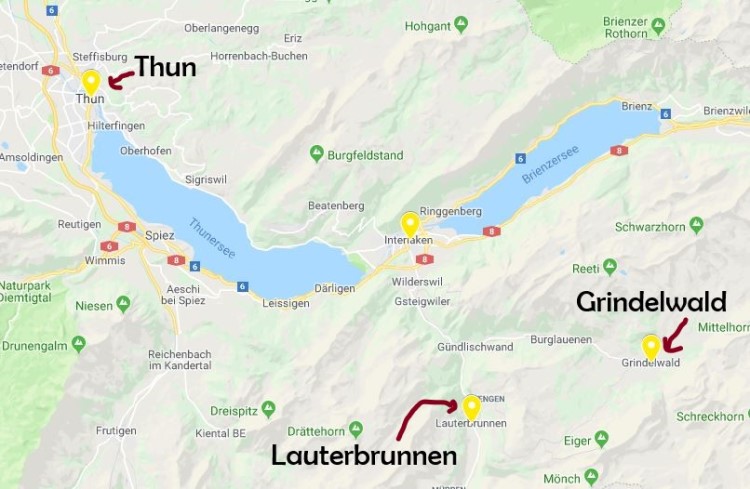 Looking for convenience to travel elsewhere?
Stay near Interlaken Ost, which is the east side of the town. It is close to the larger train station. It is also near the touristy areas; meaning lots of souvenir shops and over-priced/under value eateries.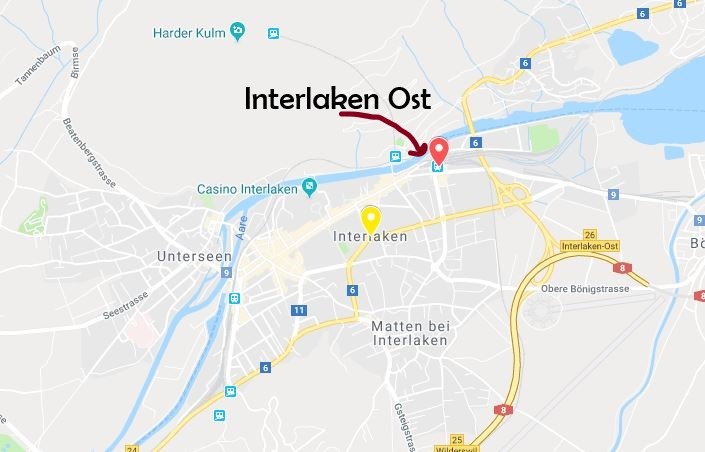 While I could link to multiple different hostels, hotels and B&Bs, I understand that it's important to look at all of your options, so instead I would suggest making your own independent decision (as you know your travel style better than I ever could). I typically book through AirBnb or Booking.com.
When should you go to Interlaken?
The best Time of Year to visit Interlaken
The best part about Interlaken is that it's always a good time to visit! It really depends on what you want to do while you are there. If you're looking for winter sports, then you can't beat skiing or snowboarding in the Swiss Alps. If you want to be able to casually walk around and enjoy the european charm and beautiful landscapes then springtime and summer are great. And yes, it does warm up in Interlaken, even though it is near the Swiss Alps. It can get up to the mid-70s during the summer months.
I would suggest that you keep your budget in mind when deciding when to visit Interlaken (or any part of Switzerland for that matter). It is a fairly expensive country, and can become even more expensive during busy seasons such as mid-summer months and major holidays like Christmas.
How many days should you stay/visit Interlaken?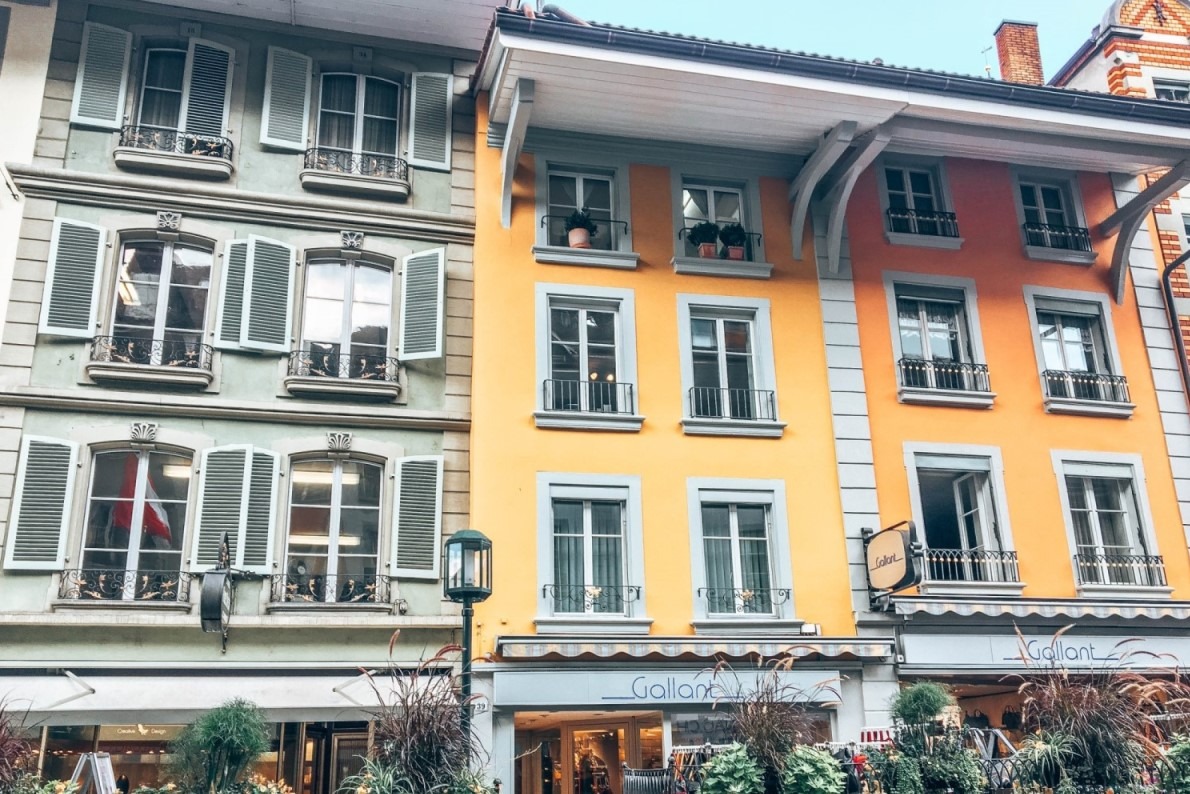 Similar to the best time of year to visit Interlaken, the number of days you should spend in this area is dependent on what you want to while there and your preferred travel style. You could spend a solid three days there and be able to explore Interlaken, have an adventurous excursion, like paragliding, and enjoy half a day on a boat cruise of one of the lakes.
If you prefer a slower paced travel experience, then I would suggest taking a week here. That way you can enjoy going to the top of Jungfrau (which you would want to wait to do until the sky is clear, see more about this below). As well as be able to spend an entire day exploring the town of Thun (my favorite place during my trip to Interlaken). You would also have time to go on a few hikes, and feel as if you have experienced all that Interlaken city has to offer.
How to get around Interlaken & the surrounding areas
Interlaken is conveniently compact so exploring the city center is easily done so on foot. However if you are staying outside of the city center you will be able to take their local bus lines.
In order to find which route/s to take I would suggest using Google Maps or Rome2Rio. For all of our travels we use these two options. The best part is that most hotels will have free bus cards for their visitors, so be sure to ask the front desk when you check in. Even our AirBnb host had bus cards for us to use. There are of course taxis you can take around as well, but the buses were always on time, and conveniently close to everything we needed.
Don't forget that Interlaken is situated between those two shockingly turquoise watered lakes, Lake Thun and Lake Brienz. There are boats that you can take around the entirety of the lakes with multiple stop off points that I would highly recommend (keep reading to find those below!). You can purchase tickets for the boats at the tourist office or at their docks. Here is a map of the stops on both lakes.
LAKE THUN
If you want to explore Lake Thun, then you would board near the Interlaken West train station

It takes about two hours to get to the town of Thun

Best stop off points: Oberhofen Castle, St. Beatus Caves, Spiez

Not every boat that departs from Interlaken West will be a multi-stop boat, so be sure to ask which one will stop at each spot

Map of Lake Thun boat docks

here

Boats operate year round, so you can enjoy a round about boat trip on Lake Thun even in the winter
LAKE BRIENZ
If you want to explore Lake Brienz, then you would board near the Interlaken Ost train station

It takes about one and a half hours to get to the town of Brienz

Not every boat that departs from Interlaken Ost will be a multi-stop boat, so be sure to ask which one will stop at each spot

Map of Lake Brienz boat docks

here
Why should I go to Interlaken?
Things to do in & around Interlaken
Interlaken is known as an adventure seekers destination, so there is no shortage of things to do in this area of Switzerland.
Spend time outdoors on a scenic hike
Hiking is an all time favorite travel activity of mine, and an excellent way to burn off those vacation meal calories when traveling. Interlaken has so many options when it comes to their hikes. You can find ones that are range in length and difficulty. Wherever I'm traveling to, I almost always use the All Trails app to research and choose which hike/s I want to go on. Download the app here!
Cost: Free!
Become a bird, and paraglide!

Each morning you'll be able to see paragliders swinging lightly through the clouds down to the center of Interlaken. So, why not be one of them? This fairly carefree adventure is great for those just beginning to go outside of their comfort zone (which I can say from experience, as I've tended to lean towards the safe side until I went paragliding in Interlaken).

After reviewing a few companies (based on price, reviews, years in service & level of professionalism) we chose to book with Paragliding Interlaken. Their staff were very accommodating and we loved our guides. Push past those fears of heights and enjoy a birds eye view of Interlaken!

Cost: 170 CHF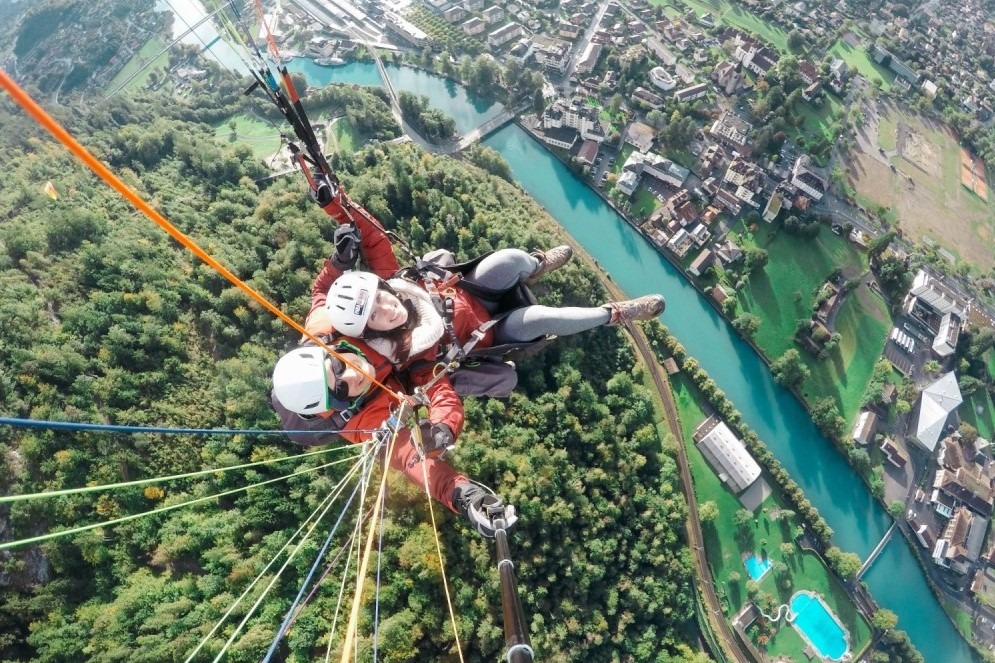 Step up your game & be a daredevil

While paragliding is a wonderful activity, if you're feeling up for an even greater adrenaline rush, Interlaken also has companies that offer skydiving, canyoning, white water rafting, ice climbing and bungee jumping. Luckily Paragliding Interlaken has lots of options for the adventurous type. *Add in Tripadvisor link if approved for their affiliate program

Cost: depends on activity, ranges from 40 CHF to 400+ CHF
See if the legend is true, by visiting St. Beatus Caves

There is a legend that says Saint Beatus defeated a dragon that was living inside of these caves. You'll have to see for yourself if you believe it to be true, but either way you'll be greeted with stunning waterfalls both in and outside of the caves. The caves are open from March to November. Find more details about visiting here.

Cost: 18 CHF
Take a relaxing boat cruise on Lake Thun or Lake Brienz

Interlaken is great for providing ways to view this beautiful country from both above the clouds and on the shorelines. A lake cruise is a wonderful way to spend your day and they offer plenty of hop on/off stops for further exploring.

Lake Thun cruises depart from the ferry dock near the Interlaken West station, while the Lake Brienz cruises depart of the ferry dock near the Interlaken Ost station. Both are easy to find once you're at the train stations. You can find the timetables here. The more difficult decisions you'll make is which lake to cruise on. Both feature turquoise waters and stunning views of the Alps. If you have time consider going on both! Cruises are offered April through October, and there are winter cruises on Lake Thun (only).

COST: starting at 35 CHF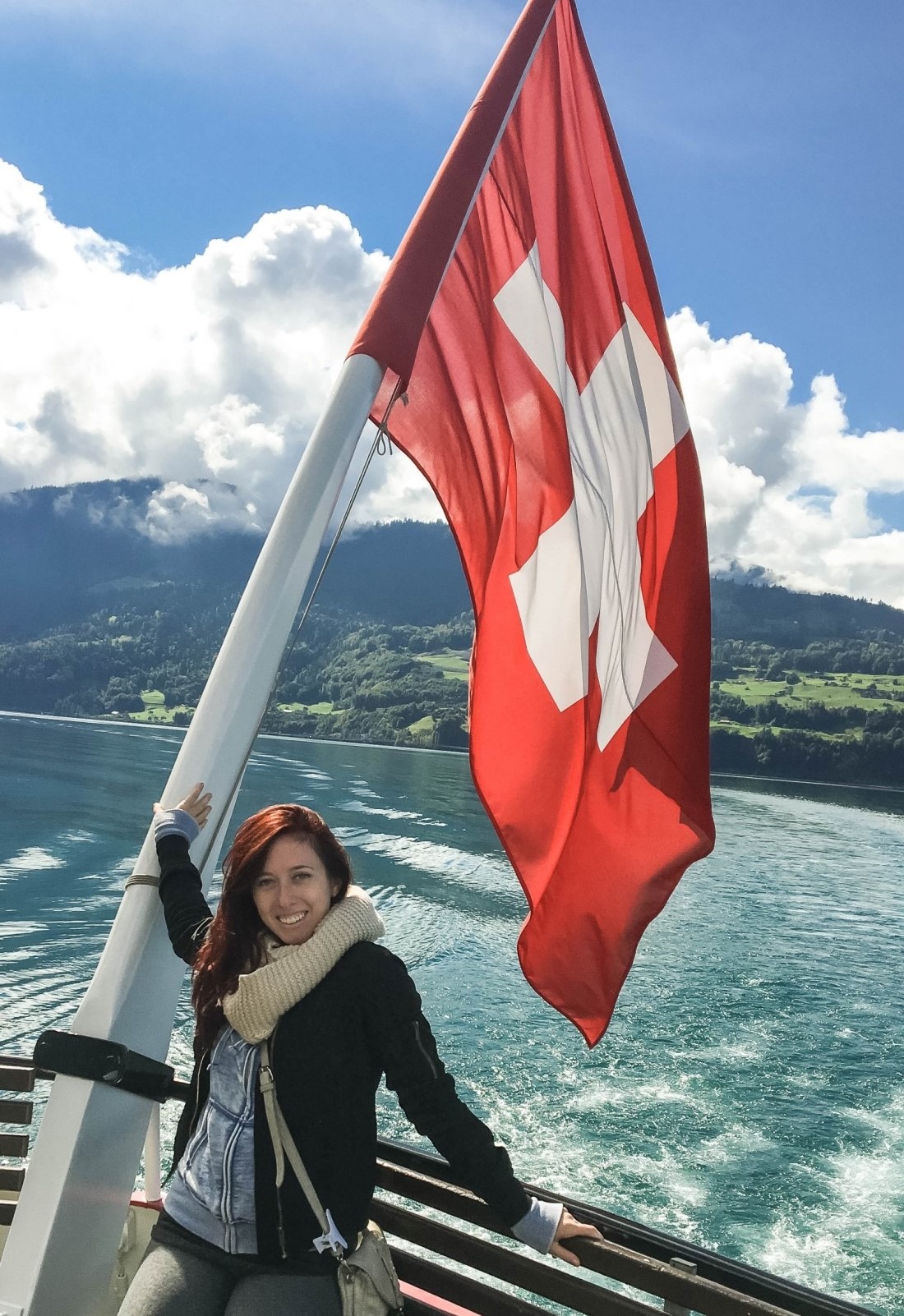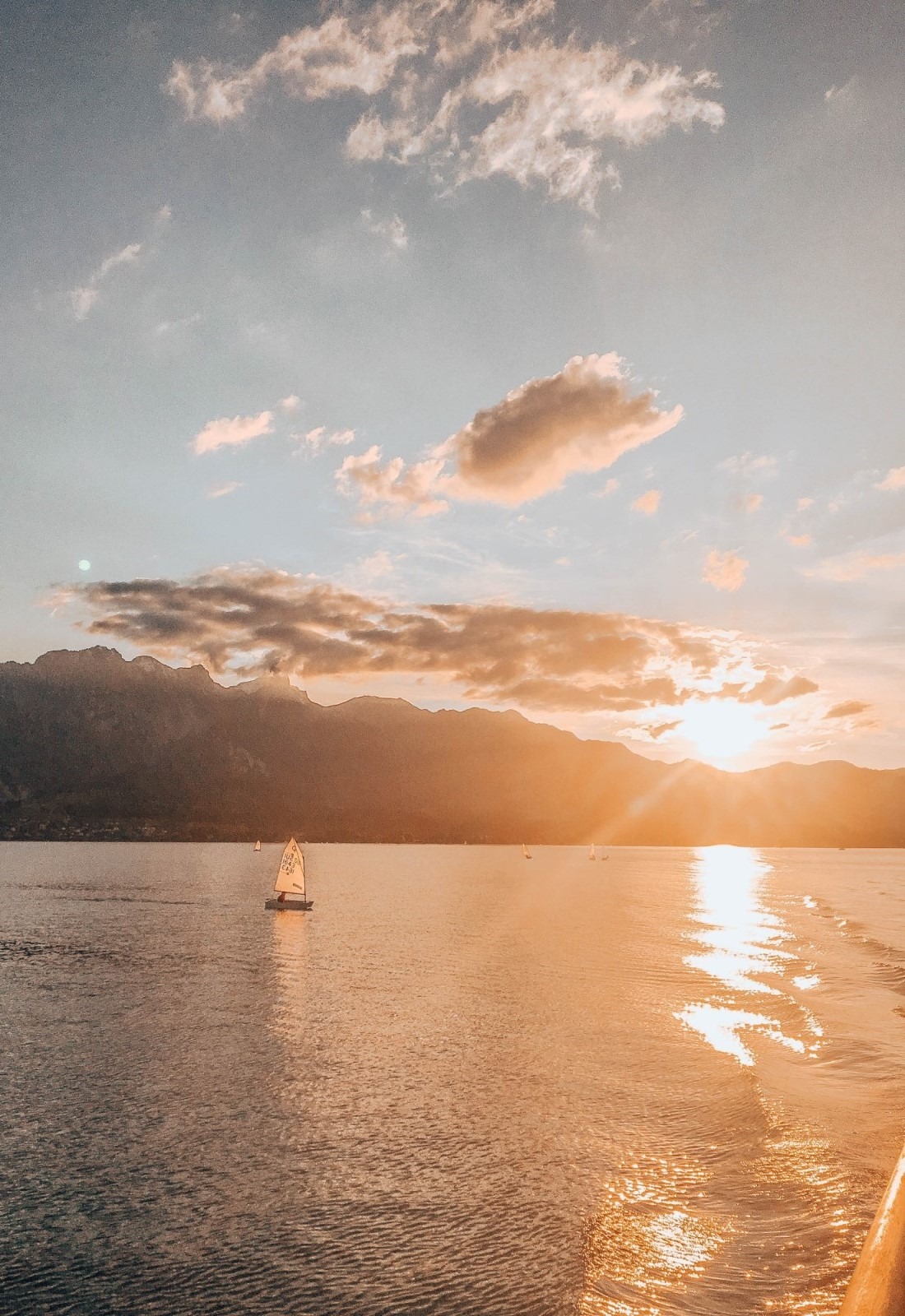 Step back in time at the Oberhofen Castle

Since you're already going to take a Lake Cruise (which is my number one suggestion for those visiting Interlaken!), you might as well stop off from the Lake Thun cruise to explore the Oberhofen Castle.

My standards for visiting a museum and castle have become somewhat particular … after plenty of travels, I've seen quite a few and have decided to spend my money wisely when visiting, as not all are created equal … and I would definitely recommend walking through Oberhofen Castle.

We found this 13th century castle and museum to be informative, engaging and loved the way the interior has been maintained. There are also English gardens outside that you can walk around in, for picture perfect moments with loved ones (unlike these hilarious attempts we made here… not quite sure what we were trying, but sleep deprivation probably had something to do with us thinking it was a good idea, haha).

Overall it is an enchanting lakeside with beautiful architecture, and remains one of my favorite stops while we were in Interlaken, Switzerland.

Cost: 10 CHF, Oberhofen Castle Visitor Information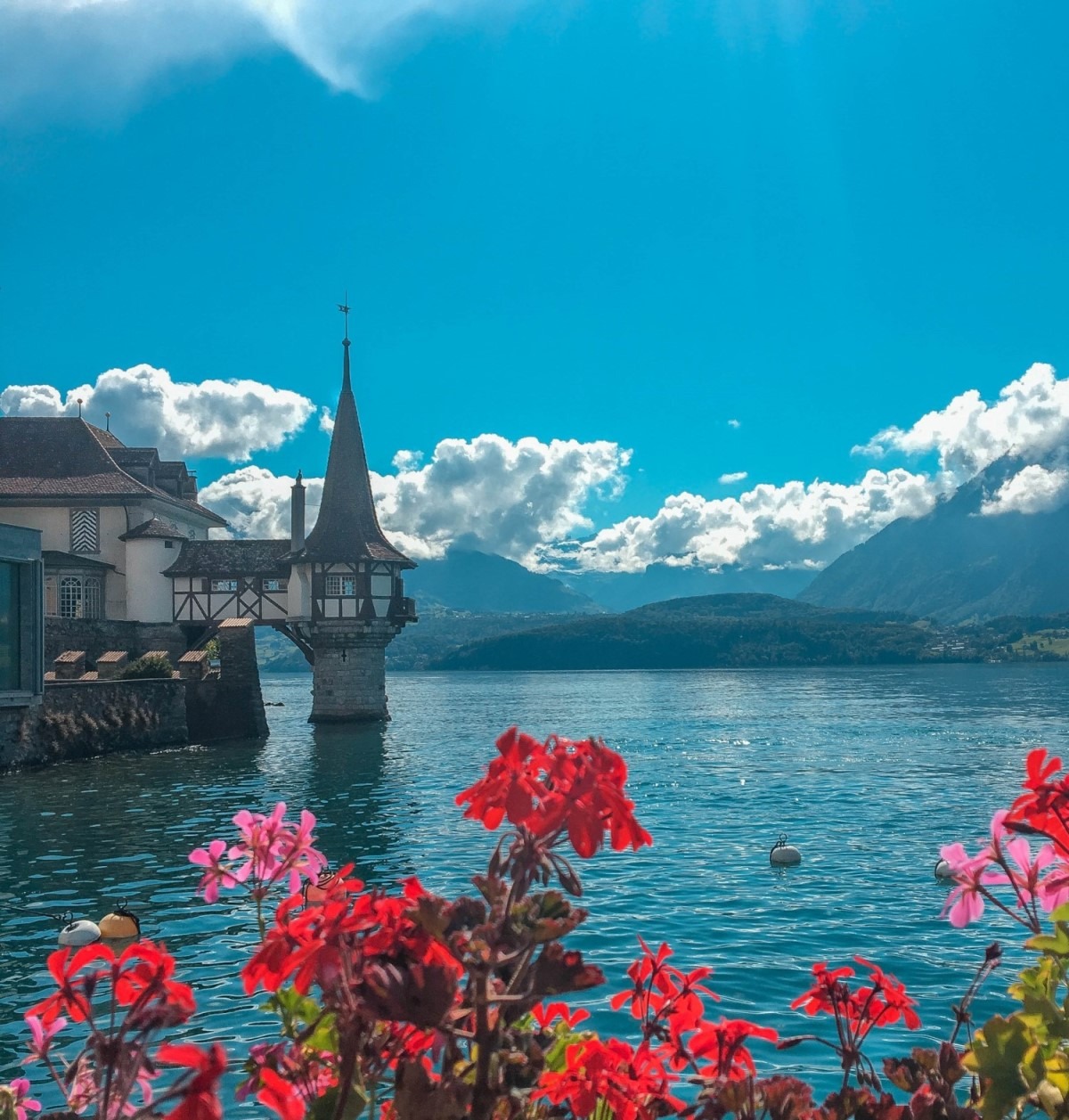 Treat yourself to a first class cocktail

Put your fancy pants on & enjoy a cocktail at Interlaken's finest hotel, the Victoria Jungfrau Hotel. In between all of your outdoor adventures, be sure to treat yourself to a high class atmosphere. The Victoria Bar offers traditional English tea times on the weekends as well.

Cost: depends on what you order
Walk around Interlaken Old Town

There are two sides to Interlaken's town centre, the main street and the streets north of the main street leading to the river.

The Main street is strictly shopping and mostly for tourists. I wouldn't skip past it too quickly but you don't need to spend too much time here. If you're looking to buy some Swiss chocolate, Swiss Army Knives or souvenir type items then this is where to go.

After you've finished with your shopping, head north through the small collection of streets that lead to the river. Here you will find more traditional buildings decorated with baskets of flowers and colourful window shutters, including the Interlaken Monastery and castle.

Cost: free!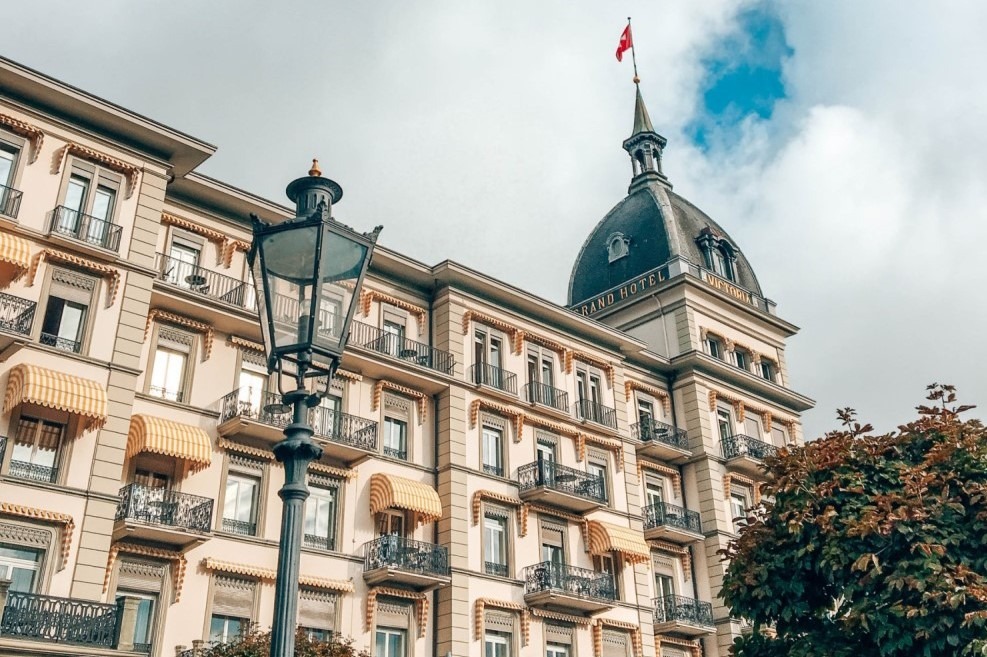 Explore the top of a lesser known Swiss Alp, the Neiderhorn

Below are the top Swiss Alps to visit when you're near Interlaken, Switzerland. However, I've come to love exploring the lesser known places while traveling and you will not be disappointed by taking half a day (or a full day if you want to hike up) experiencing the top of the Niederhorn. This was suggested to us by our AirBnb host, as was the restaurant that is located at the midway point.

You can either hike from the bottom to the top, or take the funicular. In fact, you can ride the funicular to different heights of the mountain. So if you want to ride halfway up and hike the rest (or vice versa) you can!

Cost: the cost has varied since we visited, I would ask your local lodging to find this for you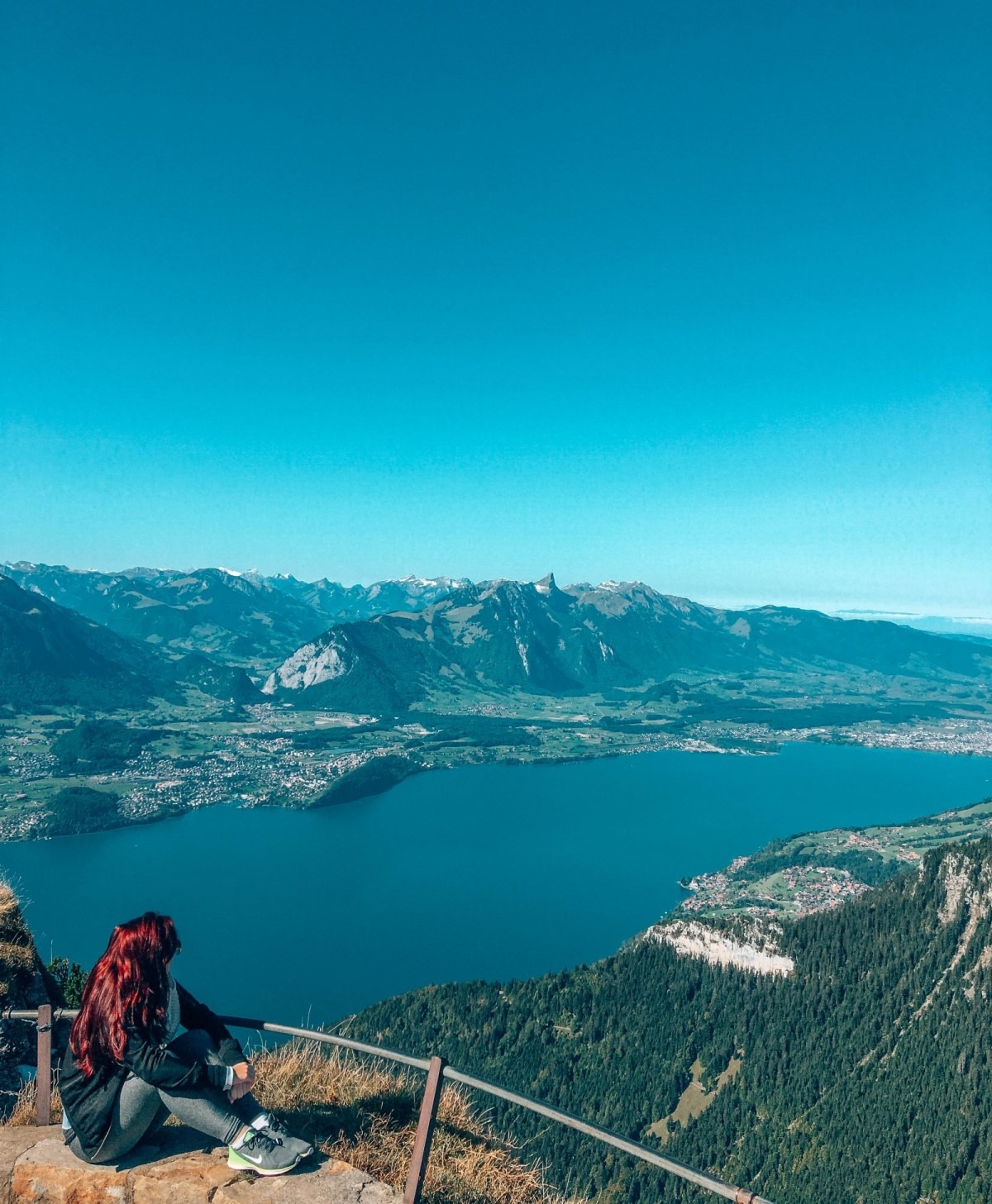 Soak up another breathtaking view at Harder Kulm

Harder Kulm is a viewpoint in Interlaken. People call it Interlaken's own mountain as the view looks down directly over the town. Visitors take a quick ten minute cable car up to the top, and can walk out over the extending platform to spectacular views of Interlaken and Unterseen from above.

*The cable car cost is a bit pricey, so be sure to plan to go only on a clear sky day. I would suggest visiting around sunset is best. There is also a panoramic restaurant with a glass viewing platform.

Cost: (for the funicular) 38 CHF
Visit the beautiful Giessbach Waterfalls

On the south side of Lake Brienz are the Giessbach Waterfalls. Arrive either by ferry or bike, then take the funicular to the Grand Hotel Giessbach, which has incredible views. Of course you can always hike up or down instead of taking the funicular, if you want to spend more time outside enjoying Switzerland's hikes.

For more details on the hike, check out this blog post.

Cost: 10 CHF
Day Trips from Interlaken
Just as it's smart to have a somewhat planned out itinerary for things to do in Interlaken, there are so many beautiful places around the area that you should consider as well.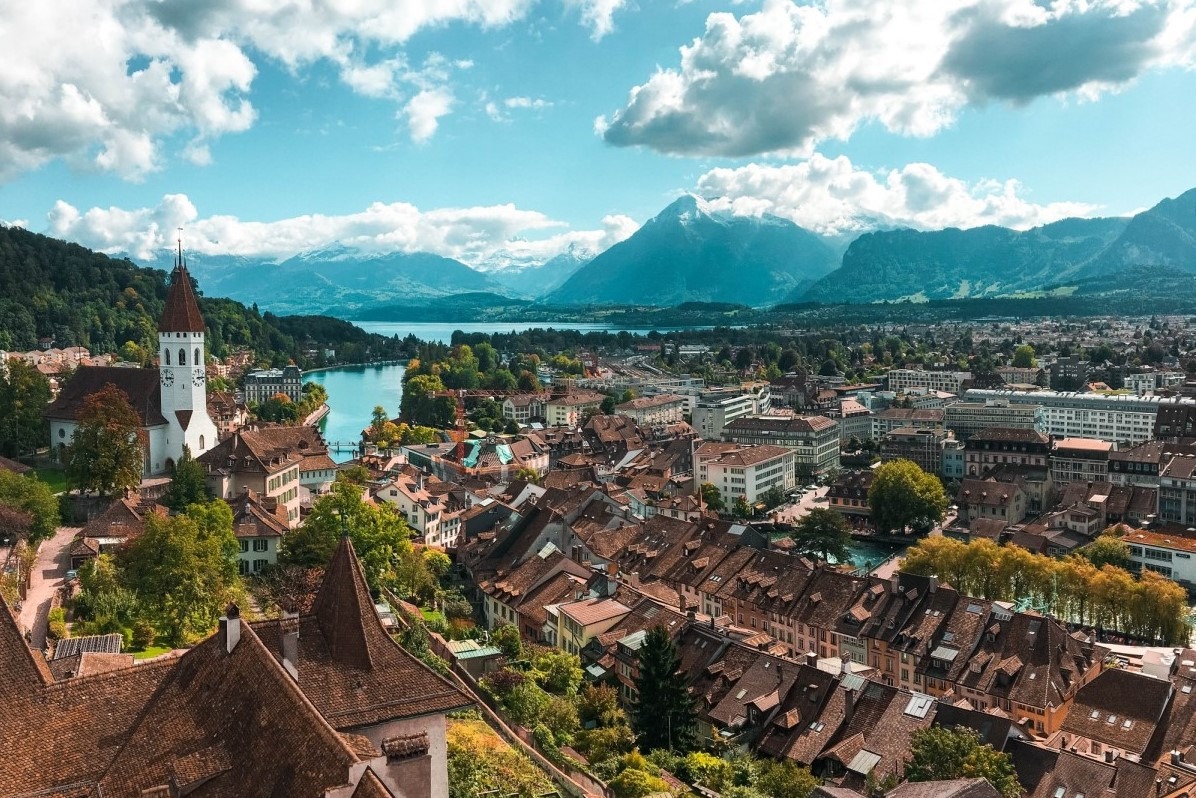 Be enthralled with Thun Switzerland
Enjoy your lake cruise on Lake Thun over to the town that the lake was named after, Thun. You can enjoy your time walking through the colorful town, and the uphill walk to the Sleeping Beauty-esque castle, Thun Castle. You may even catch some surfers riding the structured tides at the wooden bridges in the town center. Yes, that's right, Thun has wooden bridges just like Lucerne!
Step back in time at Unterseen
This medieval town is walkable from Interlaken, and worth half a day trip for those who enjoy meandering through charming European towns.
Explore the famous mountain of Jungfrau
Visitors can hop into a cogwheel train all the way to the top of the mountain and take in breathtaking views of the Swiss Alps. There is a Snow Park open during the summer months, which is great for snow tubing, skiing or snowboarding.
It takes two hours to get to Jungfrau from Interlaken, and I don't believe there are any restrooms on the trains. It's accessible 365 days a year. There is also a Jungfrau pass that's great for those who want to explore more than one mountain town near Interlaken, as it will save you money if you want to participate in many of those activities. You can purchase the Jungfrau Travel Pass HERE.
Battle your adventure fears in Grindelwald
No, I don't mean the J.K. Rowling (author of the Harry Potter novels) evil Grindelwald, I mean the outdoorsy, very popular mountain town, Grindelwald. Not only is the main town of Grindelwald postcard worthy for Switzerland, there are also lots of outdoor activities for both summer and winter months. Here are more details on what to do in Grindelwald.
Take postcard worthy images in Lauterbrunnen
You've probably seen snapshots of this Swiss town with its iconic waterfall falling near the main town. Visitors can easily take a train or car from Interlaken to Lauterbrunnen, and capture pictures you will cherish for years.
Take a scenic train ride
There is something magical about train rides that weave you through the countryside, especially a countryside as adorably picturesque as Switzerlands. Take the Schynige Platte cogwheel train from Wilderswil. Only a ten minute drive or bus ride from Interlaken. *Be sure to check the weather forecast before choosing which day to do this, because if it's cloudy outside then you won't see the wonderfully beautiful scenery, which makes this trip worth it.
FUN FACTS about Interlaken, Switzerland
Both Lake Thun and Lake Brienz are turquoise and blue due to glacial particles. These tiny particles drip down the Swiss Alps and sink to the bottom of the lake, purifying the water as they go on their descent.