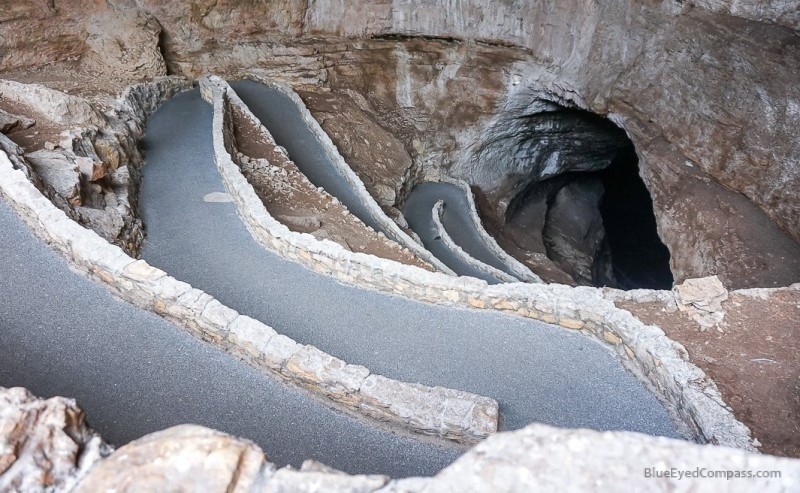 Everything you need to know & the best tips!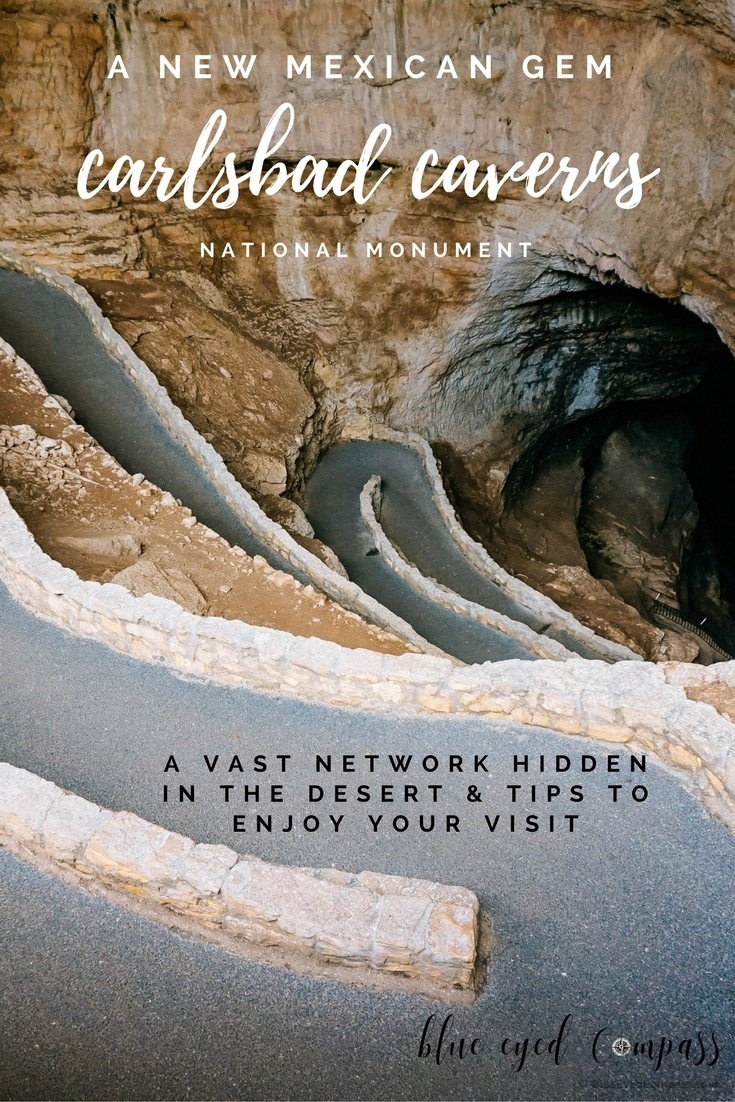 You can travel almost anywhere in the world these days, yet there is something special about being able to be able to have visited a National Park.  Want to feel patriotic?  Visit a National park.  Eager to connect with the beauty of nature?  Visit a National park.  Seeking to be visually inspired?  Visit a National Park.  Anyone can navigate a city or snap a picture of an interesting looking place, yet it is an altogether different experience to enjoy the beauty of Mother Nature.
        My expectation for Carlsbad Caverns was similar to visiting White Sands National Park.  Thinking 'so, this cavern should take about 20 minutes to walk through…' once again proved incorrect for ambiguous New Mexico.  At Carlsbad Caverns be prepared for a massive plunge into the earth.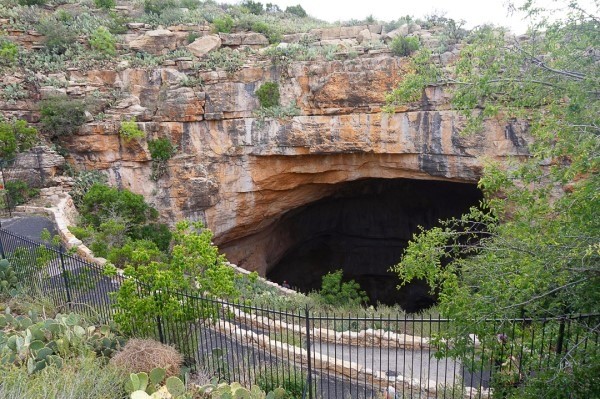 While driving towards the mountain that balances a border for New Mexico and Texas a sense of nostalgia runs through you as the small towns and frequented gas stations showcase small town life nearby this mammoth sized underground site.
Winding roads through undulating bare boned bluffs bring you far away from civilization and has me wondering how anyone discovered this place way out here.  At the top is the main entrance with a spectacular view of your desert surroundings.  Looking towards the Guadalupe Mountains, all that is seen is desert and desolation and I was left day dreaming of western cowboys kicking their spurs and somehow surviving this seemingly isolated land.
Within the Chihuahuan Desert, hidden deep under the surface are over 100 fragile limestone caves bursting with diversity and beauty.  Fragile because they are susceptible to human activities; any remaining garbage, stepping on unsolicited walking areas, oily hands touching cave walls and formations can all negatively impact Carlsbad Caverns (really any cave for that matter).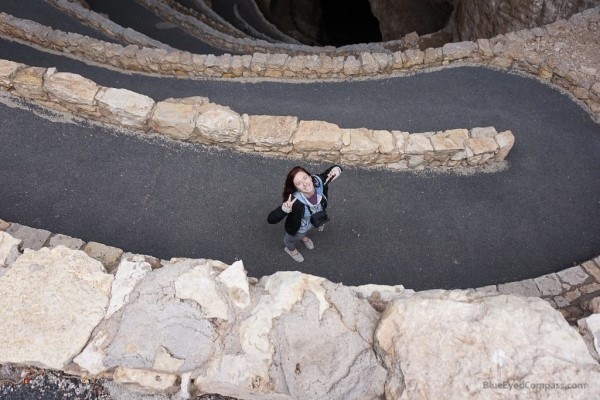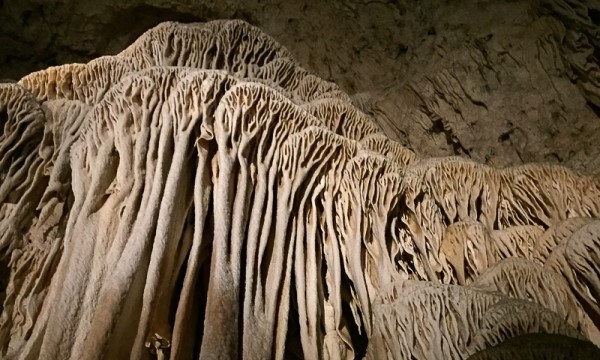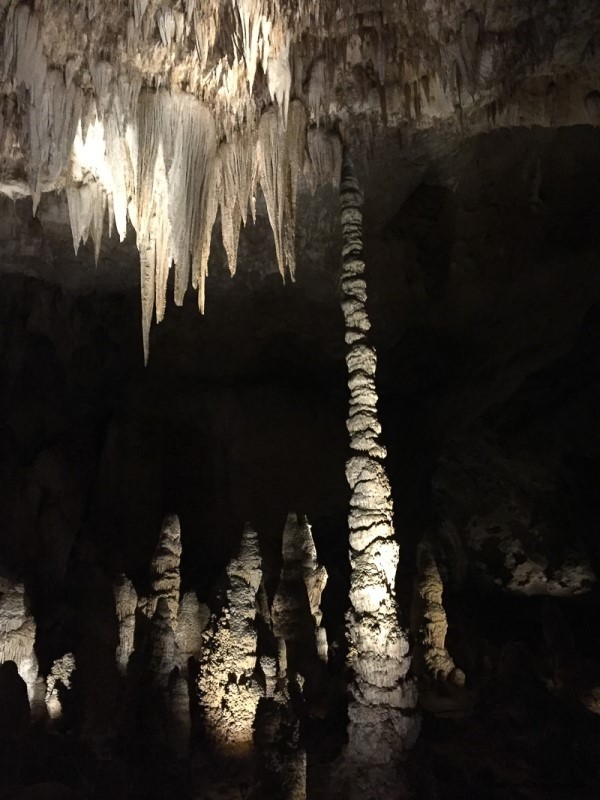 Opting to take the natural entrance, we zig zagged through the stunning opening that narrows down.  Once through the shadowy entry and with eyes adjusting to the light to dark transition the extensive size of this place wows each first timer.
Hours can be spent examining each stalagmite, small pool of water and colossal 'rooms'.  Don't be fooled by the desolate desert outside as Carlsbad Caverns holds secrets from earth's beginning.  Here is another example where feelings of a second rate destination transformed into awe and humility.
Understanding now that any place can have its hidden gem and surprise you, I'm looking forward to visiting New Mexico again.  Have you ever visited a place with little confidence and been enthusiastically surprised at its unexpected beauty?
Fun Facts about Carlsbad Caverns
A 16 year old discovered this place in 1898!  Talk about fulfilling a childhood dream.  I don't know about you, but I definitely considered a career as a treasure hunter after watching National Treasure, so stumbling upon this place must've been incredible!
There is a deadly fungus called "White-nose Syndrome" that can kill Brazilian free-tailed bats.  Carlsbad Caverns is host to the highest number of these critters so protecting their home is vital!
President Obama came here once for a Fathers day weekend trip with the First Family
TIPS for visiting Carlsbad Caverns, New Mexico
If you have a camera that can withstand darkness with a flash that won't hurt the quality of the photo- bring it!  My iPhone did okay and my professional camera needed custom Manual settings and my flash still didn't withstand it
Dress in layers; it's windy at the buildings entrance and chilly inside of the caves but your body temperature will adjust
Include in your arrival time the drive from the entrance to the parking lot.  It's about a 20 minute drive through winding roads once you pass the entrance to get to the parking lot
The parking lot is easily accessible and free!
The Visitor Center opens at 8:00am, with the Natural Entrance opening at 8:30am,.  I'd arrive before then to be towards the front of the line to purchase tickets.  Then allow the first round of visitors to enter so that you can take pictures with few other visitors in the way.
Take the Natural Entrance in, and the elevator out.  The winding entrance is a stunning way to enter and shouldn't be missed.
Passes are $10/person.  There are options for ranger guided tours to add on to your ticket
The rented audio devices are okay.  Quite frankly, listening to it all became excessive fairly quickly.  I'd suggest reading the general information beforehand to learn about it
Arrive before it opens, but don't go in until most the early crowd goes; this way you can take pictures with the entrance with less people in them (see my images above)