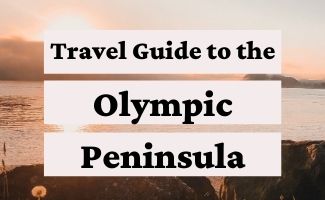 Olympic Peninsula Road Trip Guide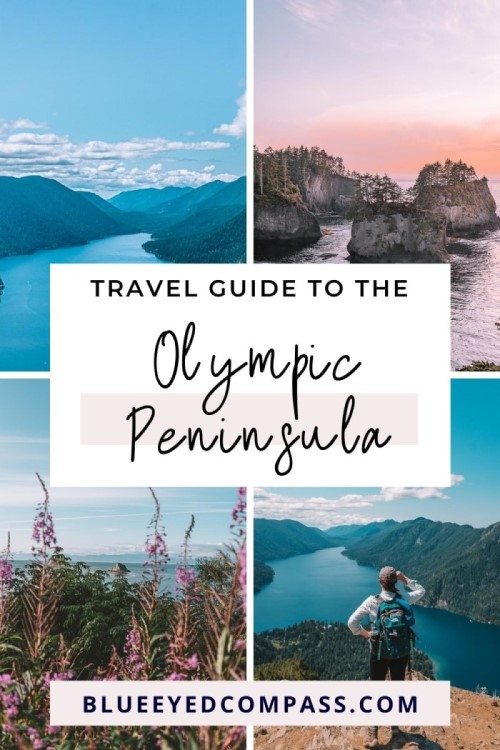 This page contains affiliate links to products and tours that I have used for my own travels, purchased & enjoyed. Clicking these links does not cost you anything, however doing so will support Blue Eyed Compass and allow the site to continue. THANK YOU! You can view our disclosure page for additional details
Imagine waking up to sunrise views over peaceful waters and spending your afternoons hiking to views with endless mountain top vistas.
With its own rainforest, set of glaciers and archeological sites, the Olympic Peninsula is a sight to behold for anyone looking for an escape from the hustle of their average 9-to-5 lives.
The best thing about an Olympic Peninsula road trip is that you can experience some of the most beautiful landscapes without having to pay an exorbitant amount in travel costs. This road trip is affordable and full of breathtaking experiences.
Getting to the Olympic Peninsula
The Olympic Peninsula is in the top corner of Washington state, bordering Canada and lies across from Seattle's Puget Sound. There are a few ways to get to the Peninsula; from Seattle via ferry and by road tripping south of Seattle.
Ferry from Seattle:
There is more than one ferry option from Seattle to the Olympic Peninsula.
From downtown Seattle you can drive onto the Seattle-Bainbridge Island ferry or the Seattle-Bremerton ferry.
If you're coming from Seattle's northern suburbs, then you will want to take the Edmonds-Kingston ferry.
The ferries complete multiple crossings each day. You can find detailed information on the Washington state ferry website.
Road Trip South of Seattle:
From Seattle drive to Olympia to reach Highway 101.
Which direction you take once past Olympia will depend on the direction you choose to drive in for your trip here – clockwise or counterclockwise. Or perhaps you're more of a 'go with the wind' kind of road tripper and you plan to mozy on through the peninsula. This post lists almost everything that you can do and visit on the Olympic Peninsula, but it is shared in a clockwise direction for ease of understanding. Think of it like a loop drive around the Olympic Peninsula, one that you can take in either direction.
If you're trying to calculate for time saving purposes and choosing between driving south or taking a ferry, be sure to consider the ferry schedules, as well as the boarding and unboarding time. The ferries are a fun experience to enjoy, but can be more time consuming.
Best time of year to road trip the Olympic Peninsula
Like most of the Pacific Northwest area, the Olympic Peninsula has fairly temperate and pleasant weather year round. With summers bringing warm, sunny days with little humidity, and winters providing those snow capped mountains you see in postcards.
The best time of year to road trip around the Olympic Peninsula is dependent on your preferences. However, I would recommend going between May and August (summer months). This will allow you to have warm nights if you're camping, and be able to experience all of the beautiful hiking trails and beaches without concern for cold or snowy weather.
A few things to keep in mind:
Early summer will be great for waterfall activity, however the higher elevations are likely to still be snow covered
Beaches in the Pacific Northwest are not your standard Florida/tropical beaches. It will be a bit windier and cooler, even in the summer months
July through August provides dry & sunny days, but with it comes a larger crowd of visitors. We visited in August and didn't experience much overcrowding, but something to keep in mind.
Be sure to check ahead that the places you want to visit are open. Some beaches and trails will close during the winter months
Best Things to do on the Olympic Peninsula
The Olympic Peninsula offers a whole host of exciting things to do, vistas to soak in and small towns to explore. I'm sharing everything you can do on the Olympic Peninsula. It will be up to you to select the best things to do for you.
Be sure to check out the map at the bottom of this post that shows where every place is located so that you can easily plan your route!
Skokomish Park at Lake Cushman –
Lake Cushman is a beautiful lake and reservoir that's open year round. Skokomish Park is an excellent place to camp or spend an afternoon at. There are facilities, picnic tables and plenty of camping availability. The best part is that you can swim at this park, so if you want an afternoon of swimming with the Olympic National Forest as your backdrop this is your place.
Vance Creek Bridge-
Vance Creek Bridge is an abandoned arch bridge. It's surrounded by beautifully lush forests. It's a great stopping point for a quick view and cool pictures. DO NOT try to climb the bridge as it's on private property and has not been maintained.
Aberdeen-
If you're going to slowly peruse the Olympic National Peninsula, you may want to spend a night in Aberdeen. It's known for being the birthplace of the famous Kurt Cobain, and while that may be it's biggest selling point, you can find some good spots for sunset here.
Ruby Beach –
There is a string of unique Washington beaches to check out on this peninsula. The first one you'll hit if you follow this Peninsula loop route clockwise will be Ruby Beach. Ruby beach is a stretch of classically rocky Washington beach where the Pacific Ocean pounds into the shoreline. It's a bit more adventurous than Second Beach, and perfect for those who enjoy checking out marine life and the sound of the waves. There is ample parking and free public restrooms here as well.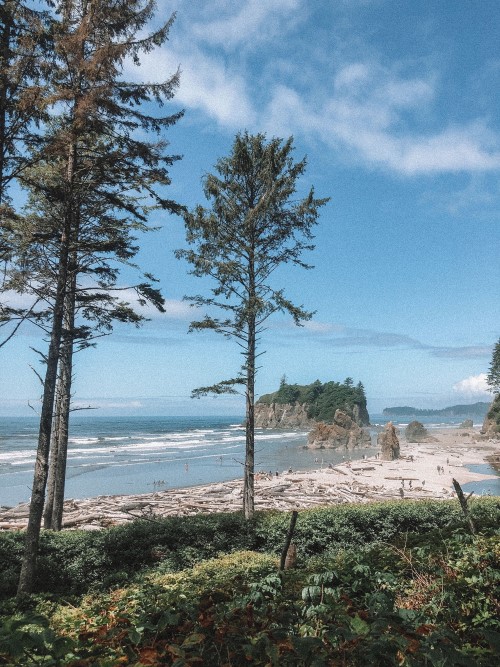 Hoh Rainforest –
Before you continue along the coastline, you need to explore the Hoh Rainforest. I'm serious, it's a need-to-visit, one of a kind place.
I would describe the Hoh Rainforest as the eerie and lush forest where you envision fairies take up residence. Not your typical Amazonian rainforest, this place is definitely one of a kind, as well as mysterious and breathtaking. If you want to, you can camp overnight here, I would highly recommend it. There are also plenty of great hiking trails to explore.
The reason this area is so thick with vegetation is because of the Olympic Mountains to the east. They trap the damp air coming from the Pacific Ocean allowing for almost 14 feet of rain per year here! And once you walk around the rainforest you will see how that much precipitation can affect the area by the towering trees covered in bright green moss.
La Push Beaches –
La Push has a series of three beautiful beaches to explore
Second Beach –A sandy beach a few miles from the town of La Push. This beach is well known for its tree topped bluffs that are set off the shoreline. You can camp on Second Beach, but you will need a wilderness permit to do so.
There is also a hiking trail called Second Beach Trail that you can easily do. It's a four mil round trip hike, so if you're planning to hike with your camping gear, it's easily doable.
First Beach –
First Beach is another sandy beach and is closer to the town of La Push. It's a beautiful place for a long beach walk. I would suggest visiting this beach around dinner time as its proximity to the only places that offer restaurant style eating in this part of the peninsula.
*Recommendation- enjoy dinner at First Beach and then camp at Second Beach
Rialto Beach –
Rialto beach is the third of the La Push beaches. It runs next to Mora campground making it convenient for campers to enjoy. Like First and Second Beach, Rialto showcases the beauty of the Pacific Northwest lush landscape with a sandy shoreline.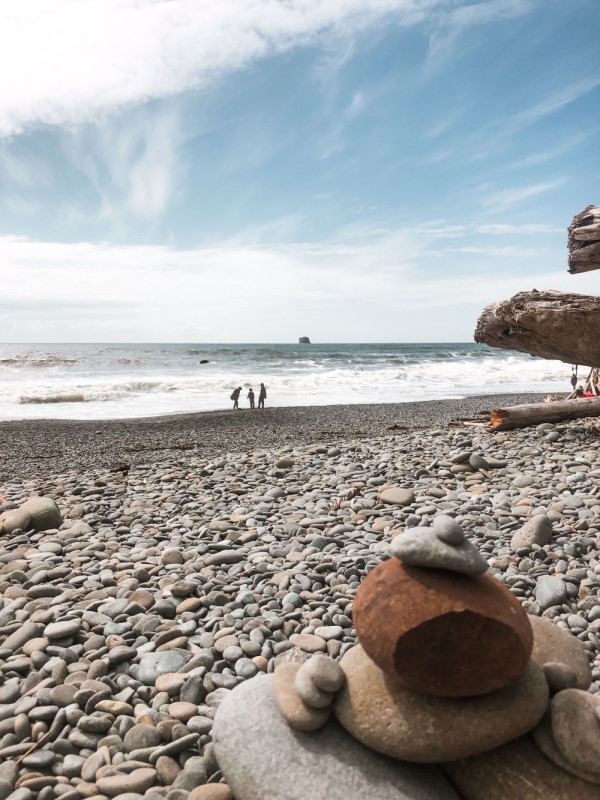 Hole in the Wall Hike –
The Hole in the Wall Hike is an exciting two and a half hour hike that features sea stacks, tide pools and passageways only accessible during low tide (so plan accordingly!). In order to park in the hikes parking lot you will need a national park pass. You can purchase an American the Beautiful annual pass online or visit the Quinault Ranger Station to purchase the pass in person. (*If you choose to visit the Quinault Ranger Station, it will be easiest to do so before heading the Ruby Beach. See the map below for reference). If you're feeling adventurous, you can climb to the top of the hike for a view of the coast and the beach.
Forks, Washington –
If you've read the popular novel series Twilight, then Forks will sound familiar to you, as it's the actual town where the series is set in. Visiting Forks, WA is more of a 'check off your bucket list' item. There isn't much to do in the town, but you can witness some stores still capitalizing on the successful series. And if you've read the books, you'll be surprised as it looks nothing like it does in the movies.
Ozette Lake –
Ozette Lake is a stunning unaltered freshwater lake that is great for camping and hiking. You can hike alongside the lake or take one of their three-mile boardwalk trails that lead to the coastline.
Ozette Loop Trail –
This 9.4 mile loop hike offers views of Lake Ozette, the coastline and stunning wildlife. There is a beach camp area, Camp Alva, you can spend the night at. This Ozette Loop brochure will provide you with even more information.
*Fun fact about this area – it's home to one of North America's greatest archaeological sites! In the 1970's a storm revealed clay banks near Camp Alva that were holding a forgotten hunting and gathering society. If you want to see the artifacts that were uncovered visit the Makah Museum in Neah Bay.
Clallam Bay –
Clallam Bay is a pretty place for a stop. If you drive from Ozette Lake to Clallam Bay be sure to go slow so you can take in the gorgeous views of the area.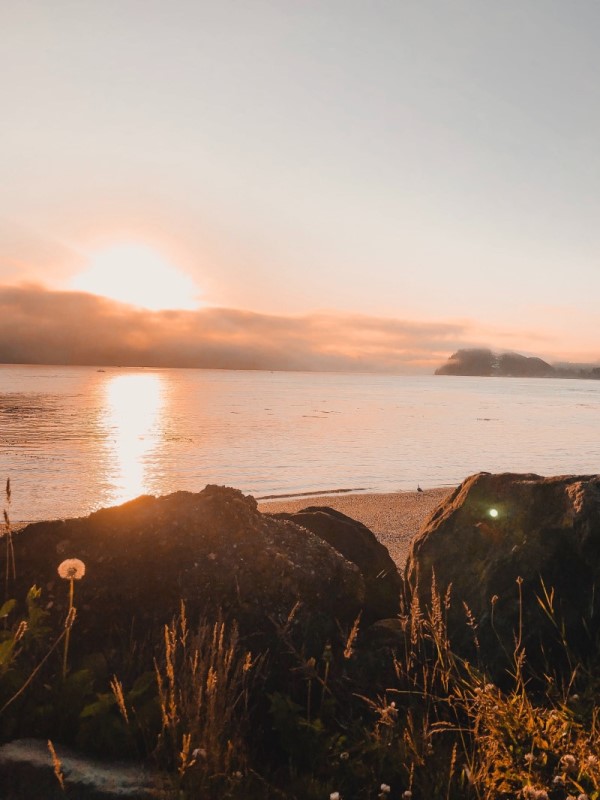 Camp at Sekiu –
What started as a panic ride to find a place to stay, led us to stumble upon Seiku. And we could not have been more floored by how epic the morning views were while camping here. You can pay a small $34 fee per night to camp right on the bay's coastline. We stayed at Olson's and really enjoyed their indoor, hot water showers (a perk after road tripping for a few days). There is also Van Rippers for paid campsites too.
Neah Bay –
Similar to Clallam Bay, Neah Bay is a great place to stop at for views. On a clear day you can see over to Canada, and if you're lucky enough to witness a sunset here you will never be the same. There are small beaches that line the road leading from Sekiu to Neah Bay.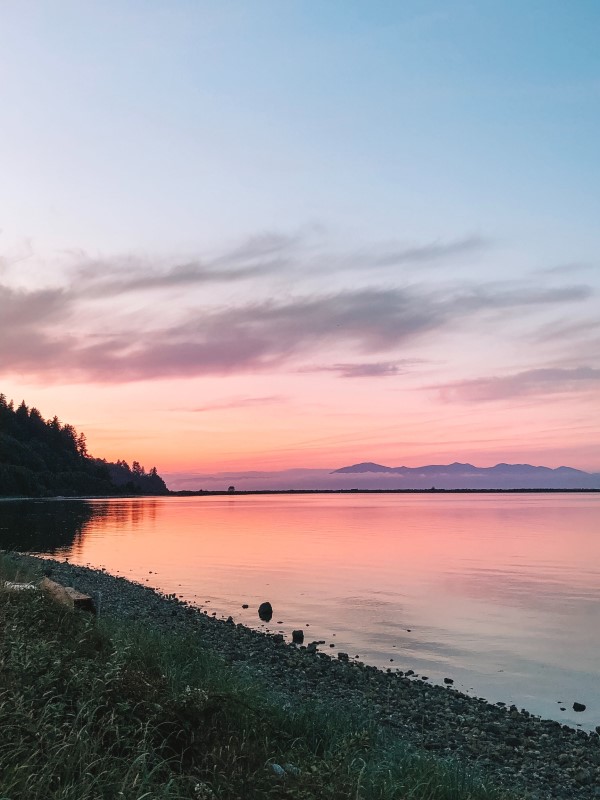 Calvin's Crab House –
If you enjoy fresh seafood, then you need to eat at Calvin's Crab House. This family owned eatery serves extremely fresh and delicious seafood. They offer picnic tables with bay views. It's a perfect spot to enjoy a peaceful meal and sunset. Be forewarned though, they run out of certain items and close promptly at 7pm.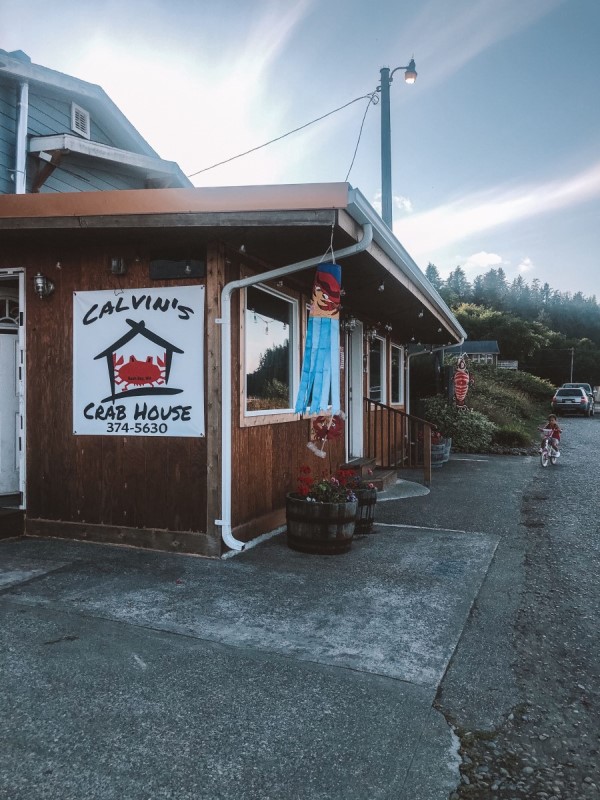 Cape Flattery Trail –
The Cape Flattery Trail is a beautifully lush hiking trail that features wooden plank boards throughout for ease of walking. This 1.5 mile round trip hike feels like something out of a fairy tale. Or maybe a science fiction novel… think hobbits wandering around Fangorn Forest… and yes, I did hope for living trees to come to life and speak with me. (Yep, I just referenced Lord of the Rings, not ashamed… not too proud either hah).
Alright back to the trail… There is a small parking lot where you can access the trailhead directly, making it easy for travelers. The end of the trail leaves where the Strait of Juan De Fuca meets the Pacific Ocean. And it's the most northerly point of the Olympic Peninsula.
*My recommendation would be to arrive here prior to sunset. The majority of the hike is underneath tree coverage, so if you arrive prior to sunset you can come out to coastal views of the sunsetting, and still be able to hike back with natural light.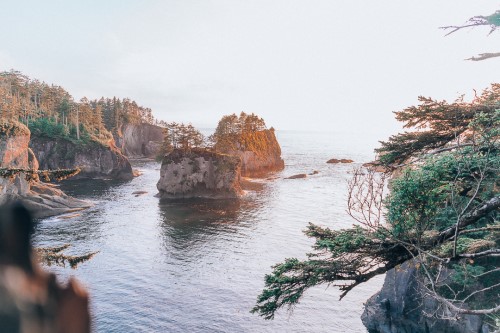 Shi Shi Beach Trail –
If you're planning on staying in the Neah Bay/Clallam Bay area for more than one day, then I suggest setting aside time to get to and enjoy the Shi Shi Beach Trail. This (almost) 7 mile out-and-back trail features gorgeous wildflowers and has maintained stairs that allow you to safely reach the shoreline. It's a great option for overnight camping as well.
*Depending on the time of year and precipitation, the trail can be muddy, so be sure to wear proper hiking boots.
Lake Crescent – Nestled in the Olympic Mountains is Lake Crescent. This glacially carved lake is a beauty and great for kayaking and stand up paddle boarding. While there are some rental homes you can stay around the lake, we were enamored with views at Fairholme Campground. If you arrive early enough to the campgrounds you'll be able to snag a lakefront campsite and wake up to soft lapping waters along the lake's edges.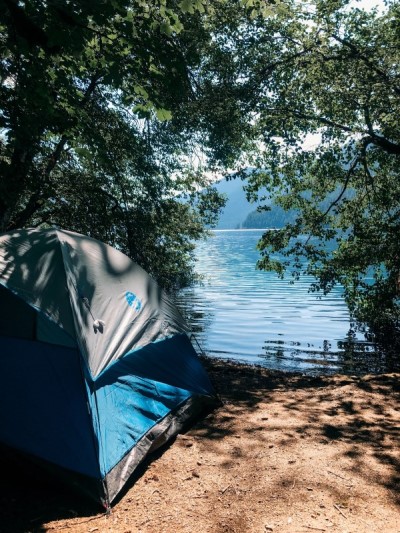 Lake Crescent offers a whole host of hiking trails, but the one you need to experience is…
Mount Storm King –
Mount Storm King is a hiking trail not for the faint of heart. It's a difficult and steep hike, and ends with some interestingly sketchy rope climbing to reach the rocky top. But the views from the top of Mount Storm King are breathtaking. In fact, I would absolutely risk the anxiety driven, hand shaking rope climb to witness the 360 degree vistas from the top of Mount Storm King again. If you're an early bird this view would be epic for sunrise.
The hike has you ascending over 2,300 feet in elevation in under two miles, so don't underestimate the time it will take you to reach the top.
If the weather is poor DO NOT go on this hike. As stated, the way to reach the top is with rope climbing and if the weather is not clear it is not safe. From Fairholme Campground it's a 40 minute drive to the trails parking lot.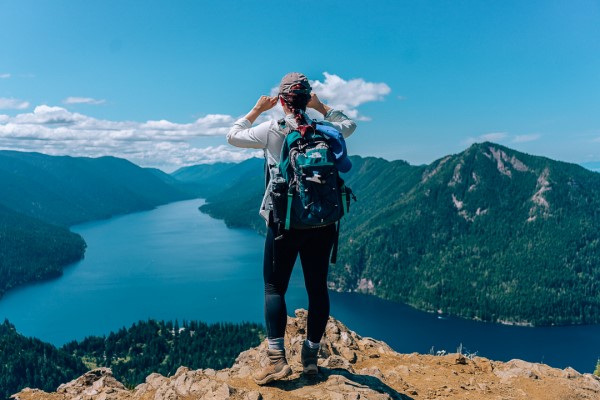 Sol Duc Falls and Hot Springs Resort –
To reach Sol Duc falls you take a two mile round trip hike. The waterfall is extremely powerful and gorgeous to see in person. If you're open to spending a pretty penny, you can stay the night at the Sul Doc Hot Springs Resort, which features *you guessed it* hot springs! This resort is very busy in the summer, so if you're a fan of hot springs, but don't enjoy the crowds then visit in their low season.
Madison Creek Falls Trail –
This hiking trail is paved and quite quick, so is a perfect stop off destination in between other, more adventurous, places on the Olympic Peninsula.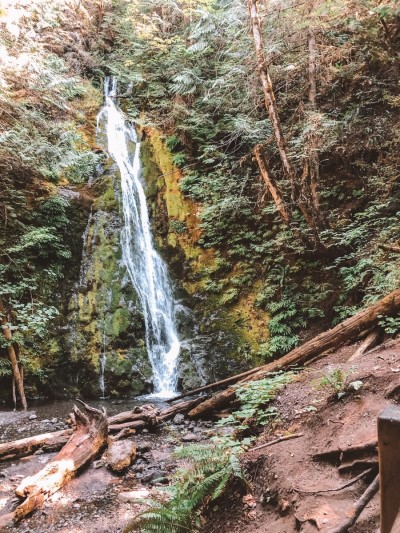 Port Angeles –
Port Angeles is a small town, with a historic downtown area. It's a good place to go for dinner if you're camping around Lake Crescent. In fact, there are a few small wineries on the way from Lake Crescent to Port Angeles that are worth the stop for a glass of wine. This is especially great if you hiked Mount Storm King and feel the need to treat yourself with a vino reward.
If you really want to make your trip an adventure, you can ferry from Port Angeles across the Salish Sea to Victoria, British Columbia.
Hurricane Ridge –
Hurricane Ridge is a stunning lookout area and a must do activity on the Olympic Peninsula in the summer months. It's great for sunrise views as it provides gorgeous views of the Olympic Mountain Range – beauce you're technically right in the middle of it! It's a 40 minutes drive off the highway to reach and since it is in the mountains you need to check the NPS website for updates on road conditions no matter the time of year you plan to visit. In fact, it's best to only plan to visit Hurricane Ridge when the weather is clear, or else the views will be obstructed by clouds.
Hurricane Ridge is the easiest way to access the Olympic National Park if you plan on visiting deeper into the park.
Obstruction Point Trailhead –
If you're already planning to check out Hurricane Ridge then you may as well hike Obstruction Point Trailhead! That is if you enjoy hiking and don't mind the narrow, gravel road that you need to drive in order to get there. It's only an 8 mile drive from Hurricane Ridge to the trailhead. This trail is just under 14 miles and features sweeping views of the Olympic Mountains. There is a company that offers guided tours through the Olympic Mountains here if you would prefer to have professionals guide you on this hike.
Sequim –
Like Aberdeen and Port Angeles, Sequim is a small town with lots of wholesome charm. And if you're a fan of lavender fields then this area of the Olympic Peninsula is calling your name. Sequim is known as the 'Lavender Capital of America', with over ten different lavender farms that all offer a 'pick-your-own' lavender option.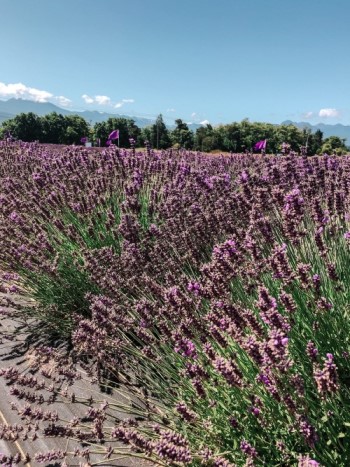 Dungeness Spit –
While you're in Sequim you can take a quick stop to see Dungeness Spit. It's a 5.5 miles long, natural sand spit in the US; which essentially means that it's a long geologic formation of sand. The Dungeness Spit looks across the Strait of Juan de Fuca toward Canada and the San Juan Islands. And if you're an animal lover like me, then you'll love this area as it's also a wildlife refuge! There are also daily tours at the New Dungeness Lighthouse.
Port Townsend-
Port Townsend is an inception-esque peninsula (a peninsula on a peninsula!) on the northeast corner of the Olympic peninsula (that was a mouthful!). The town is known for its timber & seafood industries, features beautiful historic buildings, and a cute downtown area that you can walk through.
Bremerton-
Bremerton is the largest town on the Olympic peninsula. It offers a few fun local restaurants, and the Bremerton Marina waterfront area is an idyllic place to walk along.
*Olympic Game Farm-
Olympic Game Farm was a place I was (at first) excited to check out. It is a drive through wildlife exhibit that when I first read about sounded wonderful. A place where animals have more space than a traditional zoo and are treated with care. But upon further online research I've read that their enclosures are quite small and visitors are allowed to feed the animals. While the bread is provided by the business itself, and they are strict that no other food is given to the animals, in my opinion when you transition from a refuge like business to one that lists waving bears and feeding alpacas as the first things to entice visitors, than it no longer serves it's quality purpose.
Note that it's also not listed as a refuge or a sanctuary. The animals are previous 'actors' who were used in Disney movies back in the 1970's, but has since become a for-profit business. On their website they do say that any profits are given back to the animals, yet employee's are listed first on what their funds are for. The decision to visit here is a personal choice that you will need to make on your own, but I wanted to include it here so that you are aware of all options and can make the choice to support them if you choose. And if you do, I would love to know what your thoughts are on their quality of care.