Top 9 things to do in Placencia, Belize
How to explore this beautiful, laid-back town, plus everything you need to plan your trip here.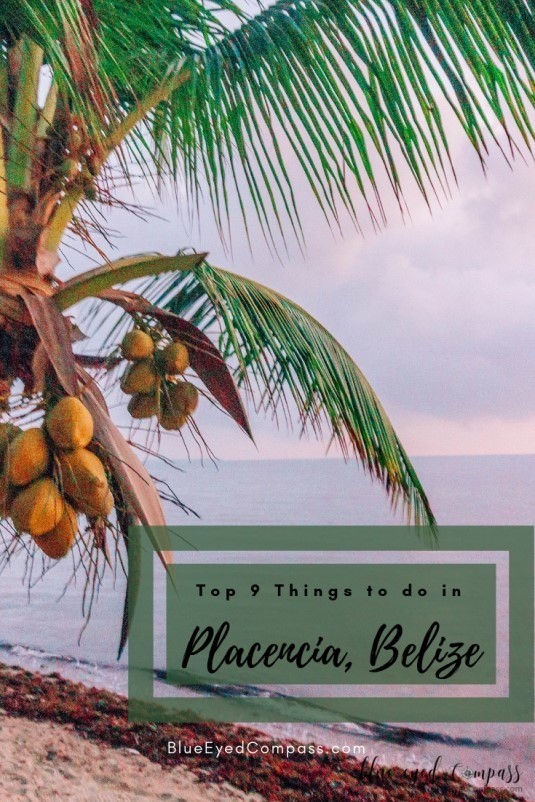 This page contains affiliate links to products and tours that I have used for my own travels, purchased & enjoyed. Clicking these links does not cost you anything, however doing so will support Blue Eyed Compass and allow the site to continue. THANK YOU!
What was once a quaint, sleepy fishing village Placencia, Belize is now home to the country's most beloved resorts and hotels. Yet it still effortlessly maintains it's small-town & colorful charm.
Read on the learn about all there is to do in Placencia, Belize!
Included in this post:
Where to stay in Placencia
How to get to Placencia
Costs of Placencia
Top 9 things to do in Placencia
Tell me about Placencia, Belize
Placencia, Belize is a small town that is alive with color and personality. Residing on the southern peninsula of Belize, Placencia is a place that feels like an island.
With plenty of places to eat, long stretches of beaches, snorkel adventures to go on and cocktails to enjoy on the beach, you can't go to Belize and not visit Placencia. If planning a trip here, prepare yourself for a no-shoes, laid back vacation.
And best part is, there is no 'best time to visit Placencia. It's beautiful all year round!
Where to stay in Placencia, Belize
As I mentioned before, Placencia is home to some of Belize's most popular hotels and resorts. Yet don't be alarmed, there are no major hotel chains with extensively large buildings blocking your beach views or cutting away at your bare-footed getaway. Most of the resorts only house a few 20+ guests at any one time.
We stayed at the Laru Beya Resort & absolutely loved our oceanfront unit. You can't beat a place where your door opens up to the ocean for sunrise.
Costs for visiting Placencia, Belize
Lodging Costs: there are quite a few lodging type options for this small town ranging from hostels to resorts. Hostel prices range from $13-50 USD, AirBnb's come in at $25-55 USD, and resorts costing anywhere from $200-$800+ USD per night.
Meals/Food Costs: Belize is much cheaper in comparison to the United States when it comes to costs your meals. A sit-down restaurant in Placencia will cost around $20 USD, with cheaper places ranging from $5-7 USD. Of course, the bars and restaurants lining the beaches are a bit pricer ranging from $20-$40 USD. There are a few grocery stores in town, but in comparison to other parts of Belize, Placencia groceries are more expensive but still cheap in comparison to America, coming in around $40 for a week's worth of meals.
Excurions: It's hard to put a firm price on the cost of excursions as each tour company is different and their prices vary depending on the season and type of excursion you book. However, be prepared to dish $200/person daylong excursions. Which may sound like a lot, however you'll be out all day with some of the most informed and fun-loving guides you could hope for on a vacation.
How to get Around Placencia, Belize
Placencia is a small enough place with an all flat terrain, that getting around is quite easy and affordable. You can walk almost anywhere within the main town, but if your hotel is a bit outside of town, as was our – Laru Beya Resort – you can do the following to get around Placencia:
Bike: many hotels offer their guests free bike rentals, but if not you can find them as cheap as $10 USD/day.
Rent a golf cart: As with bikes, most hotels & resorts in Placencia will have golf carts that you can rent at a daily rate. Each hotel ranges in price for their rentals. Keep in mind that their golf carts will go slow. They respect the speed limit and so have restricted their golf carts to not exceed a certain speed limit. If you're able to bike you may likely get to where you're going quicker on a bike than a golf cart.
Hire a taxi: the taxi's in Placencia aren't expensive, with the more expensive rides costing up to $15-20 USD.
With so much to explore, here are the
Top 9 things you need to see & do in Placencia, Belize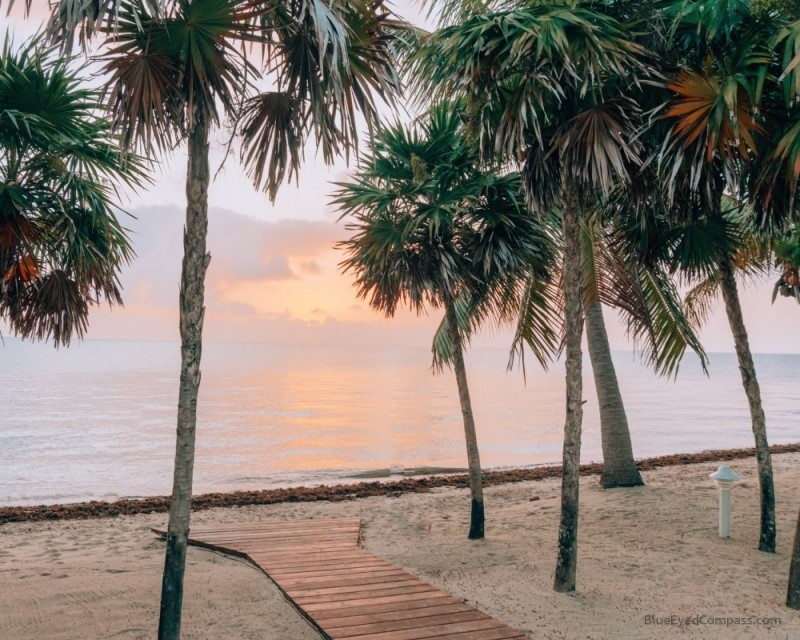 Getting to Placencia, Belize
We drove from our hotel located in the jungle and felt the winding road to here was an easier version of the Road to Hana and a great way to witness how Belizeans live. You'll drive past colorful square houses, see kids riding their bikes back from school and lots of fruit stands on the side of the road.
You can also fly directly into Placencia. There are two airlines that fly in/out of here, and only use jumper planes. Both airlines had great reviews and seemed very similar by comparison. *We flew from Placencia back to the Belize City airport at the end of our trip and loved the ocean views we had. It was a wonderfully fun experience being on a small plane too.
Placencia, Belize is not meant to be a destination overflowing with 'things to do'. The lifestyle is soothing and meant for relaxing. Here are things that I feel any visitor should add to their itinerary:
Enjoy coffee & breakfast at the Above Ground Coffeehouse
What I wouldn't do to enjoy another iced coffee and freshly made jam on toast in this treehouse bungalow. The Above Ground Coffeehouse that may just be the best cup of coffee I've ever had. They also offer light breakfast fare. We purchased homemade jams with toast each morning and loved each flavor we tried. Above Ground Coffeehouse is located just outside of the main part of Placencia town.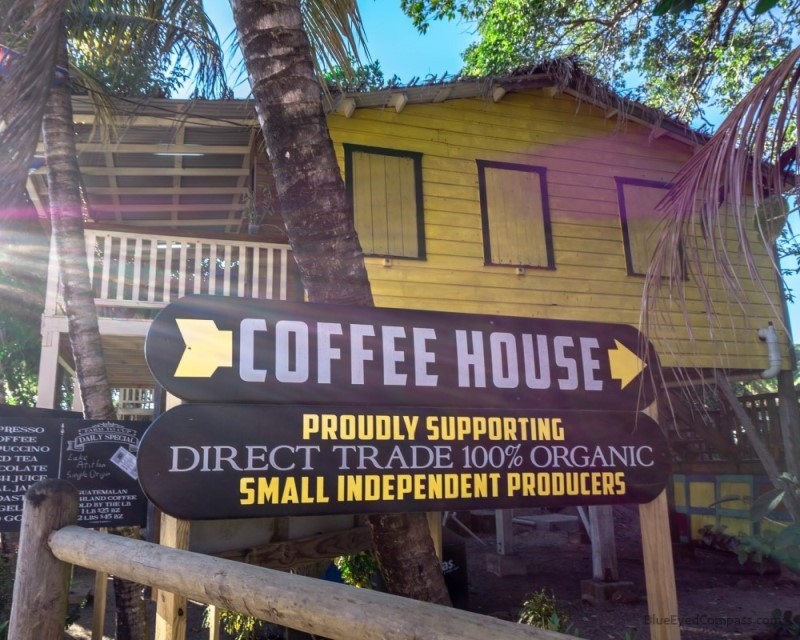 Be adventurous on the calm waters
Stand up paddleboarding, kayaks and snorkeling are all fun water activities you can partake in. Most hotels and Airbnb's have these items for water activities for free! The ocean waters in Placencia are very calm so taking a kayak out is quite easy.
Enjoy Happy Hour at Tipsy Tuna
This eclectic restaurant and bar is typically filled with local expats and long term visitors. While we typically like to enjoy authentic restaurants of the places we visited, we stopped in due to a recommendation. We loved this place because everyone there was welcoming and had wonderful conversations with so many people.
Wander around the main part of town
There are so many colorful shops in Placencia, that window shopping can be great fun.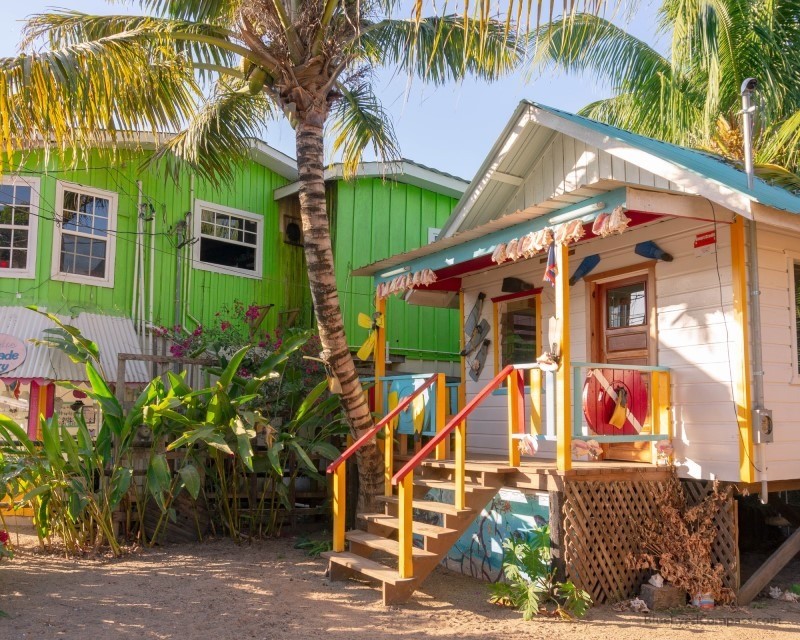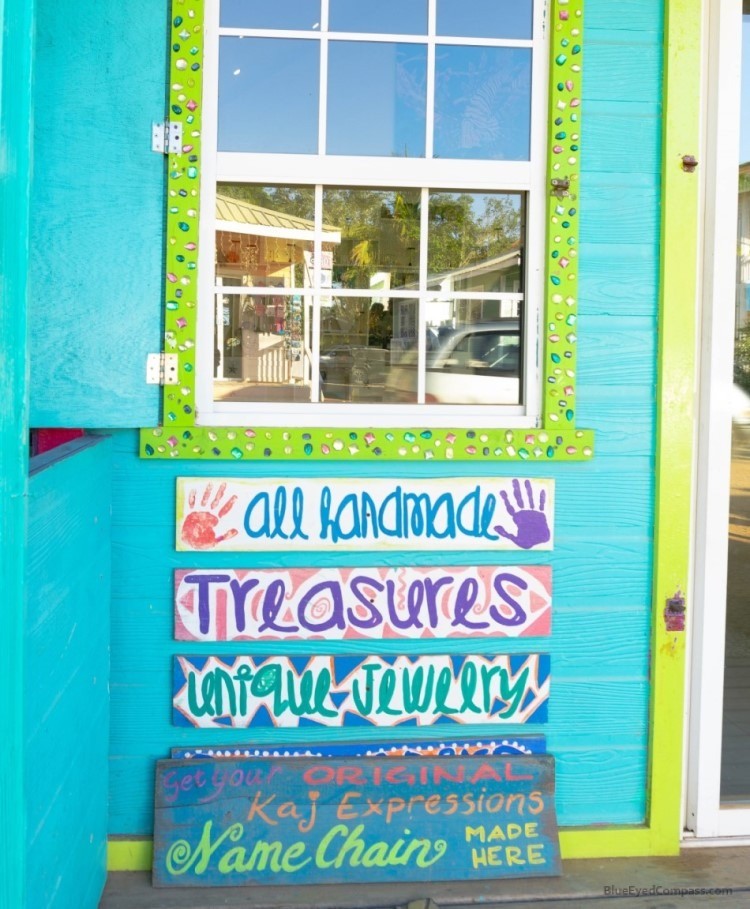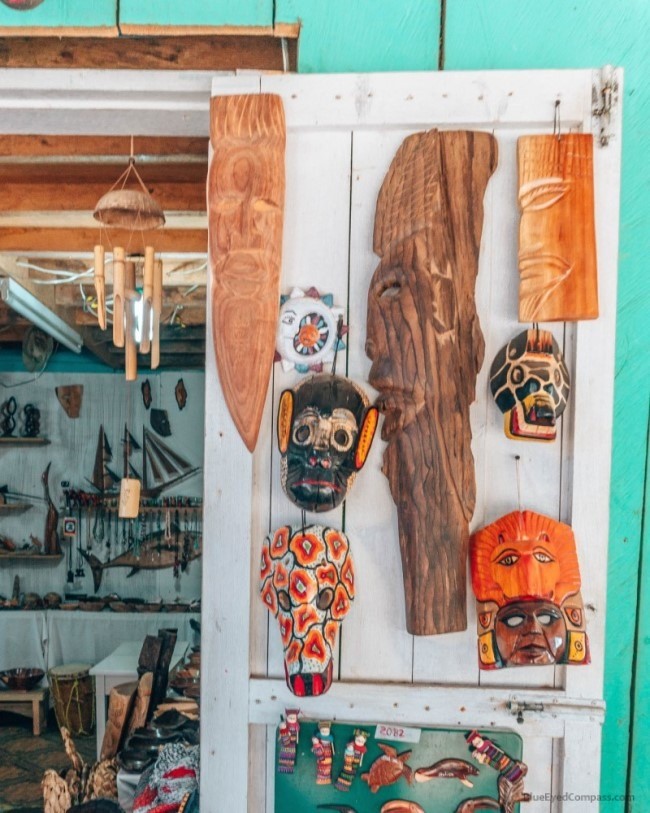 Treat yourself to Tutti Frutti Gelato
This Belizean gem creates delicious gelato (surprising because gelato is a traditional Italian dessert so finding it so far from Italy that tastes so great is a wonderful treat!) Tutti Frutti's flavors are made fresh each day and a must have when in Placencia.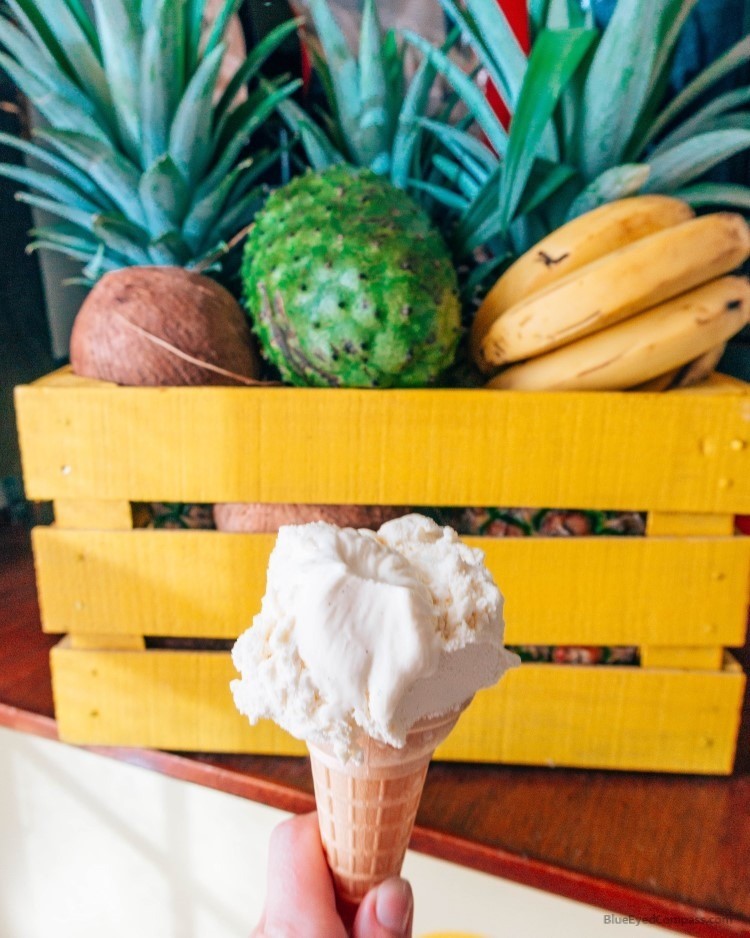 Experience Mayan history via cave tours
Check out my blog post about caving tour options that Belize offers. If your trip to Belize involves only Placencia than you won't want to miss the opportunity to explore ancient caves. There are plenty of tours that can pick up guests in Placencia town to experience the jungle.
Snorkel the Silk Cayes
Belize has quite a few marine preserves to help protect the wildlife and reef, and Silk Cayes is a must-visit location. The boat ride to get here is about an hour from Placencia.
The preserve consists of three islands, although you will snorkel only one of them. The main island has a simple grill and restroom for tour groups coming here, but rest assured Belizeans have made sure to maintain this place's natural beauty and do an incredible job bringing reusable tableware and cleaning up any garbage.
Being at Silk Cayes feels like you've discovered an uncharted island in the middle of the ocean. The water is calm and pristinely clear. Once under the water, you'll see lavender-colored reefs, princess parrotfish (these remind me of the Rainbow Fish children's book), manta rays and if you're lucky a turtle!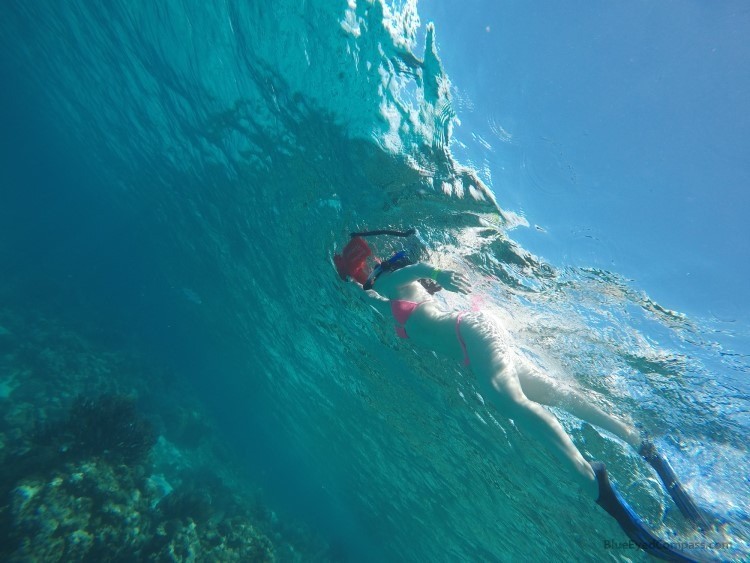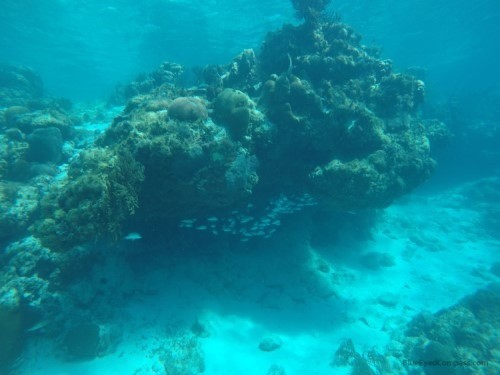 Treat yourself to a nice dinner at Rumfish
Placencia is a traditional fishing village, so like most of Belize, their fresh seafood in Placencia is some of the best you can find anywhere. Rumfish gives off some serious New Orlean vibes, and serves traditional Belizean dishes, along with the best fish tacos in the area (or so I've heard) They also have delicious vegetarian options, which we rarely found throughout our time in Belize. And since centrally located in Placencia town you can easily walk around after your meal.
Meander down Main Street
Main street is a pedestrian-only walkway that is 4,000-feet long and is lined with art murals and beaches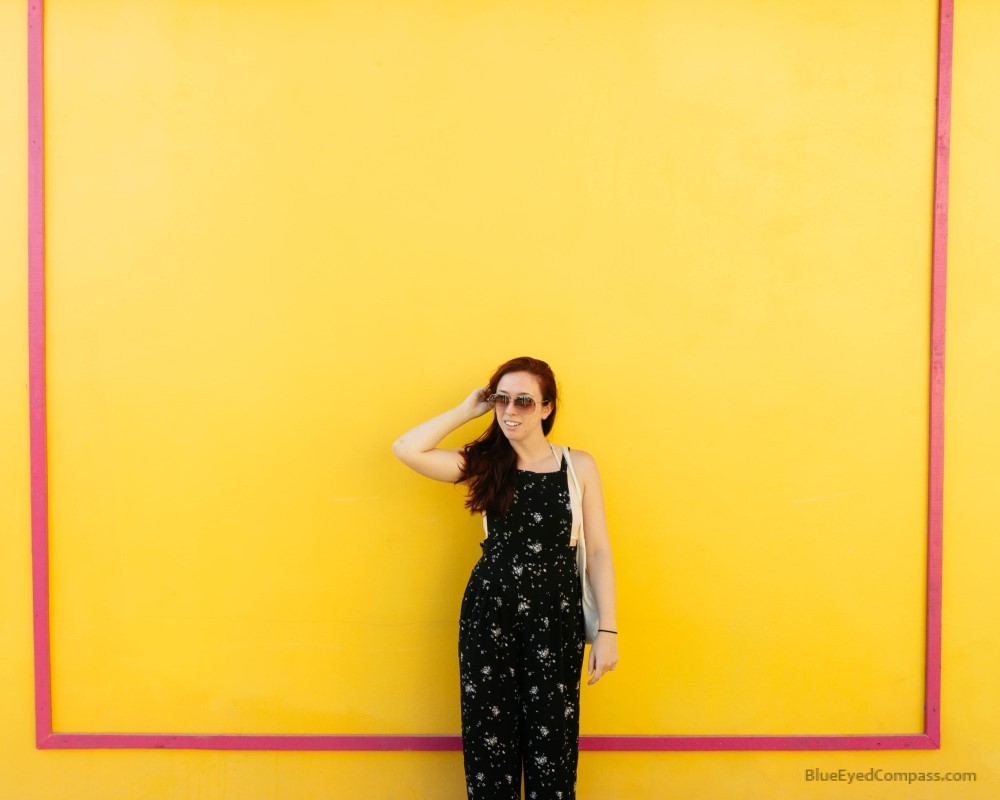 Once a sleepy fishing village, Placencia is now a colorful vacation spot for Belize with some of its most beautiful beaches. Be sure to schedule a few days here to truly enjoy its easy-going vibe and maritime beauty.
TIPS for visiting Placencia, Belize:
There are a range of hotels and Airbnb's to fit any budget, but be aware that town is towards the edge of the peninsula. If your hotel is farther north it can take upwards of 40 minutes to get to town because the speed limit is fairly slow.

You can rent a golf cart or order a taxi to get around if you aren't staying directly in town
click image to find out more!