Sustainable Travel Essentials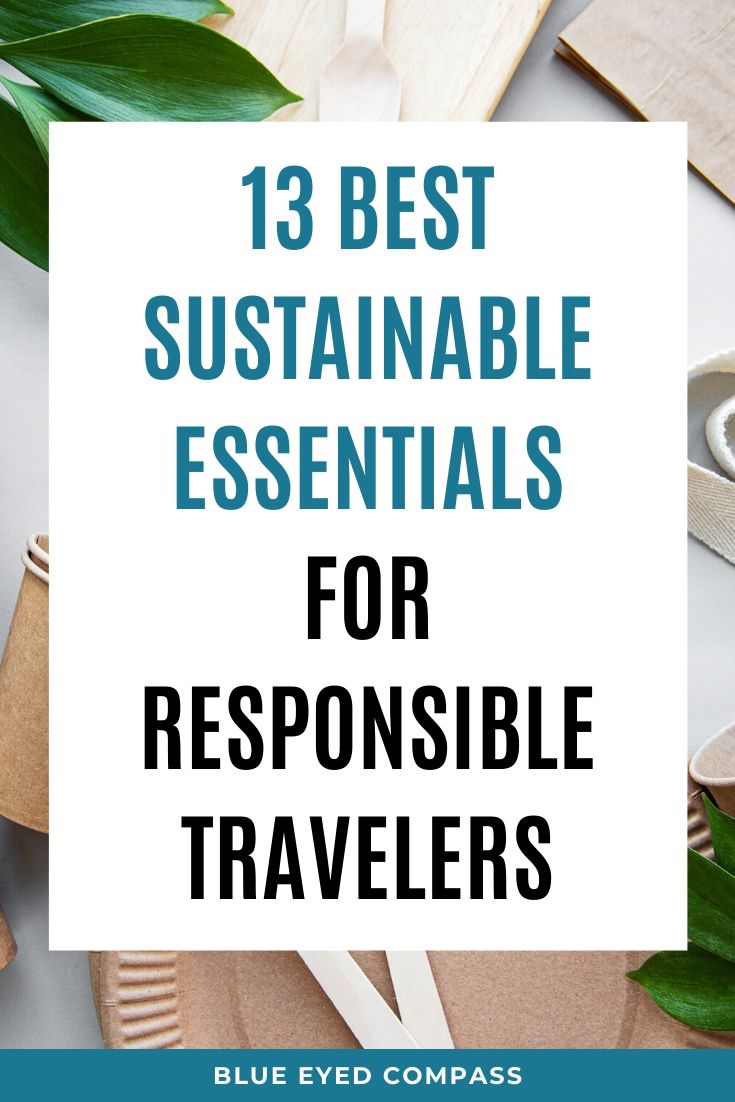 This page contains affiliate links to products and tours that I have used for my own travels, purchased & enjoyed. Clicking these links does not cost you anything, however doing so will support Blue Eyed Compass and allow the site to continue. THANK YOU! You can view our disclosure page for additional details
One of the easiest ways to become a sustainable traveler is to reduce your waste when traveling. So instead of using items for a single use, swapping them with permanent pieces that are easy to bring with you – or what I call your sustainable essentials for responsible travelers!
This is not a list of additional items that you need to take up precious space in your luggage, but instead a set of wonderfully convenient swaps that will help you be a more responsible traveler while simultaneously helping the planet!
Getting to your destination:
1.) Travel pillow- avoid the plastic covered options that are far too often supplied on airlines and trains. Bringing your own travel pillow makes for a much more comfortable trip for you in addition to limiting the plastic use.
2.) Travel Sweater- for those long, overnight flights, pair your travel pillow with a deliciously comfortable & large sweater. I have one large sweater that I bring with me on overnight flights that eliminates the need for me to use the airline's plastic wrapped (and extremely thin) blankets. I cozy up by wrapping my large sweater around me (all while resting my head against my travel pillow).
3.) Sturdy Carry-on Luggage- one of the best sustainable essentials any responsible traveler will have is a sturdy carry-on luggage piece. It is much more sustainable to pack in only a carry-on as opposed to a large and heavy suitcase that you have to pay to check onto your flight. To avoid having to buy multiple pieces of carry on luggage, purchase an incredibly well made one that will last you for years and will withstand the tolls that travel can have on a bag.
Sustainable Travel Toiletries:
4.) Shampoo & soap bar- shampoo bars and soap bars are perfect for those 'terrified of leaks in my luggage' travelers and for long term travelers. They last much longer than traditional single use shampoo bottles you buy at a store, and they remove the need for single use plastics!
5.) Stainless steel razor- Did you know that razors are made entirely out of unrecyclable materials? Step up your razor game with a stainless steel razor where all you have to change are the blades. Plus, a stainless steel razor is much more sturdy than a plastic one, so you won't have to worry about it breaking in your luggage. This can be a great swap for your at home life as well.
6.) Menstrual cup- ladies, if you can, PLEASE swap to a menstrual cup. Our menstrual products are some of the main cloggers in our plumbing systems (as in people have to literally go into sewers and pull them out, kind of clogs). They are extremely wasteful and 100% not needed for the average woman. In fact, menstrual cups are amazing for travelers! You can keep a menstrual cup in for up to 12 hours. Imagine not having to worry about needing to find a clean restroom on a trip for the entire day. You can wait to deal with your period in the mornings and evenings in the comfort of your hotel room. Menstrual cups are great for travel and for use at home!
7.) Bamboo toothbrush– similar to razors, plastic toothbrushes are found washed up on beaches every single day. Instead of continuing to contribute to plastic waste, swap to a bamboo toothbrush. When you're ready for a new toothbrush you can recycle the handle and toss out the small bristles (the bristles are not recyclable).
8.) Silicone containers- Silicone containers are great for shampoo, conditioner, make up remover and anything else you may need to bring that's a liquid. They are a great alternative to the shampoo bars if your locks require a stronger shampoo and conditioner (i.e. colored hair, curly hair). You can easily fill them up before every trip with your current home stock of supplies without having to use new plastic bottles for each trip.
Sustainable Travel Tips for Eating Out:
9.) Water bottle- a reusable water bottle is a game changer for any sustainable traveler. Many airports now have water refilling stations and restaurants are typically happy to fill up your water bottle if you dine there. I've found that reusable water bottles are also great for long haul flights. When your flight attendants walk down the aisle filling up small plastic cups of water, you can ask to have your entire bottle filled → you'll save the plastic cup AND you'll be sure to stay hydrated on your flight.
10.) Travel coffee mug- for coffee lovers, you don't need to use the flimsy plastic covered to-go mugs anymore! We use these collapsible coffee mugs that come with clips so that when you aren't using them, they can easily clip to your backpack or purse.
11.) Bamboo utensil set- swap the use of dreaded plastic cutlery with your own beautiful bamboo utensil set! Imagine if you ate out for three meals a day for seven days, and used your own cutlery set for each meal – you would save 21 sets of cutlery from going into a landfill!
Sustainable Shopping while traveling:
12.) Cloth bags- any traveler loves to shop. Whether it be souvenirs, groceries or drinks, an easy way to avoid single use plastic bags is to bring your own cloth bags. Cloth bags can easily fold and fit into most purses making them an easy item to bring with you during the day, because you never know when you'll find a shop you'll want to purchase goodies.
13.) Cash in the country's currency- responsible travelers are well versed in knowing they should bring their destination's currency with them on a trip. Oftentimes the most authentic experiences (restaurants, souvenirs, etc) will only accept cash, and you never want to be in a situation where you can't purchase an item that you'll regret not buying when you get home. *Interesting tip- depending on your destination, the American dollar may be good to have with you as well. In some countries the value of the dollar is much higher than their currency and they will give you a discount if you pay in USD as they would rather have dollars.
These are a few of the best swaps you can make to build your sustainable travel essentials. If you could only pick three of these to start, which would you choose? I would choose the reusable water bottle, cloth bags and travel sweater.