Travel Guide to Amsterdam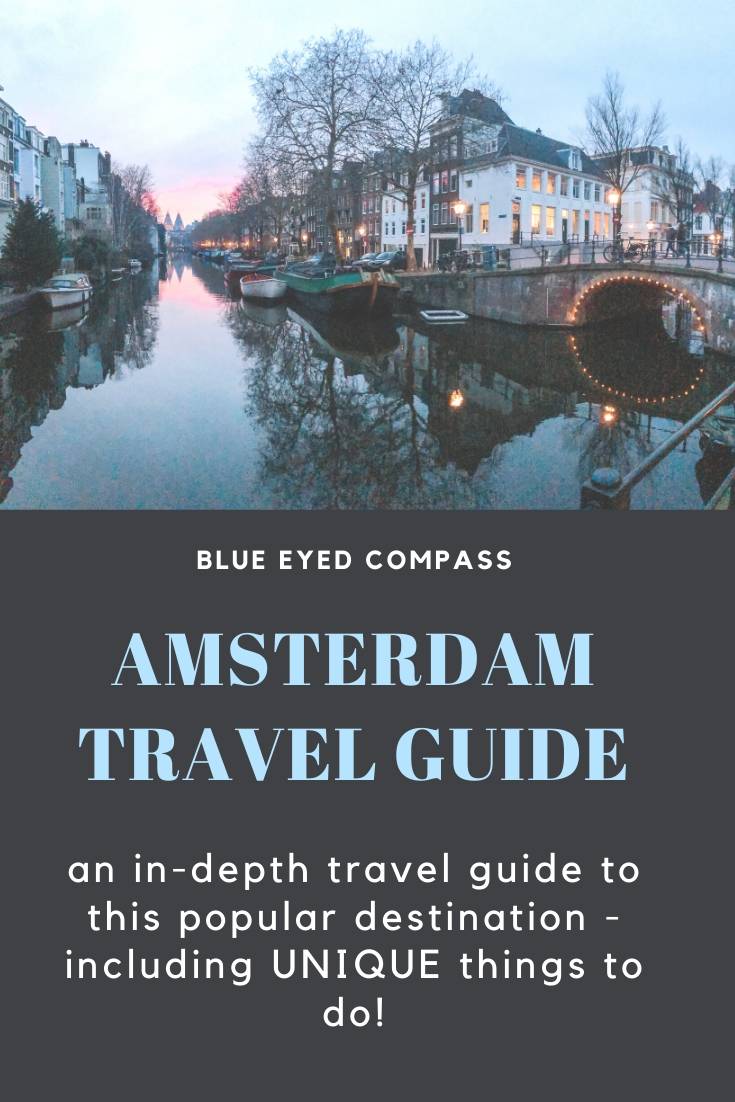 This page contains affiliate links to products and tours that I have used for my own travels, purchased & enjoyed. Clicking these links does not cost you anything, however doing so will support Blue Eyed Compass and allow the site to continue. THANK YOU! You can view our disclosure page for additional details
Amsterdam is a wonderful mix of modernity, history, quirkiness and cozy comfort. This picturesque city maintains its popularity with visitors from around the world for good reason – it's beautiful streets, is easy to navigate around and never short on exciting things to do and see. Known for its canals, heavy bicycle 'traffic', colorful homes and delicious cafes, read on for an in-depth travel guide to Amsterdam.
How to get from the Amsterdam airport to the city center
:
The Amsterdam airport is located southwest from the city, and takes about 20 minutes to get to via their direct train. Once you land in the Amsterdam airport, travelers can take the direct train to the center of the city. The train is easily found at the center of the airport past the security area.
Purchase your ticket(s) for the direct train at either a ticket booth or one of the easily spotted yellow machines with a credit card that has a chip reader. Tickets are only 5 euros for the direct train from the airport to the main Amsterdam train station. And for only a 20 minute ride, I would definitely recommend this form of transport.
If the direct train is not running due to construction (an issue sometimes found late at night), you can also take a bus into the city. Take one that is going in the direction of Leidseplein. You can pay in cash on the bus, and when you get off at Leidseplein you will be in the city center.
If you prefer to take a taxi, you will find the official taxi line outside of the airport. The largest cab company in Amsterdam is Taxicentrale Amsterdam. They accept credit cards and are available 24 hours a day. Here is their number: +31 020 777 77 77.
*Do NOT go with anyone who approaches you in the Schipol Airport about a taxi. In case you need it, the number to dial the police is 112.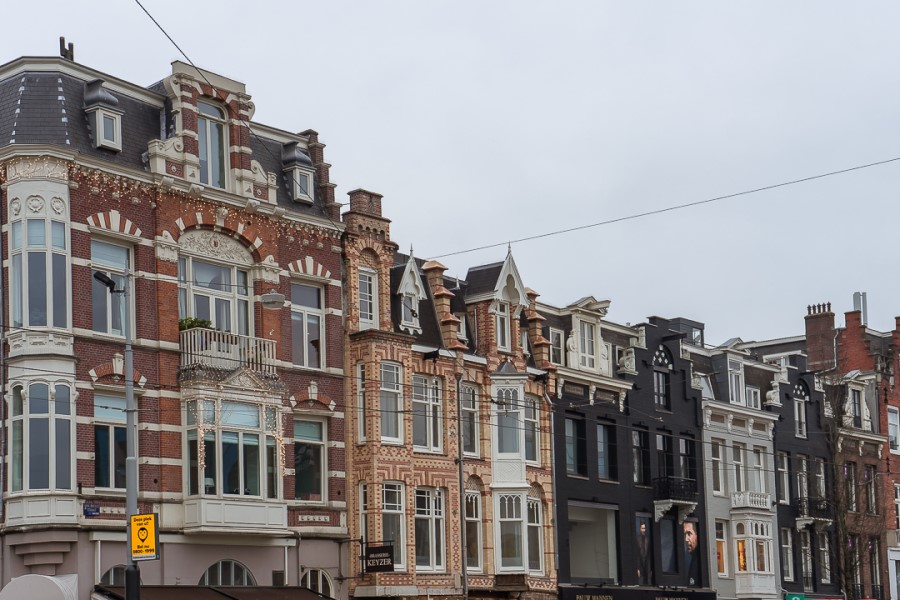 Where to stay in Amsterdam
Amsterdam, like any other city, has plenty of unique neighborhoods, each offering its own charm. The city has no shortage of cute cafes, delicious restaurants and plenty of historic sites to explore. So, where you choose to stay will depend on affordability and what you prefer to be within close proximity to.
There are eight districts within Amsterdam, and each district has neighborhoods nestled within. For travelers looking to get the most out of their stay and be close to the main sights you will want to stay in the Centrum district.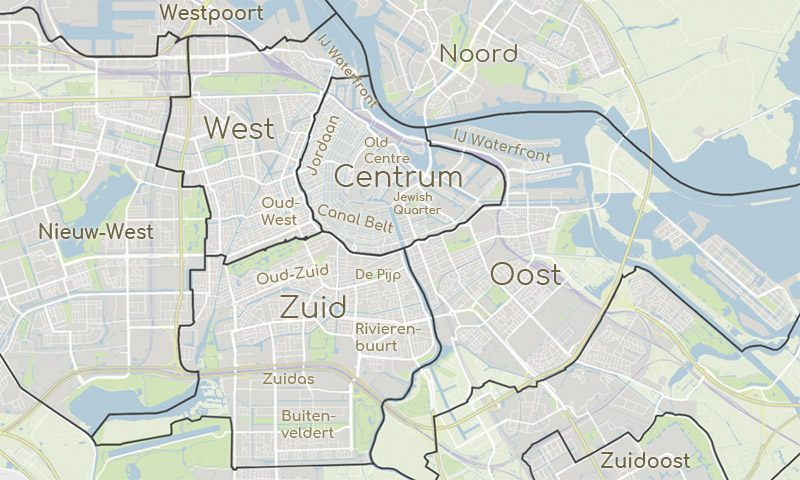 Of course, this will also be one of the more expensive districts to stay in, but you should consider how much time you will be spending in Amsterdam and the convenience of staying close to public transportation and the main sites.
Within the Centrum district are the following neighborhoods:
Nieuwmarkt : home to the oldest part of the city, Nieuwmarkt is oozing with local culture & history.
Spui : Spui is the heart of the old city and is a great central point to explore all of Amsterdam
Jewish Quarter (Jodenbuurt) : The Old Jewish Quarter is home to many popular sites to see; including the Hortus Botanicus. This neighborhood has done a great job preserving its history and architecture too.
Dam Square : Dam Square is the heart of the city of Amsterdam, so if you stay here you'll be conveniently close to almost everything, however it will also be crowded anytime of day.
Canal belt/the 9 Streets : The Canal belt area, also known as the 9 Streets, is fairly self explanatory. It's the area where the semicircular canals breathe the charm of Amsterdam to life. This area is a UNESCO World Heritage Site as well.
Jordaan : west of the Canal belt area lies Jordaan. Jordaan consists of tightly packed streets and has been completely renovated to become a very popular area for young artists, entrepreneurs and travelers looking to immerse themselves in the community.
De Wallen/Red Light District : the infamous Red Light District is home to one of Amsterdam's top places to visit. The draw for this area is that it's an officially desginated area for legal prostitution. The name 'Red Light' comes from the red lights surrounding the doorways of the individuals 'ready for business' as someone so lovingly phrased it to me. It's a unique area, and one you should definitely explore, but it is loud in the evenings, so if you prefer quiet, I'd suggest staying in a different neighborhood.
Leidseplein : Leidseplein is known for its nightlife, and has plenty of great hotels and restaurants.
Rembrandtplein : Rembrandtplein is another nightlife square, however it is closer to the city center than Leidseplein. There are well known outdoor cafes and restaurants in this area. If you stay just slightly off of the square you can enjoy a quiet evening and be within close proximity to plenty Amsterdam has to offer.
Spiegelkwartier : this area is home to the facades that you'd expect & hope to see in Amsterdam. If you enjoy art and antiques this area will be your haven – it's home to over 70 art & antique shops!
IJ Waterfront : located north of Amsterdam Centraal station, the IJ Waterfront area is further removed from the Centrum district than the other neighborhoods (as it's separated by the train station), however if you prefer more modern and industrial designs you may really enjoy IJ Waterfront. The area is quickly developing, and home to a few popular museums.
I would personally suggest that staying anywhere on the outer semicircles of the Centrum District. It will be the most ideal if you are looking to be comfortably close to the main sites, but not within a high tourist traffic area.
We stayed at the Amsterdam Canal Residence hotel, and could not recommend enough – we LOVED it here. The location was ideal as it's only a five minute walk from a metro station, ten minutes from the Museum Quarter and had the cutest view of the canals. Each staff member we encountered was very cordial, friendly and helpful.
The room itself was very modern, with a luxurious bathtub and great amenity kit for each of us. The bed and linens were very comfortable, and of course, I can't say this enough – the canal view! We also really enjoyed the free snacks and drinks they offered to all guests from 4-10pm daily. I repeat, free drinks and snacks daily for four hours daily! *jaw has dropped, this is an unheard of deal. I would absolutely recommend the Amsterdam Canal Residence hotel to anyone traveling to Amsterdam. And yes, you can totally book your stay through booking.com, which is what I did.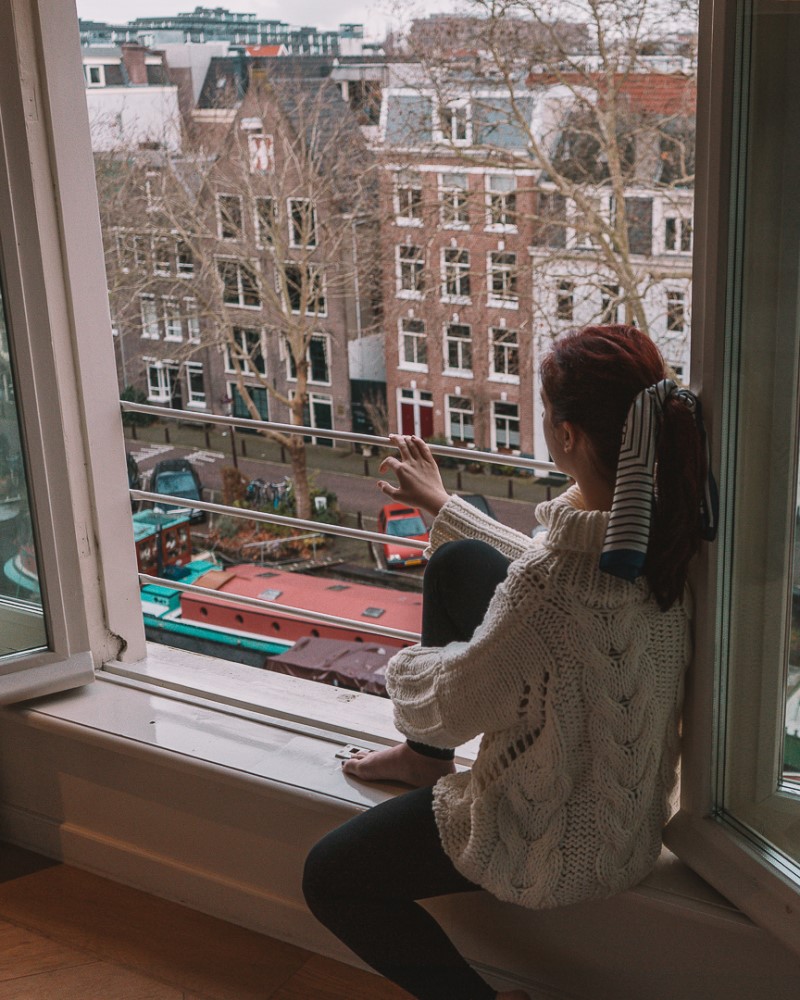 Make an impact on the world by making your voice heard –
Best Time of Year to Visit Amsterdam
When deciding when to visit Amsterdam, you really can't go wrong, as there is no ONE best time of the year to visit. The city is beautiful year-round. Of course the summer season will be hot and more crowded as it's a high tourist season. With spring having the infamous Dutch tulips in full bloom, fall boasting an array of autumn colors, and winter with the city lit up for the holidays.
How many days/how long should you stay in Amsterdam?
You could spend anywhere from a minimum of three days to two weeks (or more!) in Amsterdam. I may be slightly biased with this response, as I could move to Amsterdam in a heartbeat, however you will need at least three full days in the city. There are many historic sites and museums that you should check out, and the food scene is incredible too. Plus you'll want to make sure you take time to enjoy wandering the canals and hidden cobblestone streets.
How to get around Amsterdam (Public Transportation)
Amsterdam has excellent public transportation. If you take the direct train from the airport to the main Amsterdam train station, Amsterdam Centraal, then you'll have a peak at its efficiency and convenience.
There are buses, trams and ferry's within Amsterdam's Public Transportation system, but if you are staying within the centre of Amsterdam then you will most likely be utilizing the tram and metro systems.
For the tram and metro you can purchase day passes for 7.50 euro for one day ; prices decrease with 2-4 day passes. Tickets can be purchased online in advance, or you can get single ride passes on the trams; either at the front or sometimes at a desk area towards the rear of the tram.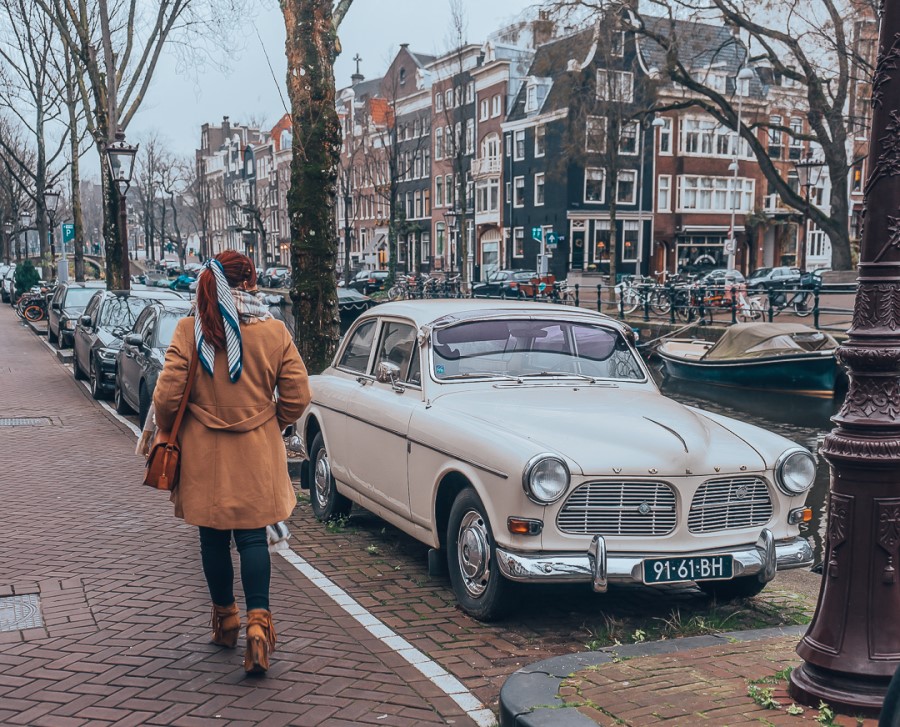 Amsterdam is very walkable, so you could take one tram line to get across town and then walk to wherever you may want to explore. You can find everything you need to know about public transportation in Amsterdam at GBV.com.
Of course, there is also biking. Amsterdam is known for its commuters favoring bikes (the city is not able to accommodate cars and is focused on having clean air quality). If you are a visiting tourist, riding a bicycle in Amsterdam may seem like a bucket list item to cross off. However, be understanding that the majority of locals commute to and from work via bicycle. If you aren't a great cyclist, I would avoid doing it. At least avoid it in busy areas.
Imagine someone visiting your city and trying to drive a car on the highway with little experience. They'd probably get in your way and potentially cause accidents.
Top things to do & See in Amsterdam
Don't worry this list of things to do & see in Amsterdam goes beyond the typical museums and historic sites. You can find that list anywhere, so instead of things that you wouldn't normally hear or read about for what to do in Amsterdam (…mixed in with only a few of those typical places).
Enjoy a sandwich and gourmet cheeses at Tromp :
Tromp is an amazing cheese shop in Amsterdam. In fact, they have a few locations throughout the city. They are small and chock full of the best, most delicious cheeses you could find. You can of course purchase blocks to bring home, but the best part of Tromp is their fresh sandwiches. Choose bread from their freshly baked selection for your sandwich, and within minutes you'll have a warm, delicious meal that's under 10 euro!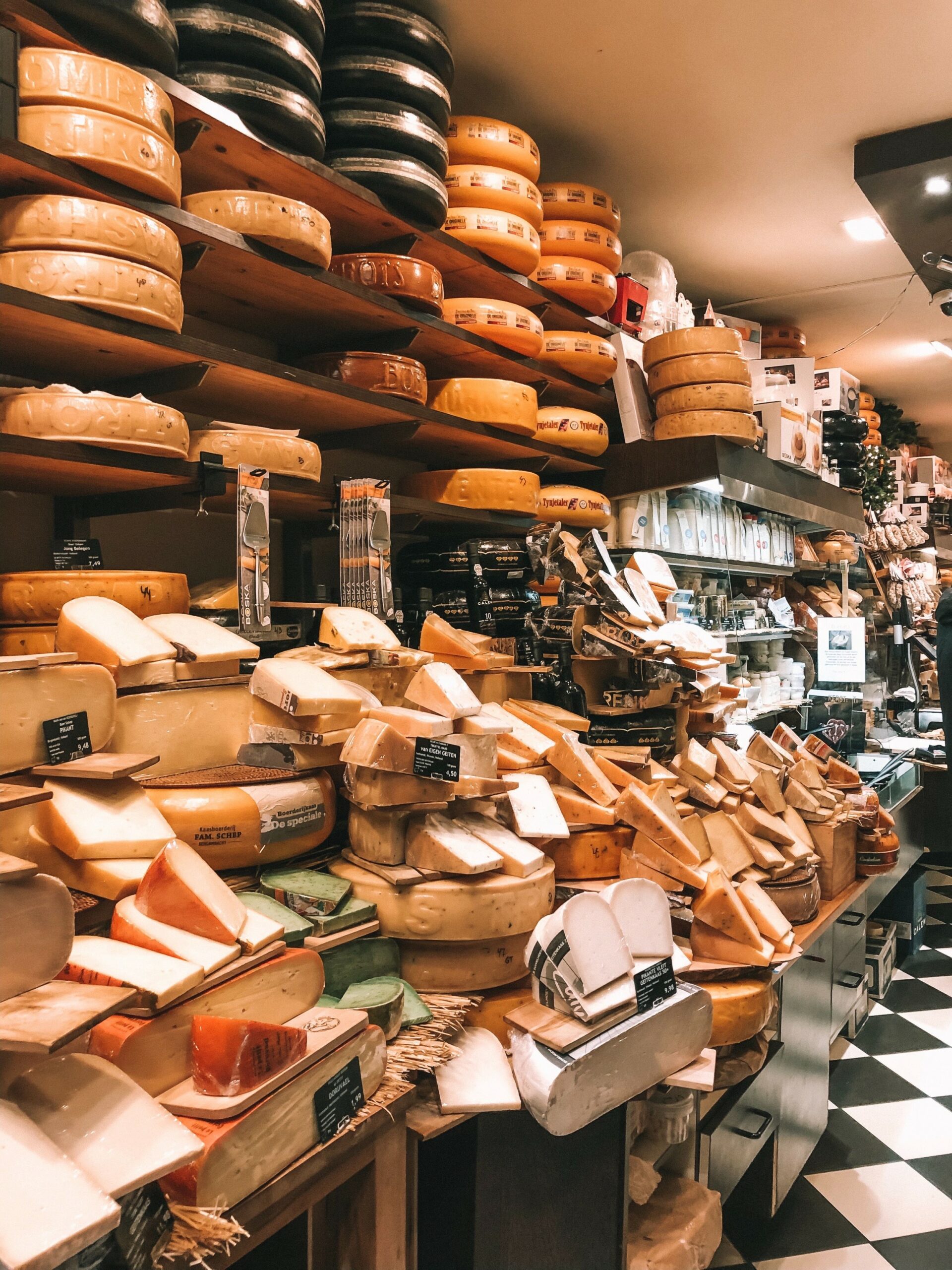 Select your ideal museum :
Amsterdam has a ton of amazing museums. And I don't say that lightly, as I've been to way too many museums over the years (I love history!) There is no possible way that you could or even should visit every museum that Amsterdam has to offer, so research the ones available and decide on one to two to visit during your trip.
I personally loved the Van Gogh museum and the Rijksmuseum.
Riijksmuseum : the Dutch National museum that is dedicated to art and history. It's the most famous museum in Amsterdam, and it does not disappoint. There are over 8,000 pieces in its permanent collection, including multiple pieces by Rembrandt. *If you know when you want to go, purchase your ticket in advance online. If you purchase ticket(s) in person go to the entrance on the right side (facing away from the I Amsterdam sign), and go downstairs to the left. Set aside at least half a day here as the museum is massive.
Van Gogh Museum : fairly self-explanatory, this museum features pieces by Vincent Van Gogh. They do a marvelous job not only showcasing his work, but also painting a picture of what his life was like and how his artwork come to life.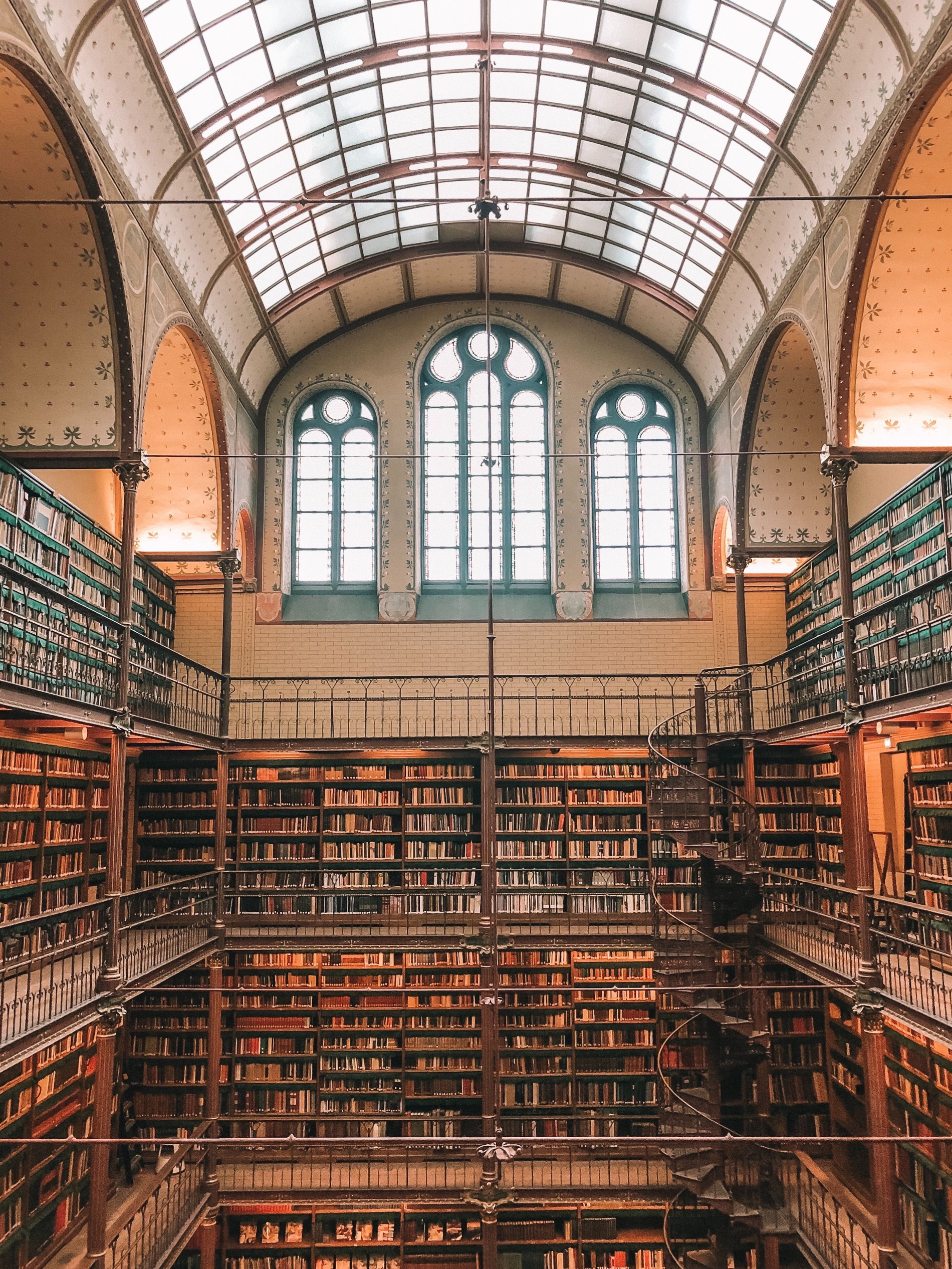 Here are other unique museums that are worth a visit.
-Museum Van Loon : museum of a traditional canal home from the 19th century. The name Van Loon is actually the family name. William van Loon was a co-founder of the Dutch East India Company (1602) and the family opens their home for visitors seven days a week.
-Ons' Lieve Heer op Solder : means 'Lady in the Attic' and is a museum that's actually composed of three canal houses that were connected (in secret) by a Catholic businessmen at a time when Catholics were not allowed to practice publicly.
Enjoy a peaceful canal ride :
While it may be a little cliche' to go on a large ferry through the canals, you can experience the serenity and beauty of Amsterdam from the canals on a smaller boat. *The hotel I recommended above offers FREE canal rides to its guests!! Find other canal tour companies & link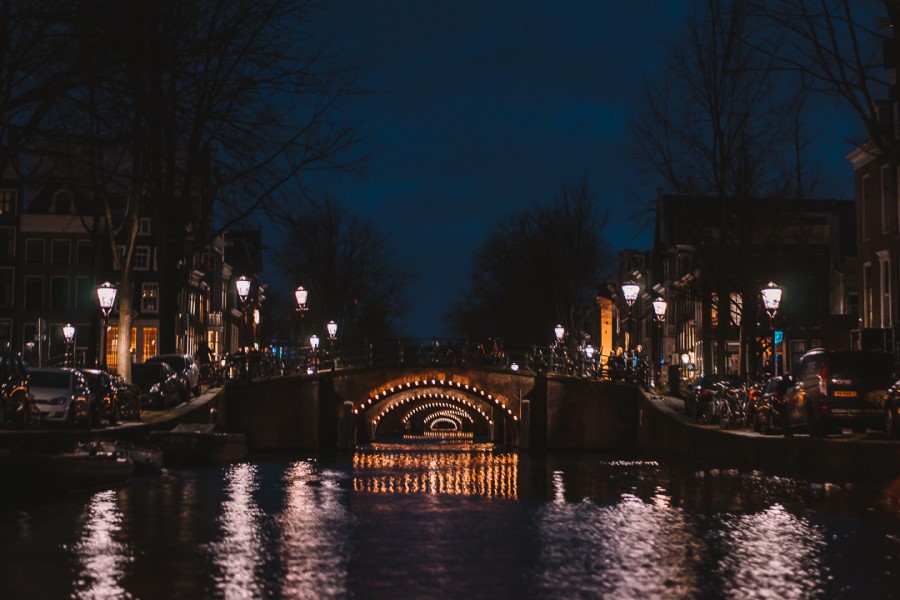 Enjoy traditional Dutch dishes :
Such as gouda cheese, stroopwafels and oliebollen (typically served around New Years)
Sip sweet liquors from a 300 year old distillery :
This is by far one of my favorite hidden gems of Amsterdam is the Wynand Fockink Proeflokaal Distillery (geez that's a mouthful to say & type!). This distillery is tucked away in an alley off of a main, busy pedestrian road but remained relatively calm throughout our time there. The bartenders do a wonderful time explaining their products so well that you may be like us and easily be convinced that you have to check your carry on luggage in order to bring home a few bottles with you. Everything is distilled there and they only produce 400 bottles per week! You can ONLY purchase their products there so stock up on their ginger bitters, fruit flavored liquors and barrel aged treats. Tastings are free too!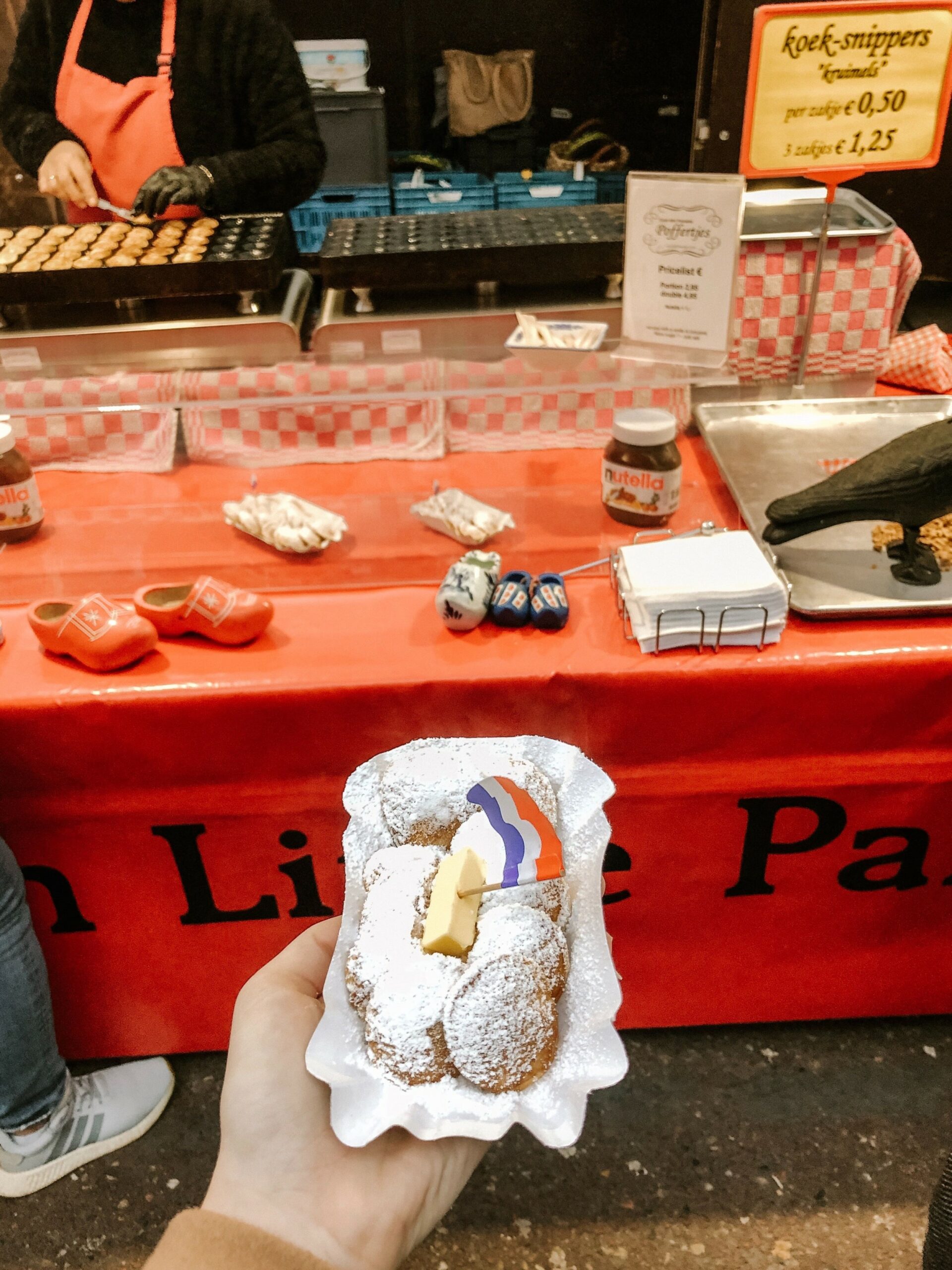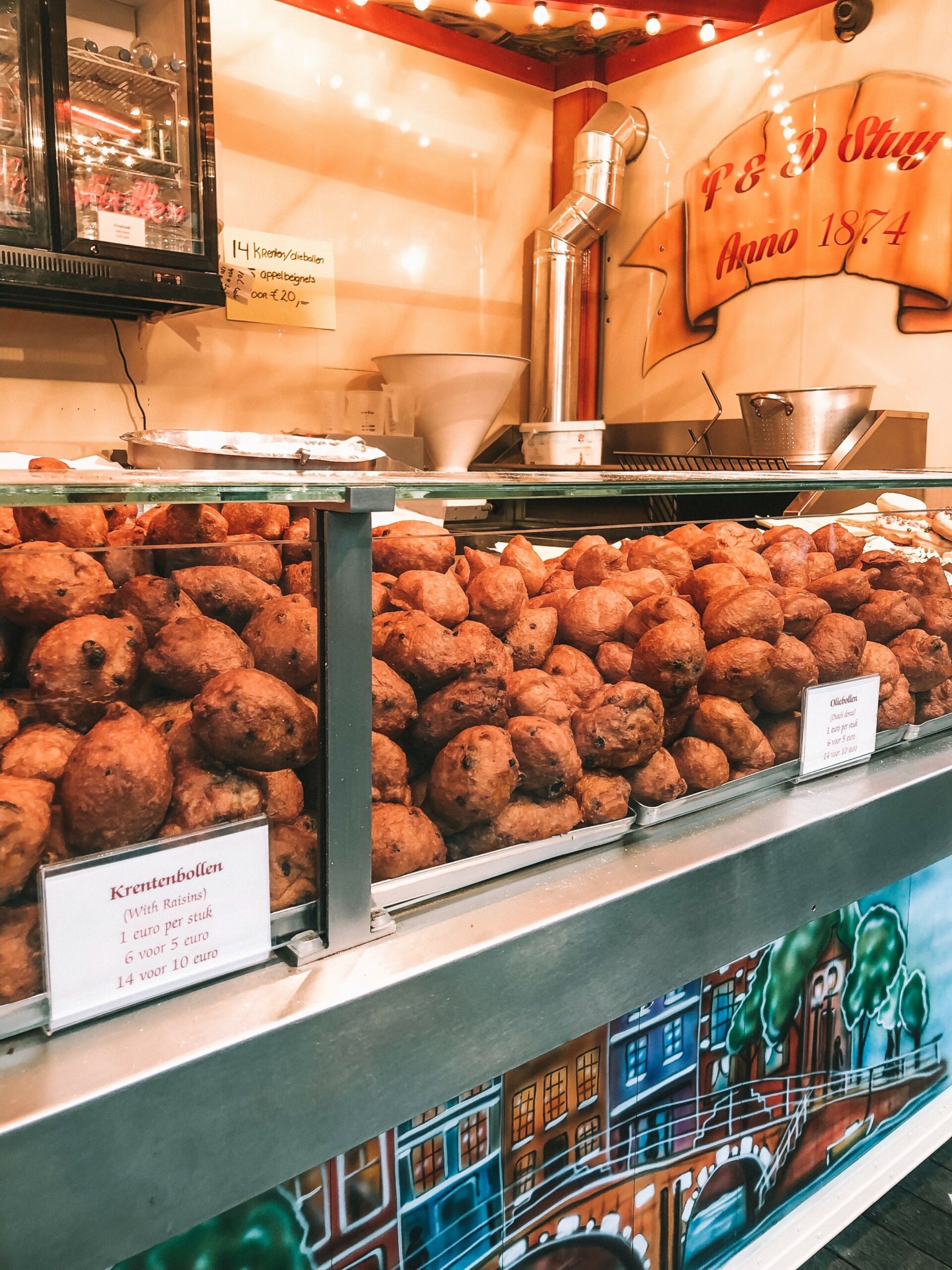 Visit the stunning Hortus Botanicus :
What was once a medicinal herb garden to help fight against the Black Death in the mid-1600's, is now a plant nerd labyrinth of blooms & flora.
-Zaans Schaans- Zaans Schaans is known for its beautifully preserved windmills and has a precious historic town center where visitors can walk around and dive into the history of the Netherlands.
-Keukenhof Garden- visit this beauty during the tulip blooming season for out-of-this-world Alice in Wonderland experience.
-Rotterdam- the Netherlands second largest city and home to some very unique architecture
-Giethoorn- Giethoorn is a classic Netherlands village that can be explored by gondola!
-The Hague- visit the International City of Peace and Justice, The Hague. It's home to so much modern and historic cultural significance to the Dutch.
-Utrecht- a university city with plenty of 14th-century Gothic architecture and a medieval castle.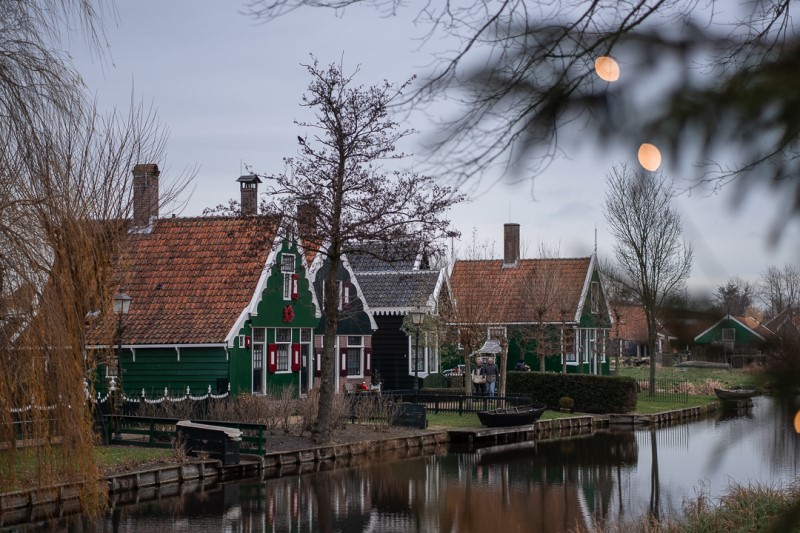 click image to find out more!