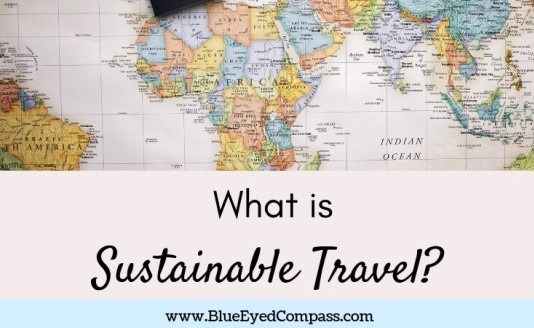 What is Sustainable Travel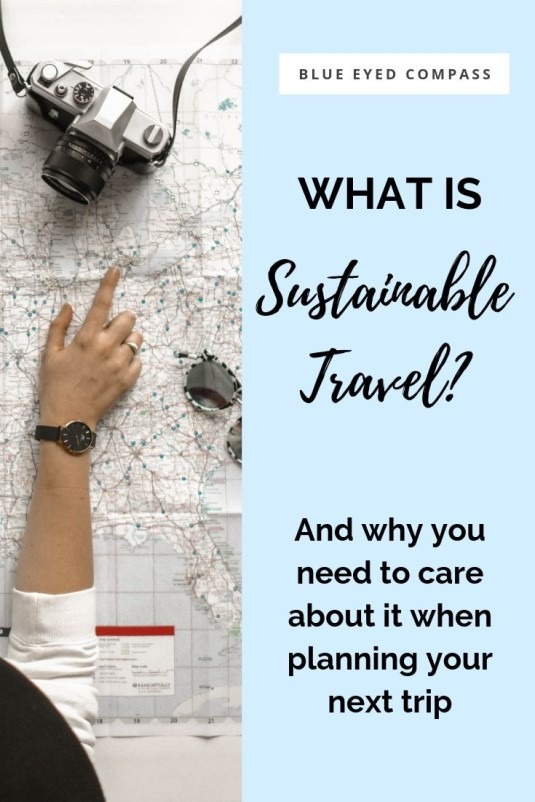 This page contains affiliate links to products and tours that I have used for my own travels, purchased & enjoyed. Clicking these links does not cost you anything, however doing so will support Blue Eyed Compass and allow the site to continue. THANK YOU!
There is no better feeling than touching down in a new exotic location for a well-deserved vacation. I thrive off of that feeling of exploring a new place. And after many travel adventures that blissful feeling slowly fades away when considering the damaging mark, I may leave behind after all of my fun.
This negativity doesn't have to be the case though. Impactful, positive change is possible on an individual level, and it's possible through sustainable travel.
Included in this post is:
The breakdown of popular environmental buzzwords

A description of what sustainable travel is

What sustainable travel is NOT

Why sustainable travel is important and

The benefits of sustainable travel
There are a lot of buzzwords surrounding sustainable travel – climate change, environmentalism, green living – it can be difficult to understand what they all mean and how they play a part in our travels.
So, what does sustainable travel mean?
Well, it can mean many different things for many different people (sorry, you won't find one singular clear answer here- but you will find a ton of easy to digest information)
I would like to start by thanking you for choosing to help make an even better and healthier planet. Even just by showing interest and reading this article is a wonderful start. Change doesn't happen overnight, but if we make small adjustments and pursue personal growth then we can have an impact on an individual scale.
So, let's get to it!
What is sustainable travel?
As stated previously, sustainable travel has many names connotated around the subject. However, the basic premise of what sustainable travel means is to leave behind a positive impact, smaller energy footprint and influence progressive change before, during and after you travels in the environment, culture and location of your travels.
Yowzahs, that's a mouthful.
And this mouthful is because sustainable travel doesn't mean just one 'thing'. It doesn't fit into one definitive definition. It means something different to everyone. So I'll do my best to break it down for you.
We live during a time where many of the determining factors of our lives reside on a sliding scale; our sexuality, religion, political views, so it makes sense that our environmentalism and sustainable travels live on a sliding scale as well.
Our focus for sustainable travel is on long term perseverance, avoiding harm, reducing our negative environmental impacts and utilizing replenishing resources.
UNWTO defines sustainable travel as "Tourism that takes full account of its current and future economic, social and environmental impacts, addressing the needs of visitors, the industry, the environment and host communities"
Terms you may recognize:
SUSTAINABLE
ECO-CONSCIOUS
ENVIRONMENTALISM
GREEN TRAVEL
Aren't these terms all the same?
No!
Collectively they are similar, but side by side they are different. The four terms you may see most often are:
Green Travel

: green travel means focusing your travel efforts on ways to leave as minimal a carbon footprint as possible.
Example– walking instead of taking a taxi.
Responsible Travel

: responsible travel means holding yourself and others accountable to respecting locals, destinations and the environment when traveling.
Example– not defacing historical landmarks by scratching your initials in.
Eco-Conscious Travel

: eco-conscious travel means making economically conscious choices for the environment. It's comparable to green travel.
Example– purchasing locally made souvenirs instead of something from a souvenir shop
Sustainable Travel

: sustainable travel embodies all of the above terms and more while traveling in a way that doesn't take away from the destination.
Consider sustainable travel as three passageways coming together:
The Environmental Pillar: the Environmental pillar focuses on nature & wildlife we impact while traveling. It includes things such as our carbon footprint, water usage, waste (plastic and others) and respecting & maintaining natural habitats of wildlife.
The Social Pillar: The Social pillar focuses on our impact to local people & their cultural communities. As travelers this means supporting locally owned businesses, NGOs and charities, and researching to make sure that wages are fair and work environments are safe.
The Economic Pillar: The Economic pillar focuses on travelers spending money & supporting businesses during their trips for positive outcomes. By supporting locally run hotels, tours and restaurants we can uplift the local economy.
In short, sustainable travel is valuing mother nature, history, culture and respect above our own desires. It's not just doing good, but also helping to educate others.
What sustainable travel is NOT
:
People tend to feel that sustainable travel means having to sacrifice parts of a vacation or their enjoyment. Or that it implies everyone should stay home and never travel. Neither of these are the case at all.
Many destinations rely heavily on tourism cash flow. In fact, 1 in 12 jobs are based on tourism WORLDWIDE! And staying put at home only blocks personal growth and cultural understanding.
Sustainable travel is not about limiting your vacation or trip to accommodate sustainable tactics, it's about adding greater value. To you and those around you.
Many are quick to point fingers of blame at social media 'influencers' and blame them for overtourism (learn what Over Tourism means). And while some 'influencers' may need to absorb a lesson about respect and self-control, much of this issue is solely ignorance – ignorance means a lack of knowledge or understanding – they lack the know-how of not walking through unpaved areas, or climbing on roofs for that perfect shot.
Don't be quick to place blame, instead be swift to help educate.
Unfortunately, there is a strong mindset that many feel, which I'll call 'just because I can/want to, I will' (or I deserve to)
Just because I'm able to flit from one destination to the next, means I will do so (at the expense of flight carbon emissions)

Just because I want to eat meat from the menu, I will (and not concern myself with it's potential to endanger species and deforestation)

Just because I have the money to dish out, I will spend it wherever I feel is most convenient (instead of researching a more ethical option)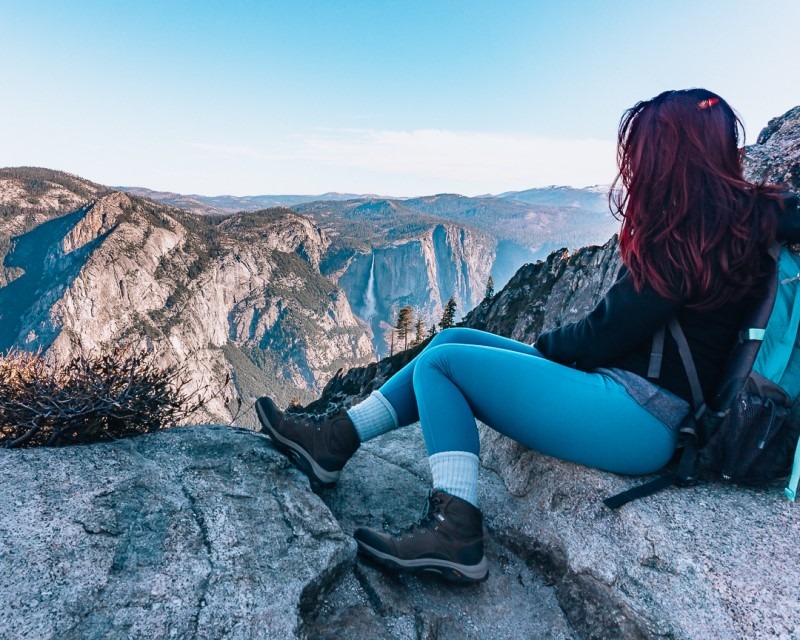 Sustainable travel is not a poor man's way of traveling, it can be whatever you want it to be.
I've enjoyed traveling more luxuriously in nice resort hotels, and I sought out ones that focus on sustainable lodging tactics.
I've treated myself to meals out at fancy local restaurants, and I researched ones that cook with their own fresh and local ingredients.
You don't need to choose between one or the other.
Why is sustainable travel important?
Or what I like to say, why should you give a crap about it?
Sustainable travel is important because planet earth only has a finite amount of resources. As a species, humans have become accustomed to convenience. And this convenience has led to microplastics being found at the depths of our oceans, deforestation of one of a kind ecological systems (like the Amazon), air pollution and more.
We'll be leaving our homes in an unrecognizable planet for future generations
Does tourism change a place? Yes. But that is inevitable. If a location is not a sought-out destination yet, it most likely will be at some point no matter what sustainable travel choices we make. It's up to us to 'vote' on how those destinations are built up with our spending habits.
With an uptick in visitors, comes with it new hotels, tour buses, restaurants catered to the tourists, and much more.
Most travels are not sustainable; airfare releases carbon emissions, all-inclusive resorts are built on natural habitats, money is the main focus not the longevity of the destination.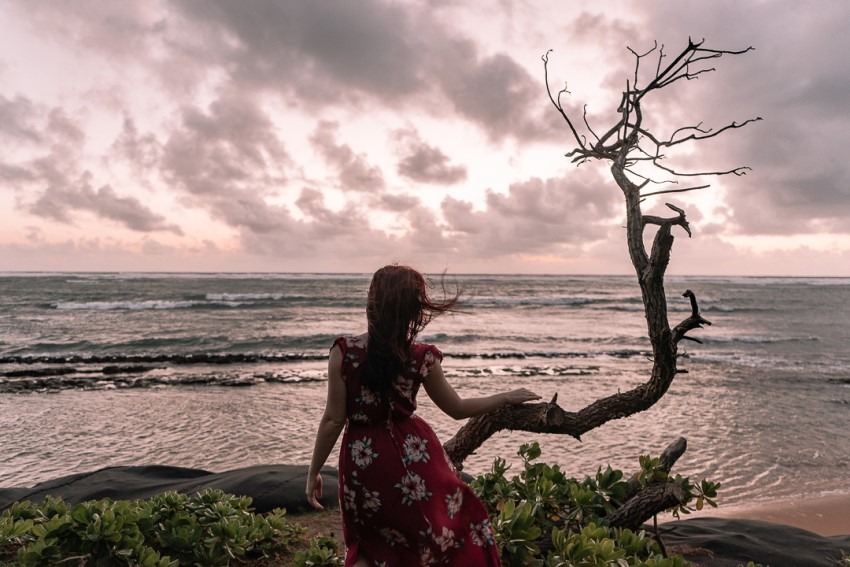 Yet, if we choose to only stay at local residences (if you haven't checked our AirBnb yet, here's a discount code for you!), or hotels that focus on sustainable efforts, and only eat at local establishments, then we are voting in support of those ethical practices.
Like I stated earlier, tourism can provide an annual living for many. So while it can bring with it a lot of destruction, tourism also has the capability to bring a lot of wonderful things as well.
What are the benefits of sustainable tourism?
What I love most about sustainable travel is that you can see the ripple effect of ethically spending your money. Plus there are so many fun, plastic-free, gadgets that you get to tote around!
One of the best benefits of sustainable travel is the understanding that you ARE making a difference. Your small steps to travel improvements are seen by those around you, even if you don't notice it.
We are gifted with the opportunity and options to protect the planet. So instead of acting without concern, let's travel with purpose and enjoyment.
Heading for a LONG flight soon?
Check out these carry on items to ensure a comfortable flight