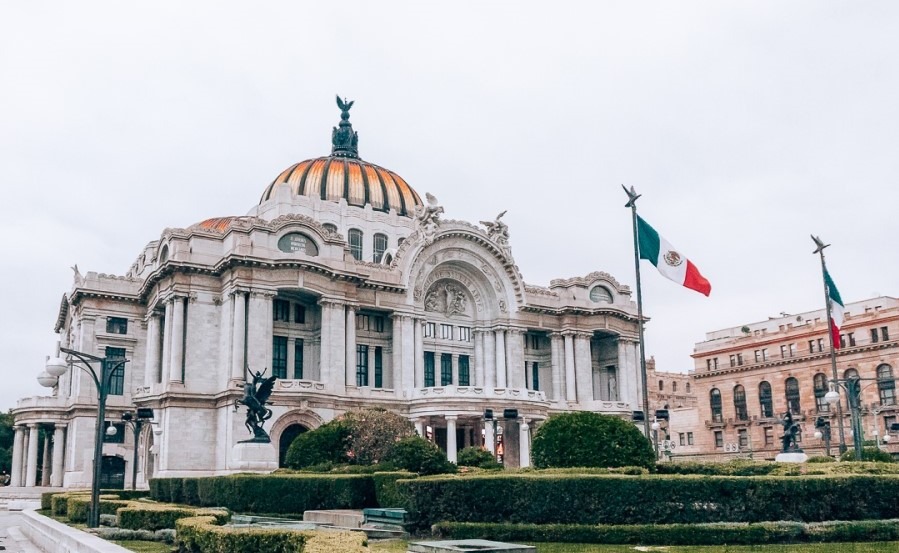 First Time Visitors Mexico City Travel Guide
Here are visitor & local favorite sightseeing stops, and neighborhoods to explore and safety tips for first-time visitors.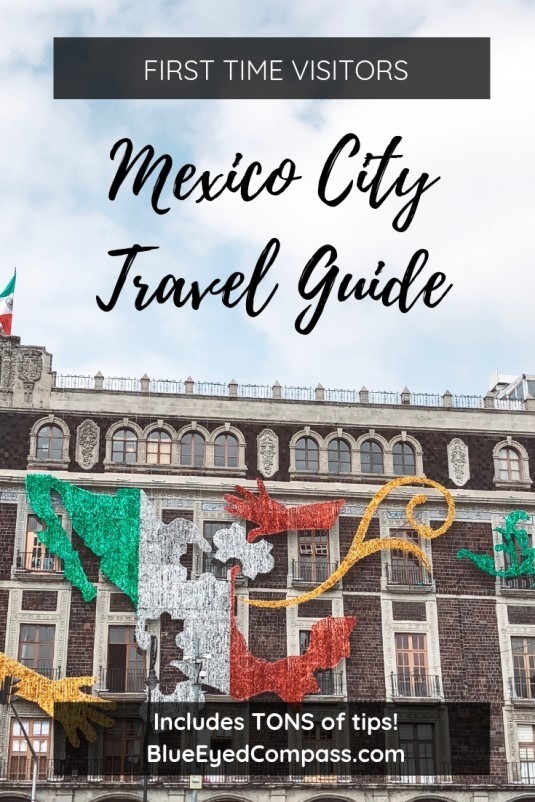 This page contains affiliate links to products and tours that I have used for my own travels, purchased & enjoyed. Clicking these links does not cost you anything, however doing so will support Blue Eyed Compass and allow the site to continue. THANK YOU!
As a first time visitor to Mexico City it can feel daunting about what to expect.
What do you envision when you think of Mexico?
I visualize lots of vibrant colors, hear tons of happy people walking around me, taste fresh tortas, smoky mezcal, cinnamon sweet churros, and the strum of guitars as part of a mariachi band.
Now imagine a city that has all of that, PLUS beautiful architecture blending old and new, celebrated history seen throughout its streets and tree-lined boulevards leading to city parks, galleries, and vibrant restaurants. This is Mexico City, Mexico – a destination with a combination of your favorite Mexican characteristics.
Here is your first time visitors travel guide to Mexico City!
How to get around Mexico City
Mexico City is a very large city, and one I wouldn't suggest anyone try to walk the entirety of. Instead start your trip by ordering an Uber, hop in and head to the most interesting places to see in Mexico City:
[New to Uber? Use this link to earn your first ride for free on me!]
Car sharing rides are quite cheap in Mexico City, costing around $3 for a 10-15 minute trip. And something I would suggest over their public transportation.
How long do you need to spend in Mexico City?
There are plenty of restaurants, museums and day trips that you could spend weeks in Mexico City. If you aren't an urban fan or dying to see the more 'scenic' parts of the country and just booking a stopover in Mexico City, I would suggest at least three full days.
First Time Visitors Guide to Mexico City
NEIGHBORHOOD:
Bosque de Chapultepec
A vast and lush park (bosque in spanish translates to park!), Bosque de Chapultepec offers so much for first time visitors. Spending an entire weekend here is possible, it is that large of a park.
Chapultepec Castle
The castle is inside of Bosque de Chapultepec. The Chapultepec Castle is the only royal castle built in the Americas and since its use as a palace it has been home to military academies, presidents and now is the National Museum of History. Pay only 70 pesos to enter the museum and be rewarded with views of the city in all directions. Heads up though, this is a steep climb to the entrance.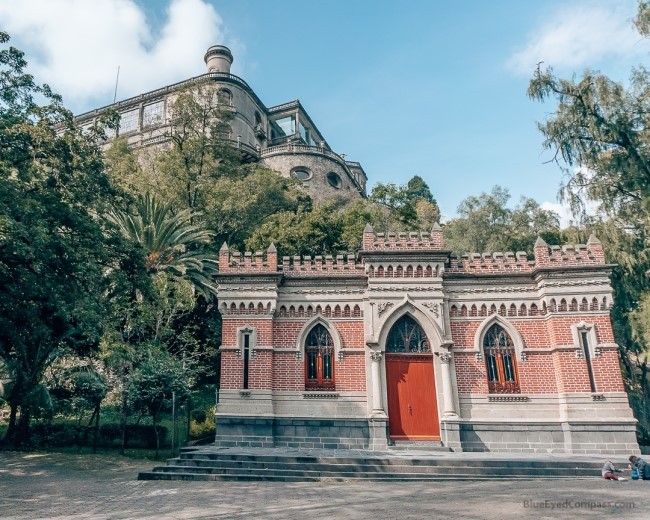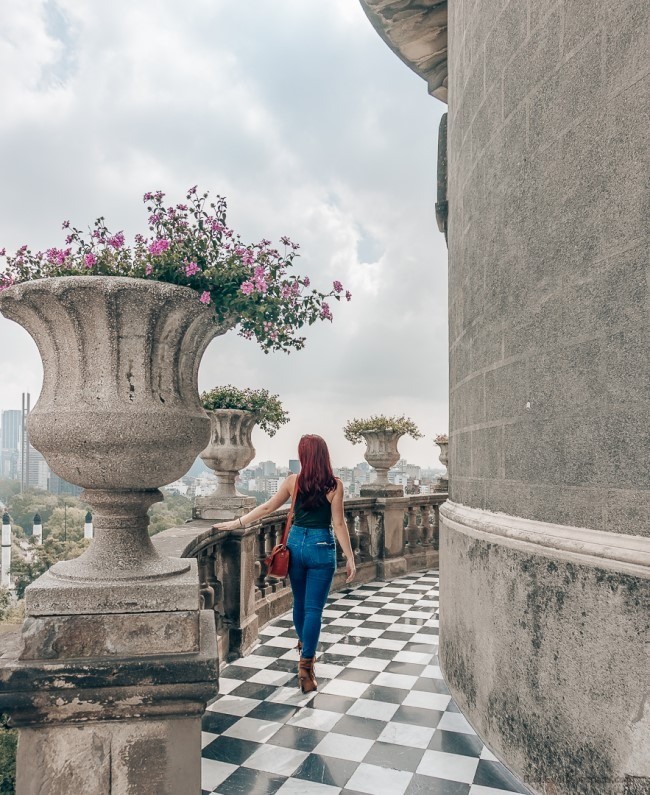 Check out more images of Chapultepc Castle by scrolling through here
Step into the Future Forest
Upon your walk from the Chapultepec Castle to your next stop (see next item below), visitors will find the Future Forest. An art installation done by artist Thomas Dambo, made entirely out of recycled plastic!
The Future Forest can be found within the parks Botanical Gardens. It was created for the annual Flowers and Gardens Festival (April 2018) and is set to remain here until further notice.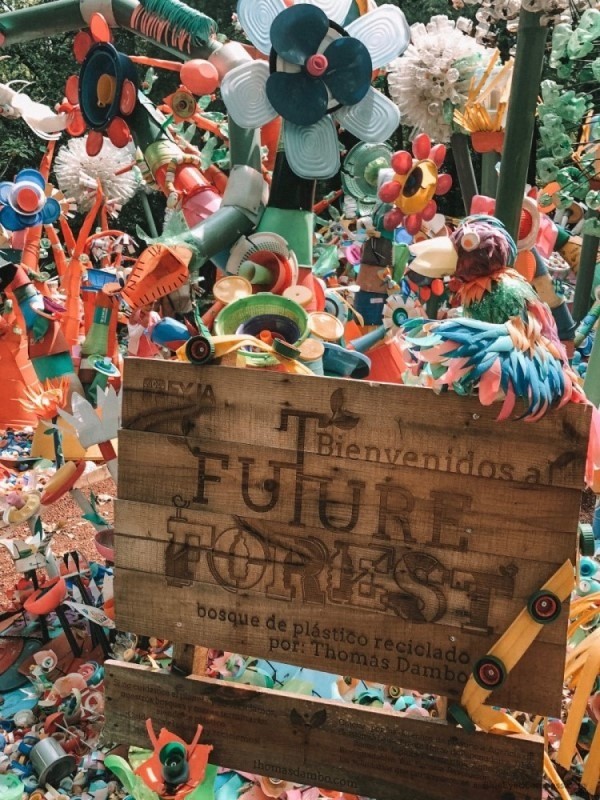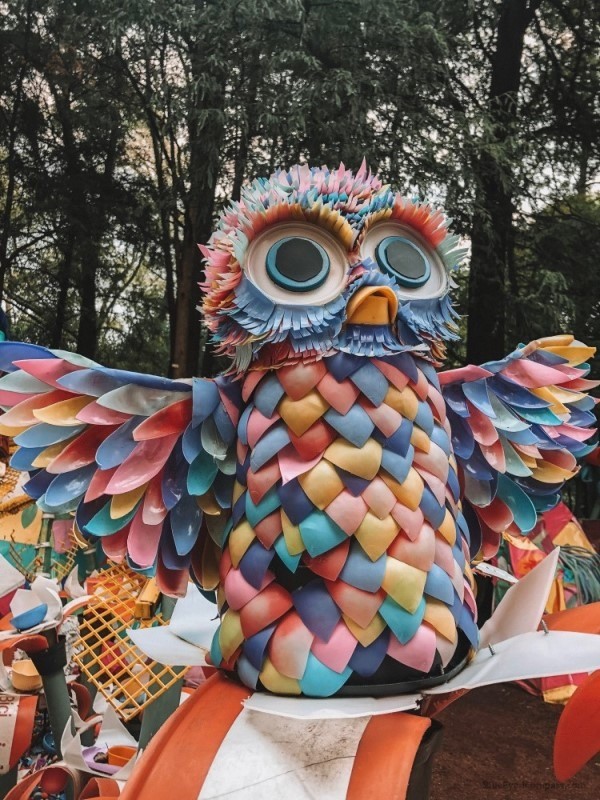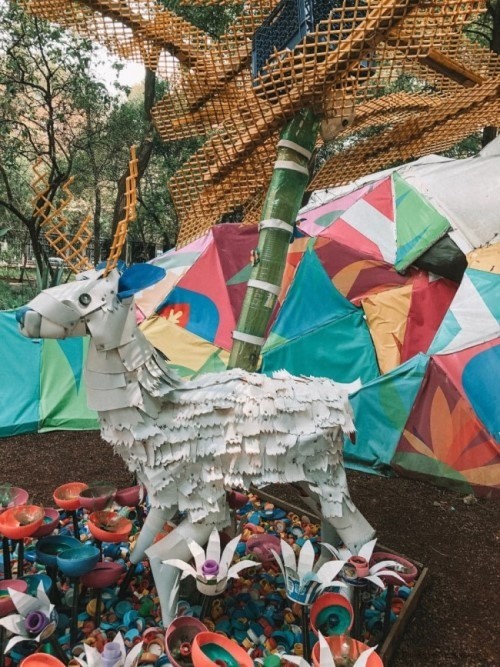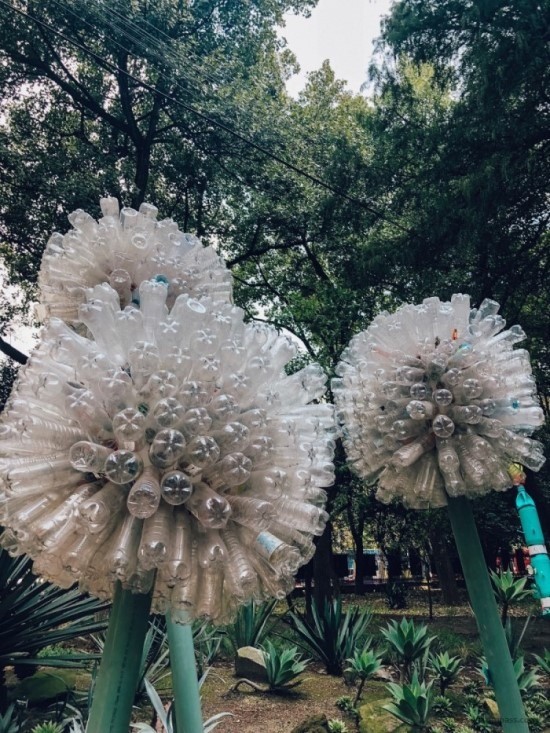 Museo Nacional de Antropologica
Also inside of the Bosque de Chapultepec (remember, this park is huge!), is the Museum of National Anthropology. Enjoy this museums free entrance and open courtyard set up to get a glimpse into the way ancient mayans lived and treasures collected from sites like Chichen Itza.
La Feria
Chapultepec Parks own amusement park!
NEIGHBORHOOD:
Centro Historico
Explore all of the Zocalo
Zocalo is part of the historic center of Mexico City. This is where the major picture snapping sights are, and is the heart of the city. Set aside this area as the start of one of your days and explore the following:
Metropolitan Cathedral
This is the lead place for Roman Catholicism in Mexico. Built on top of sacred Aztec space (thanks to Spanish conquistadors), this cathedral is the most recognizable church in Mexico City. And it's interior is stunning with the golden Altar of Forgiveness gleaming as soon as you step inside.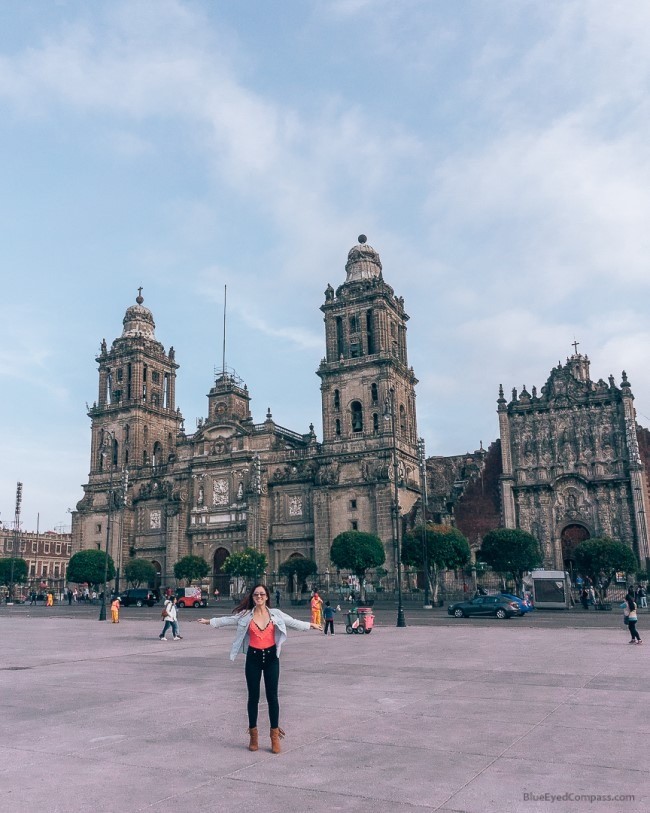 Templo Mayor
These are the remaining ruins of the Mexica people's place of worship of Tenochtitlan (which is now the city of Mexico City). You can pay to enter, or see it from above by walking to the right side of (if you are facing) the Metropolitan Cathedral.
National Palace
Since the time of the Aztecs, this has been the ruling class's palace. It is now a government building and museum. Much of the exterior is original and beautifully maintained. The National Palace is free to enter, and you will provide your ID as you enter — don't worry, you get it back when you exit. Be sure to enjoy the gardens as there are feral cats on the grounds, many of which were very friendly and seeking cuddles! Inside you'll enjoy The History of Mexico wall mural by Diego Rivera. This massive mural seamlessly intertwines the struggles of the Mexican people throughout history.
*The entrance to the National Palace in Mexico City may be difficult to find. Head towards the Templo Mayor from the Metropolitan Cathedral and go down Prol Seminario. The entrance will be a five minute walk down this road and on the right side of the road.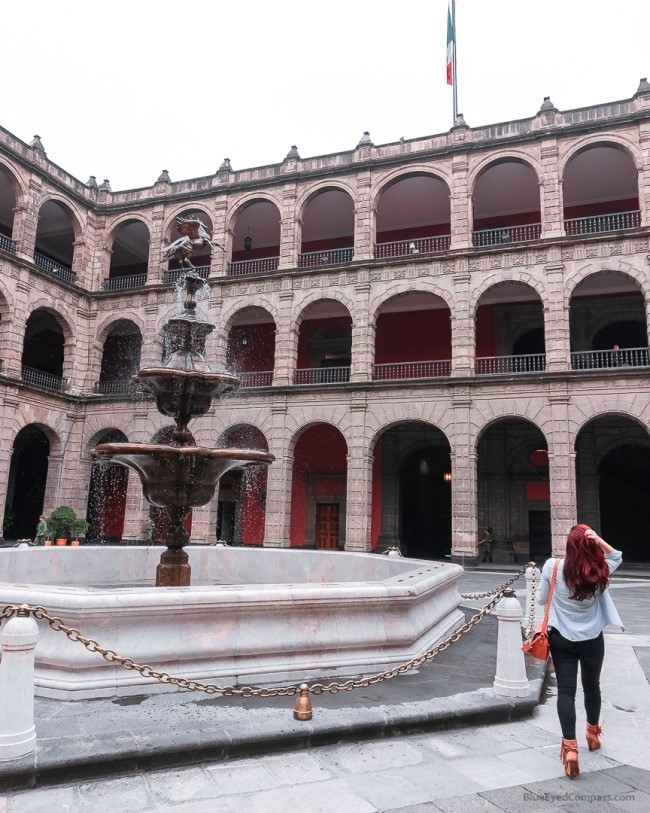 Check out more images of the National Palace by scrolling through here
Walk down Calle Francisco I Madero
This pedestrian only street, leading from the Zocalo, has many restaurants and stores to shop in. A wonderful place to stop for a quick bite and people watch. Plus it will lead you to the beautiful…
Palais de Bella Artes
Probably the most iconic building in all of Mexico City. The Palace of Fine Arts is a stunning architectural beauty. Tours are available inside, but I prefer the outside beauty and people watching. If you want pictures with less people visit here early in the morning prior to its opening. *If you want pictures of the Palais de Bella Artes from above visit the cafe inside of Sears across the street.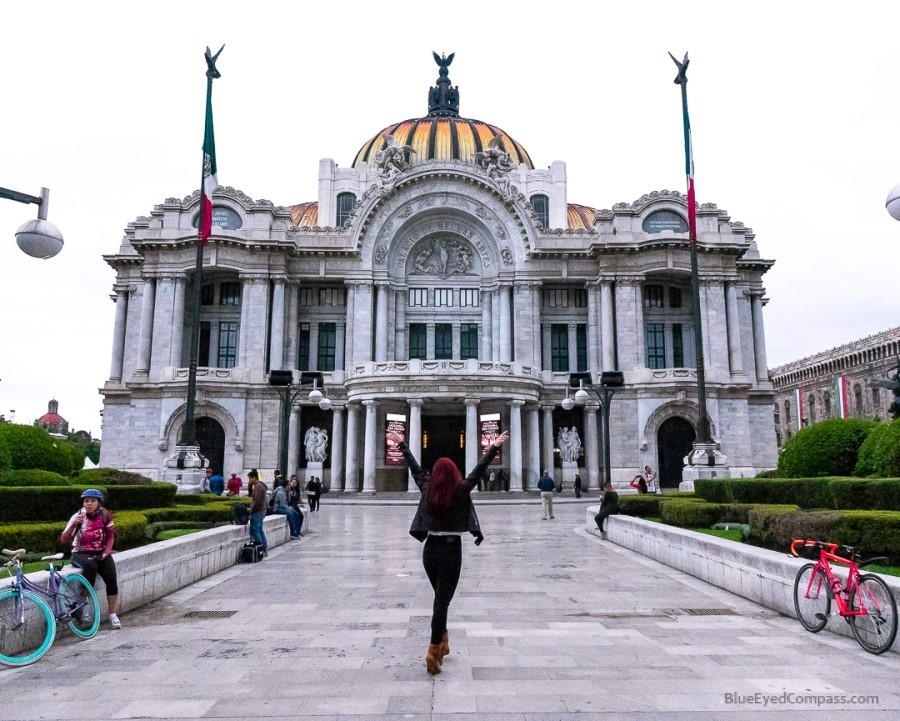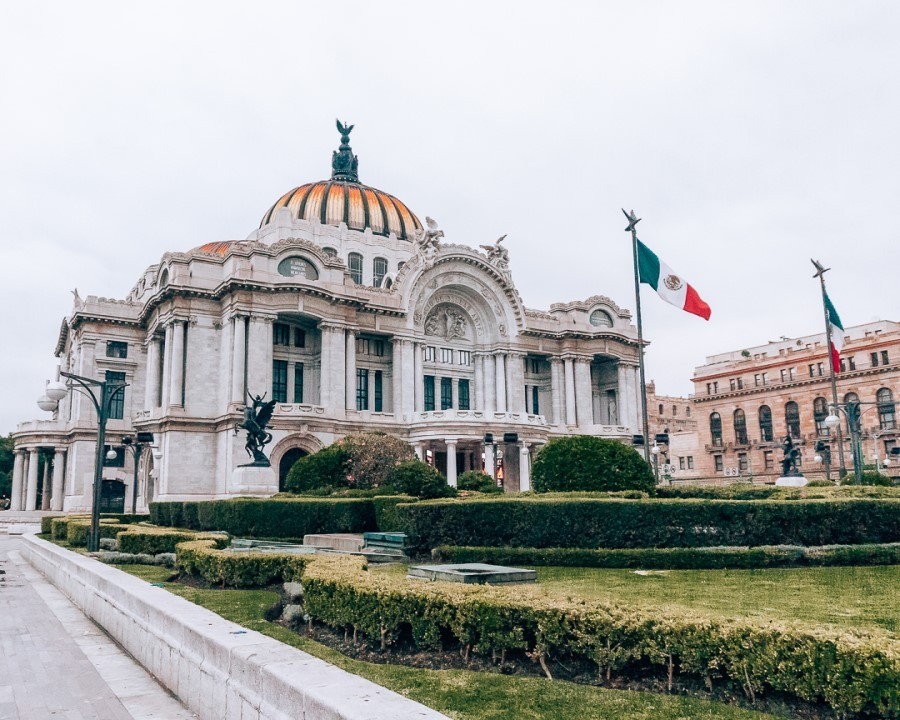 Alameda Central
One of the many public parks in Mexico City, Alameda Central is connected to the Palais de Bella Artes. Walk along the granite walkways, and on the weekends there is usually street food vendors and performances here.
NEIGHBORHOOD:
Roma // Condesa
The Roma and Condesa neighborhood of Mexico City is the perfect place to escape from the hustle of the metropolitan areas.
Walk along Avenida Amsterdam
A round about tree lined street in between the road just for pedestrians. It circles around the main area of the neighborhood, so you can stop off to explore where you feel drawn to.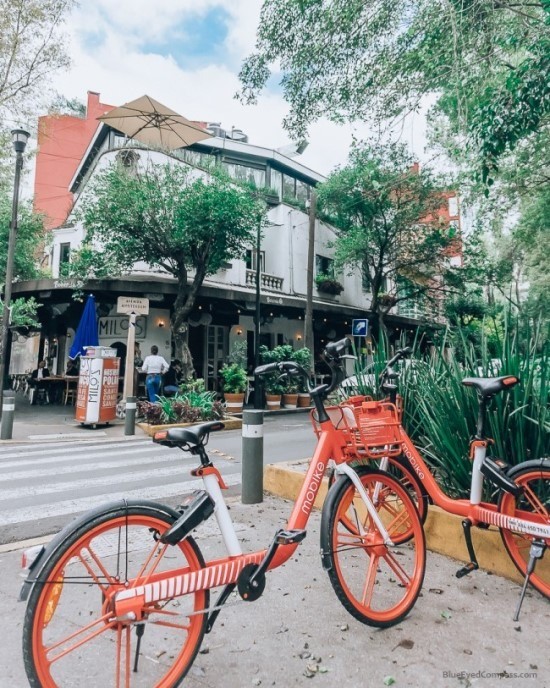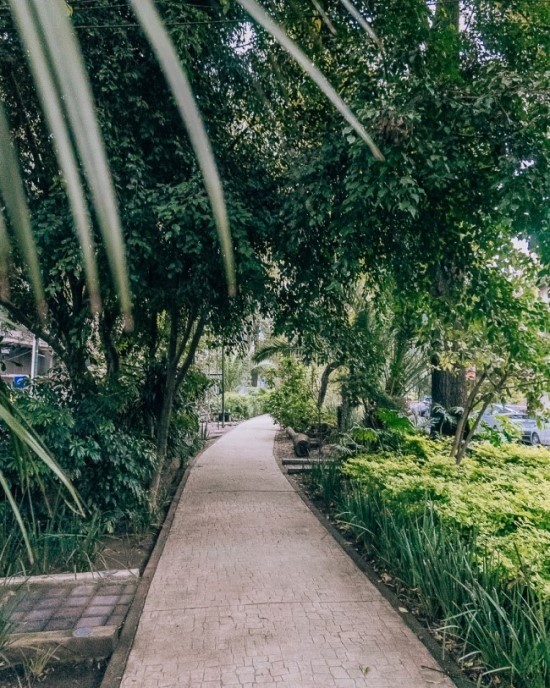 Find the best vegan food
See my guide on our own self run vegan food tour that you can take yourself on. This neighborhood has some of THE best vegan food offerings in the city. There is also a vegan food market called Casa Quimera that has lots of options for fresh produce and restaurant prepared meals.
*Remember the food is phenomenal, the water is not.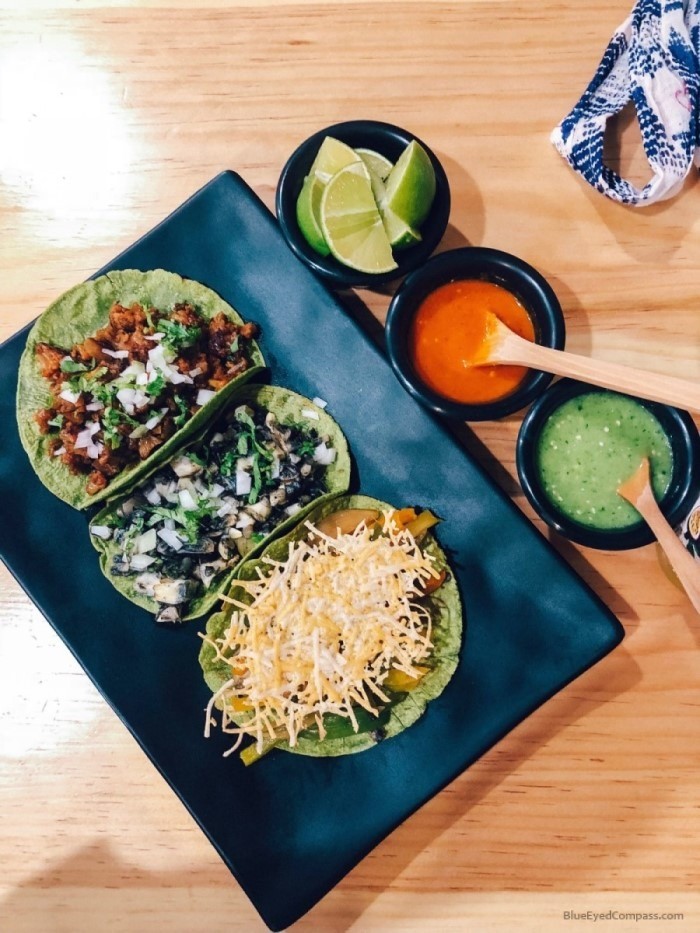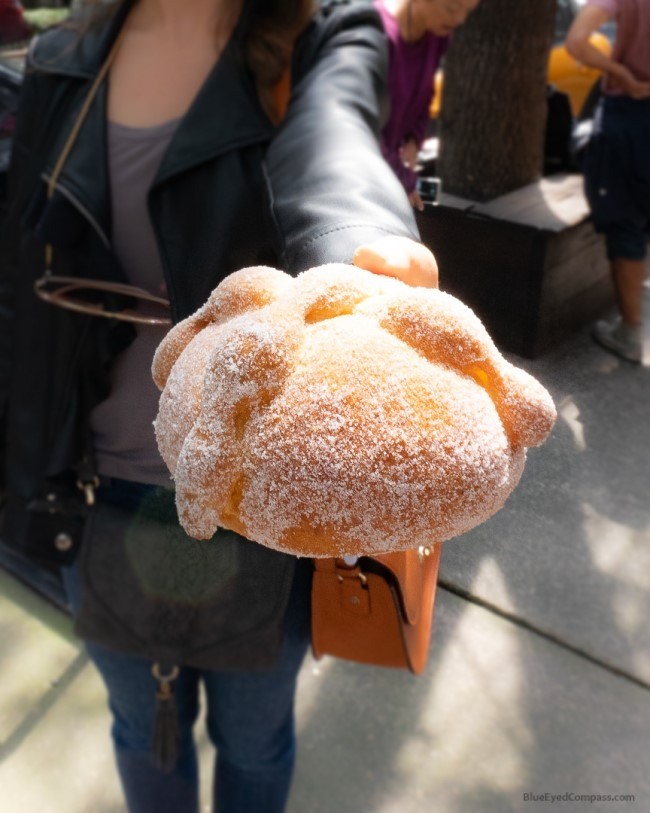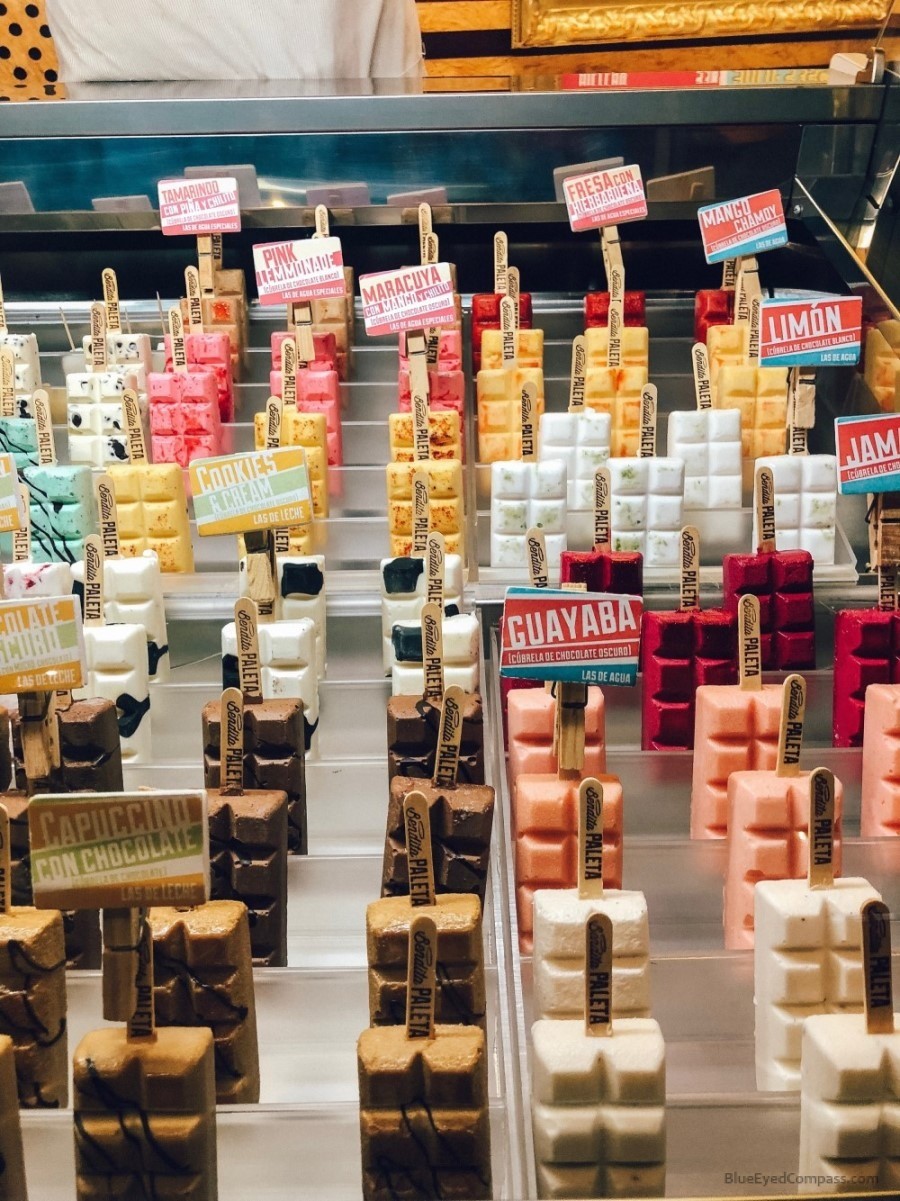 Wander the streets in search of stunning street art
There is so much great street art in this neighborhood that it is reason enough to grab some shots next to them.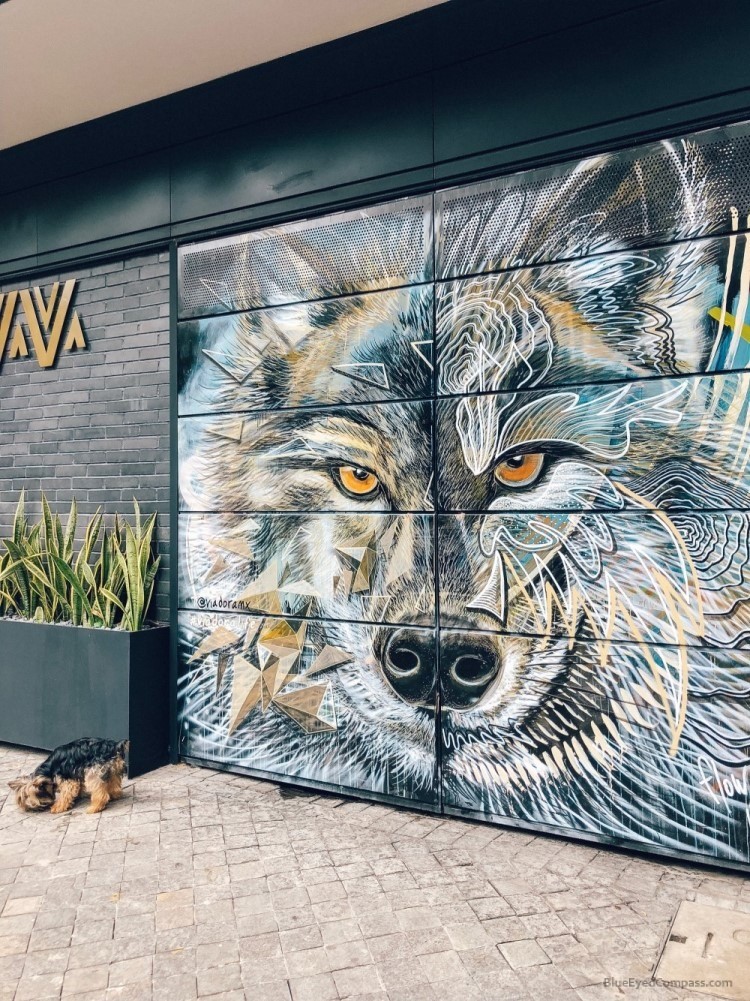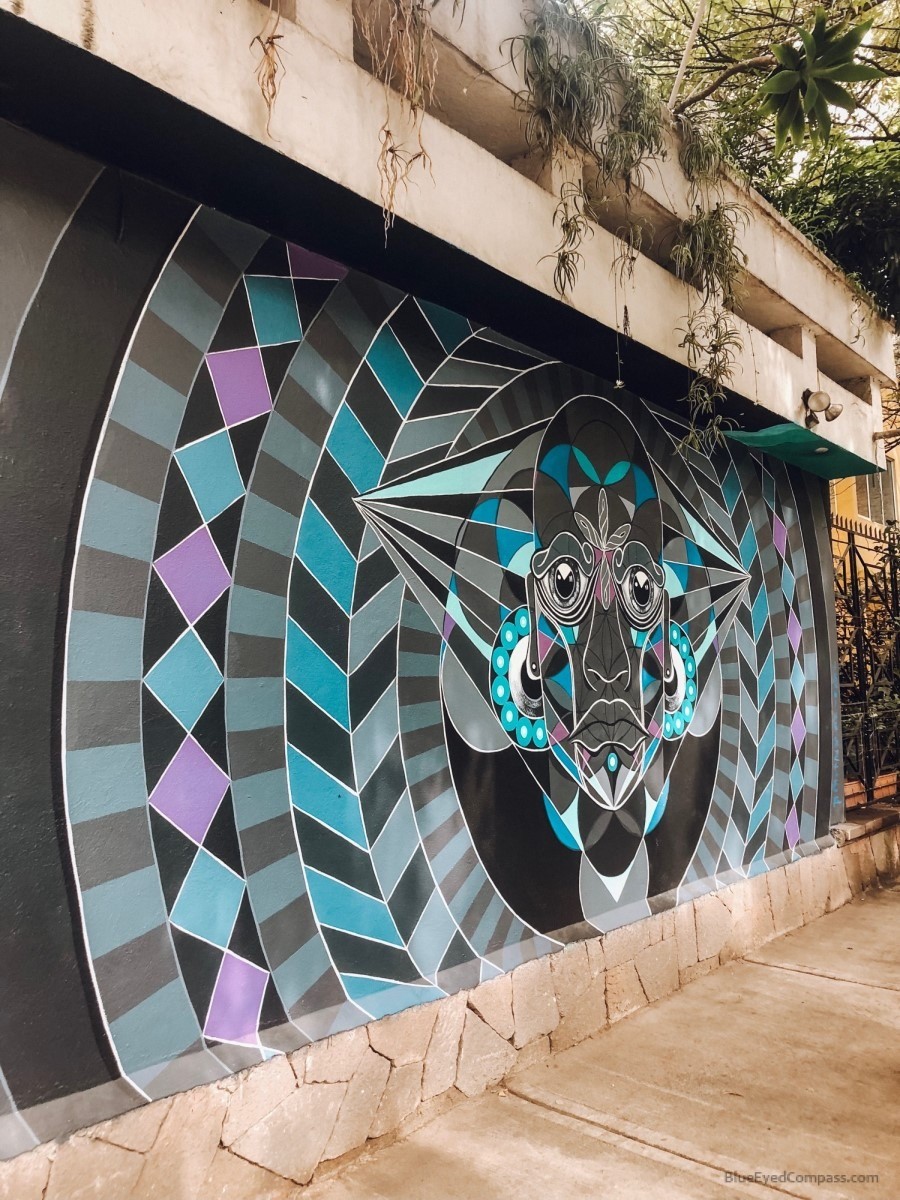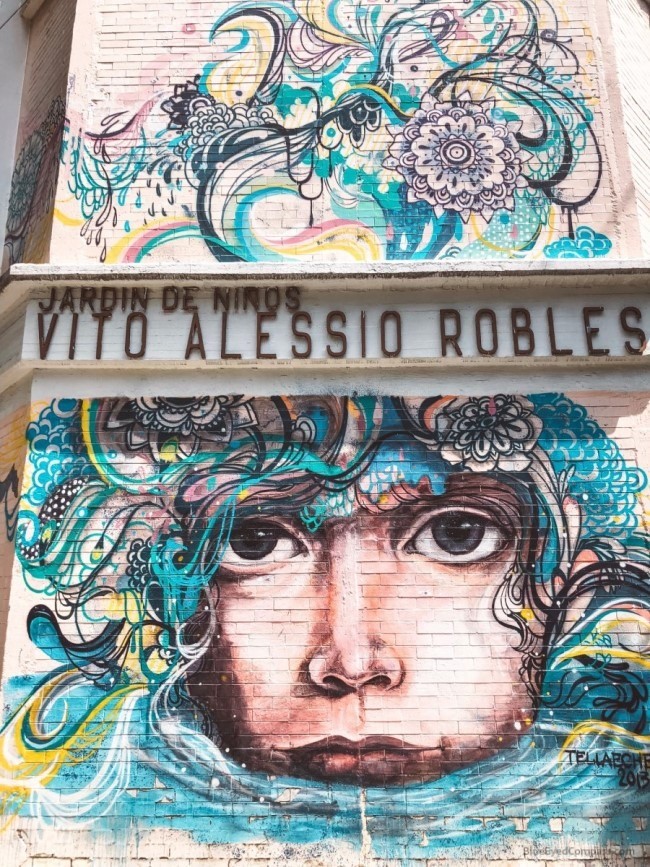 Enjoy the many public parks throughout the city
Plaza Luis Cabrera is a small one in the Roma neighborhood, surrounded by restaurants and lots of great people watching.

Parque Espana is another small public park in the Roma neighborhood with a mini CDMX sign and street art of the infamous dog, Frida, can be seen too.
*There are so many parks in the city, if you see one allow yourself some time to wander through or go in with a coffee in hand to people watch and understand the culture a bit more.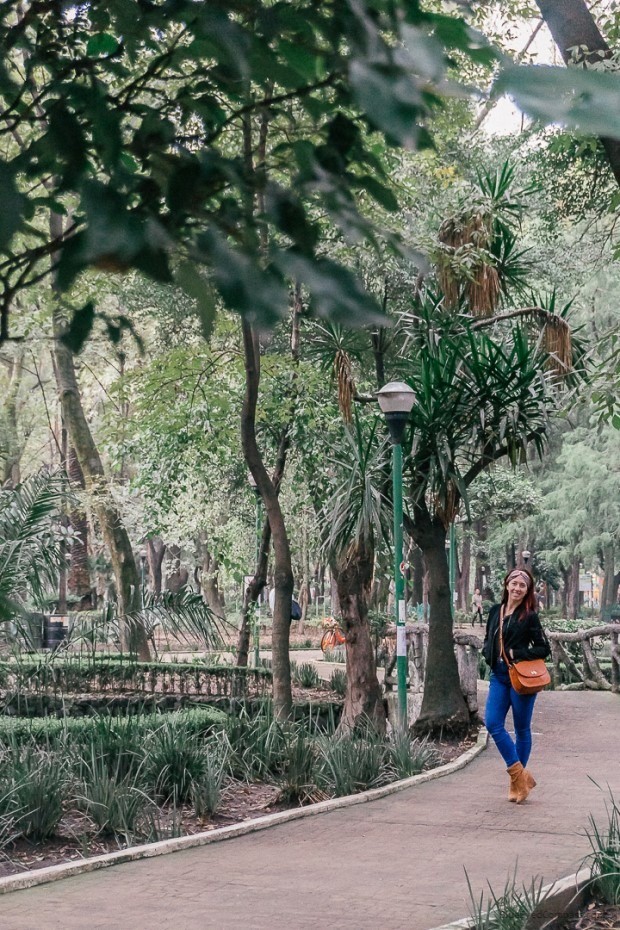 The remaining suggestions are places that I have not been to, but wanted to share as they were part of my research prior to traveling here.
Polanco
Polanco is an upscale area of the city. Known for its high end shopping and top quality restaurants. In addition to the Centro Historico and Roma/Condesa neighborhood, the Polanco area is very safe for tourists to travel to in Mexico City.
Coyoacan
Coyoacan is a beautifully preserved, popular place to visit in Mexico city (especially on the weekends). Coyoacan is a vibrant area with a few places to enjoy walking around.
Temple San Juan Bautista
A well known catholic cathedral with many beautiful murals.
Coyoacan central square
The main area of this district and it is lined with great restaurants.
Xochimilco
Famous for its floating gardens, Xochimilco is known as the Venice of Mexico. Many first time visitors will go here on the weekends, hop in a colorful boat and float around with drinks.
*We did not go here ourselves, but were told by a few locals that it would be easier to visit here if you spoke Spanish, as many here only speak Spanish. At the very least, bring cash in small denominations with you so you can avoid overpaying.
No matter what you choose to see and do in Mexico City as a first time visitor, it'll be easy to enjoy yourself. The colorful culture is so bright and the food so delicious, that adding in some historical sites can only make it a better time.
Don't forget to pack these Mexico City Essentials:
TIPS for visiting Mexico City, Mexico:
Be wary of walking around at night. We chose not to go out at night (since we were exhausted at the end of each day) but many locals told us to be cautious as females — this is advice you should carry with you everywhere you go

Don't take the public metro system; Ubers were very cheap and took up much less time. There are also quite a few reports of pickpocketing on public transportation, so avoid dealing with it if possible.

Don't take taxis either; this is a preference depending on who you talk to

Read More about Mexico City Travel Advice

If you don't speak the language, stay in safe areas (such as the ones listed above)

Book an Airbnb or boutique hotel in the La Condesa or Rome neighborhoods

It's best to carry cash & use credit cards for larger purchases

Leave your valuables at home, no need to flash off your expensive jewelry or handbags.

Street food is a vibe in Mexico City, and probably the most affordable (and delicious) food you will ever find.

Most museums are closed on Mondays