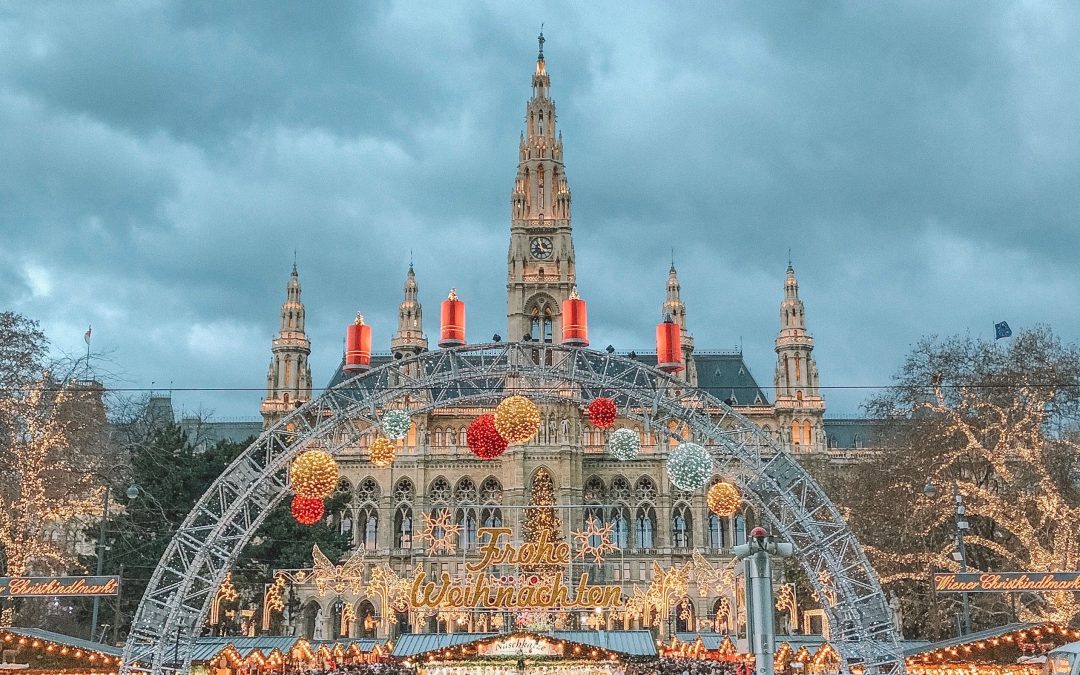 11 things to do in Vienna this Christmas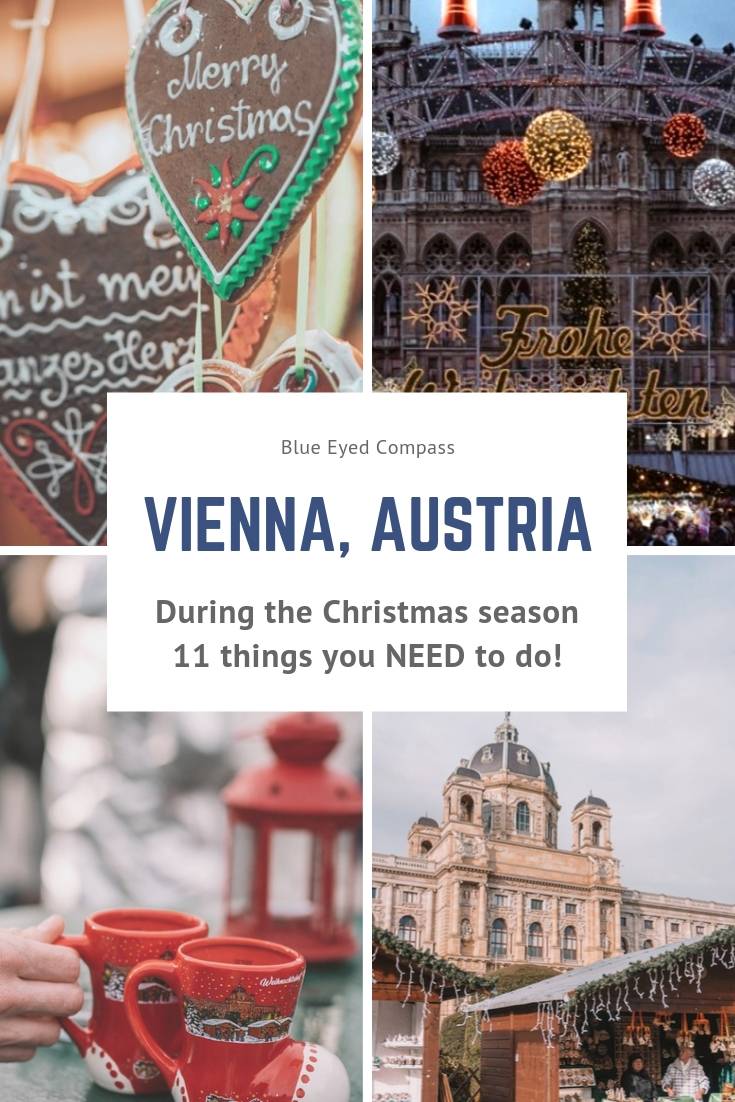 This page contains affiliate links to products and tours that I have used for my own travels, purchased & enjoyed. Clicking these links does not cost you anything, however doing so will support Blue Eyed Compass and allow the site to continue. THANK YOU!
From mid-November through Christmas day, Vienna, Austria transforms into a Christmas holiday snow globe. The city is full of quaint postcard-worthy locations just waiting to be explored. Spending Christmas in Vienna is the epitome of a holiday lovers' travel dreams. Vienna is known as the Christmas hub in Europe (possibly the world!), in the sense that it oozes traditional holiday cheer, glittery decor and all things festive for Old Saint Nick's celebration.
From magical Christmas markets to historic sites, and delicious treats along the way, I doubt any other city hosts a more festive Christmas season.
There are SO many posts on what is best to do in Vienna for Christmas, so along with my personal experience, I filtered through some of the bleh things to show you THE BEST things to do in Vienna this Christmas season:
Included in this post:
The best things to do in Vienna during the Christmas season

A sustainably focused christmas market!

Where to stay during the Christmas season in the city

How to get around the city

Travel tips for visiting Vienna during Christmas season
Top 11 things to do in Vienna, Austria this Christmas Season
(1) Explore all of their Christmas Markets
This list wouldn't be complete without first mentioning Vienna's Christmas markets. Imagine rows of sprightly decorated wooden covered stalls, each filled with their own unique, local fare. Some with holiday decorations, others with handmade toys, and the best ones serving a long list of mulled wine-like drinks. (Don't worry drinking gluhwein is on this list, keep reading!)
Now, depending on how many days you plan on spending in Vienna for the holidays will depend on which Viennese Christmas markets you should check out. There are at least 5-10 Christmas markets in Vienna each season, if not more. Each one is unique with some having more food, or fewer stalls or the focus being on activities versus the vendors. The Christmas markets I would NOT miss while in Vienna would be:
Rathausplatz

: this Christmas market is the market that you see in the majority of Vienna Christmas market pictures. The square in front of Vienna's City Hall is completely transformed into an iconic holiday fairytale. With a mile-long market featuring an ice skating rink, a heart filled tree and ferris wheel, Rathausplatz Christmas market should be first on your list of Christmas markets to see when in Vienna.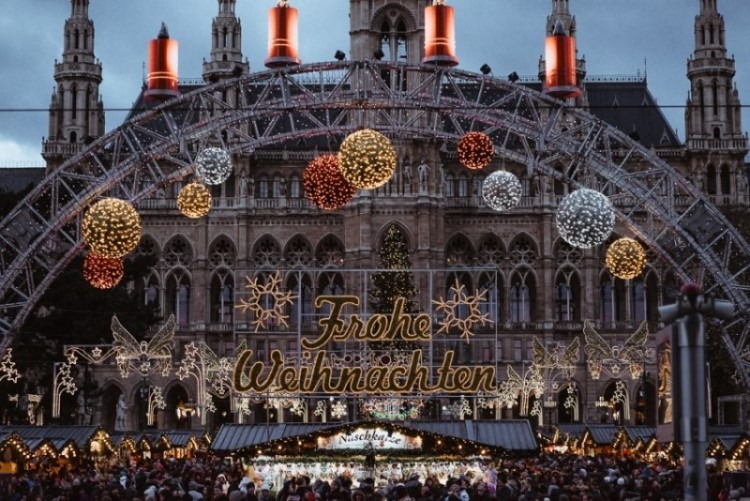 Stephansplatz Christmas Market

: In the heart of the historic center of Vienna, the Christmas market at Stephansplatz is perfect for sharing a mug of mulled wine with strangers and enjoying roasted chestnuts. Especially if you are planning to explore the historic beauty of Vienna in between.
Karlsplatz Christmas Market

: In front of the Karlskirche Church is the Karlsplatz Christmas market focused on handmade arts and crafts. This unique market has vendors who must make their items themselves and earn qualification from a jury panel in order to be a part of the market. Meaning you'll see the most beautiful handmade items here. PLUS, this market has higher quality standards on its food and games as well. Any food or drinks sold here must be free of palm oil and organic. And it enforces strict sustainability foothold, where items like their carousel are built from used goods and runs on pedal power!
Christmas Village Maria Therisien Platz

: centered between three top museums in Vienna, the Christmas Village at Maria Theresien Platz showcases a unique backdrop for visitors. It's a beautiful traditional Christmas market with the holiday fare you'll come to expect at these places.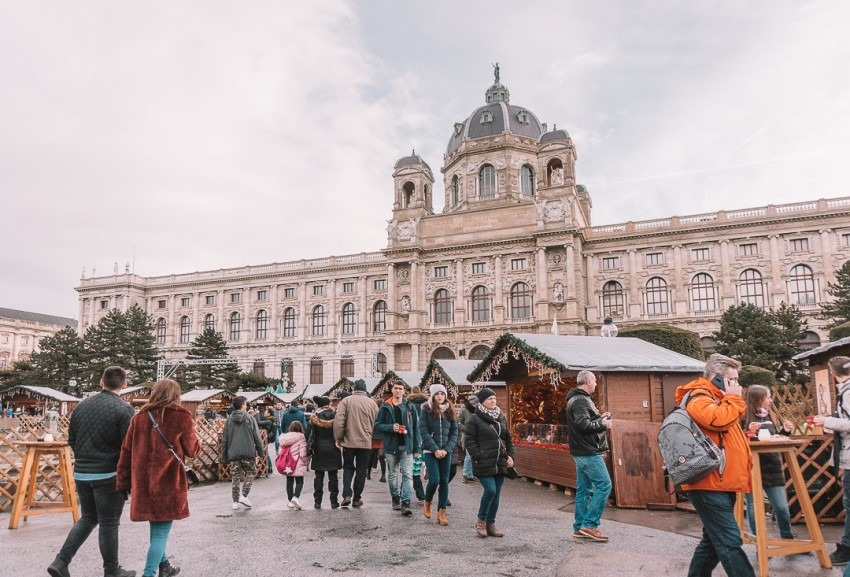 *TRAVEL TIP- the Christmas market vendors and styles can change year to year. If you are researching for your trip to Vienna during the Christmas season, be sure to reference multiple places for up to date information about the Viennese Christmas markets.
(2) Channel your Michelle Kwan persona & ice skate at Rathausplatz
The ice skating rink at Rathausplatz is not your typical American ice skating experience. Instead of an oval shaped rink, skaters are set up in a looping trail where they can skate in larger areas, but also go on an ice trail (where some areas are set on an incline for faster skating!).
This is definitely something any visitor to Vienna during Christmas should take part in. If at least to mortify yourself at how bad your are at ice skating, and watch young children zip right by you… oh wait, I'm just talking about my own experience with it.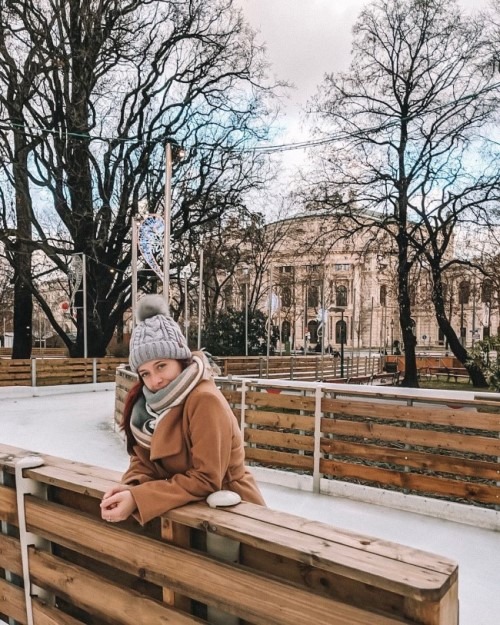 (3) Enjoy a warm beverage & dessert at a famous Viennese cafe
If you're a food-driven traveler like myself than you'll be happy to know that Vienna is known for its decadent chocolate cake known as Sachertorte (cake). This cake recipe dates back to the 1830s when a 16-year-old chef apprentice had to fill in the last minute and created this delicious dessert.
Be sure to enjoy a slice (or two) while in Vienna, and hopefully at one of their historic cafes- Cafe Demel, Cafe Central or Cafe Sperl. Each of which is an opulent opposite to the 'cafes' we Americans are accustomed to.
However, if you would prefer a more modern cafe setting check out this list by Culture Trip.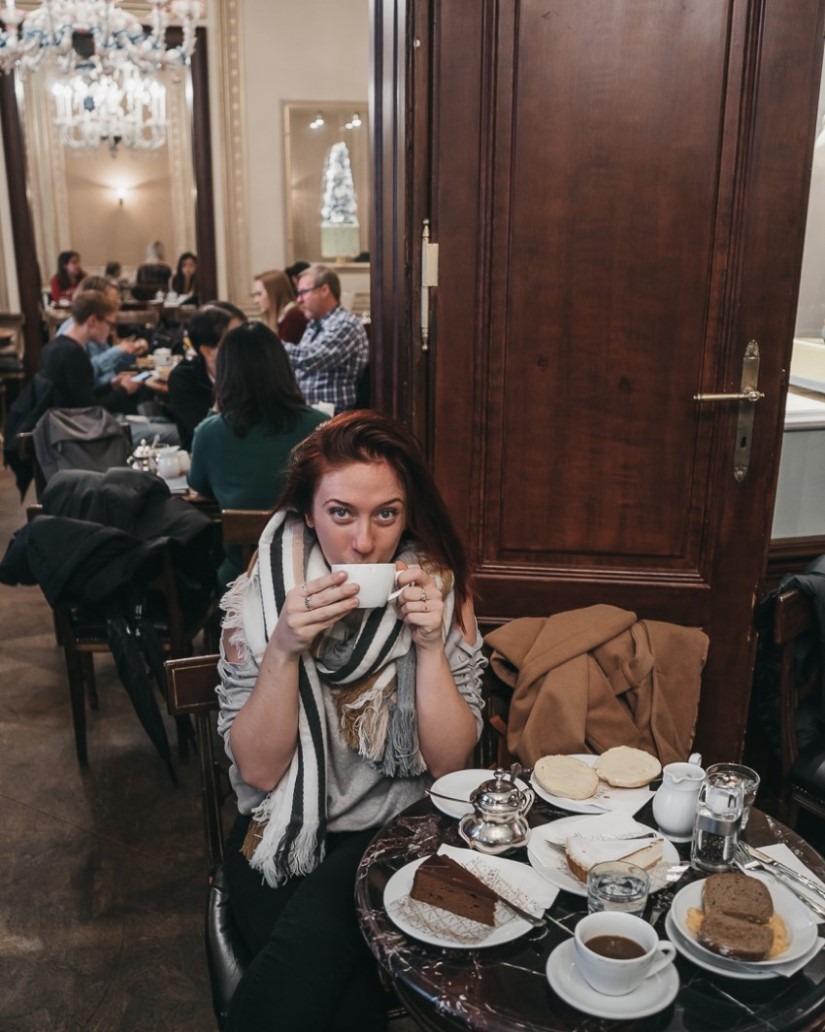 (4) See the lights of the Belvedere Palace Christmas market at night
With some serious majestic flare, the Belvedere Palace Christmas market at night is incredibly beautiful. There are two parts to the Belvedere Palace, the Upper & Lower Palaces. The Upper Belvedere Palace has a lake in the front that reflects the Christmas market lights onto the water beautifully. This Christmas market runs through Christmas Eve so be sure to plan accordingly.
(5) Stroll along the holiday-decorated pedestrian streets on Christmas Eve nights
I can't think of anything more ethereal or romantic than strolling along holiday decorated paths with a loved one. From the State Opera House to St. Stephen's Cathedral, and then along the Graben to the Hofburg Palace, pedestrians can enjoy magnificently decorated streets, with monumentally large holiday light fixtures and themes in each direction. This stroll is the epitome of holiday romance.
My suggestion would be book an early Christmas Eve dinner and spend the remainder of your evening wandering around the historic center of Vienna.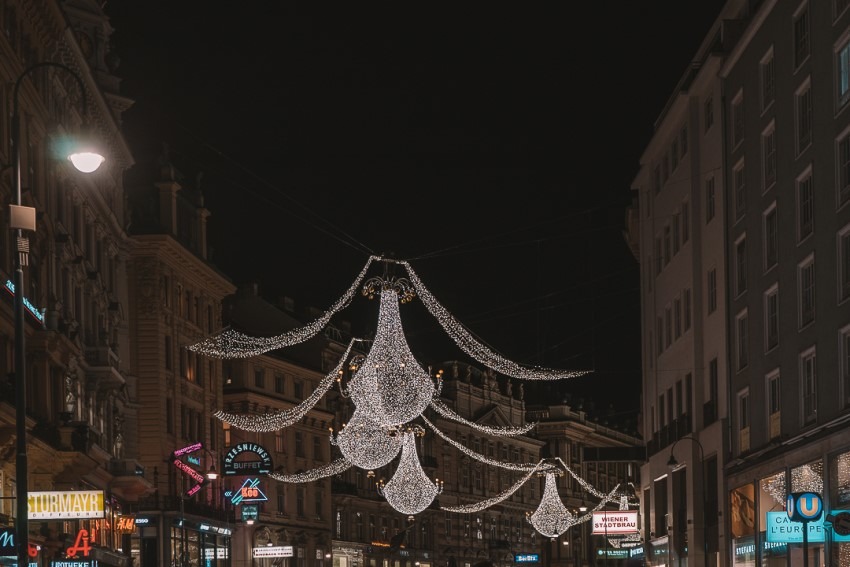 (6) Experience an orchestra concert inside of a Palace
Each year the Schonbrunn Palace hosts an orchestra concert inside of their Orangery (an orangery is a room at a palace where they used to keep their spring/summer fruit trees safe during winter). Classy, romantic and entertaining, this concert is a beautiful way to spend a holiday evening listening to classics alongside opera singers and ballet dancers.
Click here to grab tickets to this concert at a great low price (compared to other sites)
Want more flexibility with the date(s) of your concert experience? You can also:
(7) Soak in the sounds of Strauss and Mozart throughout the city
At the Strauss and Mozart Christmas concert at the Kursalon – fun fact, the composer Strauss himself performed here once!
You can also watch a choir recital or church concert at the infamous St. Stephen's Cathedral, the Peterskirche or the Minoritenkirche. You can find more holiday concerts here with tickets below.
(8) Spend Christmas day sipping Baileys Spiked Hot Cocoa at the Schonbrunn Palace market on Christmas day
Vienna is Austria's Imperial capital meaning we can thank the Hapsburg for the many beautifully constructed palaces throughout the city, like the extravagant Schonbrunn Palace. And what better way to soak up holiday charm & history than at the light yellow Schonbrunn Palace's Christmas market.
This was by far our favorite market to visit in Vienna, besides Rathausplatz, as the vendors were more unique than in other locations. In fact, we found most of our gifts to bring home at the Schonbrunn Palace Christmas market. Plus you have an actual Imperial Palace as your backdrop throughout the market.
I don't think it could emulate a European Christmas vibe any more than this place. *If you go on the weekends the Schonbrunn Palace Christmas market hosts advent concerts in the afternoons and evenings. And you schedule your tickets to enter the palace – why not do it all in one day!?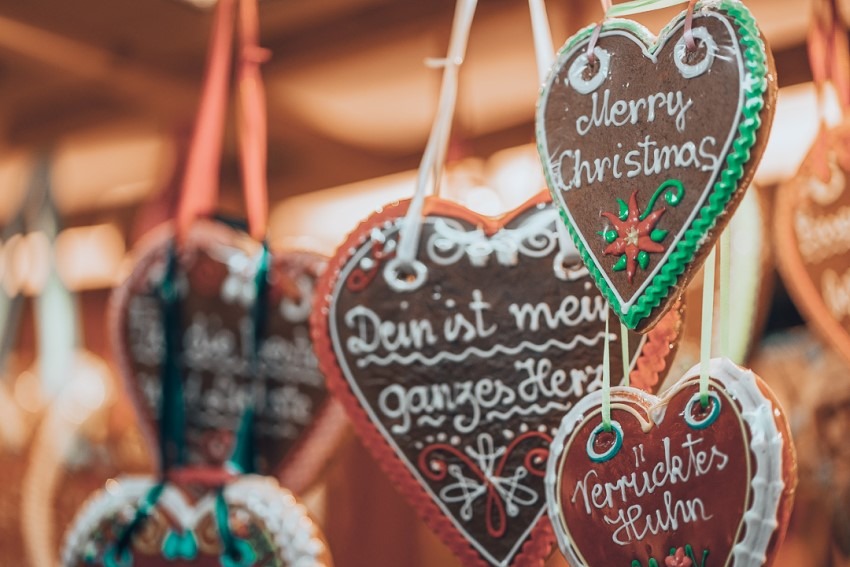 (9) Witness the Vienna Ballet or an opera effortlessly perform their holiday shows
The Vienna State Opera House, or Wiener Staatsoper, is a truly grand masterpiece in Vienna. Rebuilt after World War II, visiting this venue for a classic performance is a bucket list item for anyone visiting Vienna.
(10) Drink Weihnachtspunsch and Gluhwein with strangers
Weihnachtspunsch is Christmas punch & Gluhwein is mulled wine. These beverages can be found at every Viennese Christmas market. In fact, the vendors selling gluhwein will often have a long menu of drink options. My favorite being a ginger-based one, and course hot cocoa with Baileys. There are also non-alcoholic ones!
There are belly bar tables at each market, where it's a great place to strike up a conversation with a group of strangers. Who knows, you may end up getting drinks with them later that day!
If it's particularly cold outside during your visit, you can warm your hands on one of the unique mugs they serve their holiday punches in. In fact, you pay a holding fee for the mug and it's returned when you give them back the mug. With the encouragement that drinkers end up keeping their mugs as souvenirs. I try my best not to be suckered into souvenirs traps but dang it did they have some precious mugs like this heart-shaped one that is currently in my cupboards.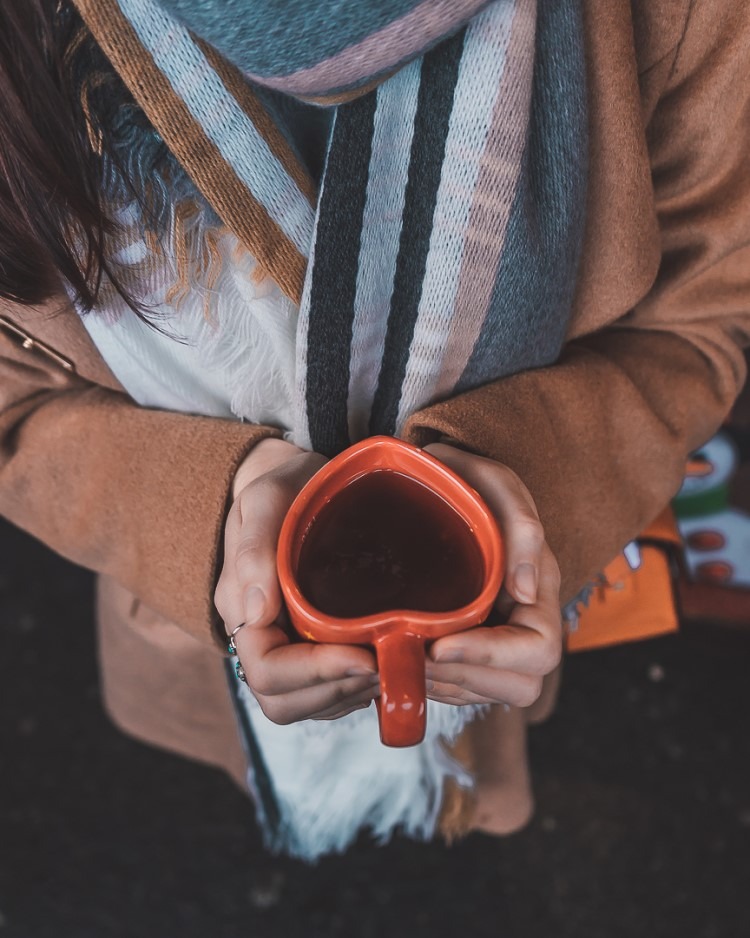 (11) Staying for New Years & need a once in a lifetime idea? Attend the annual Hofburg Silvester Ball!
For those willing to don ball gowns and tuxedos, this could be a once in a lifetime event to attend. Imagine your wildest Disney princess moments coming to life while the New Year's ball drops at midnight. Find out more here.
Where to stay in Vienna during Christmas season
The majority of sights to see and holiday markets are located within historic Vienna. So, visitors will want to stay within or nearby that area. However depending on your budget, it may be difficult to find lodging during Vienna's Christmas season in the heart of the historic district.
If that's the case, then I would suggest staying near Wien Mitte, Vienna's public transportation hub.
How to get around Vienna, Austria during the holiday season
By train: Vienna, like many other European cities, has an excellent underground public transportation system called the U-Bahn. The stations are all centrally located and easy to find for the OBB. You can purchase tickets at their kiosk machines or ticket windows. Be sure to validate your ticket at the entrance! And each train car has easy to follow labels for which stations will be stopped at next.
By tram: similar to the U-Bahn, Vienna's tram system is great for those who want to see the city while they ride. In fact, there is a circular tram line that is great for visitors to hop onto if they want a quick tour of the city (or if they're cold and want to sit inside something insulated… yes, we did this, and enjoyed the 20-minute break from the cold). Again, you'll want to validate your ticket when you enter the tram for the first time
There are of course taxis and Uber/Lyft's available in the city, but the fun of travel is to walk around to see everything. Plus using public transportation and walking are two great ways to be a more sustainably focused traveler.
If you're coming from the Vienna airport, I would suggest using the CAT (City Airport Train). As it's a convenient and affordable option that the city offers. You can read more about it here.
Don't forget to pack these items:
Tips for visiting Vienna during Christmas season:
Book a reservation for dinner for Christmas Eve & Christmas day if you plan to eat out. Many places will require reservations or be closed. I mean it. Reserve this NOW. We had difficulty finding vegetarian friendly menus for the holidays that had availability, and we booked in early November.
Bring cash with you to the markets. While some may accept credit cards, it's best to have cash on hand to make purchases. Especially if you want a mug of gluhwein.
Bring reusable shopping bags with you to the markets. If you're shopping and expect to explore for the remainder of the day, do yourself a favor and pack a reusable bag to hold your new gifts
Scroll through to see more images of Vienna during Christmas!